Finding One Dream Fit for Every Impact MLB Free Agent Still on the Market
Doug Pensinger/Getty Images

Time is not on the side of any players who remain available on the free-agent market.
With spring training set to get underway in less than two weeks, the vast majority of teams around baseball have their rosters set and budgets maxed out.
There is little room to add a high-priced free agent at this stage of the offseason.
Yet all is not lost for the few impact players who remain available to the highest bidder.
It will take some compromise on their parts, by taking fewer years and/or less money than they originally sought, but there is a perfect fit for each of the remaining impact free agents on a major league roster in 2013.
Let's take a look at where these players fit best.
Begin Slideshow

»
Scott Cunningham/Getty Images

Adding Bourn to the mix in Baltimore would change things, not only in the American League East, but in the entire American League.
Bourn's ability to get on base consistently, coupled with his speed, would make the Orioles lineup that much more dynamic and explosive. The outfielder's defense is also an upgrade, whether it be in center field or left.
With Adam Jones having earned his big contract, he shouldn't be vehemently opposed to sliding over to left field in place of Nate McLouth, allowing Bourn to take over in center.
On defense alone, Bourn's presence would result in a few extra victories. When you add in his offensive contributions, the Orioles would be a much better team with Bourn in the mix.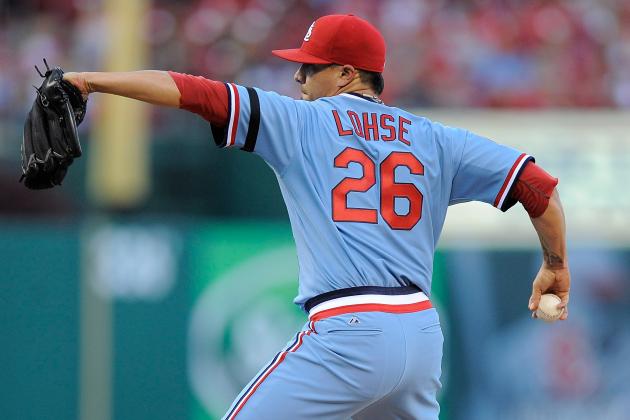 Jeff Curry/Getty Images

The Rangers swung and missed with Zack Greinke, leaving the team without the veteran starter it had hoped to add to its rotation. Now the pressure is on a young, relatively inexperienced starting rotation.
Lohse is coming off a two-year stint with the St. Louis Cardinals in which he went 30-11 with a 3.11 ERA and 1.13 WHIP, while averaging 200 innings pitched per season.
His experience pitching in high-pressure situations with the Cardinals could be invaluable to a rotation that needs a veteran leader.
Lohse's tendency to induce ground balls, furthermore, would play well at Rangers Ballpark in Arlington, which ranked seventh among MLB's most home-run friendly environments in 2012.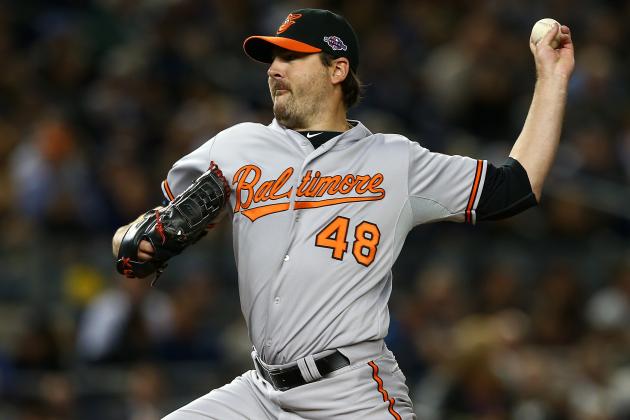 Elsa/Getty Images

Cleveland's starting rotation was among the worst in baseball in 2012. Its 5.25 ERA trailed only Minnesota (5.40) and Colorado (5.81) in both ineffectiveness and ineptitude.
As presently constituted, the Indians rotation features five right-handed starters. The team's top pitching prospect, Trevor Bauer, is also a right-hander.
Saunders, a southpaw who has averaged 195 innings pitched per season since 2008, is a solid, back-of-the-rotation arm who would give an improved Indians lineup a chance to win every fifth day.
The Indians don't know what they can count on from Carlos Carrasco, who missed all of 2012 recovering from Tommy John surgery. Ubaldo Jimenez remains the true "mistake by the lake," so it's not like the Indians couldn't squeeze Saunders into the rotation.
Even if it meant moving the recently signed Brett Myers to the bullpen, a place he is well accustomed to, the Indians would be in better shape with someone like Saunders in the mix.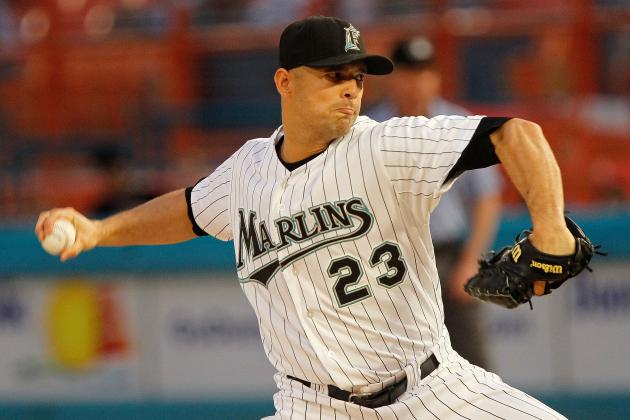 Mike Ehrmann/Getty Images

Javier Vazquez hasn't pitched in the major leagues since 2011 with the Marlins, and he has yet to officially declare whether or not he is coming back.
But all signs point to Vazquez making his return to MLB in 2013.
As ESPN's Jim Bowden notes, Vazquez is getting checked out physically and isn't far from taking the mound:
Javier Vazquez is getting right menisus repaired on Wed by Dr. Kaplan, Marlins team ortho..expected to be throwing 100% in 2-3 weeks
— JIM BOWDEN (@JimBowdenESPNxm) January 28, 2013
In an earlier conversation between the two, Bowden stated that Vazquez told him that more than half of baseball had contacted him during the winter, but that if he does come back, it would only be with a contender.
Milwaukee fits that bill.
With an inexperienced starting rotation behind Yovani Gallardo, the Brewers could use a veteran workhorse like Vazquez, who has averaged more than 200 innings per season since making his debut with the Montreal Expos in 1998.
He has proven to be far more comfortable and effective in the National League than in the American League, and Milwaukee's potent offense would give him the run support he might need as he shakes off the rust.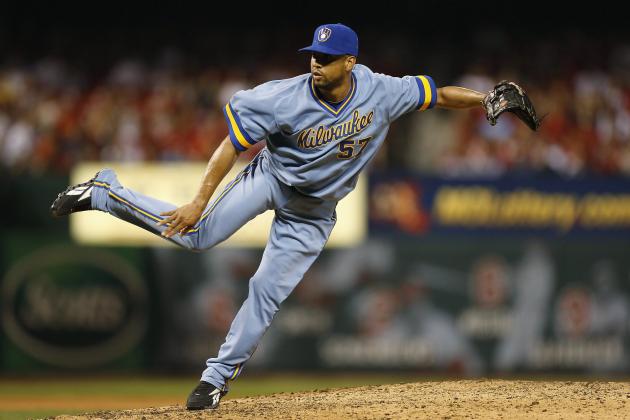 Paul Nordmann/Getty Images

His first time around with the Mets didn't go as planned, and it certainly didn't end on the best of terms.
But the team desperately wants to add a closer, as noted by ESPN New York's Adam Rubin, who reports the Mets tried to convince Roy Oswalt to join them as the team's closer, something the veteran starter had no interest in doing.
While the man formerly known as K-Rod didn't have a good season for the Brewers, pitching to a 4.38 ERA and 1.33 WHIP, Rodriguez would be an upgrade over current closer, Frank Francisco, who the team simply cannot have any faith in for 2013.
Rodriguez would have to mend fences with some of his old teammates, and he would need to be on his best behavior.
But when the other free-agent option is Jose Valverde (Brian Wilson has been deemed not ready to return from Tommy John surgery, according to Rubin), a reunion with Rodriguez makes a lot of sense for both sides.