10 Winners and Losers from 2013 Waste Management Phoenix Open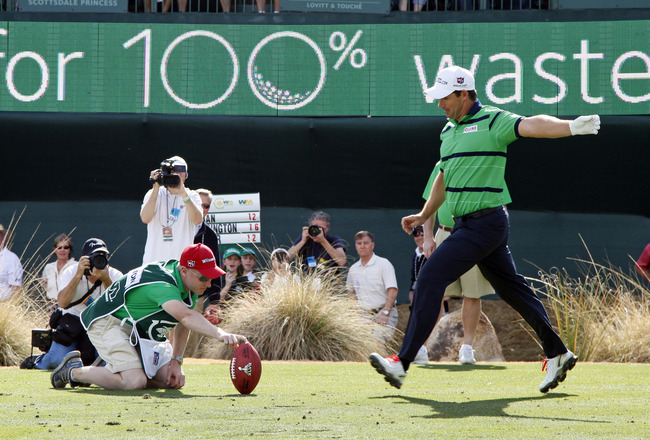 Padraig Harrington even had time to kick a football.
Hunter Martin/Getty Images
It was a fun week for a lot of folks in the Arizona desert with record crowds pouring into the TPC Scottsdale to watch the PGA Tour professionals light up that layout.
The 16th hole, a stadium-style par three, was again the place to be, and birdies and eagles were flying everywhere.
It was the first dominant performance in a while for Phil Mickelson, who spent four days flirting with history in one way or another.
Padraig Harrington debuted his 2013 game and put on a good show, indicating he might be back to championship form.
On the other side of the coin, Russell Henley couldn't keep up his hot play, posting 74-71 Saturday and Sunday to finish well down the leaderboard.
Defending champion Kyle Stanley shot three rounds in the 70s, a sure-fire way to finish dead last.
Here's a list of five winners and five losers from the week.
Phil Mickelson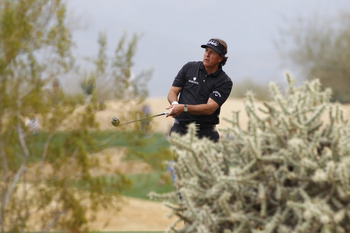 Phil Mickelson found some interesting places but was clutch when he needed to be.
Hunter Martin/Getty Images
For this week at least, the biggest winner of the week was Phil Mickelson.
His record-setting and near record-setting performance at the TPC Scottsdale put him back into the spotlight and conversation about the best of the game.
Mickelson's near-perfect performance put his name squarely in the middle of the conversation about the Masters, even though that's still a couple months away.
The PGA Tour's Mr. Excitement tees it up again this week at Pebble Beach.
Stay tuned for more thrills and spills.
Ryan Palmer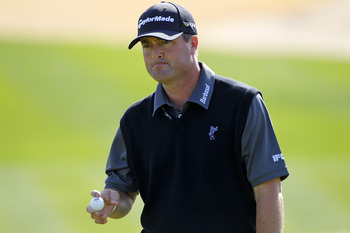 Ryan Palmer was red hot in the final round.
Hunter Martin/Getty Images
After a couple seasons of what might be considered average golf, Palmer hopefully put together a kick-start to his season with a strong performance in Phoenix.
As if 64-73-66 in the first three rounds wasn't good enough, he lit it up with a final-round 62 to finish fifth.
Injuries have kept him from fulfilling a lot of what was expected of him, but that may be in the process of changing.
Bud Cauley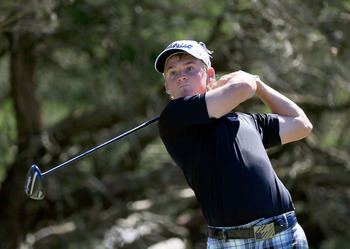 Bud Cauley's performance in Phoenix might get him back on track.
Sam Greenwood/Getty Images
One of those 20-somethings of whom great things are expected, Bud Cauley hasn't gotten off to much of a start in 2013, but things came together in a big way in Phoenix.
Yes, his 71-67-68-65-271 was 15 shots behind Mickelson, but Cauley finished in a strong way and his game seems ready to take off.
Watch him in the next few weeks.
James Hahn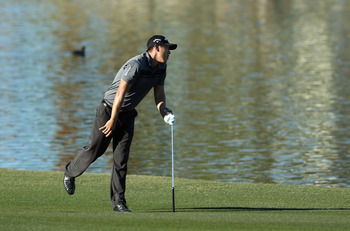 James Hahn's dancing skills were on display Sunday.
Jeff Gross/Getty Images
A Sunday afternoon 62 that jumped him into a tie for 16th is pretty cool, but the "Gangnam Style" moves he displayed at the edge of the 16th green might even have been more cool.
He received more air time in the last 24 hours than he probably will the rest of the season.
That's the sort of thing the 16th hole at TPC Scottsdale will produce and why that's the most entertaining hole in golf.
Kevin Stadler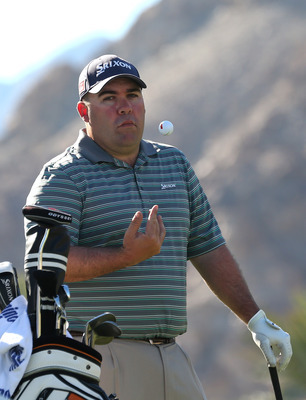 Kevin Stadler played well in Phoenix.
Stephen Dunn/Getty Images
Four rounds in the 60s is pretty good just about any week on the PGA Tour, but that wasn't nearly enough in Phoenix.
Kevin Stadler has been up and down, but this week was an up outing.
He put up the four 60s, including one of the 45 rounds of 65 and under—a final-round 63.
He was 12 shots behind Mickelson, but his effort was definitely an uptick from how it's gone recently for him.
Angel Cabrera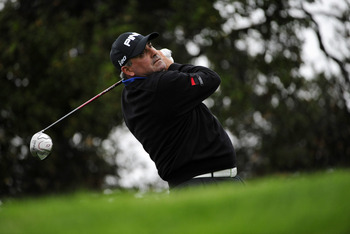 Angel Cabrera figured to be a bigger factor after his hot start.
Robert Laberge/Getty Images
This would seemed to have been the perfect setting for long-balling Angel Cabrera.Even at 43, the Argentinian gets it out there far enough to be a factor.
But since his 2009 Masters—his last victory—he's basically disappeared.
He got off to a great start in Phoenix, posting rounds of 66 and 65, but then was run over by the field with closing rounds of 70 and 72.
Conditions were perfect for scoring, but he couldn't keep up the pace.
Charlie Wi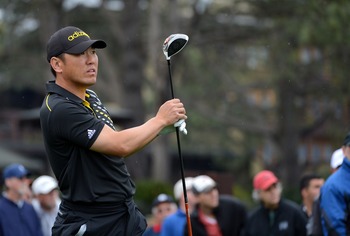 Charlie Wi needs to find a way to finish.
Donald Miralle/Getty Images
Another good start and another not-so-good finish for Charlie Wi.
The native of South Korea just turned 41 years old a month ago, but continued a trend that plagued him much of last year.
His third- and fourth-round scoring averages were 71.25 and 70.00, respectively, in 2012.
In Phoenix, he started quickly with rounds of 68 and 63, but then stumbled with rounds of 71 and 73.
It's too bad because Wi obviously is a player, he just has to figure out the weekend scoring thing.
Greg Chalmers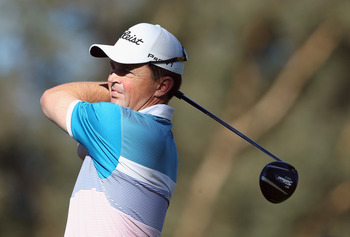 It could have been big week for lefties in Phoenix, but Chalmers didn't finish well.
Jeff Gross/Getty Images
The Australian lefty wasn't playing as well as the lefty who won, but rounds of 68, 68 and 66 had put him in a pretty good position going into Sunday.
But a final-round 71 sent him tumbling 16 spots down the leaderboard.
Not everybody can be a superstar on the PGA Tour, but Chalmers has shown superior tools to a lot of players; though, he really hasn't reaped the benefits of those tools.
Lucas Glover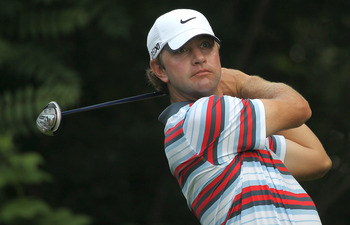 Hopefully Lucas Glover will build off a strong first three rounds.
Jim Rogash/Getty Images
It seems like so long ago that Lucas Glover won the 2009 U.S. Open at Bethpage Black.
He was a powerful player, hitting the ball long, playing great iron shots and, especially that week, putting the ball wonderfully.
Since then it's been a tale of injuries and play well below that of an Open champion.
He definitely seemed to have found something in Phoenix, putting together rounds of 68-70-67, but then slipping to even par on Sunday.
Certainly those weren't leader-threatening numbers but a definite improvement, even though he fell 19 spots on the leaderboard Sunday.
Gary Woodland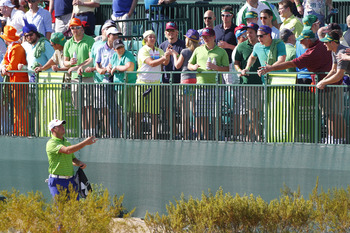 Gary Woodland tossed some goodies to the fans on the 16th.
Hunter Martin/Getty Images
Gary Woodland is another one of those guys very capable of overpowering a course like the TPC Scottsdale and he did that to some degree with rounds of 67, 66 and 67 to start.
But as can happen, his driver let him down on Sunday and he posted a 70 that dropped him eight spots into a tie for 16th.
This guy is going to win a big one, but like a lot of others who play for pay, he's struggled with getting it done at the end.
Keep Reading