Ravens Fans Take to Baltimore Streets After Super Bowl Win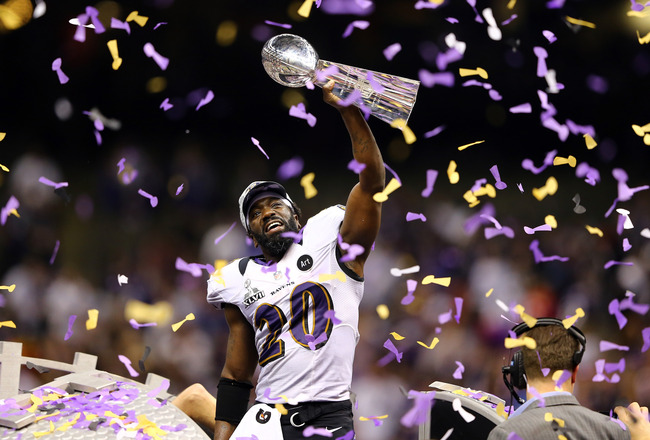 Ed Reed gets his first Vince Lombardi Trophy.
Al Bello/Getty Images
Baltimore Ravens fans had the perfect reason to celebrate in the streets on Sunday evening.
Ray Lewis, Joe Flacco, Ed Reed and co. defeated John Harbaugh's brother Jim and the San Francisco 49ers in exhilarating fashion in Super Bowl XLVII.
The victory was the second for the Ravens' franchise and third for the city of Baltimore: The city's first win came as the Baltimore Colts in Super Bowl V.
So the fans got to celebrating immediately after the victory. Let's check out some jubilant photos.
Crowd-Surfing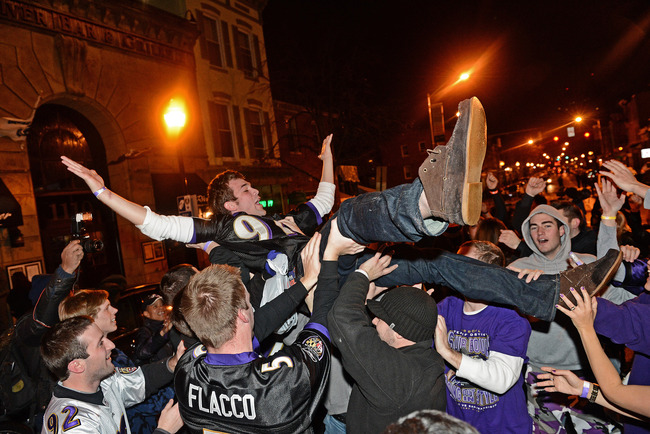 Patrick Smith/Getty Images
Apparently The Ramones reunited and had a show outside in Baltimore on Super Bowl Sunday, because crowd-surfing typically only exists at punk rock concerts.
Then again, when your team wins the Super Bowl, why not bring it to the streets?
It's a little more spacious than a bar anyway.
Bust a Move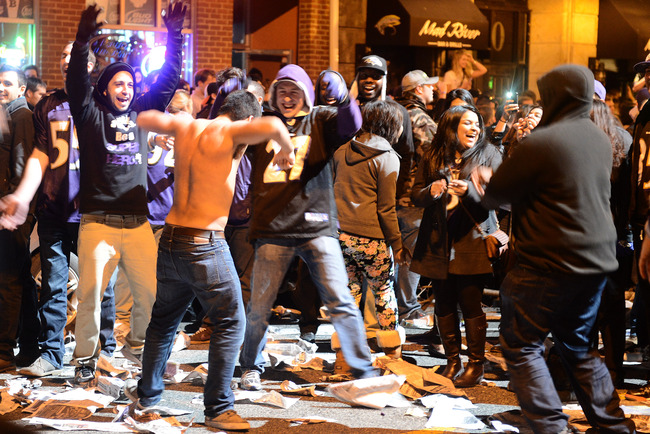 Patrick Smith/Getty Images
You could say a fight is going to break out, but everyone looks too happy to put 'em up.
Maybe a dance-off?
The dude with his shirt off and back toward us looks prepared enough to bust a few moves in honor of Baltimore's victory.
Flag-Bearer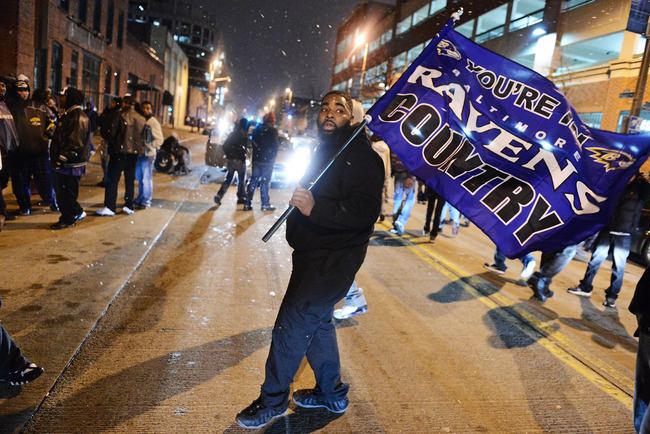 Patrick Smith/Getty Images
This guy is cool, calm and collected and emitting that quiet confidence, just like Joe Flacco.
With the victory over San Francisco, there's no need to get all boisterous when you can just wave a flag and chill.
Car Commercial Idea?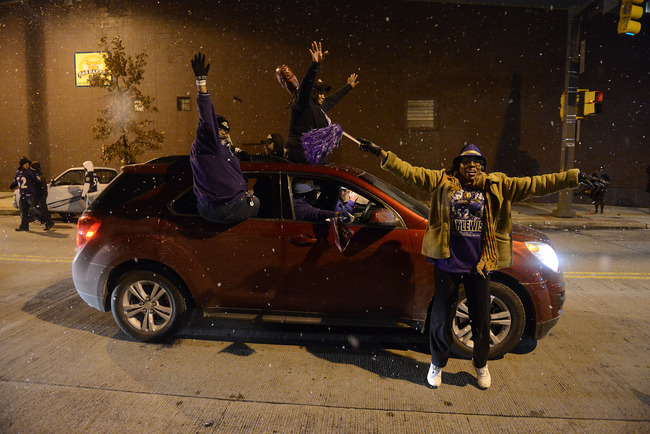 Patrick Smith/Getty Images
Even given this age of technological advancements, there's still an obscene number of car commercials.
So to spice up the marketing, let's find people like these guys after their team wins the Super Bowl. The car companies can film a live video and get real human emotion mixed into an advertisement.
Who knows if that would sell, but it would at least add some variety to the approach, as opposed to a regular television ad.
The 1990s Boombox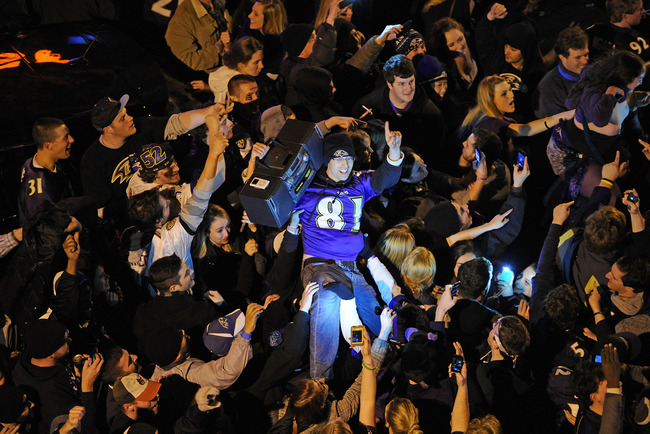 Patrick Smith/Getty Images
This is my favorite picture.
1. A guy crowd surfing with a bird's-eye view of the fans, and...
2. He's carrying a boombox.
We immediately flashed back to 1996, which is awesome.
Cirque du Soleil
Patrick Smith/Getty Images
Okay, so this was not taken in the street, but it's totally rad nonetheless.
She likely saw the guy carrying the boombox and decided to whip out some acrobatics.
Even more impressive is the fact the she's performing this on a bar. So it's also like an obstacle course with the people, cups, beer cans and other things that sit on the bar.
Up on the Rooftop...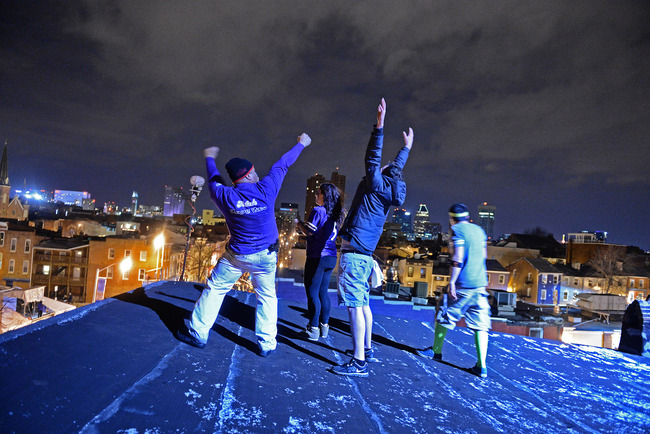 Patrick Smith/Getty Images
Ravens fans had to wait until February for their NFL Christmas gift.
As a result, heading to the rooftop and letting the emotions out is one way to display appreciation for victory.
You've got to wonder about the guy on the right, though. It's the middle of winter and he's wearing shorts and a short-sleeve shirt.
"Livin' in a Van Down by the River!"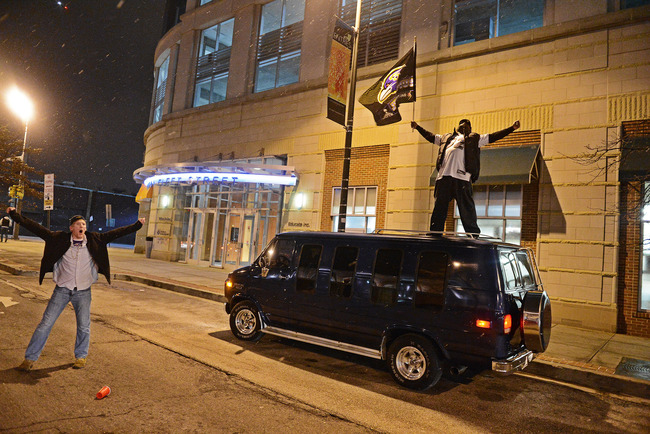 Patrick Smith/Getty Images
These are true Ravens fans.
We can only assume they drove to the Baltimore from where they were, "Livin' in a van down by the river.!"
If not, well, it makes for a good story.
Either way, rejoicing with another Super Bowl win for the city and doing it in Matt Foley-esque style is always a good thing.
There's a Reason Why He's Excited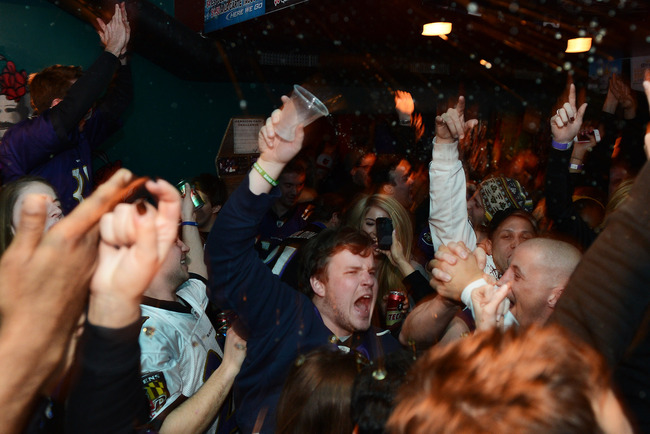 Patrick Smith/Getty Images
It looks like this guy is in the middle of a mosh pit, so there's reason to get pumped up.
Factor in a Super Bowl win for the Ravens, and that amplifies the intensity of moshing. Just imagine what the parade will be like...
Insane.
Party into the Night
Patrick Smith/Getty Images
Here we have an exclusive party outdoors and into the night.
After winning the Super Bowl, this would be a cool place to feel Zen, and even the sky has a dark purplish hue to it.
Ray Lewis and Ravens fans could not have closed out in better fashion.
Keep Reading

Baltimore Ravens: Like this team?