Aldo vs Edgar: Power Ranking Jose Aldo's Title Defenses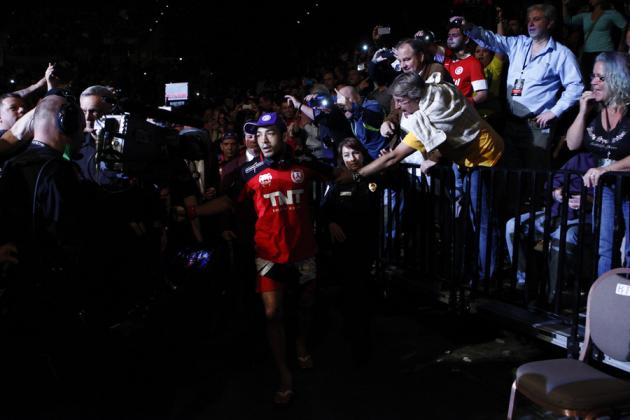 Jose Aldo - Esther Lin/MMAFighting
The MMA world is enamored with Anderson Silva, Georges St-Pierre and Jon Jones, but it could be Jose Aldo who truly proves to be the best pound-for-pound fighter in the sport.
At only 26 years old, Aldo has defended his featherweight title six consecutive times, but his greatness stretches far beyond title defenses.
Aldo exudes the same otherworldly aura as the big three in the pound-for-pound category. The level of excitement and anticipation every time he steps into the Octagon rivals the same level of intensity as any all-time great.
Aldo's openness to move up in weight and challenge for the UFC lightweight title is what truly separates him from past, present and future champions. Randy Couture and BJ Penn are the only fighters in UFC history to ever hold a title in two separate weight classes.
Could Aldo be the third fighter to achieve such a rare accolade?
At UFC 156, he took one step closer to making that dream a reality by defeating former UFC lightweight champ Frankie Edgar.
Today, we pay homage to Jose Aldo by power ranking his UFC and WEC title defenses.
Begin Slideshow

»
Jose Aldo - Esther Lin/MMAFighting
It's easy to forget that a multitude of hardcore fans liked Manny Gamburyan's chances against Aldo at WEC 51.
Gamburyan's striking wasn't nearly as refined, but he boasted incredible knockout power and world class grappling.
In a nutshell, Gamburyan was your typical bully at 145 pounds. What happens when a bully steps in the cage with one of the top pound-for-pound fighters in the world?
In Gamburyan's case, they get knocked out in the second round.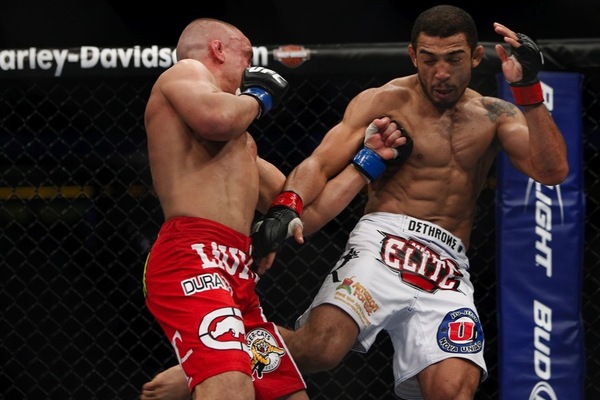 Jose Aldo and Mark Hominick - Esther Lin/MMAFighting
Every MMA great has been forced to undergo some form of adversity in their careers at one time or another.
Aldo's time was at UFC 129 against Mark Hominick.
After a strong start, Aldo's gas tank ran on empty in the later rounds. Hominick may not have been up to par technically, but he was prepared physically and mentally for a five-round fight.
As Aldo tired, Hominick rallied late and seemed to come close in pulling off the monumental upset. Fortunately, Aldo's heart and unshakeable will carried him through the storm and helped him eke out a unanimous decision.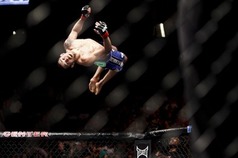 Jose Aldo - Esther Lin/MMAFighting
Kenny Florian served as Aldo's first "super fight" as featherweight champion.
Despite never holding a UFC title, Florian was a perennial lightweight contender who competed for two world titles.
Aldo never flinched at the opposing accolades, and he utilized his otherworldly striking to dissect one of the lightweight division's best.
It was the first bout that helped skeptics come around in regards to his potential as a lightweight contender.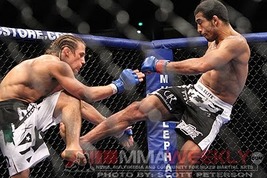 Jose Aldo and Urijah Faber - Scott Peterson/MMAWeekly
Urijah Faber will always be considered one of the pioneers of the lighter weight classes.
At WEC 48, it almost felt like a passing of the torch, as Aldo dominated Faber for five rounds for a lopsided unanimous decision.
Some fans are still cringing from the relentless barrage of leg kicks Aldo used on Faber.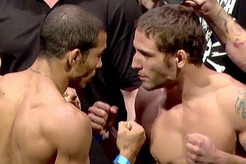 Jose Aldo and Chad Mendes - MMAWeekly.com
It's tough to top defending a world title in your home country, which is exactly what Aldo did at UFC 142.
Heading into the bout with Chad Mendes, pundits questioned Aldo's ability to fend off takedowns from the best wrestler in the featherweight division.
Aldo not only stuffed every takedown attempt, but he finished the fight in highlight reel fashion with a spectacular first-round knockout.
Emotions ran high throughout the entire arena after the fight as Aldo jetted from the cage and joined his hometown fans in an unforgettable celebration.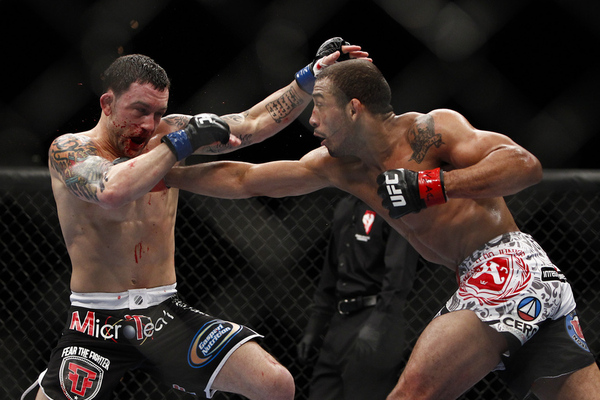 Jose Aldo and Frankie Edgar - Esther Lin/MMAFighting
If the world needed more evidence, Aldo's performance against Frankie Edgar at UFC 156 proved he is more than capable of contending in the lightweight division.
As always, Edgar's heart shined through in the later rounds, and the bout ended up being much closer than initially perceived.
Aldo controlled the early portion of the fight with a steady combination of jabs, crosses and vicious leg kicks. Edgar has been in a plethora of tough fights in the past, but no fighter has ever picked him apart technically like Aldo did on Saturday night.
Along with proving himself as a viable lightweight contender, Aldo also opened many eyes to the excitement of the often criticized featherweight division.