USMNT: Which 5 Players from Training Camp Will Make Roster vs. Honduras (Update)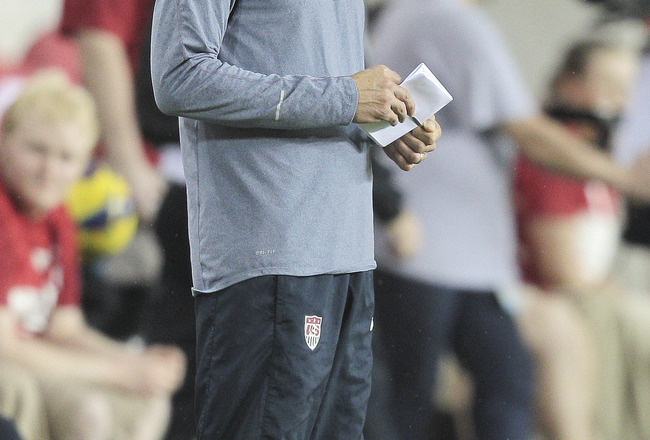 Pencil and paper in hand, Klinsman is making a list and checking it twice, thrice, as many times as it takes.
Bob Levey/Getty Images
The US men's national team roster is due out early this week for the Honduras World Cup Qualifier.
USMNT coach Jurgen Klinsman said five-to-six players from his January training camp would make the roster for the Honduras game. After the lackluster performance by the training camp squad, that number is probably smaller rather than larger.
But let's take coach at his word and assume that his plans for calling in foreign players relied upon at least five of the camp participants making the Honduras roster.
Here are my fickle five. Who would you choose?
Omar Gonzalez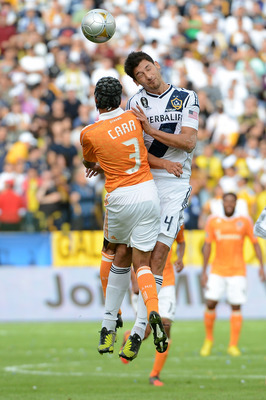 The big man is showing no ill-effects from last year's ACL tear and is needed in the center of the US defense.
Harry How/Getty Images
At 6'5", 210 pounds, his physical presence alone is notable, regardless of his technical skills and athletic ability. It's a good thing his skills and athleticism are equal to his size.
Gonzalez didn't have much covering work to do on the back line and no speedy forwards to run with like the U.S. will see against Honduras, but he was near perfect in the air, completely cutting off the Canadian long-ball counterattack.
Gonzalez seems fully recovered from his ACL and if his form improves like we saw in the NFL with Adrian Peterson, we'll see him in the center of the defense for most, if not all, of the Hex.
Eddie Johnson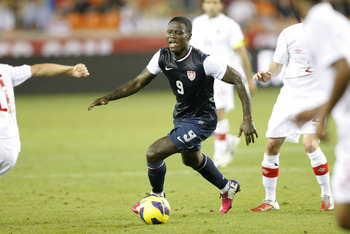 Big motor, speed and a willingness to go at opponents are traits the U.S. is generally lacking in its soccer players, and that's why GAM will be on the roster.
USA TODAY Sports
Johnson's return from his overseas exile, his reemergence in MLS and the timely work he did to get the U.S. through their first round of World Cup qualifying is a great story.
Klinsman values players like this, players who are never satisfied and are at their most dangerous when pushed down, players who step up their game in big moments.
That's Eddie Johnson, "Grown-Ass Man."
Don't judge GAM by the Canada friendly, unless you want to judge his work rate, because I guarantee that is what coach is looking at.
Josh Gatt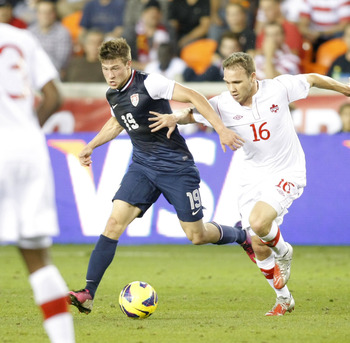 Gatt checks off every box on Klinsman's list of desirable talents and we'll see a lot of him in the Hex.
USA TODAY Sports
Most of the soccer illuminati panned Gatt's performance against Canada because he failed to deliver many dangerous crosses or slalom his way through the Northmen's defense. Bah.
He looked dangerous in the few opportunities he had, which were few because of the lack of support from his fullback. This kid hustles, may be the fastest player in the US player pool, is not afraid to be creative and tracks back well to defend the opponent's fullback.
Again, these are the kinds of traits Klinsmann adores and we are seeing just the beginning of Gatt's long-term placement on the USMNT roster.
Graham Zusi
Zusi's already shown he can play big in big moments and that's all you need to know about his placement on the Hex rosters.
Denny Medley-USA TODAY Sports
Graham Zusi startled USMNT fans with his emergence in the first round of World Cup qualifying. MLS fans already knew about his considerable skill set, but we've all seen MLS skill sets melt in the forge of World Cup qualifying.
Zusi seized his opportunity at an opportune moment, when the player ahead of him was waffling on his playing status. Only someone off their meds would suggest that Zusi is the equivalent of Landon Donovan, but Zusi has done precisely what coach has called on all his players to do—press the man in front of him.
Not only is Zusi pressing for Donovan's place in the starting lineup, he's done it under tough conditions with much on the line. Who wouldn't want this guy's left foot cutting in from the right side?
Juan Agudelo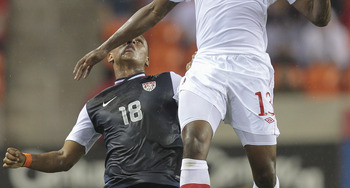 Going by Klinsmann's criteria Agudelo gets my fifth and final spot.
Bob Levey/Getty Images
If we go strictly by Klinsmann's player evaluation criteria, the fifth player to move from the January training camp to the Hex rosters is Juan Agudelo.
In his short time on the field against Canada he added a spark even it wasn't the most effective at starting a conflagration. In the past, he has shown an ability to pop up in key moments, he likes to take on defenders and has a high work rate. Check, check and check on Klinsmann's list.
You can't underestimate the importance of these criteria for Klinsmann. Why do you think we keep seeing Kyle Beckerman at camps and his name on rosters? He must be an absolute animal in training even if his abilities just don't rise in the cauldron of national team competition. Coach keeps bringing him back because he knows Beckerman will push everyone around him.
Hopefully Klinsmann realizes by now that even if Beckerman is a great in training and good in MLS he will never elevate the national side.
Time for new blood and I'm going with Agudelo but wouldn't be surprised with Bedoya, Buddle or Wondolowski (another big motor who finds good spots).
Update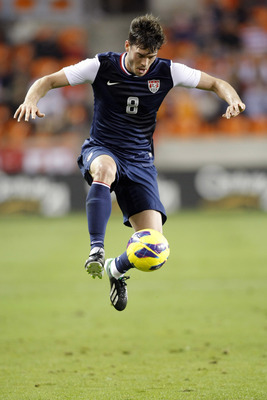 The Brads Davis and Evans are the surprise picks, to me and probably other US fans.
USA TODAY Sports
The USMNT roster for the Hex qualifier against Honduras was just released. Klinsman went with Brad Davis and Brad Evans over Josh Gatt and Juan Agudelo who were on my list. The sixth man from the winter camp on the roster is GK Sean Johnson.
I know Klinsman has other considerations for his rosters than the players' abilities and perhaps he thought that Gatt and Agudelo, two young players, were better off working out with their clubs rather than sitting on the USMNT bench for the qualifier.
Maybe Klinsman likes Davis' and Evans' work rate in practice. They sure didn't show well in the Canada friendly.
I seriously doubt either of these midfielders will see the pitch against Honduras, but I do expect to see Zusi and Johnson in the starting XI or at least some late-game energy as subs. Johnson will see reps only in training.
Here is the US roster for the Honduras qualifier.
Keep Reading

United States (National Football): Like this team?