Lionel Messi vs. Zlatan Ibrahimovic: Comparing Their 2012-13 Stats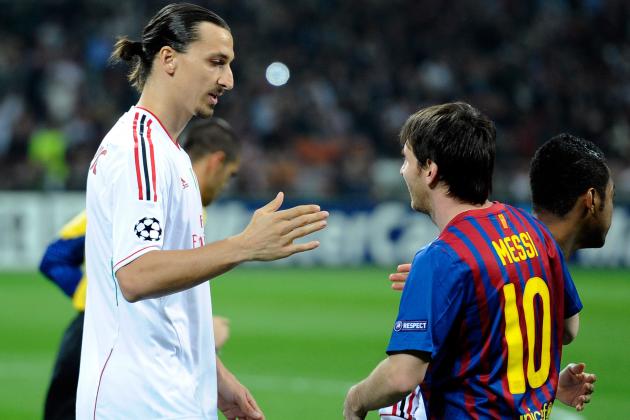 Claudio Villa/Getty Images

They've played together and against each other, and now compete in two different leagues for clubs who look set for title glory this season; Zlatan Ibrahimovic and Lionel Messi are two superb forwards recognized as amongst the best in the world.
Indeed, Messi is widely viewed as the best in the business right now, having just won his fourth Ballon d'Or, while Zlatan at least believes he is right up there alongside him.
So how do the two compare this season?
Messi is of course a key component once more with Barcelona in La Liga, while Zlatan is enjoying a fine debut campaign with new club Paris St. Germain in Ligue 1.
Both teams top their respective divisions—and of course both players top the goalscorers list in each top flight.
Here's how they compare statistically so far during 2012-13.
Begin Slideshow

»
David Ramos/Getty Images

First of all, the two sides they play in can be put into some sort of perspective.
Clearly, both Barcelona and PSG are full of exciting and talented players, headed by Messi and Zlatan respectively, and both aspire to similar glories.
Barça have for some time been regarded as one of the best club teams to have been produced ever, and after a season of winning "only" a single Spanish Cup they are fully committed this season to regaining their lost league title and competing for the Champions League once more.
PSG have built quickly off the back of the financial power afforded to them by Qatari owners, and have spent vast sums in bringing the likes of Thiago Silva, Ezequiel Lavezzi and Javier Pastore to the club from Italy—as well as Ibrahimovic himself, of course.
Barcelona lead La Liga by nine points from Atletico Madrid, with reigning champions Real Madrid a further seven points adrift.
PSG are top of Ligue 1, but the top end of that division is much closer—they lead Lyon by three points and Marseille by six points—then the teams in fourth place to ninth are separated by only three points themselves.
Both clubs are well-placed to make a title tilt if domestic form continues, while both are also aiming for continental success in the Champions League. The Spanish side face AC Milan in the last 16, while PSG play Valencia.
In terms of how strong the respective leagues are in which the players ply their trade, Spain is rated the top country in Europe in the UEFA Member Associations Coefficient Ranking. France place fifth, behind England, Germany and Italy.
Of the individual clubs themselves, Barcelona are the top-ranked team having won three of the last seven Champions Leagues, while PSG rank 24th—but expect them to climb quickly over the next few seasons if they continue to reach the knock-out stages of the elite competition.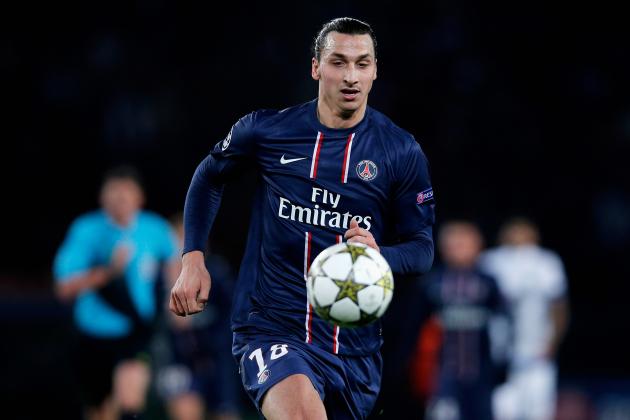 Dean Mouhtaropoulos/Getty Images

The two players in question are rather well-known for having certain in-game characteristics; Messi for example for his phenomenal dribbling skills and goalscoring, Zlatan for his unparalleled strength and confidence in the final third along with sublime control and outrageous attempts on goal.
They do both share some attributes, though of course they showcase them in different ways.
Both Messi and Ibrahimovic are key components for their teams in terms of being involved in the build-up phases of play, and their statistics reflect that.
| | | | | | | |
| --- | --- | --- | --- | --- | --- | --- |
| Player | Average Passes | Success rate | Long passes | Key passes | Assists | Dribbles |
| L. Messi | 61.1 | 85.2 percent | 2.3 | 1.4 | 8 | 3.5 |
| Z. Ibrahimovic | 40.9 | 77.4 percent | 1.3 | 2.1 | 5 | 0.9 |
The figures shown above are from League play only during 2012-13. Messi has 22 appearances (one as sub), Ibrahimovic 20.
With Barcelona noted for their established, possession-based game and PSG still finding their playing identity after a huge coaching and playing staff turnover, it should be no surprise to see Messi recording a higher number of passes.
What is notable though is that Zlatan is more consistently offering his teammates a chance to shoot on goal, recording more than two key passes every game. Messi, as a false nine forward, might be expected to return similarly high numbers given his propensity to drop deep and get involved outside the area, but averages far less than two key passes per game.
On the other hand, he is much more likely to attack the opposition by dribbling at the defence with the ball. His 3.5 dribbles per match ranks him atop of La Liga in this category, and sixth overall from the top five European leagues.
Zlatan's five assists make him one of only 15 players in Ligue 1 to have reached that number; Messi's eight is good for a top 10 spot from Europe's finest. Ibrahimovic ranks in the top 50 for his key passes.
Champions League statistics for further comparison (Messi five starts, one as sub, Zlatan six starts):
| | | | | | | |
| --- | --- | --- | --- | --- | --- | --- |
| Player | Average passes | Success rate | Long passes | Key passes | Assists | Dribbles |
| L. Messi | 69.5 | 85.4 percent | 1.7 | 2.3 | 2 | 1.5 |
| Z. Ibrahimovic | 47 | 77.7 percent | 2.0 | 2.0 | 5 | 0.7 |
Five assists in six games means Ibrahimovic ranks top in the Champions League this season in that area, with Messi not ranking in the top 20 in any area so far.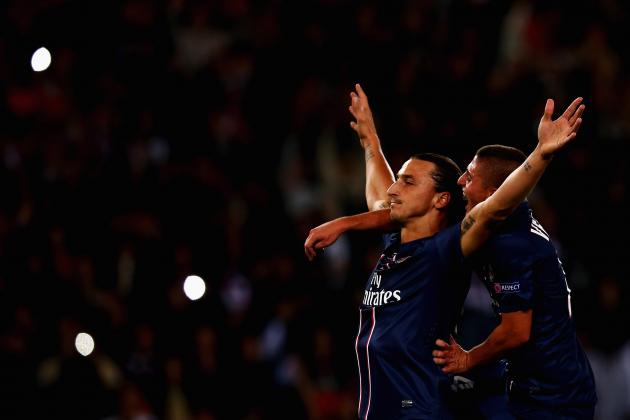 Dean Mouhtaropoulos/Getty Images

It's not only on the ball though that players have to contribute, and though as forwards it is not likely that the duo will be the top tacklers in Europe, they do still have some input into defensive measures.
Mainly, this comes from pressuring the opposition high up the pitch to win the ball back—though Zlatan's height of course makes him an asset in defending set pieces, too.
In terms of the usual defensive metrics such as tackling, interceptions and blocking shots, both Messi and Ibrahimovic barely register—neither of them average even 1.0 per game in any of those areas. Zlatan averages 1.2 clearances per game, borne of his aerial prowess in heading away corners and such.
There are two statistics worth looking at though from a team perspective.
The first is how well Ibrahimovic actually does in the air, and secondly how both contribute to losing possession of, or winning back, the ball.
Messi is rarely required to drop in to help his defence with set pieces; no surprise being 169 cm tall. The 195 cm Zlatan is a different matter; and he has shown his value here—as well as attacking aerially at the opposite end of the pitch—by contesting 56 aerial battles.
He has a 70 percent success rate, winning 39 of them, making him a formidable aerial opponent.
Onto losing and winning possession, with both players keen to take risks on the ball to try and craft out scoring chances, it is of course evident that they will at some points fail to hit the mark.
Zlatan tallies an average of being dispossessed 2.1 times per game—but wins back the ball 2.9 times on average. Completing so many turnovers places him joint-second in Ligue 1, and certainly the highest-placed forward in the league.
In fact Ibrahimovic is the highest-ranked forward in the top five European leagues for completing turnovers, and third-placed individual overall.
Messi attempts more dribbles so it is no surprise to see him lose the ball more often, being dispossessed 2.8 times per game, but he also contributes less to winning it back—only 1.4 times per game.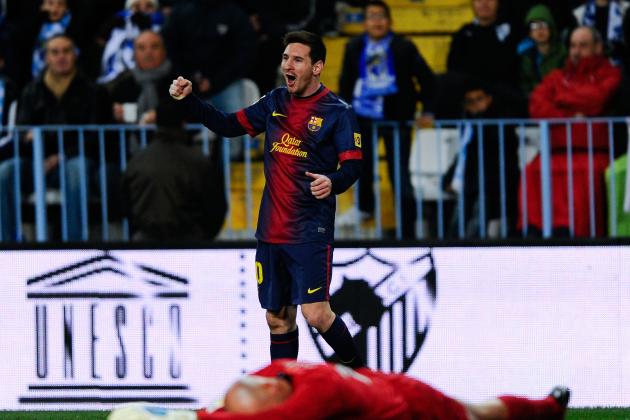 David Ramos/Getty Images

Finally we reach the main component of each player: Scoring goals.
If Messi cannot be expected to compete with Zlatan's stats on headed duels, then nobody can be expected to live with a player in finding the back of the net when he averages a thoroughly ridiculous 1.55 goals per game in the league this season.
Even so, there are aspects of their shooting which can be compared.
First up, the totals.
Messi has 34 goals in 22 league games, plus five in six in the Champions League. Zlatan has an admirable one-for-one record domestically, hitting 20 goals in 20 Ligue 1 games, and a further two in six in the Champions League.
Both players recorded no goals in their one domestic cup appearance this term.
Total goals, Lionel Messi: 39 in 29 games, an average of 1.34 goals per game.
Total goals, Zlatan Ibrahimovic: 22 in 27 games, an average of 0.81 goals per game.
Both players are of course the top scorer by far in their leagues; Messi leads the nearest challenger (Cristiano Ronaldo) by 13 goals, while Zlatan has an eight-goal lead at the top over his fellow Ligue 1 forwards (Bafetimbi Gomis and Dario Cvitanich). Taking into account the top European leagues, Messi and Zlatan occupy places one and three—just Ronaldo is between them.
Delving further into their shooting statistics leads to some interesting insights.
Messi averages 5.3 shots per game, totalling 116 in the league this season. His 34 goals therefore give him a 29 percent shot conversion rate, a stellar average for a forward.
Few other high-scoring attackers from Europe's top five leagues can boast a comparable rate, with only the likes of Mario Mandzukic, Radamel Falcao, Adam Szalai and Dario Cvitanich reaching above a five percent conversion rate.
Zlatan's 5.1 efforts each game total 102 shots, giving 19.6 percent conversion rate.
Both Messi and Zlatan rank in the top four in Europe for highest number of shots per game.
With the two players in such scintillating form, both Barcelona and PSG will be confident of domestic glory—and either one could be key if the two sides should meet in the Champions League.
Statistical data from WhoScored.com