Are AS Roma in Better Shape After January Than in 2012?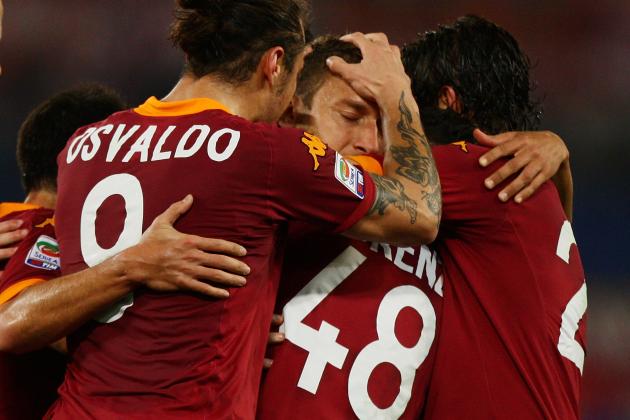 Paolo Bruno/Getty Images

AS Roma have had a hectic season. Zdenek Zeman's second spell as Roma boss was supposed to signal the glorious return of a club legend. His iconic 4-3-3 formation was to bring exciting, and more importantly, European football, back to the Giallorossi. The Wall Street Journal even dedicated an article to him, labeling him "Soccer's Jedi."
How wrong things went.
After 23 games, Roma's inconstant form has seen them slip down the Serie A table, with European qualification seemingly slipping through their fingers.
Without a win in 2013, Zeman was relieved of his duties following an emphatic 4-2 defeat at home to Cagliari, Roma's ninth loss of the season.
However, the question remains: Are Roma in a better position after January than last year, and is Champions League football still within their grasp this season?
Begin Slideshow

»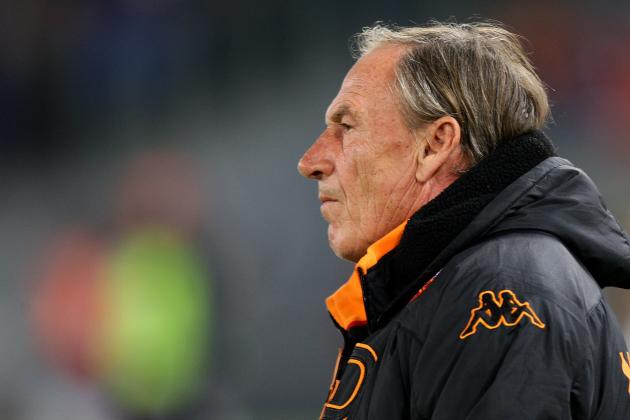 Paolo Bruno/Getty Images

In appointing veteran manager Zdenek Zeman, Roma went from one extreme to another.
Previous manager Luis Enrique was a young, exciting manager entrusted with bringing Barcelona's exciting brand of football to the Italian capital.
While Zeman's appointment saw the board trying to use his experience to bring a cool, calm and tactical head to inexperienced youngsters and to restore order to a number of ill-disciplined established stars.
What's remarkable is how, for Roma, those two extremes produced such similar results.
At this stage of the season, under Enrique in 2012, Roma trailed Lazio in a Champions League place by seven points. Zeman leaves Roma sitting in eighth, one place below their final position in Enrique's sole season in Rome.
After 23 games, Roma are nine points away from Lazio in third. Once again, Champions League football looks to have escaped the Giallorossi.
Zeman was a popular choice when he was appointed for his second stint as Roma manager at the start of the season, but inconsistent performances and poor results have seen the club take a step backwards—or at least none forward.
Although the timing of Zeman's dismissal may seem strange, one look at the stats suggests it was inevitable.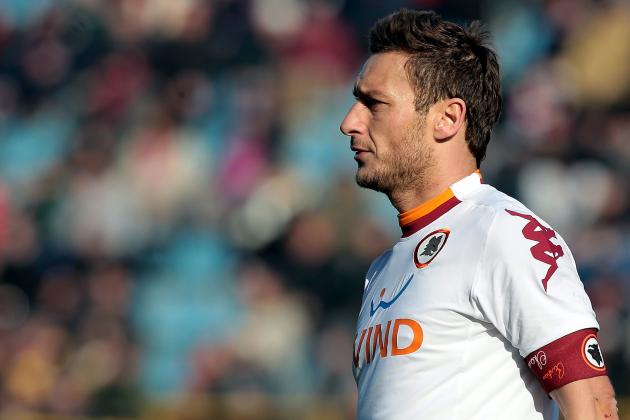 Gabriele Maltinti/Getty Images

Before the Christmas break, Roma's hopes for a Champions League push looked like a realistic aim for this campaign. Sitting in sixth place and only four points off third-placed capital rivals Lazio, the Giallorossi began to pick up some much needed momentum.
A solid four game winning streak was only interrupted by a surprise to defeat at the hands of Chievo, thanks to a last minute winner from Sergio Pellissier, while Roma ended 2012 with an impressive 4-2 victory over fellow Champions League chasers, Milan—a game which they had at one stage led 4-0.
However, their form since returning from the traditional winter break has left an awful lot to be desired. As we enter the second month of the year, Roma are yet to win a Serie A game in 2013. In five matches they have lost on three occasions, drawn twice, albeit impressively to Inter and have conceded 13 goals in the process.
After 23 games, Roma now sit in a disappointing eighth place, nine points away from Lazio in a distant third.
A narrow victory over Inter in the first leg of the Coppa Italia semi-final was a rare high point in what has otherwise been a very bleak winter for one half of the Italian capital.
On current form over the last six games, AS Roma are languishing in 19th place.
Indeed, AS Roma have returned from their controversial winter break at Disneyworld, where they trained over the Christmas period, looking more Goofy, with Woody performances almost killing their Champions League Buzz.

Improvements must be made if they're to avoid being labelled a Mickey Mouse club.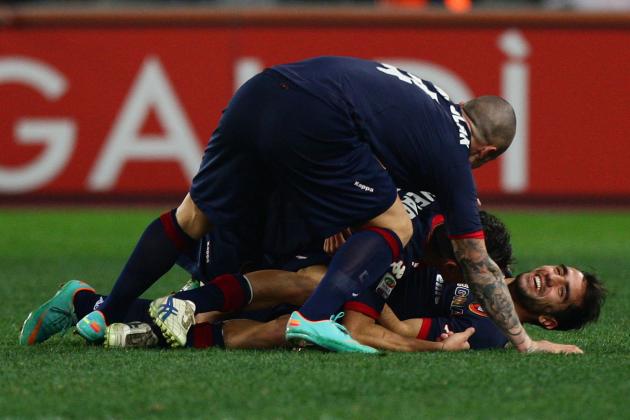 Paolo Bruno/Getty Images

The back line has been, without a doubt, Roma's biggest problem so far season. If there was one area that Roma's management should have looked at strengthening significantly in the recently closed transfer window, it was the defence.
They didn't. And against Cagliari they paid the price.
Four more soft goals were conceded, including a bizarre own goal from goalkeeper Goicoechea, as they fell to another disappointing defeat.
Those four goals, added to their already spectacularly high total, taking their goals-against up to 42, and handing them the dubious honour of having the second-worst defence in all of Serie A—second only behind relegation threatened Pescara.
In a previous article, I looked at some of the reasons why Roma's defensive record has been so poor this season. While some of the blame can be placed on Zeman's gung-ho tactical approach, perhaps the case is that these players just aren't good enough.
Either way, if any improvement was to be made, the transfer window was the ideal time to make some headway.
However, if the question was, "how can Roma improve their defence?" The answer probably isn't Vasilis Torosidis.
While the acquisition of Greek international Torosidis may prove to be a smart addition, there's nothing to suggest that his arrival will shore up Roma's leaky back.
In fact, his now former Olympiakos teammate Leandro Greco described him as, "an attacking winger who pushes up a lot, has good pace and technique, even if defending doesn't seem to be his strong point..."
A full-back who is more effective in attack? At least he'll fit right in…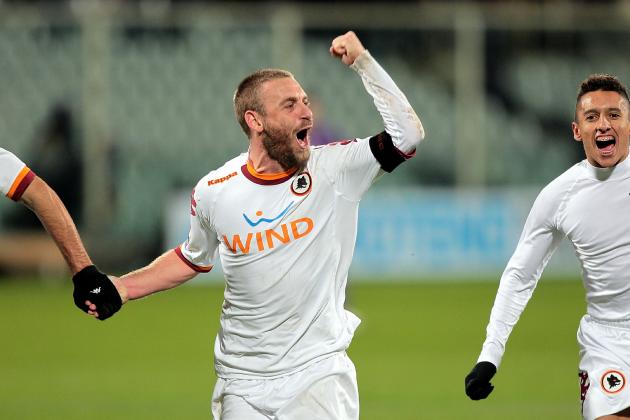 Gabriele Maltinti/Getty Images

For Roma, the January transfer window was less about whom they brought in but so much more about who stayed.
Of those that stayed, Daniele De Rossi could be the most significant. The midfield lynchpin was heavily linked with a move away from Roma, with Manchester City thought to be a potential suitor.
Before Christmas, De Rossi's future at Roma seemed uncertain. His relationship with Zeman had been rocky from the beginning, and after De Rossi was reported to have criticised the manager for letting his personal grudges overshadow the team's preparations, Roma's number 16 was dropped—subsequently falling down the pecking order.
With De Rossi rotting on the bench, the temptation to move must have been great. Yet he rubbished reports linking him with a move away, declaring:
"I've never wanted to wear another jersey: I love this city, I love this club, everything I love is here… I am 29, and leaving Roma would be a tragedy for me."
De Rossi remained, and now with Zeman out the door, his season can begin.
Another player Roma managed to hang to, for now anyway, is Miralem Pjanic. The 22-year-old playmaker was the object of desire for a number of clubs, including Tottenham, Chelsea and Barcelona.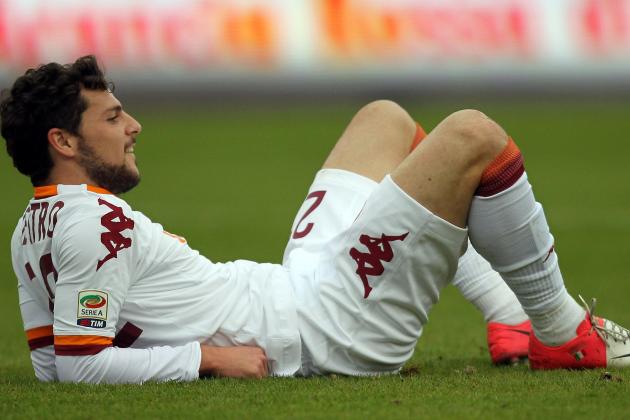 Maurizio Lagana/Getty Images

If there's one thing you can guarantee from Roma this season, it's goals.
In the 23 league matches Roma have been involved in so far in this campaign, 93 goals have been scored, with 49 of them going in the right end for the Giallorossi, compared to 36 at the same stage last season.
Their average of 2.13 goals scored per game is the league high, while they've notched four goals in one game on more occasions than any other side in the Serie A—an impressive four times.
You just can't help but wonder where Roma would be if it weren't for Zeman's insistence in sticking with his beloved 4-3-3 for so long.
Roma's forceful prowess in front of goal is as much about the great form of their strike force than it is about Zeman's setup.
Big money Luis Enrique signings, Pablo Osvaldo and Erik Lamela, have finally come good with some impressive performances, notching 11 and 10 goals respectively.
Francesco Totti remains a Roma stalwart, contributing eight goals so far this season, proving that the aging playmaker still has a lot to offer his hometown club.
The only real disappointment up front for Roma has come in the form of Mattia Destro. Signed by Zeman as a replacement for the outgoing, Liverpool bound, Fabio Borini; the Italian youngster has struggled to impress in his limited opportunities so far.
Destro has merely flirted with the first team so far this season, grabbing a mediocre four goals from 16 appearances.
This season could be a disaster for Destro, as a knee injury suffered in Roma's 2-1 Italian Cup semi-final win over Inter Milan will require surgery, keeping him out for two months—further limiting his first-team chances.
However, as the old saying goes: When one window closes, another door opens. So just as the transfer window was slammed shut, a slight breeze wafts across the room and blows a door open, right at the feet of Nico Lopez.
19-year-old Lopez made his first team debut earlier this season, grabbing an important last-minute equaliser against Catania—then seemingly disappeared. He re-emerged recently at the South American Youth Championship, where he finished top scorer with six goals.
With Destro out, Lopez could well return to Roma with a first team place up for grabs.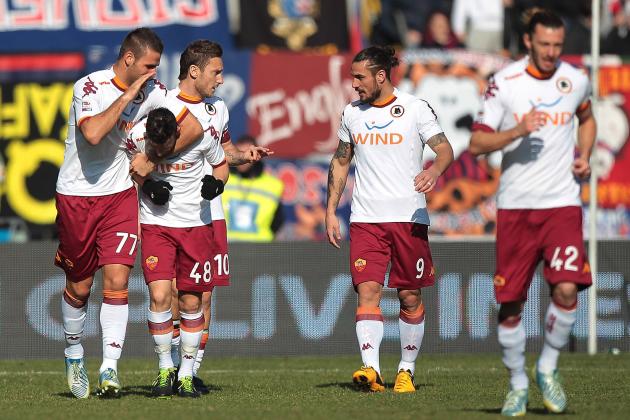 Gabriele Maltinti/Getty Images

It's difficult to judge AS Roma this season. Their form has been so erratic that it's hard to tell which side will turn up on match day. However, what is clear is that their post-Christmas form has not been good enough. Five games and no wins for a side with Champions League intentions is far from acceptable.
Comparisons with the league table at this time last year suggests that Roma have gone backwards during Zeman's brief, but tumultuous, second spell in charge. Indeed, the Zeman era must go down as missed opportunity for Roma to build on what Luis Enrique tried to start in the Italian capital.
While there's significant improvement in the goals department, with better options and key players hitting form, Roma's defensive displays still require some much-needed improvement.
Unfortunately, AS Roma missed their chance to strengthen in the January transfer window. The acquisition of Vasilis Torosidis may be a smart signing, but is unlikely to solve their problems
We've already seen how injuries can affect Roma's paper thin side, and with no January transfer window to work in a new coach, Aurelio Andreazzoli will have to work with a squad shaped with Zeman's 4-3-3 in mind.

A tricky task.
However, Zeman's departure could see spark in a number of key players, who had previously been marginalized, return to the side. Pjanic, Burdisso, Stekelenberg and most importantly, De Rossi, can get back into a side that has been crying out for a bit of steel, quality and experience.
Is Roma in better shape after January than in 2012? For the time being, the evidence suggests not. However, if Andreazzoli can harness the talent available to him and find a way to plug the holes at the back, Roma may find good form again
For now, sadly, European football, in the Champions League at least, looks to evade Roma once more.