Do L.A. Lakers Need Kobe to Be an Elite Scorer or Team's Facilitator?
Use your ← → (arrow) keys to browse more stories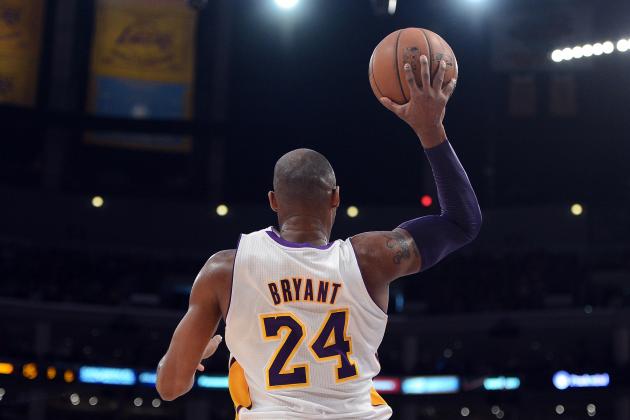 Harry How/Getty Images

Mired in mediocrity throughout the season, one of the Los Angeles Lakers' main concerns has been whether the team is at its best with Kobe Bryant as a passer or a scorer. It is clear that this recent incarnation of the Lakers is far better when Bryant is the team's main facilitator.
The Lakers have won every game in which Bryant has accumulated over 10 assists.
At one point in the Black Mamba's career, his scoring presence was his greatest weapon.
While claiming his most recent two NBA titles, Bryant was able to utilize his elite scoring capabilities to his heart's content due to the offense revolving around lane spacing and interior dominance that actually relied on Bryant's offensive dominance to create shots off the attention he received.
Stephen Dunn/Getty Images
However, the current makeup of this Lakers' team and the system they run requires spacing and ball movement to be fully effective. Thus, Bryant's ball-stopping style of play stagnates the offense even more so than usual in Mike D'Antoni's system.
While previous Lakers championship teams relied on a modified triangle offense that allowed for Bryant isolation plays that meshed well with post-ups by Andrew Bynum and Pau Gasol, this current incarnation of the Lakers utilizes a run-and-gun style with players that do not excel in a half-court offense.
With Steve Nash being a shell of his former self, his greatest value still comes from his passing and his shooting. However, with Bryant handling the ball the majority of the time, Bryant's passing is needed to initiate the offense.
It is clear that although Bryant is a very good player off the ball, he is not in his comfort zone unless he is the focal point of the offense.
Thus, If Bryant isn't comfortable handing an aging Nash the reins to the offense, Bryant has to take on the responsibility of being the main facilitator.
Kobe Bryant running the pick-and-roll to perfection with Dwight Howard.
The results speak for themselves, as the Lakers are undefeated when Bryant has accumulated a double-double in points and assists.
While Bryant is still clearly the best player on the Lakers, his age is starting to catch up with him.
While he proved he is still an elite scorer, he has lost a step on defense and has to pick his spots on both ends of the court.
Shifting to a facilitating role should allow Bryant to rest his legs, as he won't be responsible for shouldering as heavy an offensive load as he is used to carrying.
This should allow him to save his strength for clutch situations, in which the Lakers still need a cold-blooded closer to end games for them. This is especially important given Dwight Howard deficiency at the line and the Hack-a-Howard strategy most teams utilize on him down the stretch.
Should Kobe Bryant focus on scoring or passing?
This means that Bryant must toe the line between scorer and passer. While he has to become the main facilitator during the majority of the game, he must become the Black Mamba of old during the closing minutes to ensure that the Lakers can maintain the leads they build during the first three quarters.