Who Won Super Bowl XLVII's Key Battles?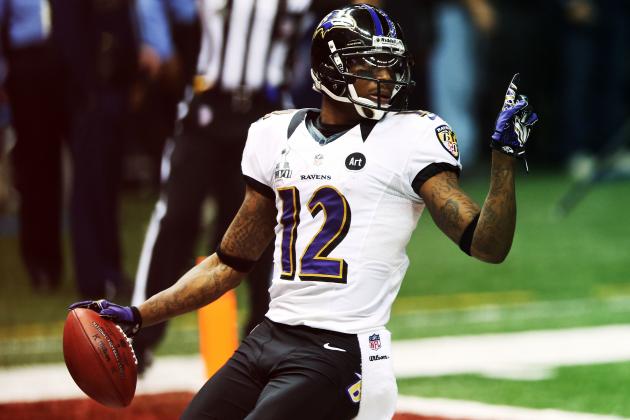 Ronald Martinez/Getty Images
The San Francisco 49ers had no answer for Jacoby Jones.
The Baltimore Ravens gave up 31 points in Super Bowl XLVII, so it isn't surprising that their main matchup victories over the San Francisco 49ers took place on the offensive side of the ball. Joe Flacco—the Super Bowl MVP—along with Anquan Boldin, Jacoby Jones and Bryant McKinnie all enjoyed statistically prolific games.
Torrey Smith won his matchup, too, but didn't finish with numbers that necessarily reflected that. Flacco was able to get big plays from Boldin and Jones so frequently that Smith's presence in the box score wasn't as necessary as usual.
San Francisco won the battle with Ray Rice while the Ravens' passing attack lit up the scoreboard. The 49ers also won a few key matchups with members of their own offense, but it wasn't quite enough to pull out the victory.
Begin Slideshow

»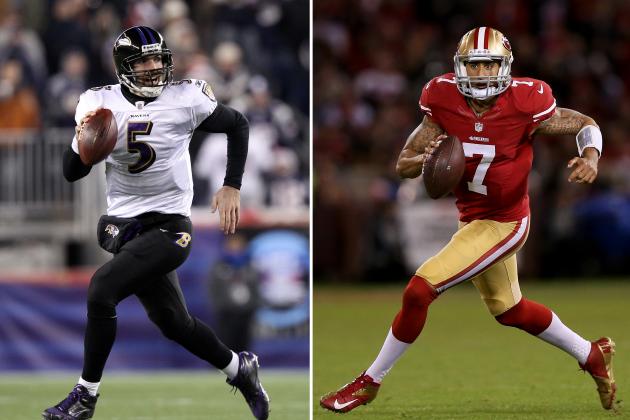 Elsa/Getty Images

Joe Flacco and Colin Kaepernick didn't physically match up with one another. They were, however, the two QB names on the marquee—and the team with the better signal-caller tends to win the game in the NFL.
Flacco was better on Super Bowl Sunday.
The Baltimore Ravens gunslinger went 22-of-33 passing (66.7 percent) for 287 yards, three touchdowns and no interceptions.
Kaepernick threw for more yards (302), but fewer TDs (one; also a rushing touchdown) and an interception. He completed 16 of 28 throws: 57.1 percent.
WINNER: Joe Flacco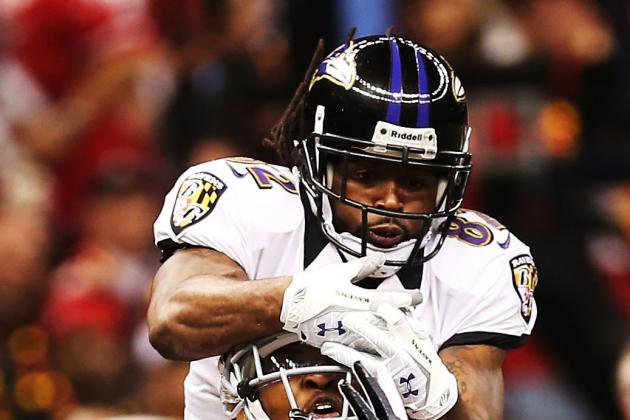 Christian Petersen/Getty Images

Torrey Smith was thrown at six times by Baltimore Ravens QB Joe Flacco. He brought in just two of them for 35 yards, but still holds the edge over San Francisco 49ers cornerback Chris Culliver. Smith drew a third-down defensive pass interference call on Culliver with the Ravens up by two in the fourth quarter.
Culliver also gave up 86 combined yards—plus a TD—to Anquan Boldin and Jacoby Jones in the first half on just one big play apiece. He finished with four solo tackles (one for loss) and two deflected passes.
WINNER: Torrey Smith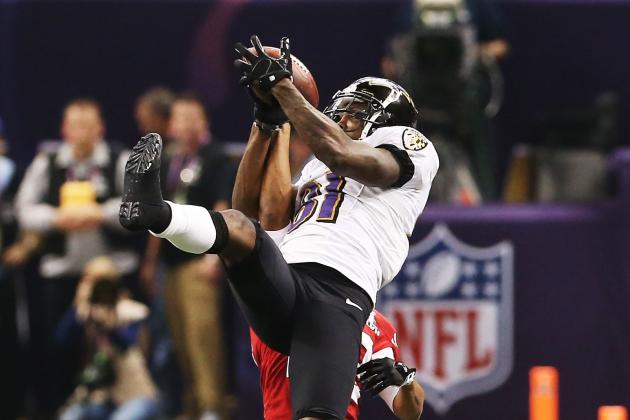 Ronald Martinez/Getty Images

Anquan Boldin was ravenous in his pursuit of the football on Super Bowl Sunday. Carlos Rogers just happened to be around in some of the instances that Boldin was accumulating stats. Boldin finished with six catches (10 targets) for 104 yards and a touchdown.
His longest reception (30 yards) came against Chris Culliver, and his touchdown catch (13 yards) came against Donte Whitner. Boldin also converted a key third down in the fourth quarter against Rogers by high-pointing a ball on the sideline.
Rogers had three solo tackles for the San Francisco 49ers.
WINNER: Anquan Boldin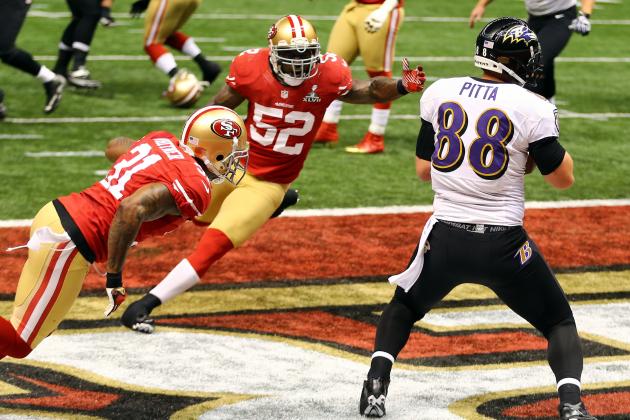 Al Bello/Getty Images

Patrick Willis' impact on the San Francisco 49ers was felt as the defense refrained from giving up a touchdown in the second half. However, Dennis Pitta had already done his damage for the Baltimore Ravens by then.
Pitta got behind Willis' zone in the second quarter, scoring a one-yard touchdown on one of his four receptions. He finished with 26 yards on five targets: an 80-percent catch rate.
WINNER: Dennis Pitta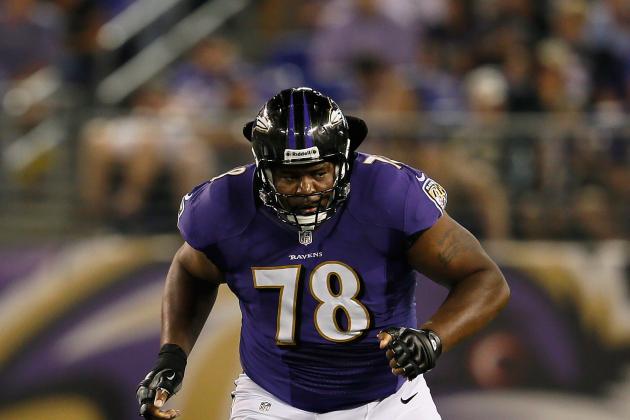 Rob Carr/Getty Images

Bryant McKinnie saw to it that Joe Flacco wasn't sacked from his blind side by the San Francisco 49ers. Aldon Smith only registered one QB hit, while he and Justin Smith combined for zero sacks on the Baltimore Ravens signal-caller.
Aldon Smith recorded two total tackles (one solo). Justin Smith tallied three solo tackles. Baltimore's longest rushing play went for just 12 yards, but the Ravens got four 20-plus-yard plays in the passing game.
San Francisco's pass rush was unable to dictate the pace of the game.
WINNER: Bryant McKinnie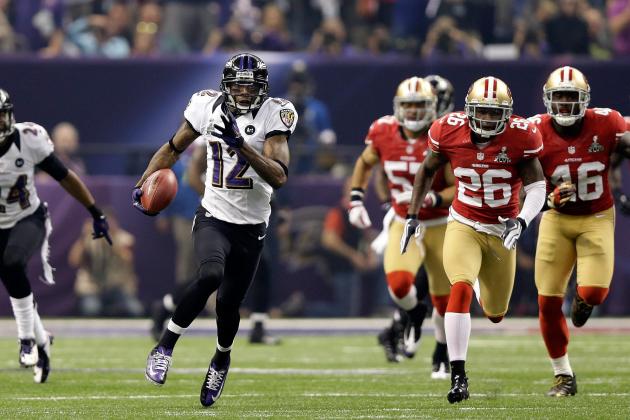 Ezra Shaw/Getty Images

Jacoby Jones made a strong case to win the Super Bowl MVP award. He didn't touch the ball very much—he had five kick returns, two punt returns and a reception—but the dynamic playmaker totaled 290 all-purpose yards.
Well over 200 of them (234) came in the return game, including a Super Bowl-record 108 yards on a kick return to open up the second half.
Even without the massive play, Jones averaged 24.5 yards per kick return and 14 yards per punt return.
WINNER: Jacoby Jones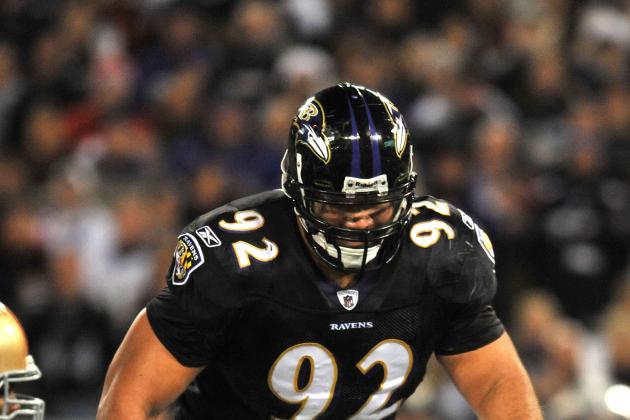 Larry French/Getty Images

Haloti Ngata was holding things down in the run game for the Baltimore Ravens. Colin Kaepernick didn't score his rushing touchdown until after the star defensive lineman exited the game with a knee injury (via NFL.com).
Frank Gore absolutely gashed the Ravens in Ngata's absence, gaining 70 yards and a touchdown on just five carries.
Prior to Ngata's departure, Gore had 40 rushing yards on 14 carries: a 2.9-yard average per attempt. He finished with a 5.8 yards-per-carry average, doubling his YPC in just five rushes. Ngata would probably have kept that number down if he had finished the game.
WINNER: Haloti Ngata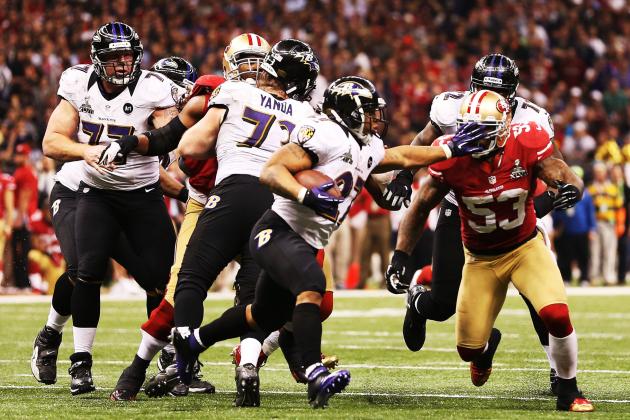 Christian Petersen/Getty Images

NaVorro Bowman certainly was not the only player tasked with keeping Ray Rice under wraps, but the San Francisco 49ers inside linebacker can be proud of his work in the run game. He led the team with two tackles for loss, tied for the team lead with two QB hits and placed second behind Patrick Willis in total tackles (nine) and solo wrap-ups (seven).
Rice, meanwhile, totaled 78 yards on 24 touches (3.3 average)—including 59 rushing yards on 20 carries (3.0 average). He was held out of the end zone.
WINNER: NaVorro Bowman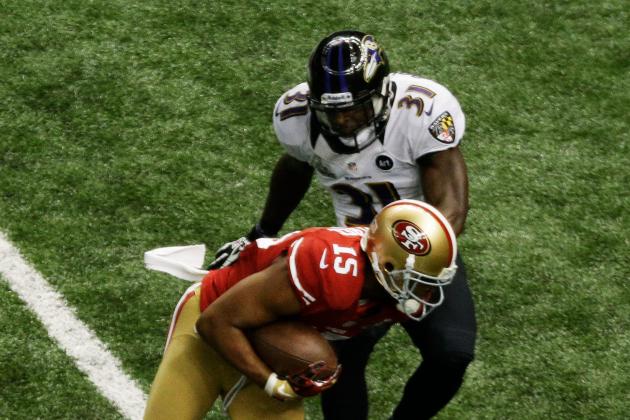 Rob Carr/Getty Images
Doesn't look like it, but he's about to score a touchdown.
Michael Crabtree got 10 looks from Colin Kaepernick on Super Bowl Sunday. He caught five of them for 109 yards and the San Francisco 49ers' first touchdown of the evening—after bouncing off of Baltimore Ravens defensive backs Bernard Pollard and Cary Williams.
It was his longest play of the day.
While Crabtree caught just half of the balls thrown his way, he averaged 10.9 yards per target. Williams made three tackles (all solo) and deflected two passes. Pollard had two solo tackles.
WINNER: Michael Crabtree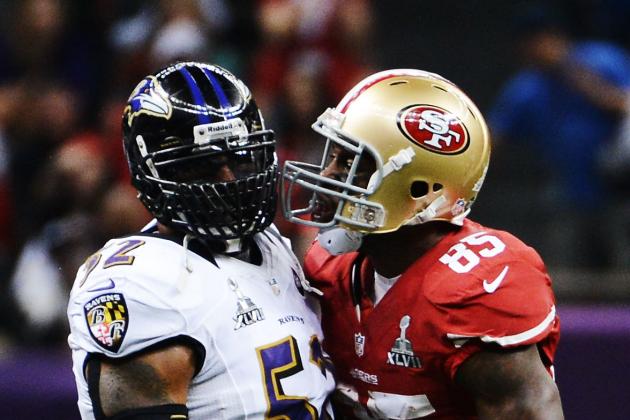 Harry How/Getty Images

Ray Lewis was targeted in the passing game by the San Francisco 49ers in Super Bowl XLVII. More than one Colin Kaepernick attempt found success against the veteran Baltimore Ravens linebacker; Vernon Davis was the beneficiary of a few.
Davis' speed was destined to be a matchup problem for the 37-year-old Lewis. When Lewis was covering Davis, Kaepernick attacked him. Overall, the tight end finished with 104 yards on six catches, topping the century mark for the second consecutive game.
WINNER: Vernon Davis
For more NFL analysis, follow Jamal on Twitter: Follow @StatManJ