A Tournament to Determine NBA's Ugliest Shooting Strokes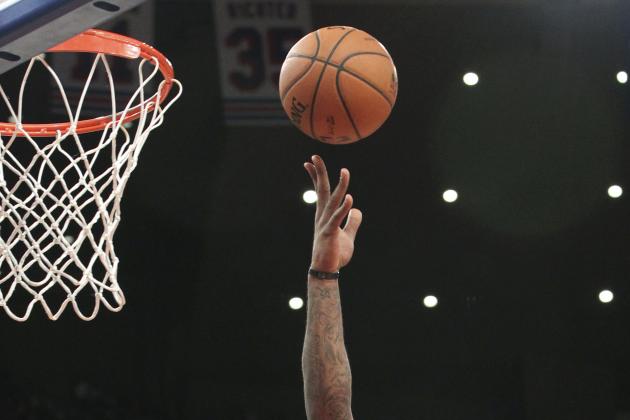 Associated Press
You've met the All-Stars. Now meet the Gang That Couldn't Shoot Straight.
Getting the ball into the hoop on a regular basis is already a wonder of physics. With these guys' stinky strokes and repulsive releases, it's a flat-out miracle any of their shots go in.
And quite frankly, some of them don't.
In honor of All-Star week, I proudly present a tournament to decide who has the ugliest shot in the NBA.
My wife suggested that, instead of March Madness, I dub this February Freakshow. And as I always say, a happy wife means a happy life.
So without further ado, I give you the First Annual February Freakshow: the battle of the weirdest, wildest, wackiest and worst shots in the NBA.
Let's jump it up!
Begin Slideshow

»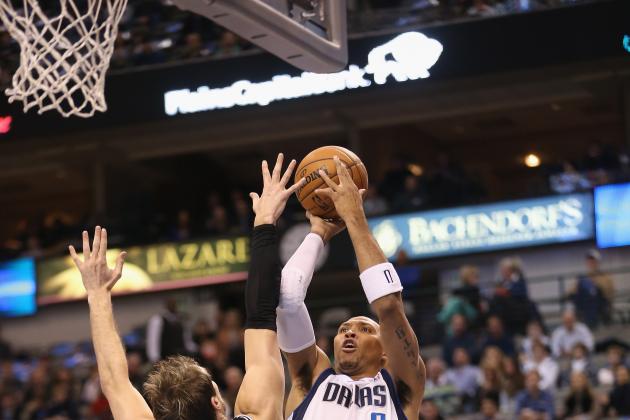 Ronald Martinez/Getty Images
Shawn Marion shooting (if you can call it that).
Jamal Crawford is going to look strange with the mask he's going to wear while recovering from his broken nose. But that's nothing compared to his odd shot, where both arms flip forward to release the ball.
Crawford reminds me of a Six Million Dollar Man doll I had as a kid. His arms flipped the same way. But he was a plastic doll.
Crawford's form is weird, but he makes Shawn Marion look like Baryshnikov by comparison.
Marion shoots like he's cheating at darts. They call him The Matrix. Watching Marion shoot makes me want to take the blue pill.
To Marion's credit, his shots go in. Though I'm not sure how.
Advancing: Marion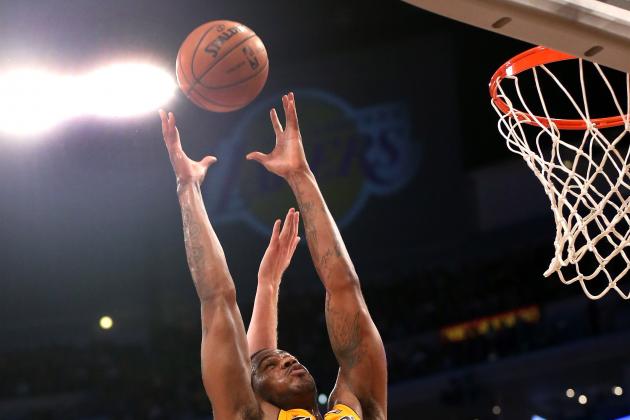 Stephen Dunn/Getty Images

If Greg Louganis were reincarnated as a 6'10" basketball player, he'd be Earl Clark. Clark's shot looks less like a jumper and more like a dive off the high board...until you see a Spalding rise out of his hands and head toward the rim.
When Joakim Noah launches one, I'm not sure whether he took a shot, or simply got tired of holding the basketball and threw it away in disgust.
Bad form for both, but bad matchup for Clark's nutty shot.
Advancing: Noah
Diop, owner of the worst free-throw shot ever, was an easy choice for the No. 3 spot. But surprisingly, Double D, who's been known to clunk a few, can look silky-smooth at times too.
When Prince sticks those bony elbows out on his J, it looks like he's trying to bounce the ball off his head before he launches it.
Whoa—a No. 3 seed goes down. Doesn't it feel like March in February?
Upset! Advancing: Prince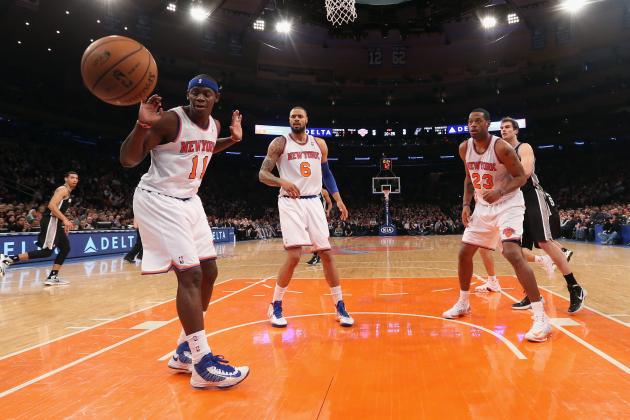 Bruce Bennett/Getty Images
Ronnie Brewer says "It's not me!"
Lewis, who's undeniably getting up there in NBA years, has always actually looked dead to me when he shoots. His whole body goes dead and straight, and his legs hang limply underneath him. His form is like a car accident: ghastly, and yet you can't look away.
Brewer, on the other hand, does a strange inward move with his lower body when he shoots. It looks to me like he's got restless leg syndrome or something.
Brewer has been a common choice throughout the years for his strange form. But at the end of the day, Lewis pulls off the upset.
And a No. 4 seed falls. All we need is Dick Vitale going apoplectic about something banal.
Upset! Advancing: Lewis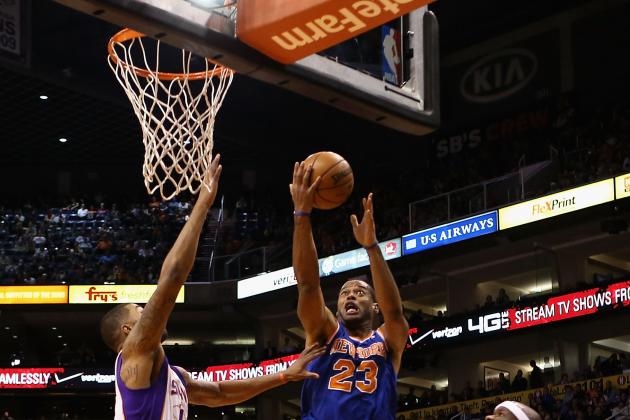 Christian Petersen/Getty Images
Marcus Camby.
How do you describe Camby's famously odd shot? It looks like he's underwater and his air ran out...he's trying desperately to get to the surface before he drowns. And all that's compressed into his shooting motion.
Fields has a one-handed push shot which is surprisingly effective, but makes him look like he's shot-putting the ball.
This one's a layup.
Advancing: Camby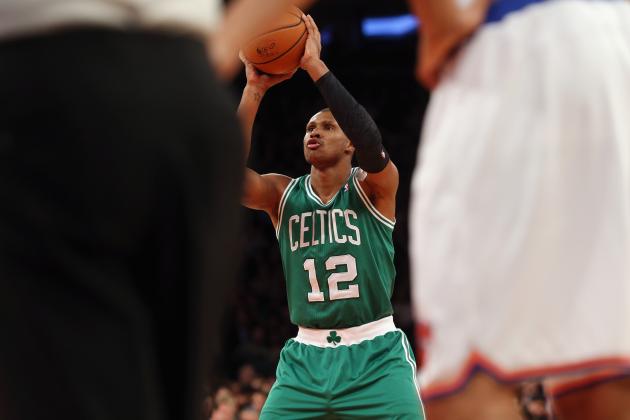 Bruce Bennett/Getty Images
Everybody wants to see Barbosa's wacky shot.
Cousins has had a rough year. And so have fans who've seen his jump shot. He looks like he's trying to do a magic trick with a yo-yo and make the ball come back to him.
Barbosa looks like he's playing Pop-A-Shot. Also, most of the time, I can't actually see him putting anything on the shot...yet it flies out of his hands. Mysterious.
This one's a toss-up—much like the way these two players' shots look. And in a toss-up, the higher seed usually turns it on at crunch time. Though, in the case of this tourney, that means turning on the weirdness.
Advancing: Cousins
Chuck Hayes is another whose seed is high based on truly god-awful free-throw shooting. Watch these attempts…and marvel that the man makes more money than most of us can ever dream of.
His jumpers, though, aren't nearly as entertaining.
Steve Blake somehow looks like he gets his shot off like one would pop a zit: squeezing the ball until it flies forward. Oddly, too, it looks like the ball is too heavy for him; it often seems to hesitate in the air, as if he didn't put enough on it.
I'm sensing an upset alert. And since I'm the writer...I'll be darned—I'M RIGHT!
Upset! Advancing: Blake
Glen Davis actually has a pretty sweet shot for a big man. But doesn't it look like he's bouncing off an unseen trampoline when he shoots it?
No one's saying the talented Mr. Nowitzki's shot isn't elite. But there are two strange elements to his stroke:
1) whenever he shoots a long-range two or a three, it looks like those trick shots in movies where the shooter shoots it high enough for a production assistant to catch it, and then someone from above throws in a short jumper.
2) watch his legs when he fires. Usually his right leg—only the right leg—goes out so that his thigh is almost perpendicular to the floor. For one brief shining moment, Dirk looks like he's trying to imitate the last scene in Karate Kid. (Which one? Which one? Let's put it this way: Jackie Chan is not Mr. Miyagi.)
Who cares, though. Dirk is too good to win an ugly shot contest.
P.S. This is probably the only time Big Baby is gonna beat Dirk at anything.
Advancing: Davis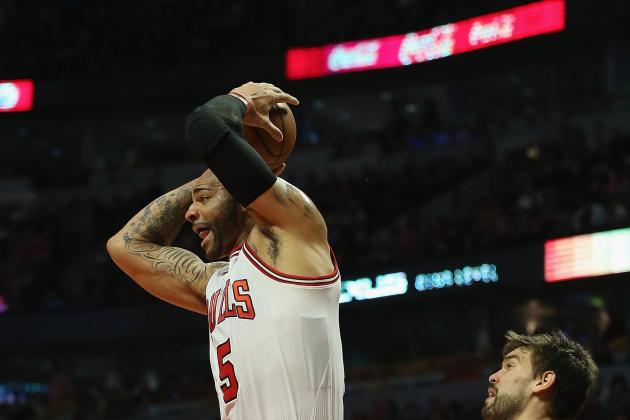 Jonathan Daniel/Getty Images
Boozer is probably passing here, but since his shot looks just like this, who can tell?
I'll never forgive Carlos Boozer for not only allegedly lying, but lying to a blind man, for no other reason than money.
Most fans will also not forgive his jump shot. He puts it so far behind his head, I'm surprised that he doesn't lose the grip on it. Anyone could come up behind him and knock the ball out of his hands. Of course, they'd have to deal with Boozer after that.
Bogans' jump shot isn't that bad in general, but he made the list simply on the basis of this shot. This may be the ugliest jump shot ever to go.
This one's a cakewalk.
Advancing: Boozer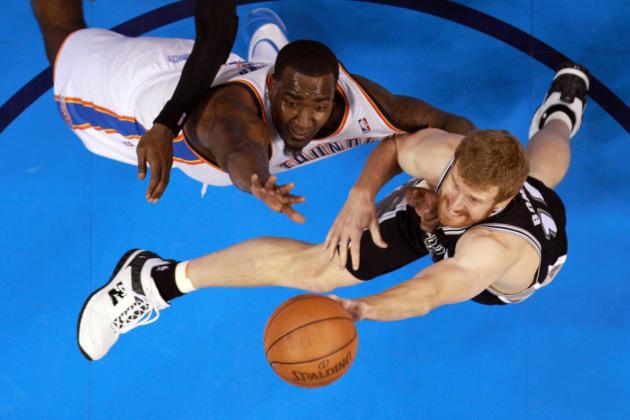 Ronald Martinez/Getty Images
Matt Bonner (at right).
Matt Bonner can drain the outside jumper. But watching him will drain the color from your cheeks.
Usually shooting with butt out and knees bent, Bonner looks more like he's practicing in front of his television than playing an NBA game. But damned if the rock doesn't find its mark.
I don't know what's weird about Watson's form, but something is. It's like he hesitates in the air too long before his shooting motion starts, and then his arms are extended so straight...I can't put my finger on it, but I wouldn't use his form as a teaching tool for my kid, that's for sure.
Despite Watson's weirdness, this one is elementary.
Advancing: Bonner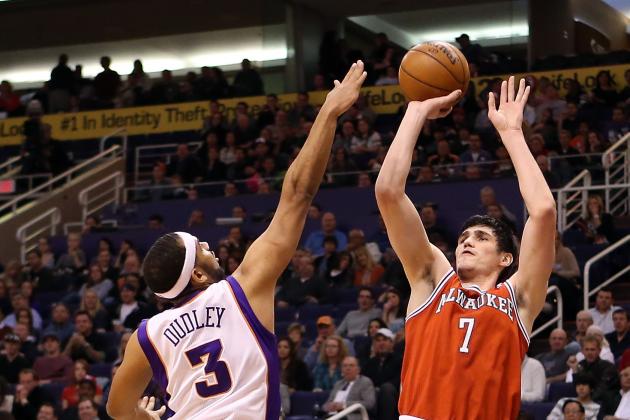 Christian Petersen/Getty Images
Ersan Ilyasova
Ersan Ilyasova looks like he's building a house out of matchsticks when he cocks his arms back for a shot. What's almost as weird is he looks like he's staring at where the ball will be in mid-flight, versus at the rim, when the shot goes.
Mo Williams' shots are a thing of beauty. His form, however, would probably have been useful in ancient days, for firing flaming cannonballs over the castle walls.
Come on—with a name like Ilyasova, did you really think this guy would lose a weirdness contest?
Advancing: Ilyasova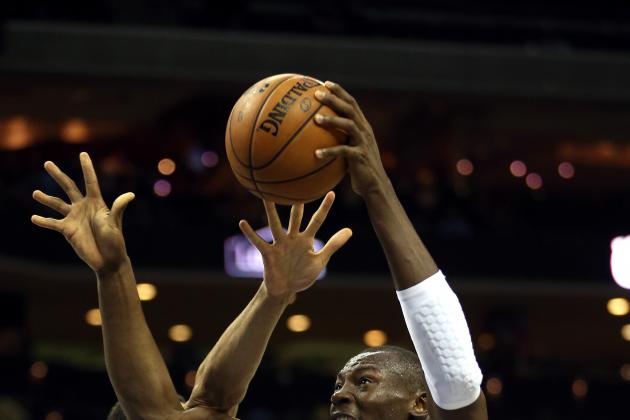 Streeter Lecka/Getty Images
Bismack Biyombo.
When Aldrich shoots his two-handed jumper, his body language screams "You can't stop this because I'm taller than you!" Note to Cole: This is the NBA...you're not the tallest guy anymore.
Biyombo's jumpers, by contrast, look like he's trying to get a kite to fly. And that's weird enough to pull off the upset.
Upset! Advancing: Biyombo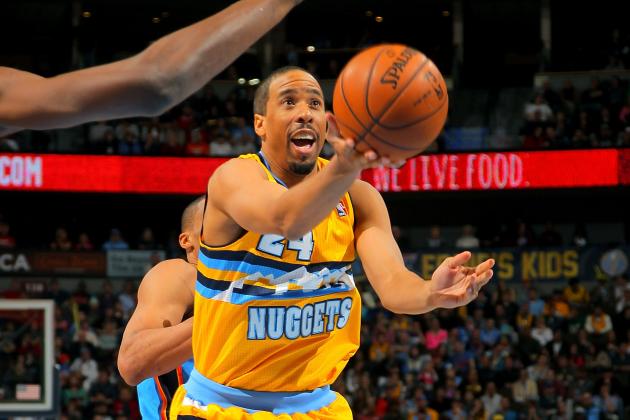 Doug Pensinger/Getty Images

Martin seems to release the ball way before he's finished his upward motion. I'm surprised the ball doesn't go down, rather than up and in.
Arms way out in front of him when he releases, Miller looks less like a basketball player and more like he's conducting a philharmonic orchestra.
Which means sweet music in this tourney.
Upset! Advancing: Miller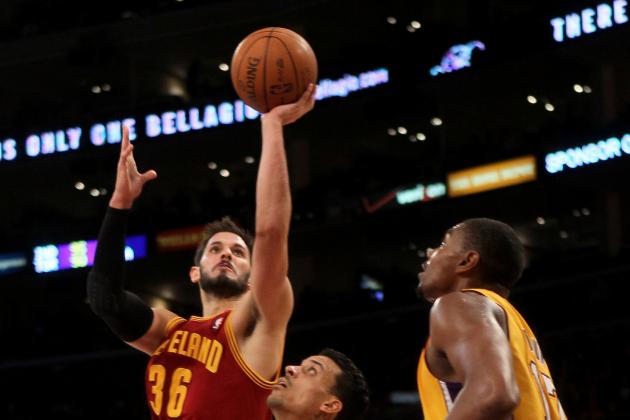 Stephen Dunn/Getty Images
Omri Casspi.
This is kind of a magical pairing.
I say that because Evans, with the way he brings the ball to his forehead, looks for all the world like he's trying read the ball's mind. Give him one of those soothsayer hats and he'd make a fortune telling fortunes.
Casspi, making magic in his own way, usually releases the shot while his forearms are parallel to his body. What does it look like? Put it this way: If Casspi were to decide to cast a spell over the crowd during his stroke, the audience would probably turn into frogs.
Close one, but...
Advancing: Evans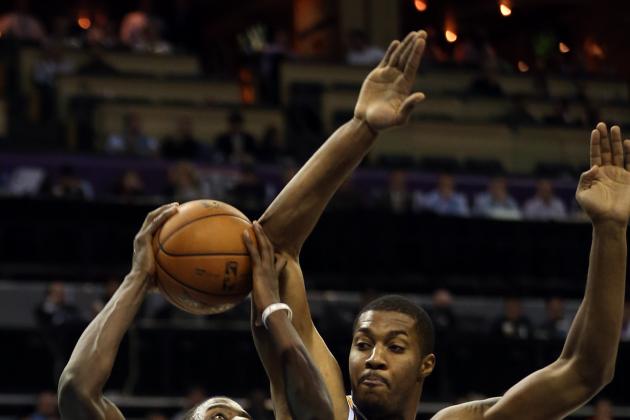 Streeter Lecka/Getty Images
Michael Kidd-Gilchrist.
When MKG shoots, it looks like he's blocking his own line of vision with the ball. Maybe he's trying to develop his sixth sense?
Griffin is a heck of an athlete, but as a jump shooter he looks more like Lenny in Of Mice And Men. His shot often appears lumbering and awkward, and I find myself wondering whether Blake's gonna shoot, or squish all the air out of the ball and make a King Kong face instead.
Don't get me wrong—I really like the kid.
But for this contest, I like the Kidd.
Advancing: Kidd-Gilchrist
I haven't seen Biedrins take many jumpers, and that may be to everyone's relief. His free throws are terrifying. Watch this one. Could it be that someone shot it down in mid-air? For Biedrins' sake, I sure hope so.
Rondo's form isn't that bad. But man, his shots in general have just not gone in. And that may be the definition of ugly.
However, from 16 to 23 feet this year, Rondo has surprised everyone, shooting over 45 percent.
So I'll vote for the guy who can't even hit the rim when there's no one guarding him.
Advancing: Biedrins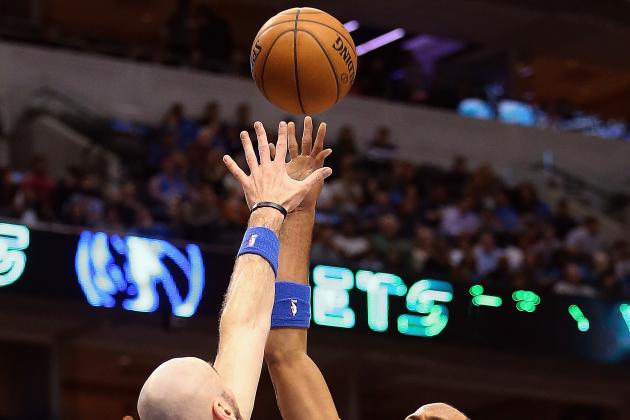 Ronald Martinez/Getty Images

If Marion's shot were a disease, it would take the guy on House to figure out what kind. It's that bizarre.
And it kind of does look diseased.
Advancing: Marion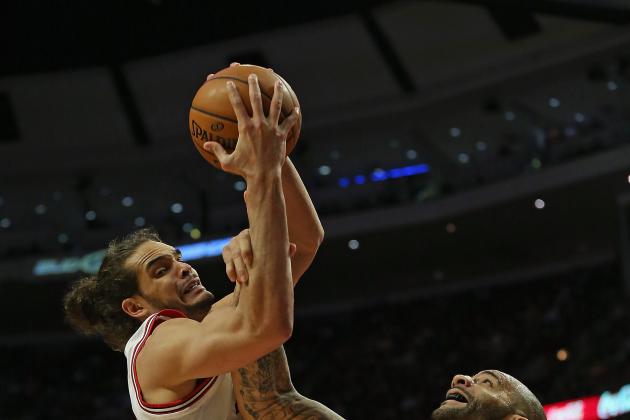 Jonathan Daniel/Getty Images

Noah looks like he's having a spasm after the shot is released. Each hand goes off and does its own thing. Kind of reminds me of that AT&T commercial where that guy is interviewing all the kids, and one kids waves his arm while waving his head.
The kid defines "out of control."
Advancing: Noah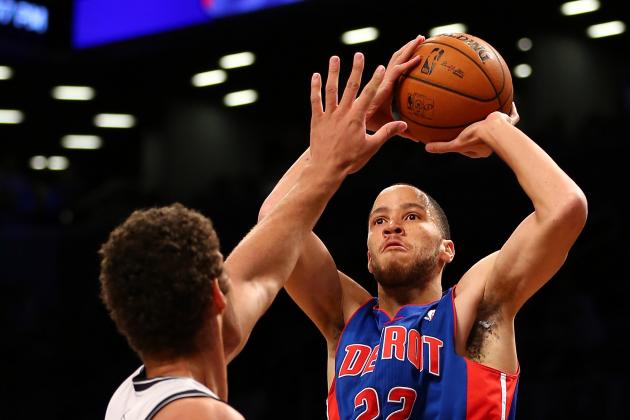 Elsa/Getty Images

The chicken wings of Prince versus the prestidigitation of Evans.
Did someone say chicken wings?
Upset! Advancing: Prince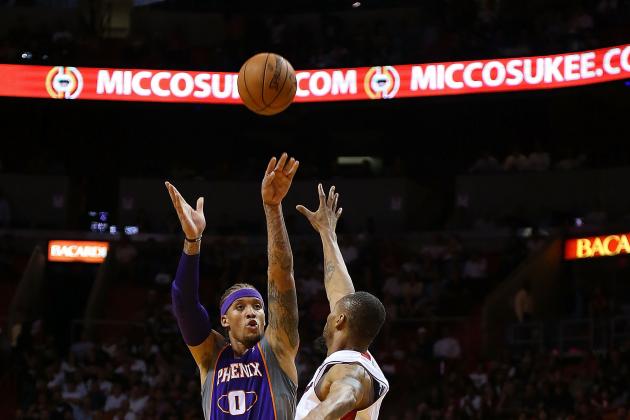 Mike Ehrmann/Getty Images

The horror that is Lewis' jumper versus the classical style of Miller.
This is, after all, a freak tournament. So let's go with the dead man jumping.
Advancing: Lewis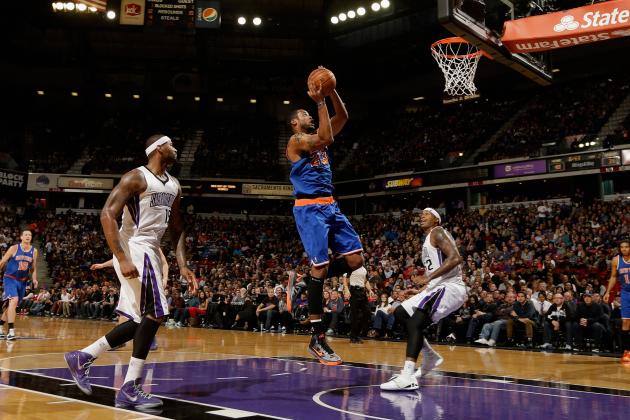 Ezra Shaw/Getty Images

I've seen Camby's a lot more, so maybe I'm biased. But let's continue the dead-and-dying theme and go with the drowning Camby Man.
Advancing: Camby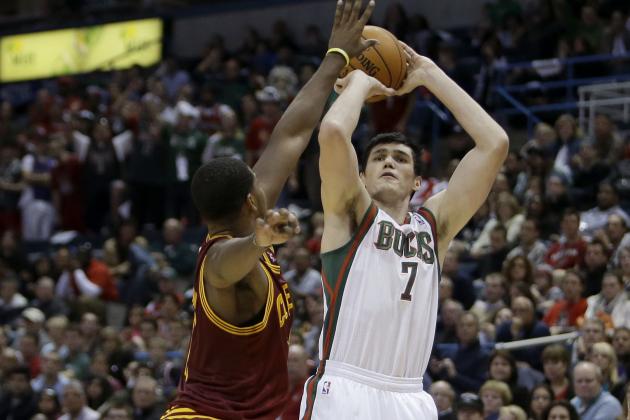 Mike McGinnis/Getty Images

Cousins has had a tough year. He really deserves a break.
Which is why his odd but effective jumper ends its run here.
Upset! Advancing: Ilyasova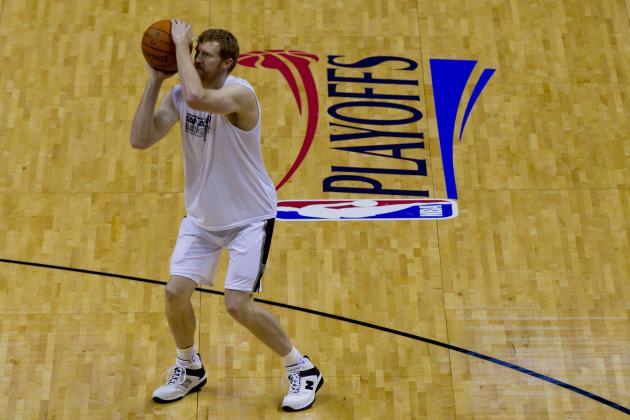 Justin Edmonds/Getty Images

Blake's shot is cooler. Which means it's less ugly. Which means whether or not Bonner participates in the three-point shootout and hits from outside, he's still got an outside chance at winning this freak show of a tourney.
Advancing: Bonner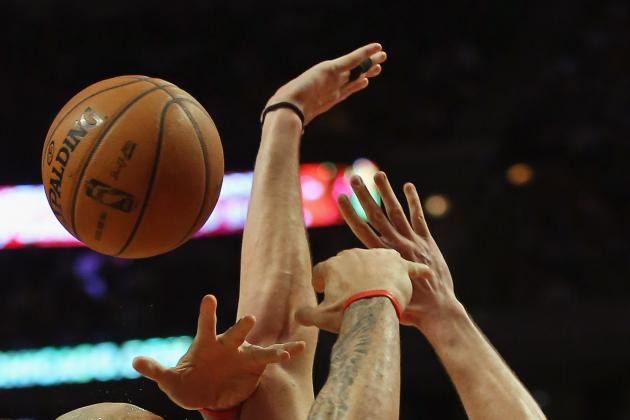 Jonathan Daniel/Getty Images

Davis' shot is weirder. But Boozer's shot is uglier—fitting for the alleged ugly display of greed I'll never be able to forgive him for.
Advancing: Boozer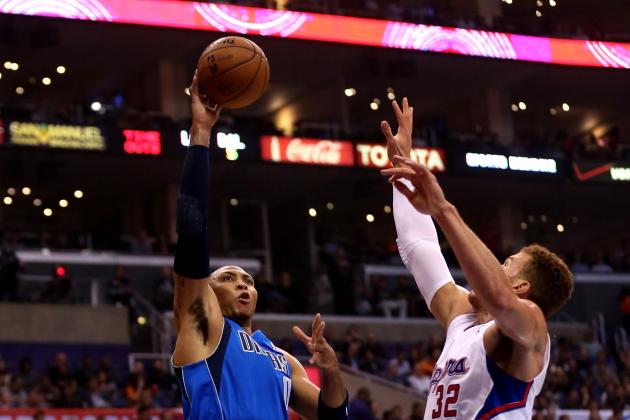 Stephen Dunn/Getty Images

The Matchstick Man is no match for the human Marion-ette.
Advancing: Marion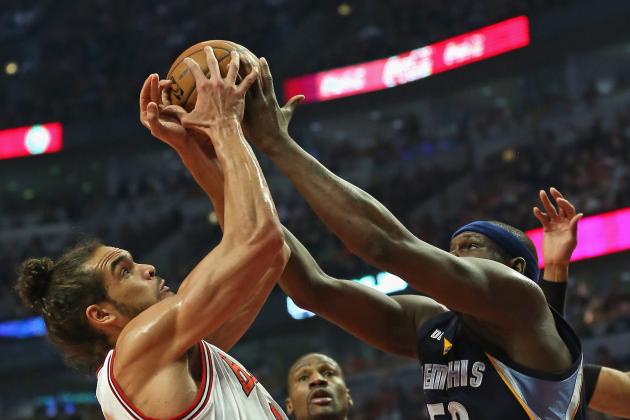 Jonathan Daniel/Getty Images

Bonner's Cinderella run ends here. Noah's form makes me want to find an ark and hope the rain falls for 40 days and 40 nights.
Could this be a 1-versus-2 finals?
Advancing: Noah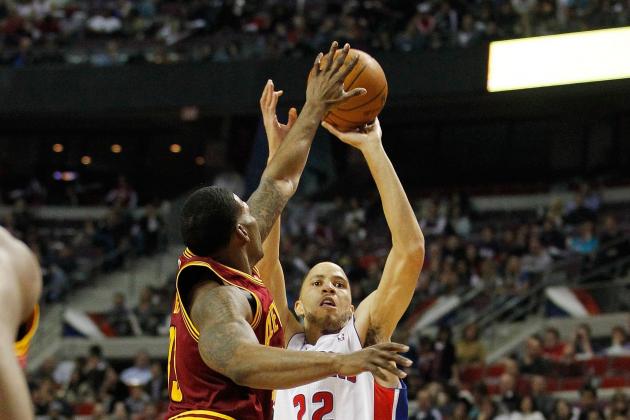 Gregory Shamus/Getty Images

Boozer's shot is enough to make you want to start drinking, but Prince is already gawky. Combine that with his elbows-out jumper, and the whole package is just too weird to be denied.
Upset! Advancing: Prince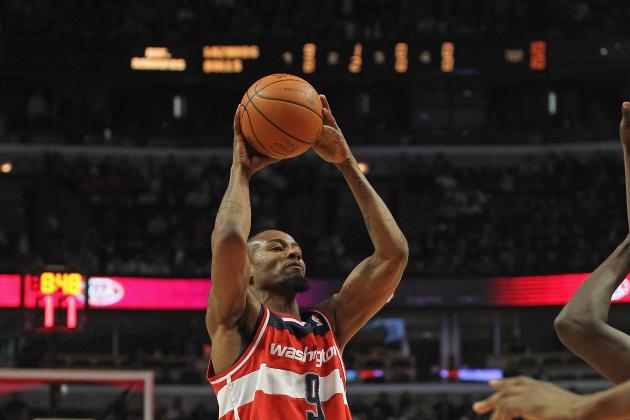 Jonathan Daniel/Getty Images

In the biggest upset of the tourney, Lewis stays alive...by looking dead.
Upset! Advancing: Lewis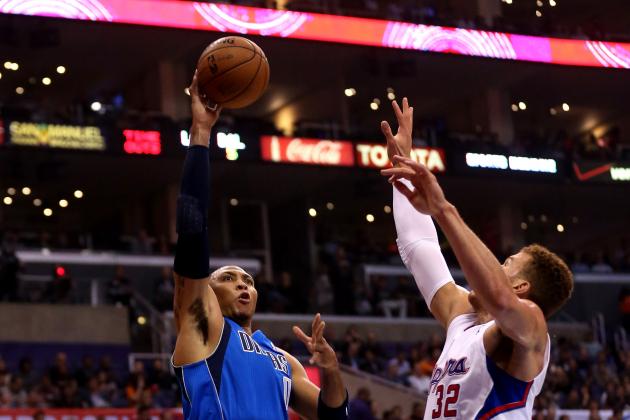 Stephen Dunn/Getty Images

Bad matchup for Lewis. His animated-corpse shot could have beaten anybody else's in the final four. But Marion's weird contortions finally bury Lewis—which is what he appears to have needed all along.
Advancing: Marion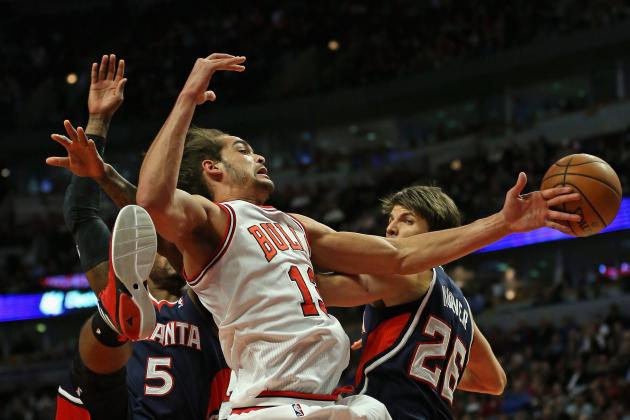 Jonathan Daniel/Getty Images

Prince's shot looks awkward and weird; Noah's looks uncoordinated. It's really close. But I'll opt for the one who looks like the greater fool.
Advancing: Noah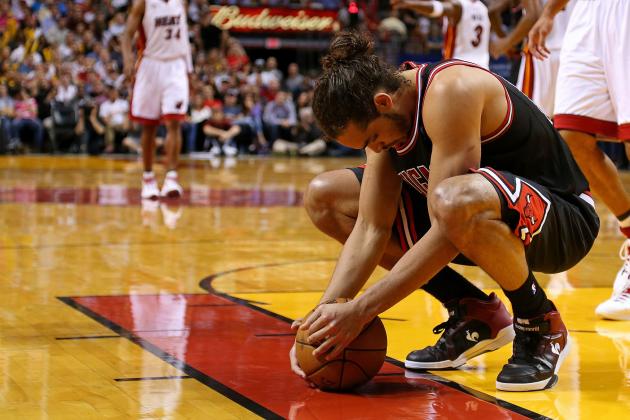 Mike Ehrmann/Getty Images

After all the upsets, the surprises and the Cinderella stories, here we are with a No. 1 versus No. 2 matchup.
Marion's shot is weirder than weird. Noah's shot is less shot and more heaving prayer.
I see Marion as Kobayashi and Noah as Joey Chestnut. And it's time for the challenger to dethrone the champion.
Shawn, your shot is butt ugly. But it's no longer the ugliest.
THE WINNER and OWNER OF THE NBA'S UGLIEST SHOT:
Joakim Noah