10 MMA Fighters Who Struggle in Big Fights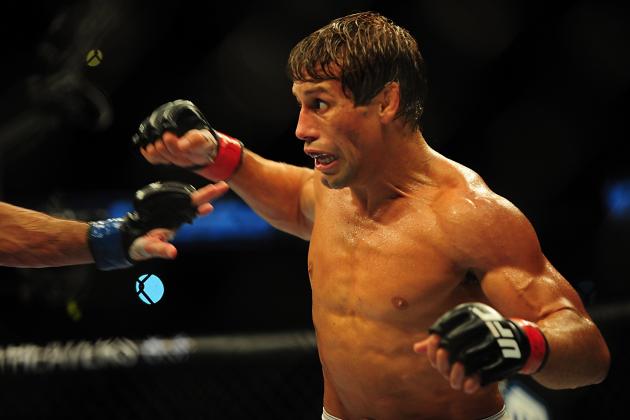 Anne-Marie Sorvin-USA TODAY Sports
Photo: ESPN.com
Some fighters are born to be champions. From the time that they step foot into the Octagon, it is clear that they are on a collision course with greatness. Jon Jones, Cain Velasquez and Dominick Cruz are all examples of this undeniable talent.
However, not everyone can be so lucky. Some fighters are afforded golden opportunities time and time again, but simply can't get the job done. Occasionally, they'll score a major win against a quality opponent, but their margin of victory is fairly small or the opponent is considered to be past their prime.
With the recent fall of some of the UFC's top divisional contenders, let's take a look at 10 fighters who struggle when the going gets tough.
Begin Slideshow

»
Photo: Yahoo Sports via Getty Images
Few fighters have stayed in such high regard with fight fans without scoring any major wins as Stephan Bonnar.
"The American Psycho" is best known for his barn-burner against Forrest Griffin in the inaugural Ultimate Fighter finale. Due to the incredible importance of the contest, as well as its tremendous entertainment value, people tend to overlook the fact that Bonnar has come up short more often than Verne Troyer at an amusement park.
Bonnar retired from the sport with an 8-7 record inside the Octagon. The biggest victory he ever earned came by way of unanimous decision against Keith Jardine. However, Bonnar came up short in bouts with Rashad Evans, Mark Coleman, Jon Jones, Anderson Silva and Forrest Griffin (x2).
David Banks-USA TODAY Sports

Ryan Bader might be coming off the fastest submission win in UFC light heavyweight history, but make no mistake about it, "Darth" belongs on this list.
Bader was slow-rolled after winning Season 8 of The Ultimate Fighter by being squared off with lower-tiered fighters such as Carmelo Marrero and Eric Schafer. However, when facing elite competition, Bader holds a record of 2-3.
PRIDE stars Quinton Jackson and Antonio Rogerio Nogueira both find their names on Bader's resume, although the Jackson win is tainted by the dreadful shape that "Rampage" was in during the contest and the decision against Nogueira was fairly unimpressive.
In other bouts against top talent, Bader was manhandled by Jon Jones and Lyoto Machida, as well as an upset submission loss to former champion Tito Ortiz.
Currently, Bader is in a great position to break out from his role as a gatekeeper. His victory over Vladimir Matyushenko was quick and decisive. It will certainly lead to another chance against a top light heavyweight.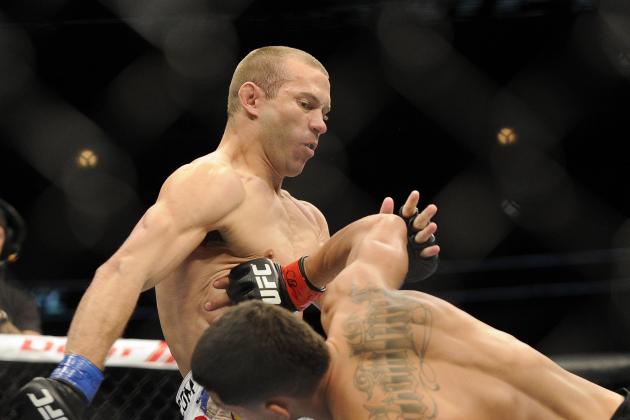 David Banks-USA TODAY Sports

Despite a very successful career in both the WEC and UFC organizations, Donald Cerrone has proven himself to be on the cusp of greatness, but not quite there.
Cerrone has not only beaten but finished several notables in the lightweight division, although guys like Melvin Guillard, Dennis Siver and Charles Oliveira don't exactly represent the cream of the crop.
All five of Cerrone's career losses came in big-fight scenarios. The first three of those shortcomings came in title bouts while fighting for the WEC. The others came against Nate Diaz and Anthony Pettis in fights that could have earned "Cowboy" a crack at the UFC championship.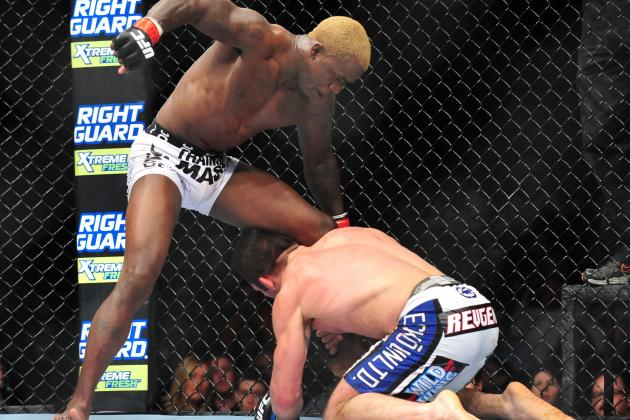 Gary A. Vasquez-USA TODAY Sports

Speaking of Melvin Guillard, do you remember when this guy was supposed to be a top contender in the lightweight division?
Starting in 2010, "The Young Assassin" picked up five consecutive victories inside the Octagon, including impressive wins against Evan Dunham and WEC standout Shane Roller.
Guillard's popularity has allowed him to receive several fights with the best lightweights on the planet; however, he has not fared well in any of them. Losses to Joe Lauzon, Jim Miller, Donald Cerrone and Joe Stevenson all came by first-round stoppage, while Nate Diaz finished Guillard in the second.
Of his last five fights, Guillard was only successful when competing against the unheralded Fabricio Camoes.
Ron Chenoy-USA TODAY Sports

Make room for the big boys in our countdown. Next up is Roy "Big Country" Nelson.
A former IFL champion, Nelson came into the UFC with heavy expectations after decimating Brendan Schaub to win The Ultimate Fighter.
With incredible knockouts on his side, Nelson has picked up notable UFC wins over Stefan Struve and Mirko Cro Cop.
In the former, Nelson met an opponent with a questionable chin who frequently gets tagged early. In the latter, he needed three rounds to finish a fighter who immediately retired after the fight.
When facing top competition, Nelson dropped decisions to Frank Mir, Fabricio Werdum and Junior dos Santos. The chubby star was scheduled to meet former interim champion Shane Carwin in December, but plans changed when Carwin dropped out due to injury.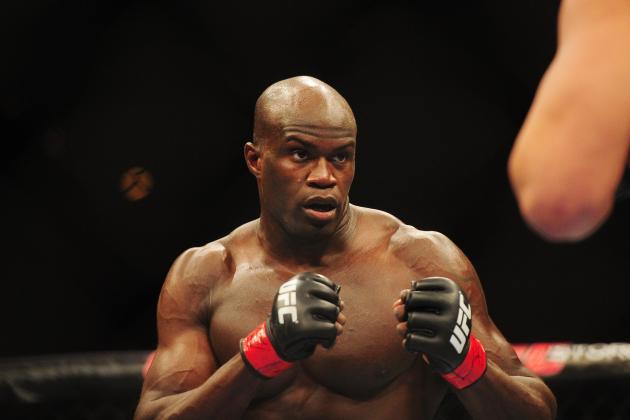 Mark J. Rebilas-USA TODAY Sports

Speaking of Roy Nelson, the man he faces in April also belongs on this list.
Despite 17 fights inside the Octagon, Kongo has been unable to put together enough momentum to score a crack at UFC gold.
Kongo defeated Mirko Cro Cop in 2007, which made fight fans think that the Frenchman was going to one day become a world champion. However, that certainly isn't the case.
Cheick has lots of UFC wins on his resume, although most are no longer employed by the organization and none live up to the upset over Mirko.
When faced with stiff competition, Kongo fell short time and time again. Wins in only four of his last eight fights, as well as losses to Cain Velasquez, Frank Mir and Mark Hunt have practically ensured that the 37-year-old sees retirement before a golden opportunity comes his way.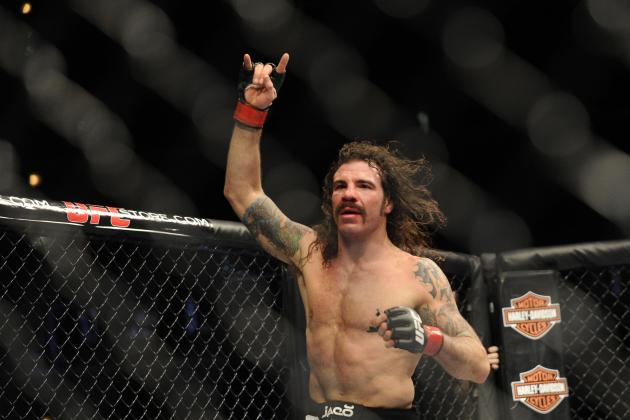 David Banks-USA TODAY Sports

But Clay Guida just beat Hatsu Hioki?!?!?!
Sure. That's true. But on a similar note, Lyoto Machida once beat Shogun Rua and Randy Couture once beat Brandon Vera.
Guida is another fighter who has seemingly been in the UFC forever, but never quite made his way up the ladder. Part of that has to do with ill-timed losses, but it is mostly because "The Carpenter" is well-rounded, but wouldn't be confused with an elite striker, wrestler or grappler on his best day.
Nate Diaz and former PRIDE champion Takanori Gomi both find their names on Guida's resume. The biggest win on Clay's record came when he dominated final WEC champion Anthony Pettis in "Showtime's" UFC debut.
However, Clay followed up that performance with a pair of losses to Benson Henderson and Gray Maynard that sent him packing from the division.
Earlier in his career, Guida also came up short against notables Diego Sanchez, Kenny Florian, Roger Huerta and Gilbert Melendez.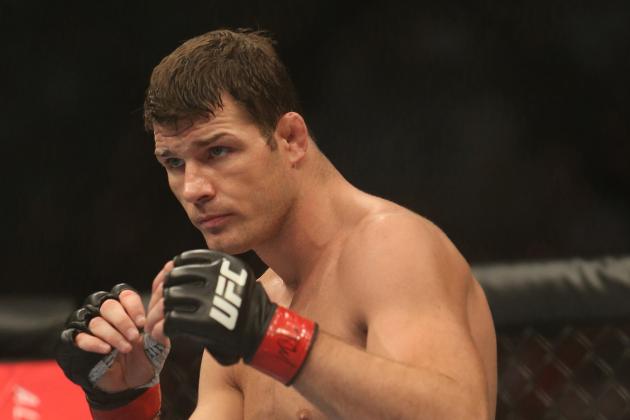 Tom Szczerbowski-USA TODAY Sports

Does anyone have a worse record against elite competition than "title contender" Michael Bisping?
In 2012, I wrote an article that discusses the myth of Michael Bisping. Somehow, "The Count" has stayed in conversations regarding the UFC middleweight championship despite the fact that he has never defeated a single fighter ranked higher than Brian Stann.
It's not that Bisping hasn't been given the opportunity to succeed. In fact, he has had five chances to beat either a world champion or UFC title contender and earned zero wins.
Bisping's first loss came to Rashad Evans, although fans forgave him due to the fact that the British fighter is an undersized light heavyweight and had already announced a move to 185 pounds.
Since that time, Bisping lost fights to Dan Henderson and Vitor Belfort via knockout and came up short in decisions against Wanderlei Silva and Chael Sonnen.
That's OK. Bisping has wins over Jorge Rivera, Dennis Kang and Yoshihiro Akiyama to keep him warm at night.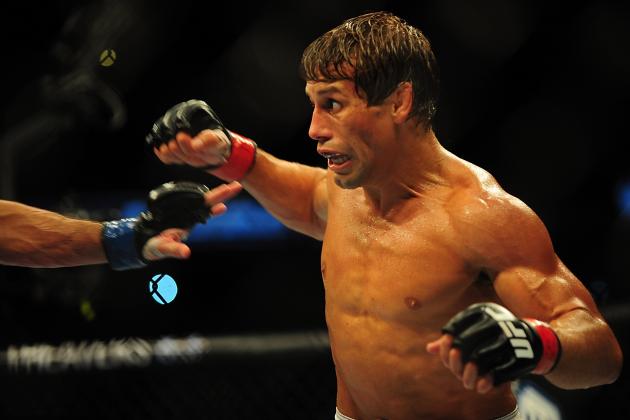 Anne-Marie Sorvin-USA TODAY Sports

Urijah Faber is a hard man to include on this list. After all, he was once considered the most dominant featherweight in MMA history. However, since 2008, "The California Kid" has been unable to relive his former glory.
Since 2008, Faber holds a record of 6-5, with two of those wins coming against Jens Pulver, a man who left his physical prime four years prior.
The fact that all five of Faber's losses came in title fights shows that Zuffa matchmakers think Faber is one of the best on the planet. However, in each of those five fights, Faber lost decisively time and time again.
While there is no doubt that Faber is a solid bantamweight who can beat many of the ranked fighters competing in his division. However, when the going gets tough, Urijah Faber rarely sees his hand raised.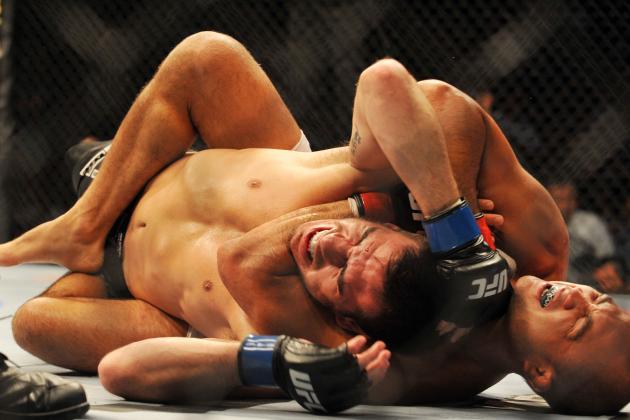 Jon Kopaloff/Getty Images

Ultimate Fighter runner-up Kenny Florian might just be the poster-boy for coming up short.
After losing to Diego Sanchez in the inaugural tournament final of the UFC's popular reality program, Florian would cut weight, fight in a division where he belonged and continually finish top fighters like Joe Stevenson, Takanori Gomi and Clay Guida.
However, when it came time for Ken-Flo to cash in a well-deserved title shot, it became obvious that Kenny was outclassed when facing the best in the world.
Florian lost title bids to Sean Sherk and B.J. Penn at lightweight before dropping down to featherweight and losing a third title opportunity against Jose Aldo. His record also includes a loss in a title eliminator against Gray Maynard.
Maybe it's possible that Kenny Florian is the best fighter to never hold UFC gold. The popular star now finds himself on the broadcast side of MMA, although his finishing rate will ultimately be what he is remembered for.