St. Louis Cardinals: 5 Reasons They Will Win the Division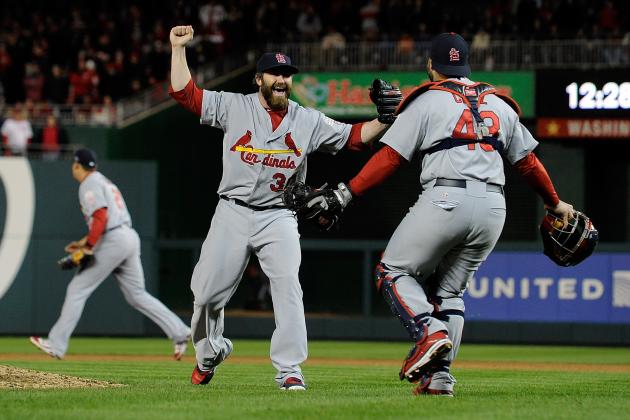 Patrick McDermott/Getty Images

As the season inches closer and closer, the excitement begins to swell in St. Louis. For the last 15-plus years, the Cardinals have always had their fans brimming with excitement as spring training has begun with the thought they can compete for a division title.
This upcoming season is no different. Credit the DeWitt group for the excellent job of putting a quality product on the field since they purchased the team in 1995.
Current general manager John Mozeliak has done a great job with a Midwestern budget of finding players who fit the mold of what being a Cardinal is all about.
As the 2013 season nears, the Cardinals have a legitimate shot at winning the division. They have a group who has been deep in the postseason the past two seasons. Without a lot of turnover, this roster is poised to put it together again for a serious run at the division.
Here are five reasons the Cardinals can make a serious run at the Central Division crown.
Begin Slideshow

»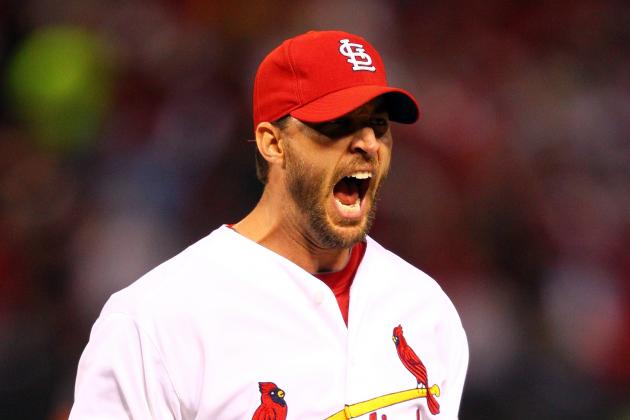 Dilip Vishwanat/Getty Images

The Cardinals have a strong starting rotation going into 2013. With Adam Wainwirght and Chris Carpenter anchoring the top of the rotation and Jaime Garcia, Jake Westbrook and most likely Lance Lynn, the Cardinals are poised to make a run.
I am a believer that good pitching always beats good hitting. If the Cardinals starting staff can all have a healthy 2013, it is very feasible to see this team win 95-plus games.
Carpenter and Wainwright, pending health, should win 18-20 games apiece. Both have a track record of success during seasons which they suffered no health issues. Jaime Garcia and Jake Westbrook are capable of 15 wins each.
Then the wild card is Lance Lynn. He won 18 games last season as he filled the spot left void by Chris Carpenter. But his miserable August and postseason failures have made his spot as the fifth starter an uncertainty.
Joe Kelly did a great job filling in for Jaime Garcia in midseason and should get a shot at being the fifth starter as well as Shelby Miller.
So whoever emerges as the winner of the fifth spot, the Cardinals will be good shape.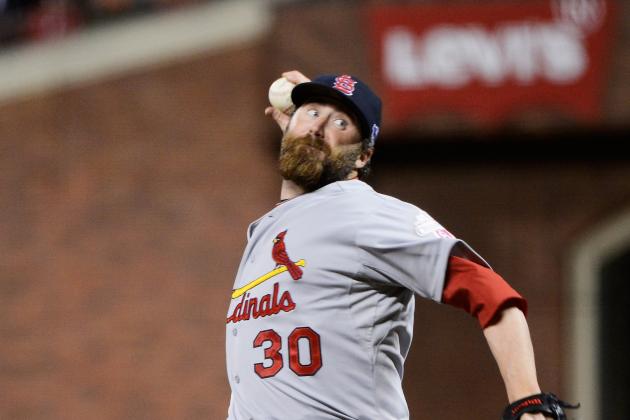 Thearon W. Henderson/Getty Images

The bullpen was an adventure for the Cardinals in 2012. They had very little consistency from their middle relief and very solid consistency from their late-inning guys.
They basically went the entire season with one lefty, Marc Rzepczynski. Yes, there were appearances by others such as Barret Browning and Brian Fuentes, but no other lefty except Rzepczynski lasted the whole season. Frankly, he probably shouldn't have lasted the whole season, but was kept out of necessity.
As already mentioned, the middle relief was poor at best for most of the season. Fernando Salas, Victor Marte and Sam Freeman all had ERAs of 4.30 or higher. Thank goodness Edward Mujica came along to steady the ship and help make the push for the postseason.
Mitchell Boggs was money in the seventh and/or eighth inning. He did a great job of holding the lead and allowing Jason Motte to do his thing. Boggs posted a 2.21 ERA and had 34 holds last season.
Cardinals closer, Jason Motte, tied for the league lead in saves last season with 42. The guy drives many Cardinal fans crazy because he seemingly only throws one pitch and if a batter squares him up, the ball usually lands 425 feet in someone's beer in the outfield.
But all that said, he did a great job closing out games last season. He posted a 2.75 ERA to along with those 42 saves. He was even better in the postseason, garnering one win with three saves and a 2.16 ERA.
Now that the bullpen appears to be shored up, hopefully it will be a strength as it was for the 2011 World Series championship team.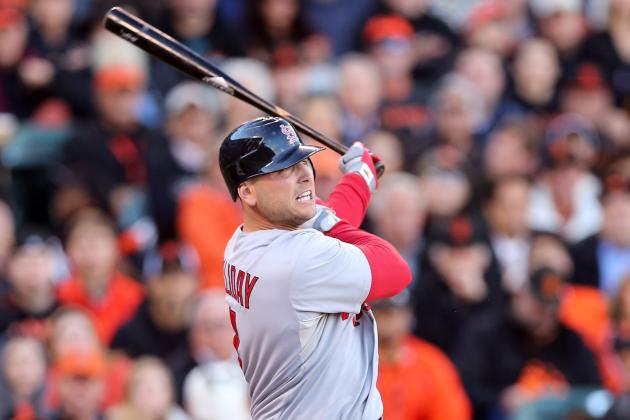 Christian Petersen/Getty Images

The Cardinals beat the heck out of their opponents to start the 2012 season. They outscored their opponents 113-60 in April that led to a 14-8 record which was good for first place.
Then the bats seemed to come and go throughout the rest of the season. Matt Holliday got off to an awful start only to rebound with a 27 home run and 102 RBI to go along with a .295 batting average.
Carlos Beltran came over from San Francisco and belted 32 home runs and drove in 97 runs. Allen Craig was on a run-driving-in crusade when he was in the lineup. Craig had an excellent first year as a regular, batting .302 while swatting 22 home runs and driving in 92 runs in only 119 games. It will be interesting to see what 150 games will bring for Craig.
David Freese also had a career year (although a short career to date). He knocked 20 home runs and drove in 79 runs while posting a .293 batting average.
Then you have Yadier Molina who also put together a career year hitting .315 while hitting 22 homers and driving in 76 runs.
Add all of that up with a blazing hot start from Rafael Furcal and a very solid year from Jon Jay and the Cardinals had a lineup that could put up runs in bunches.
The Cardinals led the National League in 2012 with a .338 OBP and were fourth with a .271 batting average.
Now fast forward to 2013. All of these guys will be back in the Cardinals lineup. If they can all avoid the injury bug or only let it hit lightly, the Cardinals are poised to light up the scoreboard again in 2013.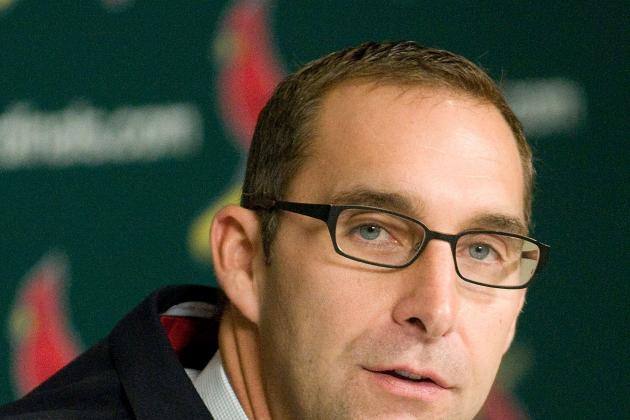 Jeff Curry/Getty Images

As mentioned at the beginning of the article, the Cardinals have a great management team in place.
From the DeWitts to John Mozeliak to Mike Matheny, the Cardinals organization is well managed from top to bottom.
John Mozeliak has done a very good job filling the shoes of Walt Jocketty who was shown the door in 2007 and is the current GM of the Cincinnati Reds. Under Mozeliak's watch, the Cardinals have made the postseason three times in five seasons with one World Championship.
Tasked with replacing legendary manager Tony La Russa after the 2011 season, Mozeliak tabbed former Cardinal Mike Matheny to lead the team moving forward.
As a rookie manager, Matheny had his team one game from the World Series during the 2012 season. With a season truly filled with inconsistencies, Matheny never let his team lose their focus. As a result, the Cardinals had another Red October.
With a full season under his belt, Matheny is more prepared and seasoned to lead his squad toward a division title and another postseason run in 2013.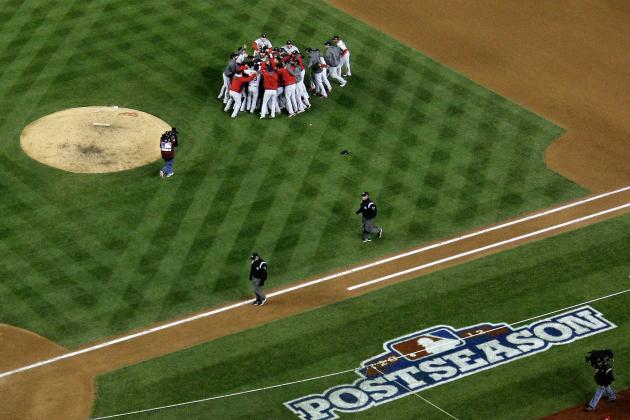 Rob Carr/Getty Images

Add up all the factors outlined previously and add to that the experience of a roster which hasn't turned over much in the last two seasons and you have a team ready to contend.
Every position except for second base has a player manning it who has more than two years postseason experience.
These guys know what it takes to grind out a season and be prepared to play at their best in October. Yadier Molina has played in three World Series and been to the postseason six times in nine seasons. Shortstop Rafael Furcal has been to the postseason nine times in 13 seasons.
This list could go on and on talking about the winners that drape up and down the Cardinals roster, but the bottom line in sports is what have you done for me lately.
The everyday players and most of the pitching staff have done a lot for the Cardinal fans lately and are up for the challenge to win the division and make another deep postseason run.
Only eight days until the madness begins and baseball takes over our lives.