Ravens vs. 49ers: Winners and Losers from Baltimore's Super Bowl Victory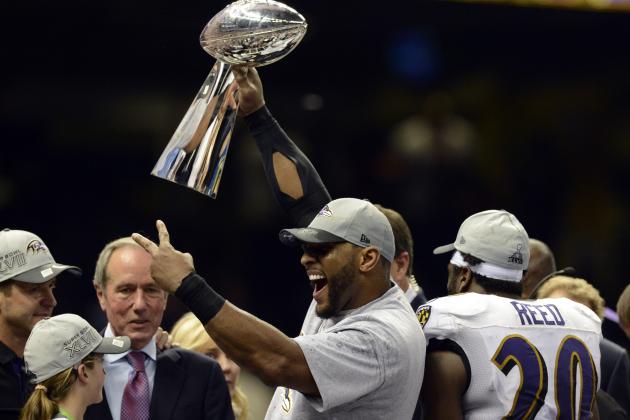 JD Mercer-USA TODAY Sports

For the second time in franchise history, the Baltimore Ravens are Super Bowl champions. The outcome became final as Ted Ginn was tackled after a safety punt, putting an end to this 34-31 Sunday night thriller.
What started out as a dominant Ravens blowout became significantly closer as the 49ers offense rallied with 25 points in the second half. The Ravens remained resilient, though, and despite scoring only six points after Jacoby Jones' kick-return touchdown, they held on for the win.
The Ravens defense has been greatly criticized this season, yet they were still able to stand their ground and earn the win on a goal-line stand. Four plays within the Ravens 7-yard line, and yet, the explosive 49ers offense was unable to score.
Jimmy Smith of all people deserves credit for a huge play, as he defended Michael Crabtree on successive plays and prevented him from scoring. Even with Haloti Ngata out, the Ravens defense was able to team up and prevent the 49ers from pulling off the biggest upset in Super Bowl history.
For a team to win a Super Bowl, nearly every player deserves to be labeled a winner. The huge 49ers comeback did expose some losers, however, so here's the winners and losers from the Ravens' Super Bowl victory.
Begin Slideshow

»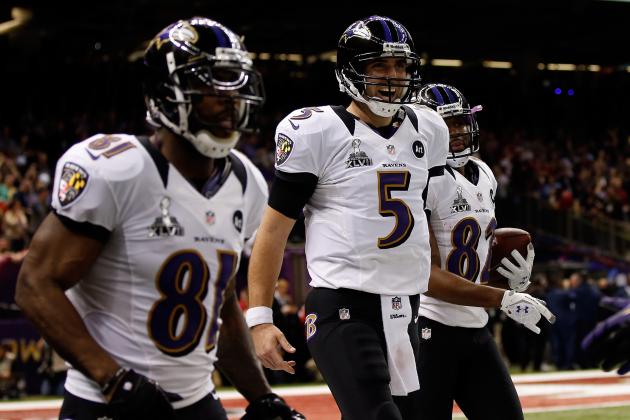 Chris Graythen/Getty Images

Anquan Boldin has been a beast this postseason, so it was natural that he would have a big game on the NFL's biggest stage. However, unlike in previous postseason games, Boldin was able to get started way earlier in this one.
Boldin scored on a 13-yard touchdown on the Ravens' first possession of the game. He would go on to top 100 receiving yards for the second time this postseason.
With six catches for 104 yards and a touchdown, Boldin easily had the best day of any Ravens receiver. Yet, as good as this touchdown was, Boldin's most special play came on a third down late in the first quarter where he made an athletic catch and then landed in bounds for a 30-yard gain.
Whenever a big play is needed, it seems that Joe Flacco looks Boldin's way. This was also demonstrated by Boldin's grab on a third-down gamble late in the fourth quarter.
Even at 32 years old, Boldin is still Flacco's go-to receiver. If there's one thing this postseason has shown us, it's that Boldin still has a lot of great football left to play.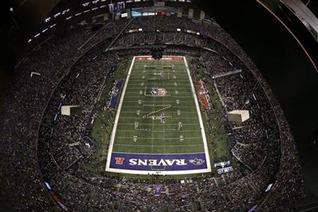 Normally, it's understood that factors outside of a player's control will affect the game. Bad weather will happen or maybe a player will get hurt before he can even suit up to play.
A power outage at the Super Bowl, though, is completely and entirely unacceptable. This is the biggest sporting event in the U.S., and there are millions of people watching. There's just no excuse for allowing the generators to go out.
Now, neither team was prepared for the blackout, and it did take some improvisation by both teams. The 49ers stood to gain more, though, as they were tired and they had time to slow down and think through how they were going to get back in the game.
The Ravens, meanwhile, saw an end to their positive momentum. The 49ers went on a 17-point run and very nearly stole this game.
The awkward 35 minutes where no football was played needs to serve as a warning to any stadium that hosts a major sporting event. Check beforehand that the lights and backup generators are working. Do not put yourself in a position where something this embarrassing could happen to the stadium and even the city as a whole.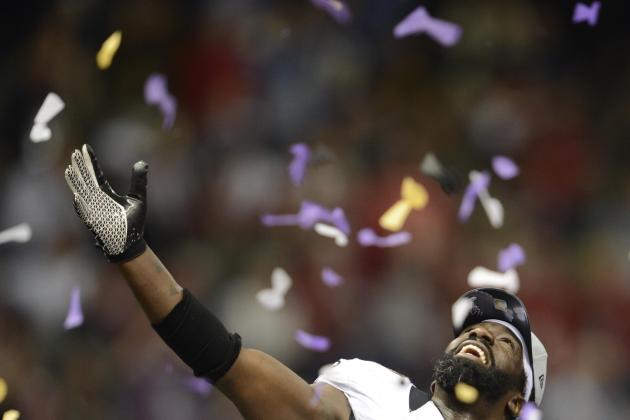 Jack Gruber-USA TODAY Sports

This was in all likelihood Ed Reed's final game as a Raven. And boy, did he go out with a bang.
Despite having gone a lengthy seven games without an interception, Reed stayed patient and waited for opportunities. He eventually got one with his second-quarter interception of Colin Kaepernick.
The interception gives Reed nine career postseason interceptions, which ties him for the most all-time. Even now in the twilight of his career, Reed is one of those players who has a nose for making the big pay and getting the ball.
In addition to his interception, Reed did a good job staying in position. He finished second on the team with five tackles, and he did not allow any big plays through the air.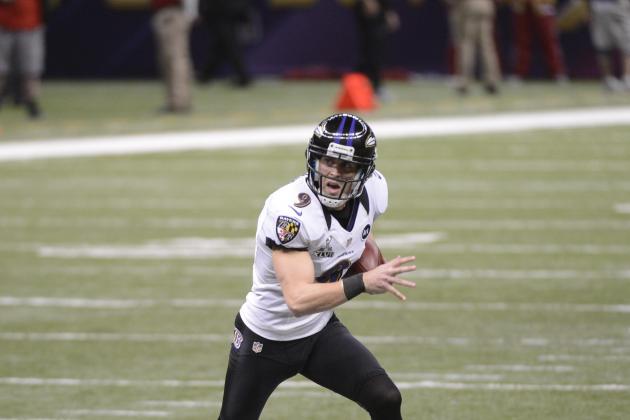 Jack Gruber-USA TODAY Sports

This appearance as a loser does not reflect Justin Tucker's field-goal attempts or kickoffs. He was great with those, and after the kick-return touchdown, Tucker provided all the points for the Ravens offense.
The disappointing part of Tucker's play came with the bizarre fake field-goal call. This call came on a 4th-and-9 where the Ravens were up 14-3 and easily in field-goal range.
At this point, the Ravens were clearly dominating, and it seemed John Harbaugh wanted to send a message by going for it on fourth down and taking a 21-3 lead. So, Tucker took the snap and then ran to the left faster than most kickers would have managed.
He didn't get it, though, and the Ravens turned the ball over on downs. Thankfully, the 49ers were unable to capitalize, and the very next drive, the Ravens were able to get that 21-3 lead. With the game easily being a 21-6 blowout at halftime, it seemed that there was going to be no way the Ravens would regret that play.
Then the power outage occurred and the game got closer. Whenever you have a close game like this, you can't have a turnover on downs when you are in field-goal range.
If the Ravens had just kicked the field goal, they would have led by eight points during the final 49ers drive. That provides a far greater blanket than the five-point lead that had every Ravens fan on the edge of their seat.
Ultimately, it didn't haunt the Ravens since they won the game. Still, next time it might be wiser for Harbaugh to wait on trying a fake field goal. Or, maybe it would be better for Tucker to get a little faster so that he can get the first down.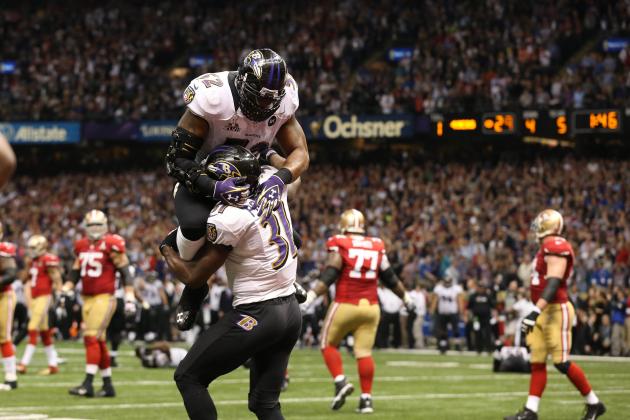 Matthew Emmons-USA TODAY Sports

It wasn't the best of games for Ray Lewis, but there's no denying that he's had a great postseason. And his impact was clearly felt by the defense's epic goal-line stand that preserved the win.
Lewis totaled seven tackles and was able to make some stops in the run game. While he had a little trouble in coverage, Lewis didn't give up any big plays.
Now he gets the storybook send-off that every player dreams of. Lewis is walking away from the NFL a Super Bowl champion, an NFL-record 12 years after his first title. It's impossible to come up with a better way for Lewis to end his career.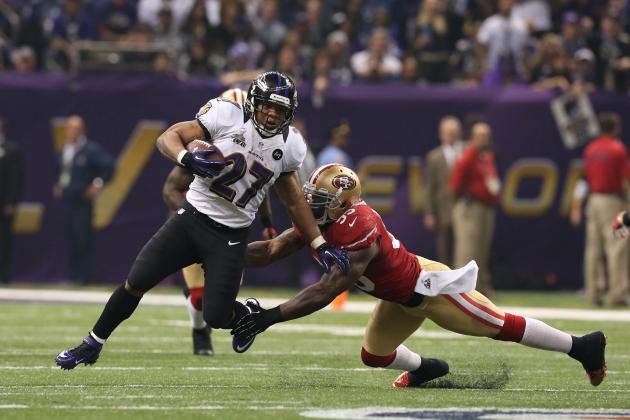 Matthew Emmons-USA TODAY Sports

During the regular season, Ray Rice is as a good a bet as any running back to not fumble the ball. He had only one fumble during the entire 2012 regular season.
The postseason is a completely different story for Rice though. His fumble in the third quarter was his third one this postseason, and it gave all the momentum to the 49ers. Thankfully, they only got a field goal in the resulting drive, but still, that sort of fumble was a huge blow for the offense.
It was not a good day rushing the ball for Rice either. He averaged only three yards a carry, and he finished with only 59 rushing yards despite getting 20 carries.
Part of that had to do with a stingy run defense that is hard for anyone to run against. Rice did come back, though, and he helped to close the game with some solid runs in the fourth quarter.
Harry How/Getty Images

If you look very carefully in Joe Flacco's eyes, you can see the outline of dollar signs. Well, maybe not literal dollar signs, but with the postseason he's had, it's a guarantee that Flacco will get a lot of money.
Through the four postseason games this season, Flacco has 11 touchdowns and zero interceptions, which ties the record for most touchdowns throws in a postseason.
Flacco had a great Super Bowl performance with 287 passing yards and three passing touchdowns. His first half was essentially flawless, as he made every big throw. Twice in the second quarter, he blew the 49ers away with long passes to Anquan Boldin and Jacoby Jones.
The second half was clearly a little rougher for the Ravens offense as a whole. Still, Flacco did an admirable job keeping alive a now five-game streak of games without throwing an interception. He even was able to run around a bit and escape from the 49ers' ferocious pass rush.
Flacco didn't throw a touchdown in the second half, but he still made big plays. His 3rd-and-1 pass to Boldin speaks volumes to the amount of confidence that he has. Very few quarterbacks would risk passing on such a big play.
And why shouldn't he be confident? Flacco is very fittingly the Super Bowl MVP, and he has had an elite postseason that ranks among the best that any quarterback has ever had. He's only 28 years old too, so there will likely be many more great seasons in Baltimore with Joe Cool as quarterback.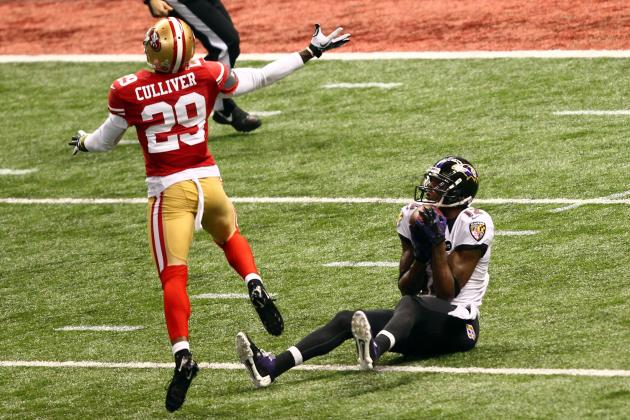 Dilip Vishwanat/Getty Images

With the postseason he's had, Jacoby Jones has clearly solidified his position as the most valuable free-agent acquisition this past offseason. Whether he's receiving the ball or returning a kick, Jones is a dangerous threat whenever he has the ball.
Jones only had one catch in the Super Bowl, but it was almost as powerful as the Mile High Miracle he caught late in the divisional round against the Denver Broncos. Jones got wide open down the field and fell down catching the ball. Still, he was not touched by the secondary, and Jones was able to pass Chris Culiver and fall into the end zone for a 56-yard touchdown.
There was only one play longer than this one, and it was also a play caused by Jones. After kickoff, Jones returned a ball in the back of the end zone, and he took it all the way back for a 108-yard kickoff return, the longest in Super Bowl history.
Jones has proved to be the most reliable third-string receiver that the Ravens have had in recent years. Ravens fans will remember that third-string receivers have cost the team in recent years, i.e., Lee Evans and T.J. Houshmandzadeh.
It's not hard to argue that Jones could have won MVP, even though Joe Flacco's case was very compelling. Regardless though, Jones has clearly found his place as an elite returner with the Ravens and also as a dependable backup receiver.