8 Keys to a Baltimore Ravens Super Bowl Repeat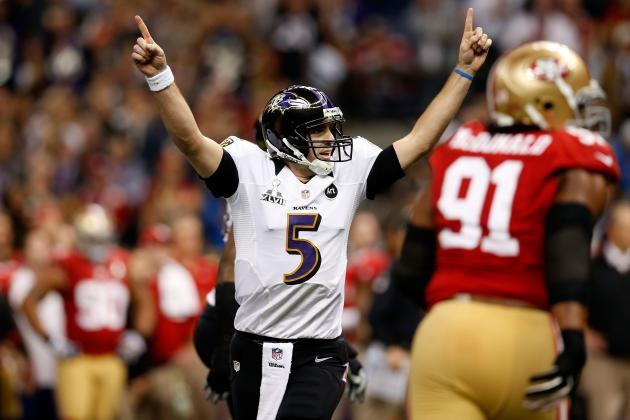 Chris Graythen/Getty Images
The Ravens need to make Joe Flacco the center of attention as they start building toward another championship.
The Baltimore Ravens are Super Bowl champions after defeating the San Francisco 49ers in Super Bowl XLVII.
The Ravens must now turn their attention to building for the future, which is a repeat appearance and Super Bowl victory next year.
A repeat Super Bowl victory is next to impossible in today's NFL, but the Ravens already have some pieces in place to do so. There are a variety of moves the team needs to take between now and the kickoff of next season in order to repeat.
In the following slideshow, we will identify several things the Ravens must do as soon as possible to begin the quest to repeat as Super Bowl champions.
Let's take a look.
Begin Slideshow

»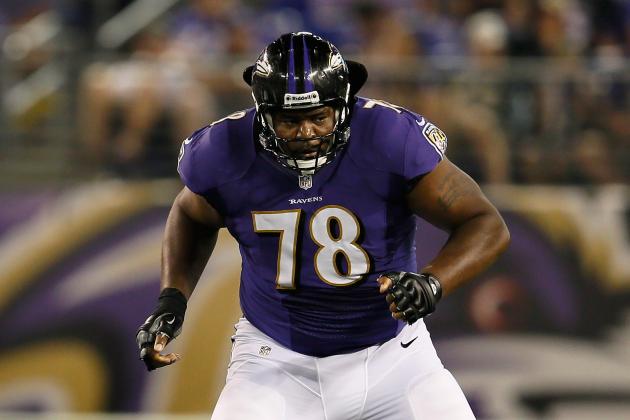 Rob Carr/Getty Images
The Ravens need a left tackle with Bryant Mckinnie headed to free agency.
The Baltimore Ravens have yet to find a franchise left tackle who can effectively protect quarterback Joe Flacco.
Bryant McKinnie showed flashes this year but is headed for free agency and could be upgraded. The team drafted Kelechi Osemele but he has found a better home at left guard.
At one point the answer was though to be Michael Oher, but he has proven time and again to be nothing more than a quality right tackle.
Baltimore can not afford to ignore the position any longer. With a major deal likely coming for Flacco, the Ravens have to protect their franchise quarterback effectively. Left tackle has to be a priority this offseason if the Ravens are to repeat.
Ronald Martinez/Getty Images
Paul Kruger is headed for free agency, but the Ravens cannot afford to lose him.
Over the course of the 2012 season and postseason one thing became very apparent about the Baltimore Ravens defensive unit—Paul Kruger had grown into his own as the team's best pass rusher.
Kruger is set to hit free agency and be paid top dollar to move somewhere outside of Baltimore to wreak havoc on quarterbacks.
The Ravens cannot afford to let that happen.
Kruger racked up nine sacks in 2012 and 2.5 more in the postseason before finishing his season on a high note with two in the Super Bowl.
Making matters worse is all the money the franchise is going to have to throw at quarterback Joe Flacco. Kruger is an integral piece to the defense that is losing a leader in Ray Lewis. It can not afford to lose a player like Kruger during this state of transition, and must come up with the money to retain him.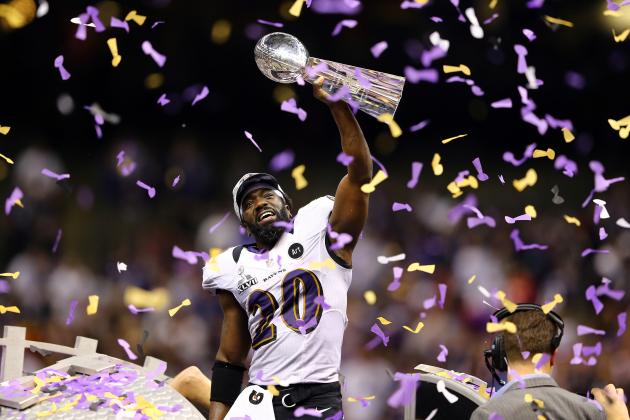 Al Bello/Getty Images
Ed Reed could have played his last game with the Ravens in the Super Bowl.
Baltimore Ravens free safety Ed Reed is another piece of the 2012 Super Bowl puzzle that is in question for next year and beyond.
Reed is set to hit free agency this offseason, and has already openly flirted with the idea of playing for a team like the New England Patriots (h/t NFL.com).
There is likely to be a large gap between the money Reed wants and what the organization thinks he deserves at this point in his career. Reed has clearly lost a step and is not the player he once was thanks to injuries.
Like it or not, the Ravens would be just fine without Reed. Baltimore needs as much money as it can to retain the likes of Joe Flacco and Paul Kruger, so paying Reed does not make that much sense.
The Ravens have to let Reed walk and find a younger, less expensive replacement. Whether the replacement comes from free agency or the draft does not matter as long as he is an upgrade.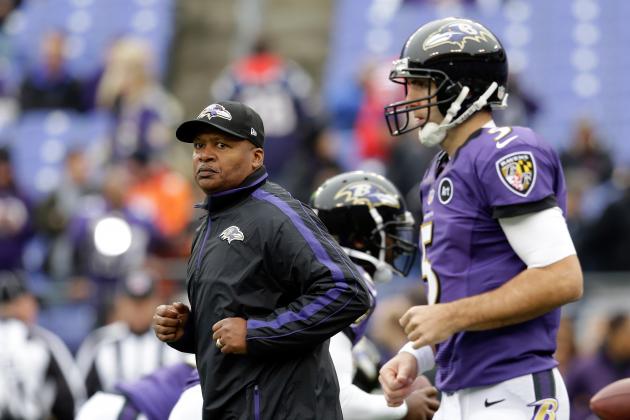 Rob Carr/Getty Images
The Baltimore Ravens were a different team once Jim Caldwell was promoted.
Back in December, the Baltimore Ravens felt it best to fire offensive coordinator Cam Cameron. The play-calling was atrocious and the Ravens went on a skid.
Jim Caldwell was promoted to offensive coordinator and Joe Flacco and Co. went on a tear that resulted in a Lombardi Trophy.
Now is the time to reward Caldwell.
Caldwell is directly responsible for the hot streak Flacco has been on. It is a safe bet he will be a head-coach candidate again in a few years.
The Ravens need to lock up Caldwell now, or run the risk of the offense becoming stagnant again.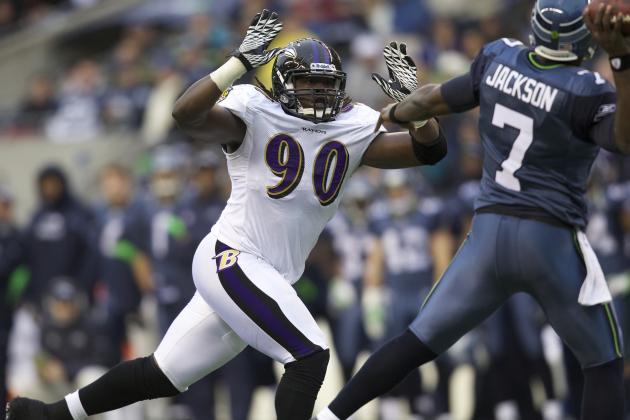 Stephen Brashear/Getty Images
Pernell McPhee and the front-seven must improve in 2013.
Ray Lewis is leaving the Baltimore Ravens defense, but there are bigger problems along the front seven of the defense that must be addressed.
Obviously, finding someone to step up in Lewis' place is key. The unit had all kinds of issues against the run in 2012 and players such as linebacker Dannell Ellerbe (who also happens to be a free agent) were smoked in pass coverage routinely.
The Ravens front office has done a good job of building for the future already with picks such as Courtney Upshaw. That trend needs to continue in the upcoming draft.
Youth and talent is needed along the offensive line, and it would not hurt to upgrade the outside and middle linebacker spots not inhabited by a man named Terrell Suggs.
Baltimore has always been known for its defense, but if the right moves up front are not made this offseason, it will be a shell of its former self in 2013.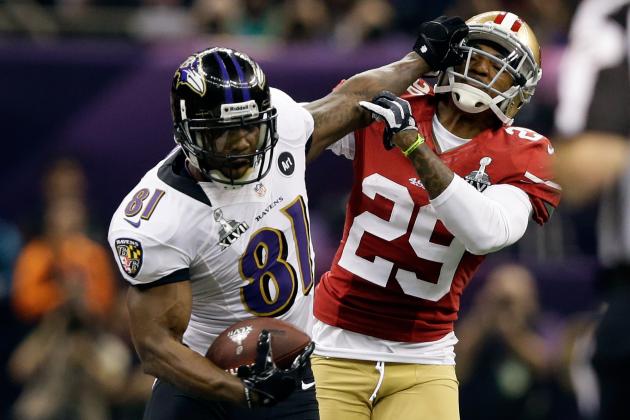 Ezra Shaw/Getty Images
Anqyab Boldin was great in the postseason, but his cap number in 2013 is massive.
Anquan Boldin was a stud for the Baltimore Ravens all postseason-long before finishing the championship run with 104 yards and a touchdown in the Super Bowl.
The problem with Boldin is twofold. He is now 32-years old and is nothing more than a possession receiver, which is not necessarily a bad thing. What is bad is his ridiculous $7.5 million cap hit next year.
While it is plausible that he is worth that much money, the smart move may be to cut him loose. Baltimore needs as much cap space as possible to keep players like quarterback Joe Flacco around.
There are players on the roster such as Jacoby Jones and Torrey Smith who can step up after Boldin leaves, not to mention bringing in another receiver during the draft to give the offense an identity.
Letting go of Boldin is not a necessary move, and the Ravens may very well choose to keep him. Either way, the better move could be freeing up the cap space.
Kirby Lee-USA TODAY Sports
Lardarius Webb is one of a few players who will come back from injury in 2013.
Here is a scary thought—the 2012 Baltimore Ravens that went on the win the Super Bowl were not even 100 percent healthy.
Now, it is true that most teams that make it that far are not healthy, but it is the quality of the missing players that makes this remarkable.
The Ravens won the Super Bowl without one of the NFL's best cornerbacks in Lardarius Webb. He was injured early in the season and never made it back. Webb is an elite corner who will provide an immediate boost to the 2013 squad.
Other quality players on injured reserve include names such as linebacker Jameel McClain and nose tackle Ryan McBean.
Baltimore has to stay healthy in 2013 if it wants a shot to repeat as champs. It sounds simple, but it will go a long way toward the goal, especially when losing key components such as Ray Lewis and potentially Ed Reed and others.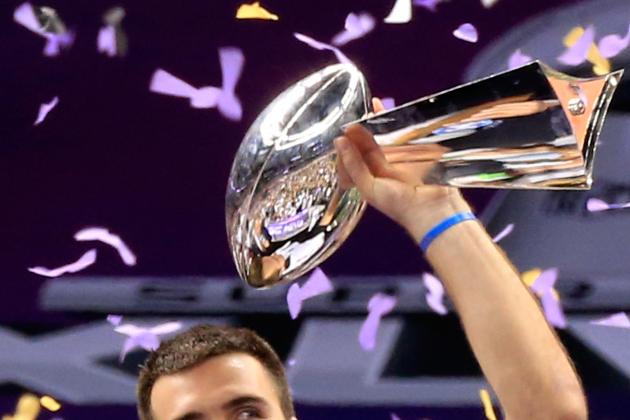 Jamie Squire/Getty Images
Joe Flacco put on a historic performance on the way to be named Super Bowl MVP.
It should go without saying, but the most important thing the Baltimore Ravens have to do in order to repeat as Super Bowl champions is retain Joe Flacco.
Flacco is without a new deal and is headed for free agency. He is the main reason the Ravens were able to win the Super Bowl this year and his 287-yard, three-touchdown performance earned him Super Bowl MVP honors.
Slapping Flacco with the franchise tag would cost the Ravens upwards of $20 million, and for a team as cap-strapped as the Ravens, that is not a great path to go down.
The best option for the Ravens organization is to give Flacco exactly what he wants over the course of a long-term deal. He has more than earned it, is young and may not have reached his peak yet.
Flacco is the future of the franchise.