Michigan Basketball: Why Josh Bartelstein, Corey Person Are Unsung Heroes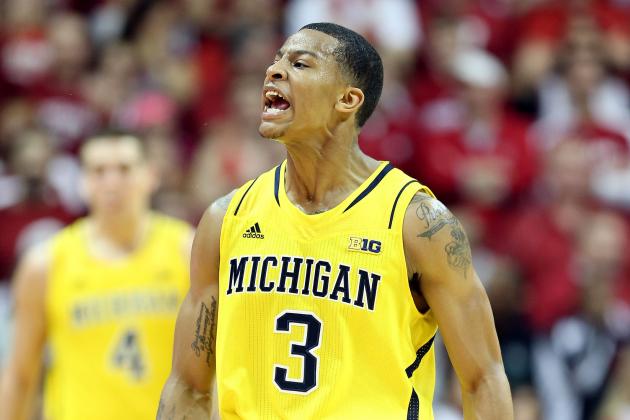 Andy Lyons/Getty Images
Sophomore guard Trey Burke is the star of Michigan basketball, but two players on the bench still have a huge impact on this team.
Michigan's basketball team is full of star players like guard Trey Burke and forwards Glenn Robinson III and Tim Hardaway, Jr.
Burke is Michigan's on-court hero and National Player of the Year candidate.
Yet, the Wolverines have two unsung heroes this season.
Meet guards Josh Bartelstein and Corey Person.
Bartelstein and Person's leadership, motivational abilities and commitment to success make them Michigan's unsung heroes of 2013.
Begin Slideshow

»

Senior guard Josh Bartelstein always pushes his teammates to get better (Via MgoBlue.com - Josh Bartelstein's Profile)
There is a reason Josh Bartelstein is the captain of Michgan's basketball team despite averaging a measly 2.0 minutes per game.
Bartelstein knows that his role on the Wolverines' basketball team is to always motivate his teammates.
Legendary Michigan football coach Bo Schembechler once said, "No man is more important than the team, no coach is more important than the team. The team, the team, the team!"
Schembechler's words will forever resonate through Michigan University athletics, but Bartelstein internalizes the late coach's teachings.
Bartelstein constantly puts other players on the team ahead of himself.
Most of Bartelstein's impact can be seen via his blog called "The Bartelstein Blog". He praises his teammates' efforts and gives these other players credit and confidence—something that a captain should do for his teammates.
After a big road win against Illinois where Michigan lost redshirt junior forward Jordan Morgan to a badly sprained ankle, Bartelstein commented on how a couple of Michigan reserves picked up their game:
Jon (Horford) and Max (Bielfeldt) stepped up once Jordan (Morgan) went down with a sprained ankle. We have a saying, "Next Man Up" when someone goes down and those two guys did a great job of stepping up. We see how hard they work in practice every day and how good they really are, but doing it in a game and helping our team get a huge win is extremely rewarding for them.
Bartelstein preaches head coach John Beilein's lessons at practice and during games. In fact, Bartelstein "coaches" or continually imparts wisdom and encouragement from the bench, showing a commitment to team improvement that his fellow Wolverine genuinely respect.
In other words, he puts his teammates first all of the time.
In his first blog post of the season, Bartelstein said, "While I don't want to write too much about me being named captain, I just want to say how much of an honor it is. Being selected at a school like Michigan is something I value greatly."
But, Bartelstein quickly shifts back to praising his teammates:
My job is actually easy with all the great leadership we already have in our locker room. Guys like Matt (Vogrich), Jordan (Morgan), Corey (Person), Eso (Akunne), Blake (McLimans), Tim (Hardaway Jr.) and Trey (Burke) do an outstanding job already leading and nothing is going to change. The only difference is I get the privilege of shaking hands with the referees before games and will have the opportunity to talk to Teddy Valentine and Ed Hightower, two fan favorites.'
It's okay, Bartelstein. Michigan fans know you are a humble, classy, and always team oriented player.
But, take some credit and keep it up.
Bartelstein is the type of captain the Wolverines need. His combination of basketball intelligence, coaching instincts and motivational abilities make him an unsung hero of this Michigan basketball team.

Fifth-year senior guard Corey Person is the energy of Michigan basketball. (Via MgoBlue.com - Corey Person's Profile)
Corey Person breaks it down before every Michigan basketball game with his crazy dancing, antics and pregame speeches.
Person's charisma and dedication to pumping up his teammates makes him an unsung hero of the Wolverines.
During the introductions of the starting lineups, Person waits eagerly at the end of the aisle where players run down after their name is announced.
With his arsenal of chest bumps, high-fives and ridiculous handshakes, Person motivates his teammates when they take to the floor.
Rod Beard of The Detroit News says Person impacts the team in "an almost-invisible way" and explains the ways in which he effects his teammates and the game:
During the pregame introductions, which aren't always seen on TV, Person is the one greeting all the players as their names are called, with unusual handshakes and gestures. He's the one in the middle of the huddle getting the team excited and ready to go. During timeouts, he's one of the players that talks before the coaches give their instructions.
Person wants the best for his teammates. He pushes them to strive for excellence by playing with intensity and confidence. His passion for the game and his commitment to the preparation of his teammates shows during every Michigan basketball game.
The Wolverines have an outstanding basketball team this season. Players such as Burke, Hardaway, Jr., Robinson and freshman guard Nik Stauskas show their impact with their on-court performance.
But, Michigan has two unsung heroes, Bartelstein and Person, who bring out the best in their teammates and make the Wolverines a better team.