Top Performers from Super Bowl XLVII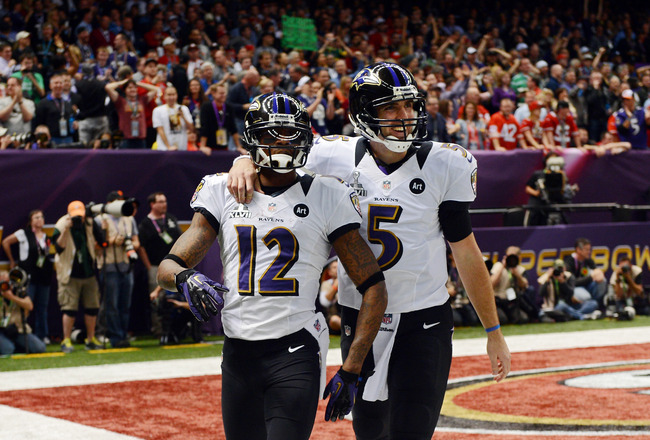 Harry How/Getty Images
If you still have fingernails after watching Super Bowl XLVII, I applaud your self-control. But my applause rings louder for the players who displayed nerves of steel and determined the outcome of the 2012 NFL season.
The pages of history are littered with those who have choked when a chance at immortality has been presented to them. Those same pages contain the names of those who have changed the direction of football.
So click through to find out who etched their names into the history books with their performances on the biggest stage.
10. Baltimore Ravens K Justin Tucker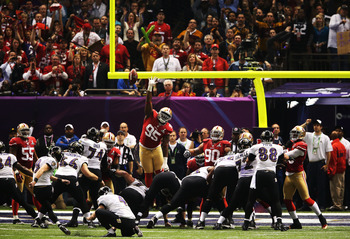 Ronald Martinez/Getty Images
Anytime a team wins by a field goal, you have to include the winning kicker. It's only fair.
Justin Tucker didn't waste any of his opportunities. He knocked in both field goals and converted all four of his extra-point attempts.
Granted, his long was only 38 yards. However, he took advantage of every opportunity presented.
9. Baltimore Ravens S Ed Reed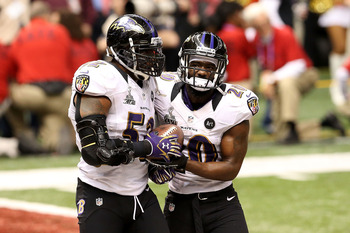 Ronald Martinez/Getty Images
Ed Reed's interception wasn't a testament to athleticism, but they all count the same.
He was still in the right place at the right time. And if you do that enough times, you must be doing something right.
He added five tackles as well. Solid performance from a solid veteran. It's about time he got a ring.
8. Baltimore Ravens LB Paul Kruger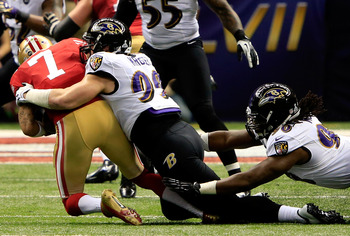 Jamie Squire/Getty Images
Paul Kruger is one of those players who always flies under the radar. He'll make plays, but not so many that he ends up on top-10 lists.
On the biggest stage, Kruger showed up. He notched two sacks and left his mark (Ray Lewis Trademark).
He didn't affect the game in too many other ways, but those sacks are plenty to garner the coveted No. 8 spot.
7. San Francisco WR Michael Crabtree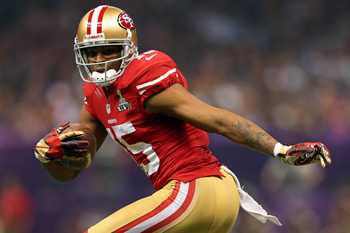 Mike Ehrmann/Getty Images
Every San Francisco 49ers player made at least one mistake. Michael Crabtree is no different.
Yet you can't blame this loss on him. Crabtree grabbed five passes for 109 yards and a score.
That's a valiant effort against a rugged Ravens defense.
6. San Francisco 49ers TE Vernon Davis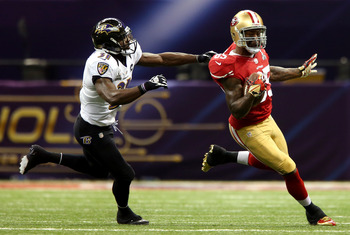 Mike Ehrmann/Getty Images
Surely, there were a few articles talking about Vernon Davis' disappearance from the 49ers offense. Those were certainly premature.
He followed up a nice effort in the conference championship with a stellar Super Bowl. He hauled in six catches for 104 yards.
I wonder if he couldn't have been a bigger factor. Every time Davis was on the screen, he had the advantage in a mismatch.
Such is life, San Francisco fans.
5. San Francisco 49ers RB Frank Gore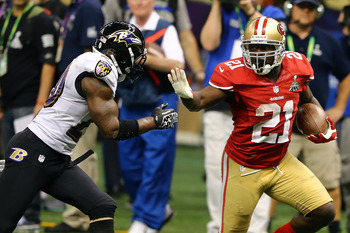 Al Bello/Getty Images
If it wasn't for the next fellow on this list, I would make an argument for Frank Gore as the MVP for the losing team.
He averaged 5.8 yards a carry on his way to 110 rushing yards. I'm not even sure when it happened; I don't remember anybody gushing about his performance.
That's too bad. Gore was dominant. He continuously gashed the Ravens and carried the pile for extra yards.
4. San Francisco 49ers QB Colin Kaepernick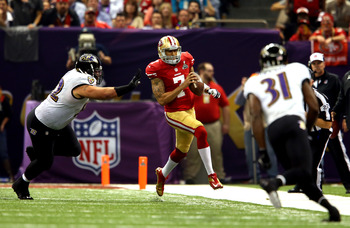 Mike Ehrmann/Getty Images
Colin Kaepernick left zero doubt as to Jim Harbaugh's decision.
Yes, we already knew that. But there were those that wondered if he could handle the big stage.
Take away one terrible overthrow, and his game was darn near perfect. Kaepernick threw for 302 yards, rushed for another 62 and accounted for two scores.
3. Baltimore Ravens WR Anquan Boldin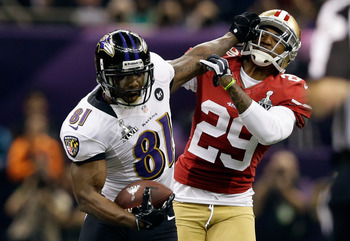 Ezra Shaw/Getty Images
Quick, give me the best word to describe Anquan Boldin.
I'm sure you had a great response. Mine was better.
Man.
He outmuscled defensive backs all night and made big catch after big catch. He ended the game with six catches for 104 yards and a score.
2. Baltimore Ravens WR Jacoby Jones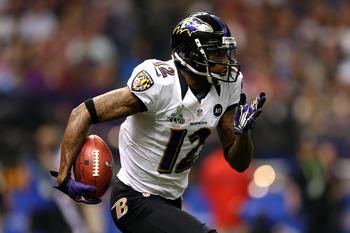 Mike Ehrmann/Getty Images
What a night for Jacoby Jones. Think the Houston Texans miss him?
Not only did he haul in a ridiculous 56-yard touchdown pass, he accented his performance with a 108-yard kickoff return to start the second half.
That return ties the all-time NFL mark for a kickoff return and is a Super Bowl record. When he was given a chance to make a difference, he obliterated the competition.
Well done, young man.
1. Baltimore Ravens QB Joe Flacco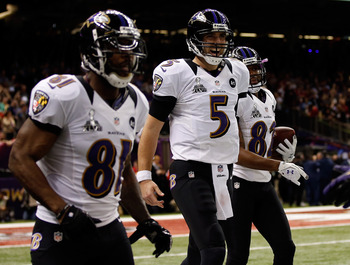 Chris Graythen/Getty Images
The dude won the MVP. He's getting the No. 1 spot.
Joe Flacco is an elite quarterback. You can't take that away from him now.
It didn't matter what happened. The lights went out; the 49ers mounted a furious comeback.
Joe Flacco did not care. He was going to do his job and leave the rest to fate.
Well, his plan worked out. Flacco ended with a 124.2 quarterback rating and threw for three touchdowns and zero interceptions.
Additionally, he had the brass to audible to a tough throw to Boldin for a critical first down. Enough can't be made of Flacco's performance. Pay the man.
Keep Reading