The Biggest Fails in Super Bowl History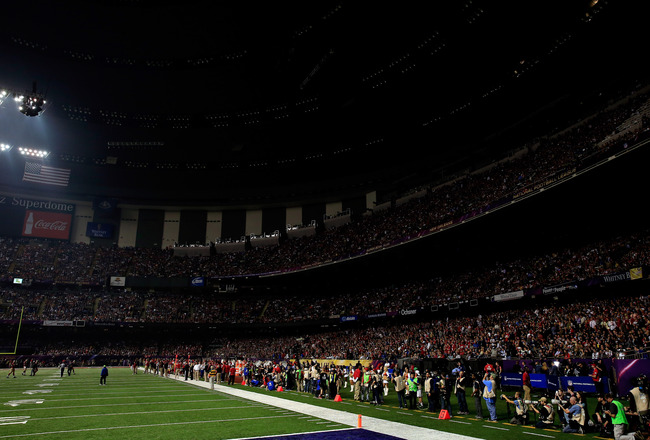 The lights went out in Super Bowl XLVII, but it is one of many memorable Super Bowl fails.
Jamie Squire/Getty Images
Super Bowl XLVII between the Baltimore Ravens and San Francisco 49ers was highlighted by one of the biggest fails in Super Bowl history when the lights cut out in the second half for nearly 35 minutes.
The blackout in New Orleans is just the most recent reminder that the the NFL's grandest stage is by no means perfect. Throughout the course of 47 Super Bowl contests, there have been some impressive fails that live on in NFL history today.
From halftime shows to off-field fails to botched plays themselves, Super Bowl history is riddled with fails that should never be forgotten.
In the following slideshow we will break down some of the most memorable Super Bowl fails in NFL history and rank them.
Let's take a look.
10. Madonna's Horrid Halftime Performance (Super Bowl XLVI)

Madonna stumbled through a horrific halftime performance in 2012.

Super Bowl halftime shows are one of the biggest sporting events in the world on their own. When the NFL finds a great performer, it is a memorable event that goes down in the history books.
However, there are times when the NFL simply whiffs on their choice of performers.
That would turn out to be the case for the 2012 Super Bowl halftime show when Madonna took the stage. The performance featured her stumbling along the stage and bringing out artists such as the ear-cringing Nicki Minaj.
One of Madonna's guests, the artist known as M.I.A., even flipped off the crowd on camera. It was a performance to forget, and one that we will unfortunately never be able to for all the wrong reasons.
9. Janet Jackson's Wardrobe Malfunction (Super Bowl XXXVIII)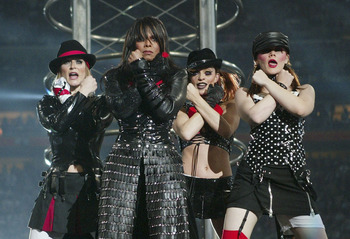 Janet Jackson lost a piece of clothing during her halftime escapades and it cost CBS a pretty penny.
Frank Micelotta/Getty Images
Super Bowl XXXVIII between the Carolina Panthers and New England Patriots was a great game, but will always be remembered for some of the biggest fails in NFL history.
The first -- and biggest fail -- came during the halftime show with Janet Jackson and Justin Timberlake.
During their set, Timberlake ripped a piece of clothing off of Jackson and exposed her bare breast to the nation. CBS attempted to cut to an aerial view, but the damage had been done.
The FCC fined CBS $550,000 for indecent exposure as a result, but the Supreme Court later overturned the fine. The event may have been frowned upon nationwide, but it will forever live in our hearts as a hilarious Super Bowl fail.
8. Thurman Thomas Forgets Where He Left His Helmet (Super Bowl XXVI)
Thurman Thomas talked a lot, but when it came time to play he could not even find his helmet.
Rick Stewart/Getty Images
The Buffalo Bills were embarrassed by the Washington Redskins in Super Bowl XXVI to a tune of 37-24, but the most embarrassing aspect had to be running back Thurman Thomas.
Thomas used the time leading up to the Super Bowl to tell everyone how unappreciated he was, which may or may not have been true.
When push came to shove, Thomas could not even get on the field. Thomas missed the first two plays of his team's opening drive because he had misplaced his helmet.
Buffalo was forced to start the game without its best player, and it was a bad start to a horrible day for the franchise.
7. The Streaking Referee (Super Bowl XXXVIII)
Super Bowl XXXVIII was interrupted by a streaker (not pictured here). Unfortunately the lights didn't go out.
Donald Miralle/Getty Images
Mark Roberts is infamous for infiltrating sporting events and running around in the nude. He made an appearance in Super Bowl XXXVIII, capping off one of the most entertaining championship contests in history.
Roberts disguised himself as a referee and hit the field just after a horrendous halftime show by Janet Jackson. He stripped at midfield and began to dance in a thong before being tackled by New England Patriots linebacker Matt Chatham.
The original broadcast managed to avoid most of the escapades, but it was later shown on The Late Show With David Letterman.
Roberts' dance on the biggest stage of them all only cost him $1,000 on a trespassing charge.
6. Leon Lett's Premature Celebration (Super Bowl XXVII)

Leon Lett is the worst at celebrating in Super Bowl history.

Super Bowl XXVII between the Dallas Cowboys and Buffalo Bills was an ugly one to say the least, with the former winning by a score of 52-17.
The game did not lack for quality entertainment late thanks to Cowboys defensive lineman Leon Lett.
Lett recovered a fumble and was on his way back to score a touchdown when he decided it would be a great idea to celebrate before actually crossing the plane of the end zone.
The showboating allowed Bills receiver Don Beebe to catch up and smack the ball out of Lett's hand. Instead of a touchdown, the ruling was a touchback.
The game was in hand at the point of Lett's mistake, but it is the prime example for coaches everywhere who have to explain to their players why you do not celebrate before you actually score.
5. James Harrison Rumbles for a 100-Yard Touchdown (Super Bowl XLIII)

James Harrison picked off a laughably bad pass from Kurt Warner and ran into NFL history.

The Arizona Cardinals were about to score before halftime of Super Bowl XLIII when Kurt Warner threw a horrendous pass into coverage.
Warner's pass was intercepted by Pittsburgh Steelers linebacker James Harrison, who then rumbled down the field for a 100-yard touchdown.
Rather than take a four-point lead, Warner's pass caused his team to be down 17-7 at half. The worst part? No one on the Arizona offense was able to bring down the massive Harrison in a 100-yard sprint.
Pittsburgh would go on to win 27-23, in large part because of Harrison's ability to capitalize on a major mistake.
4. Garo Yepremian's Drop (Super Bowl VII)

Garo Yepremien was a kicker for a reason.

The perfect season for the Miami Dolphins in 1972 was placed in unnecessary jeopardy during Super Bowl VII thanks to one Garo Yepremian.
The Dolphins were up 14-0 over the Washington Redskins in the fourth quarter when Garo Yepremian was sent out to attempt a kick that would extend the lead and make it a three-score game.
Yepremian's kick was blocked, and rather than simply fall on the ball, he decided to attempt a pass down the field. His pass was intercepted and returned for a touchdown by the Redskins' Mike Bass.
The mistake made it just a one-score game. Miami would still go on to win, 14-7, but it forever remains one of the biggest fails in NFL history.
3. Eugene Robinson Has the Strangest Super Bowl Week Ever (Super Bowl XXXIII)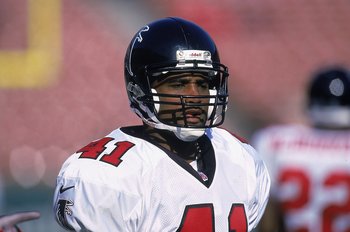 Eugene Robinson had a very, very bad Super Bowl week.
Tom Hauck/Getty Images
Atlanta Falcons safety Eugene Robinson had an outstanding season in 1998 as he helped take the team to Super Bowl XXXIII against the Denver Broncos.
The good times ended there for Robinson. Atlanta was stomped. 34-19, but that is not the big story here.
The day before the game, Robinson was awarded the Bart Starr Award for his exemplary character and moral values.
Robinson celebrated the award by going out the same night to pick up a prostitute. Said prostitute turned out to be an undercover cop who arrested him.
While he was cleared to play in the big game, Robinson turned in a miserable performance and cemented himself as one of the biggest fails in Super Bowl history.
2. The Lights Go out in New Orleans (Super Bowl XLVII)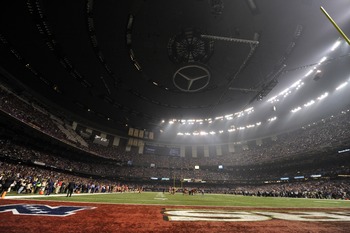 The lights went out in Super Bowl XLVII, but the show rolled on after an extensive delay.
Robert Deutsch-USA TODAY Sports
Super Bowl XLVII turned out to be an unforgettable matchup between the San Francisco 49ers and Baltimore Ravens, but the stadium's malfunctions were the big story.
Just after the second half started, half of the dome in New Orleans lost power and play had to be stopped. The 49ers were driving down the field at the time despite being down 28-6.
Play was stopped for over half an hour and players had to stretch on the field before returning to play. Lighting the dome was a slow process that made audiences suffer through commentary from the likes of Steve Tasker, Solomon Wilcots and Shannon Sharpe.
The game was ultimately decided after a long delay, but it was a horrible sign for any franchise without a newer, modern stadium.
1. Scott Norwood Is "Wide Right!" (Super Bowl XXV)

Scott Norwood missed a kick in typical Bills fashion on the biggest stage of them all.

The Buffalo Bills made their first of four straight Super Bowl appearances in Super Bowl XXV against the New York Giants.
The Giants were holding on to a 20-19 lead with just over two minutes left in the game when Buffalo kicker Scott Norwood lined up for the game-winning 47-yard field goal.
Norwood missed, wide right.
New York went on to win, and the Bills ended up losing all four Super Bowl appearances. Had Norwood made the kick, we could have witnessed the beginnings of a Buffalo dynasty.
Instead, Norwood is a running joke in Super Bowl mythology.
Keep Reading