Demian Maia Stole the Show at UFC 156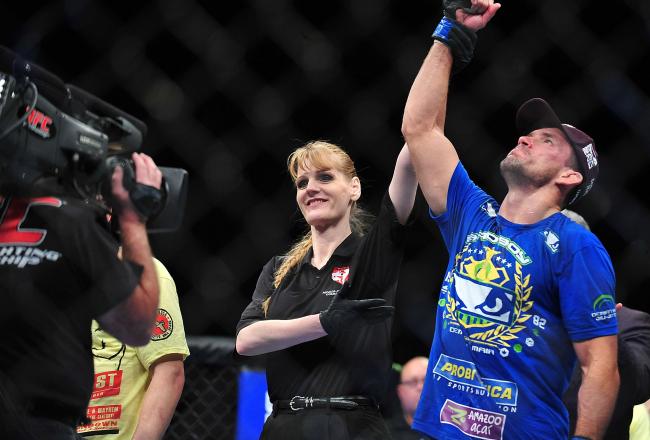 Gary A. Vasquez-USA TODAY Sports
UFC 156 was a night of big surprises, as upsets were plentiful throughout the card. It began on the prelims and continued over to the main card where Antonio "Big Foot" Silva went into beast mode to drop Alistair Overeem in the third round and when Antonio Rogerio Nogueira "won" against Rashad Evans.
Plenty of people are talking about Silva's comeback win against Overeem, and for good reason. Silva was controlled for the first two rounds in every facet of the match but turned up the heat in the final frame, scoring a devastating knockout in under 30 seconds.
Yet one fighter stood out before Silva humbled Overeem and should without a doubt be considered the one who stole the show at UFC 156.
Jon Fitch is an accomplished Division I wrestler and has one of the best grappling games in the UFC. Unfortunately for him Demian Maia has one of the best grappling skill sets in the entire world. Few guys are as decorated as Maia is in Brazilian jiu-jitsu and Maia put on a show against Fitch.
It began right away as Maia stormed across the cage and took Fitch down with ease. The rest of the first round saw Maia riding the back of Fitch, looking for a choke. Fitch not only had to fend off the threat of a rear-naked choke but also had to carry Maia's weight for the better part of the first five minutes.
I know 10-8 rounds are reserved for rare occurrences and Maia didn't inflict any damage, but he without a doubt dominated Fitch for the first round. The dominance continued in the second and third rounds as Maia controlled the AKA fighter on the ground.
A popular line going through the MMA world describes this fight perfectly, "Fitch got Fitch'd."
It showed when Fitch came to his corner prior to the third round. His cornermen knew their fighter was behind on the scorecards and urged Fitch to brawl in the final minutes to look for a KO victory. When was the last time you've heard anyone tell Fitch to stand with his opponent?
Maia was a legitimate title contender at 185 pounds, but the 170-pound welterweight division is clearly where he belongs. His dominant performances against Rick Story and Fitch are proof of that. Now, not only do fighters have to worry about Maia's dangerous BJJ skills but have to contend with his strength and size advantage as well.
Fitch may have fallen off the map following the loss to Johny Hendricks, but he reminded everyone of how good he is against Erick Silva at UFC 153. The AKA fighter is still one of the best fighters in the world at 170 pounds, but Maia made him look like an amateur at UFC 156.
I'm anxious to see Maia face some of the welterweight elite and see if he can continue to be as dominant against guys like Hendricks, Jake Ellenberger and Martin Kampmann.
This article is
What is the duplicate article?
Why is this article offensive?
Where is this article plagiarized from?
Why is this article poorly edited?