10 Things We Learned from UFC 156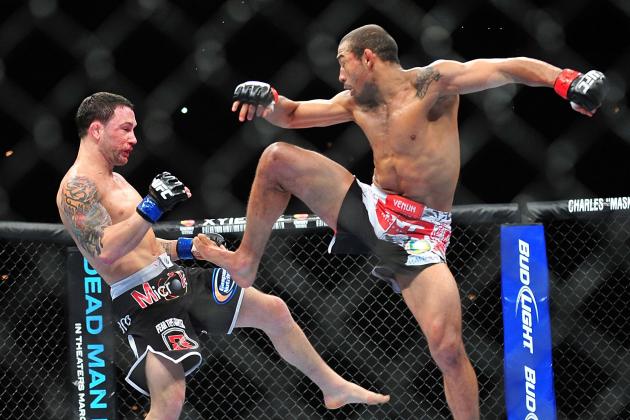 Gary A. Vasquez-USA TODAY Sports
Aldo and Edgar put on a clinic to save a disappointing PPV.
It was supposed to be one of the more predictable cards to predict. Instead it was a card where super fights were shattered and Dana White was likely slamming his head on a table. It was a very odd night with two major upsets and most of the fighters returning from long layoffs showing severe ring rust.
The show was very odd with how stars like Alistair Overeem and Rashad Evans showed little explosiveness and no sense of urgency. These are two fighters that are among the best in the world and they fought like it was a sparring session in their local gym.
The main event delivered and it brought some excitement through each round. After a night of fights having no real danger of finishing to an upset that came out of nowhere, it was a pretty lackluster pay-per-view for the most part. Here is the breakdown of the main card.
Begin Slideshow

»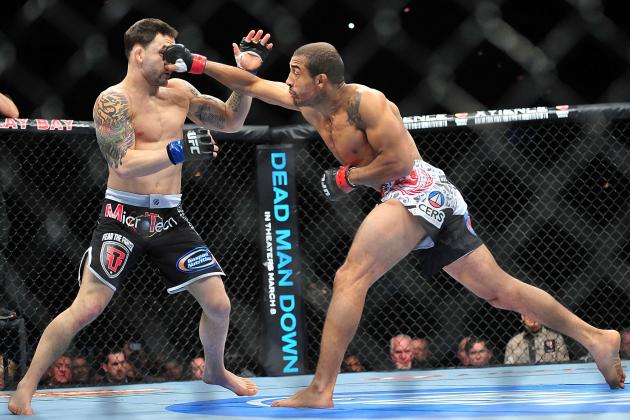 Gary A. Vasquez-USA TODAY Sports
Aldo delivered some nasty strikes to retain his championship.
As the night went on, people were questioning if Jose Aldo was going to be ready for his fight. The perception was like that because everyone witnessed how poor Overeem and Evans fought after long layoffs from fighting. Aldo was coming off a yearlong layoff from fighting, but he clearly didn't show much rust.
Aldo was on point for most of the night from his leg kicks to front kicks that connected with Edgar on multiple occasions right in the face. He was moving well for most of the night and seemed to be in complete control. You could tell how confident he was by using his athleticism and speed to out maneuver Edgar.
The big question from a fighting standpoint was how would Aldo's takedown defense be. In his last fight against Chad Mendes, he was grabbing the fence on multiple occasions. Eventually he knocked out Mendes, but there were serious questions about his takedown defense. He stuffed six out of eight takedown attempts by Edgar, which played a huge role in his victory
Now the big headline right now is that Anthony Pettis wants to move down to the featherweight division to face Aldo. I'd love to hear someone argue on why that's a bad move. The featherweight is in need of competition and both fighters are only 26 years old. It would be a fantastic fight that would gain a lot of attention for two young and exciting fighters battling for a title that tends to be forgotten about.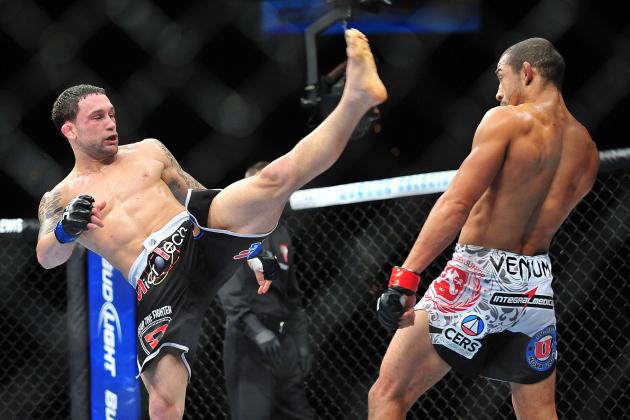 Gary A. Vasquez-USA TODAY Sports
Edgar whiffed on many strikes against Aldo.
I've always respected Frankie Edgar and consider him to be already a Hall of Famer. He is a workhorse that always fights hard and never lets up. It seems like every fight he's in comes to a close decision or it's usually fight of the night. He may have gotten fight of the night, which was well deserved but this fight wasn't close.
I could see Edgar winning Rounds 3 and 4 due to his takedowns, but Aldo clearly won at minimum by a convincing 48-47. Not to mention when you looked at the fighters, Edgar was partially bloody and his left eye was mostly shut compared to Aldo being completely unscathed.
As usual, Edgar's cardio was top notch and he was very aggressive all five rounds. You knew that he wasn't going to win a stand-up battle against Aldo, so it didn't surprise me that he was losing convincingly. When his takedowns were ineffective for the most part, it was his downfall.
You may not like how he gets title shots, but you have to respect Edgar for being arguably the most consistent fighter when it comes to putting on good performances. It would be hard pressed to say that you can actually find a boring Frankie Edgar fight.
As for his future, I'd like to see him back at lightweight because that division is starting to heat up and he could have many exciting fights with the likes of Joe Lauzon and Nate Diaz.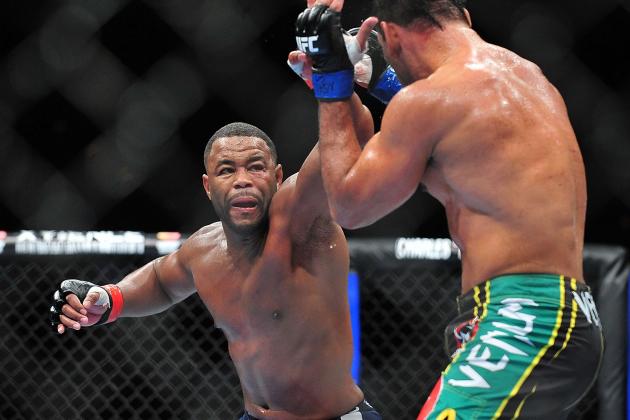 Gary A. Vasquez-USA TODAY Sports
Evans did a lot of the same thing on Saturday, making little to no impact.
We've seen the light heavyweight division get dismantled over the past 12 months. The division has had the likes of Shogun Rua and Rampage Jackson become fighters that can't compete with the best anymore. That list could be growing after Saturday's performance by Rashad Evans.
After getting mostly dominated by Jon Jones in April, you would expect someone as good as Evans to come out aggressive. He did that a year-and-a-half ago when he came back from injury to beat Tito Ortiz. Instead, Evans looked sluggish and fairly predictable.
He went for only two takedowns, which was very questionable. Obviously he was respecting Noguiera's jiu-jitsu, but Evans has made a career off of his wrestling background. I'm not sure what his game plan was by just standing up and striking with Noguiera when he clearly wasn't having much success. Also, it didn't seem like he was throwing many kicks either as well.
Overall it was a very uninspired effort by Evans and it was arguably the worst performance of his career. At least when he lost to Jones and Machida, he went out being aggressive. This fight was the complete opposite and he didn't show any signs that he should fight Anderson Silva.
His future is very cloudy right now and it will be interesting to see if he can still fight with the best in his next fight possibly against someone like Glover Teixeira.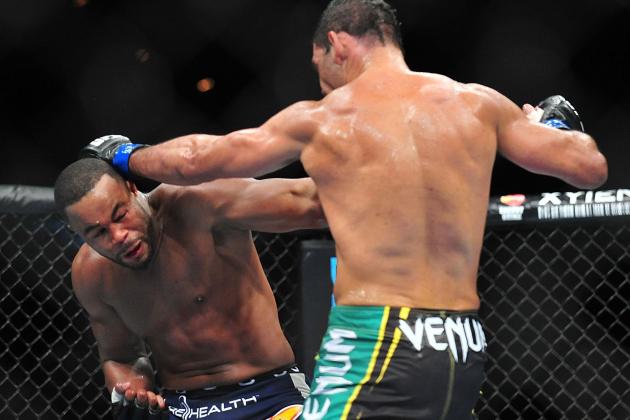 Gary A. Vasquez-USA TODAY Sports
Nogueira won in most likely the worst fight of the year.
He may have gotten his biggest victory in the UFC, but this was another poor performance from Antonio Rogerio Nogueira. He looked rusty from a yearlong layoff from injury and didn't seem to connect with many combinations.
This was a bad fight all around and it will probably be the worst fight of the year. It didn't have any moments where you thought the fight was going to get finished. Nogueira landed a few jabs, but there was no major impact from this fight. It was just Nogueira being more aggressive than Evans.
The major thing that helped Nogueira pull off the upset was his takedown defense was superb. Even when he was taken down in the first round, he was back up in mere moments afterwards. It was a well-executed game plan to frustrate Evans, despite the lack of counter striking.
I'm not sure what happens with Nogueira from here on out, but he was the spoiler of the night. On paper, this was the biggest win of his UFC career but it was one of his worst performances. The fact that he won by unanimous decision was a bit shocking, but he deserved to win and played his role of spoiler.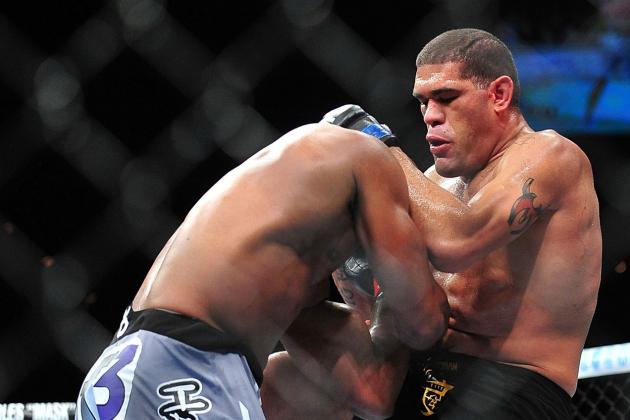 Gary A. Vasquez-USA TODAY Sports
The straight knee was the beginning of the end for Overeem
For the past few years, it's been rare that we've seen a knockout that has come out of nowhere on such a big stage. The last time that I've seen a shocking upset like that was Junior Dos Santos knocking out Cain Velasquez in the first round in their first encounter.
Alistair Overeem was in the perfect position to earn his No. 1 contender slot against Antonio Silva. It was a good matchup for him, yet he looked lackluster and seemed to be very rusty. We weren't seeing the explosive striking or success with the knees from the clinch. It was becoming a grind and Overeem was starting to lose focus.
Many people view Overeem's loss due to a lack of respect towards Silva and I don't think that can be denied. He was rarely defending his head in the fight and kept saying how he was going to destroy him. Then he wasn't throwing many kicks, which was another thing that made me really question Overeem's game plan.
The funny thing is that Overeem took the first two rounds, so all he had to do is to get through the third round. The lack of respect towards Silva and looking rusty were exposed in that knockout. Now he's being used as a punch line for jokes, which is well deserved for his attitude going into this fight. Similar to Evans, his future is very cloudy and you may see him take another long layoff with many heavyweights being booked up.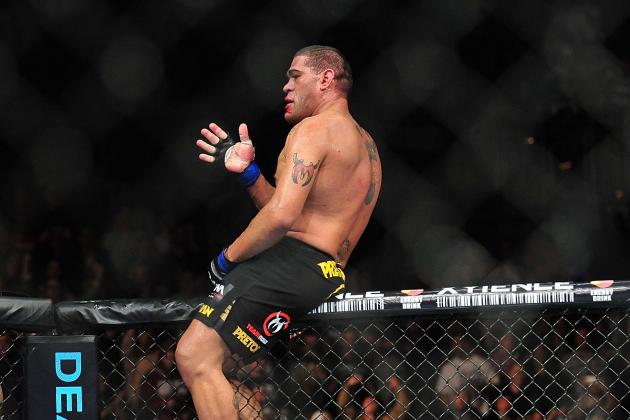 Gary A. Vasquez-USA TODAY Sports
Silva stands tall in the major upset over Overeeem.
I've been trying to look up prediction boards or articles that took Antonio Silva in this fight and it has been very minimal. His stock has taken a hit over the past year-and-a-half with some major losses. Daniel Cormier and Cain Velasquez dominated him, which were both losses in the first round. His win over Travis Browne wasn't that impressive, due to Browne injuring his hamstring in the early first round.
With Overeem returning from a yearlong suspension and not being defeated since 2007, it felt as if Overeem was going to steamroll past Silva and he would go on to face Velasquez. That wasn't the case with Silva implementing the perfect game plan by not allowing him to get into a groove with his strikes.
Silva was getting pressed against the cage for most of the first two rounds, but he kept under hooking Overeem's arms to avoid punches. It was a good game plan to avoid getting knocked out, but it looked as if it was going to go to decision favoring Overeem. It turned out that Silva picked his spot and took it by unleashing on him to achieve the major upset with knees and jabs.
I'm not sure what the future is for Silva, but I'd be against giving him a title shot. After Cain Velasquez embarrassed him last year, it seems like it's only fair to have him face Junior Dos Santos next for the title shot. Once again it wasn't like Silva fought that well, he just defended well and picked his spot. A fight with Dos Santos would be a true test and it would give Dos Santos a much-needed opponent.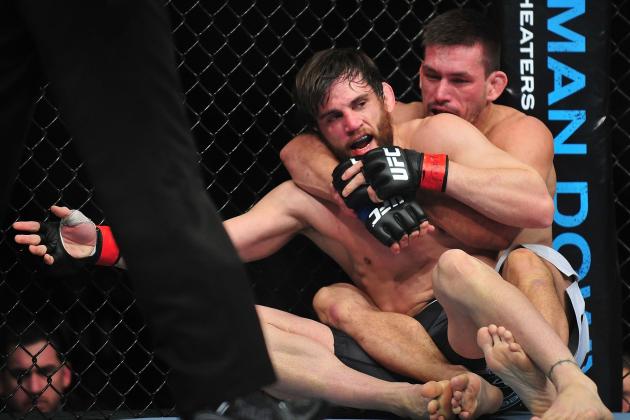 Gary A. Vasquez-USA TODAY Sports
Maia was all over Fitch and gave him no room to breathe
It was about one year ago when Demian Maia lost to Chris Weidman in one of the dullest fights of 2012. He was mostly dominated by Weidman on the ground and realized that he may need to move down to the welterweight division. Eventually, he joined the division and it has rejuvenated his career.
Once again he looked lively on Saturday and was far more aggressive than Jon Fitch. In a battle of ground specialists, Maia was all over him and was constantly making Fitch defend. He wasn't really threatening to finish Fitch but he was in dominant positions and making Fitch feel how it's like to be at the bottom of a mount.
It has be a common theme for Maia since joining the welterweight division on how he's been able to take down his opponents in the early part of the fight. Even though he wasn't able to finish Fitch, it was a major statement win by Maia to dominate someone with the ability of Fitch.
Despite being 35-years-old, Maia is quickly moving up the ranks of the welterweight division and could get a huge fight coming up. He's been walking through competition so far and it could lead to him facing either Rory MacDonald or Carlos Condit. It would be the ultimate test for him to face a striker on the level of those. If he were to match up with either fighter, it would be the ultimate styles clash.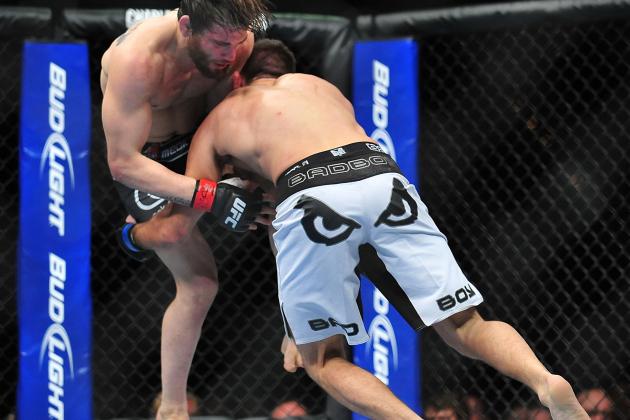 Gary A. Vasquez-USA TODAY Sports
Fitch was taken down on a consistent basis.
After seeing how good he looked against Erick Silva at UFC 153, it was shocking to see how Jon Fitch was so dominated at his own game. For years we have seen Fitch beat his opponents by taking them down and staying in full mount. This time it was the other way around and Jon Fitch was simply "Out-Fitched".
He never was able to get going with Maia all over him by going for a rear naked choke in the first round followed by ground and pound in the second round. Even though Fitch was never close to getting knocked out, it was pretty alarming to see him get tossed around like that.
After that victory over Silva, it felt like he was rejuvenated and ready to go on another long winning streak, but it wasn't meant to be. He had some moments in the third round, although it never really amounted to anything special. You would expect someone like him to go for a possible submission, but it was a reoccurring theme of him being taken down.
Fitch doesn't have much left to offer. He's 34 years old and we know he doesn't tend to put on many exciting fights. It wouldn't surprise me if he retired in the next year or so. He was manhandled in there and that isn't supposed to happen to a great wrestler like him. His future has to be in serious doubt.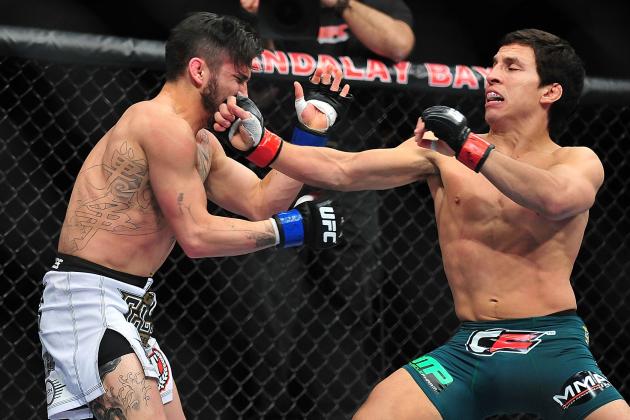 Gary A. Vasquez-USA TODAY Sports
Benavidez connected on some big punches.
Every flyweight battle seems to be a constant grind, where it's three rounds of high paced action but there never seems to be a finish. That was the case again with Joseph Benavidez beat Ian McCall by unanimous decision. It was another decent fight, but it didn't end in conclusive fashion.
That is the problem with the flyweight division, where it rarely ends in conclusive fashion. The difference in this fight was Benavidez was more aggressive and looked better with his striking combinations. He was confident and seemed to be the aggressor for each round.
I'm not sure what McCall's game plan was, but he just kept smiling and taking damage. Although he had success with a big double-leg take down in the third round, he didn't really connect on many punches. It was a strange performance by McCall, who never looked aggressive and didn't do anything on the ground.
I'd like to see Benavidez face Demetrious Johnson again, especially with the lack of flyweight contenders. It was a good fight back in UFC 152 and Benavidez seems to be the most capable in challenging Johnson. The division needs some new faces because it seems like a four-man carousel right now.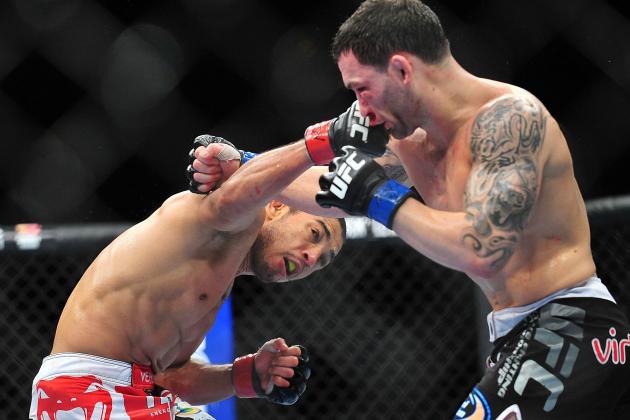 Gary A. Vasquez-USA TODAY Sports
Aldo showed no rust and won over the remaining critics.
Since the UFC has their certain awards, I usually make it different and choose two fighters for certain awards. The awards are the best fighter of the night and the worst fighter of the night.
It was close because I was really impressed with Demian Maia and how he dominated Fitch, but Jose Aldo wins the award here. He controlled the fight for every round and looked better than ever. His takedown defense improved and he did something that Benson Henderson couldn't do, which is beat Frankie Edgar convincingly.
The worst fighter of the night is going to be split because I'm so disgusted in both of them. Rashad Evans and Alistair Overeem will both get this award for fighting poorly and not showing any urgency.
You would expect coming back from a long layoff, they would look to make a major statement with a true finish. Instead they were coasting through their respective fights and it cost both of them chances at possible title fights.
Overall I was pretty letdown by UFC 156 from a fighting standpoint. Other than the main event, the main card was very lackluster. Let's hope Henderson versus Machida can be a classic because UFC 157 doesn't look much better. We shall see, hopefully some young fighters can step up. Until then, thanks your reading and hopefully the cloudy title situations will get cleared up.
Allen Strk is a columnist on Bleacher Report. You can read more of his work at TJRSports.com covering NFL, NBA and MMA. You can follow him at @Allen_Strk on Twitter or e-mail questions/comments at AStrk19@gmail.com.