Miami Heat vs. Toronto Raptors: Postgame Grades for Miami Heat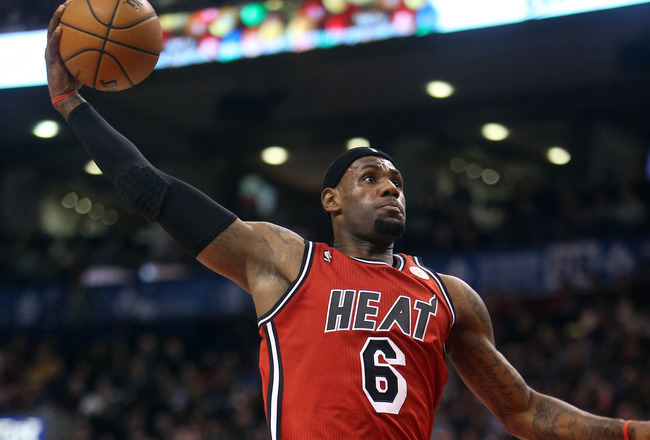 Tom Szczerbowski-USA TODAY Sports
The Miami Heat are back on track after a 100-85 victory over the Toronto Raptors.
The 15-point margin is a bit deceiving, though, as the Raptors led by six at halftime and were within three points with seven minutes left in the fourth quarter.
The Heat finally closed out the Raptors once LeBron James got back on the court with just under five minutes remaining, scoring seven of the Heat's final 10 points.
LeBron finished with 30 points, eight rebounds and seven assists, while shooting 62.5 percent from the floor.
He didn't do it alone, though, as Chris Bosh and Dwyane Wade added 51 points on 59.5 percent shooting.
The Heat's Big Three accounted for 81 of the Heat's 100 points. While that's impressive, it's also concerning when you think of the lack of production from everyone else not wearing numbers 1, 3 and 6.
LeBron and Wade turned up the defense on Rudy Gay and DeMar DeRozan late. Even though Gay and DeRozan combined for 56 points, the Heat made other players beat them late, and the rest of the Raptors' roster just couldn't carry that level of responsibility.
The Heat got a much-needed win and can now sleep well on their flight back to South Beach, where they'll take on the Charlotte Bobcats on Monday.
Point Guard: Mario Chalmers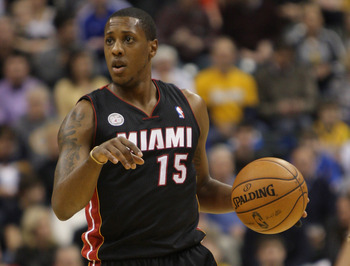 USA TODAY Sports
Mario Chalmers had an awful game offensively, scoring just two points on 1-of-6 shooting from the floor. Fortunately, he somewhat made up for it with five assists and four steals.
While LeBron James, Dwyane Wade and Chris Bosh carried the Heat's offense, there's no doubt that Chalmers has to get more productive on offense. Putting up two points in 30 minutes is inexcusable, considering the attention that LeBron and Wade pull away from him.
If the Heat are going to finish the second half of the season strong and beat the best teams in the NBA, they need more from Chalmers. If that doesn't happen soon, I wouldn't be surprised if he found his name in some trade rumors.
Luckily, Chalmers' lock-down defense on Kyle Lowry helped save his lackluster performance.
Overall Grade: C-
Final Stats: two points, five assists, two rebounds, four steals, 16.7 FG percentage
Shooting Guard: Dwyane Wade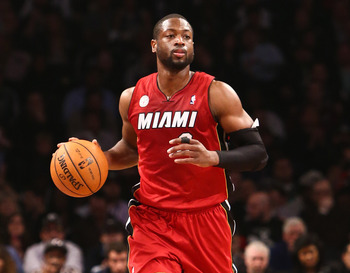 USA TODAY Sports
Dwyane Wade's aggressive performance helped the Heat rebound—no pun intended—from a somewhat slow start.
He finished with 23 points on 10-of-18 shooting, and he grabbed five rebounds, had five assists and made three steals.
When LeBron wasn't on the court, especially in the fourth quarter, Wade kept the Heat's offense running by getting into the paint and finishing strong at the rim.
Wade struggled a bit defensively against DeRozan off the dribble, allowing him to blow past him a few times, resulting in 14 trips to the charity stripe for the Raptors' shooting guard.
The aggressive approach Wade brought to the defensive side of the ball helped the Heat find their defensive identity, which had been lost for quite some time.
It should be noted that Wade and Bosh had the pick-and-roll running perfectly throughout most of the afternoon, with Wade getting most of his five assists on Bosh's rolls to the basket.
Wade had a very efficient day. His consistency was the foundation for the win.
Overall Grade: A-
Final Stats: 23 points, five rebounds, five assists, three steals, one block, 55.6 FG percentage.
Small Forward: LeBron James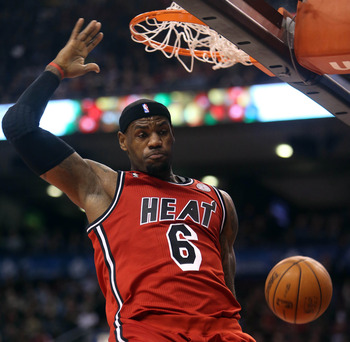 Tom Szczerbowski-USA TODAY Sports
LeBron James' consistently dominant play is spoiling NBA fans.
With 16 points in the first half, which would be a great performance for most NBA players, it felt like LeBron was holding back a bit.
Luckily in the second half, he amped up his play, specifically by getting into the paint at will and either finishing at the rim or getting to the free-throw line.
He finished with 12 trips to the charity stripe and made nine.
I should apologize to Erik Spoelstra because I thought benching LeBron from the 8:11 mark in the fourth quarter until about 4:45 remaining was an idiotic move.
In reality, though, it allowed LeBron to come off the bench with loads of energy and absolutely demolish any hopes the Raptors had of a comeback.
His defense against Rudy Gay in the first half left much to be desired. But something must've been said to him at halftime because he held Gay to just seven points in the final 24 minutes.
The Heat are back on track, and LeBron's dominant, efficient and productive play on both sides of the ball is a big part of the reason why.
The only thing that kept him from an "A" here was his insistence on arguing with the refs early on instead of hustling back on defense, which led to a number of Raptors' fast-break points.
Overall Grade: A-
Final Stats: 30 points, eight rebounds, seven assists, two steals, 62.5 FG percentage.
Power Forward: Udonis Haslem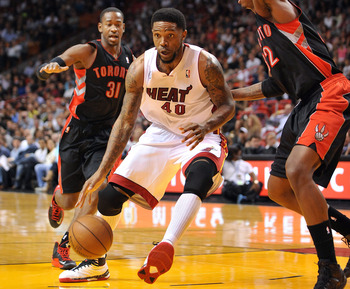 USA TODAY Sports
Udonis Haslem's play of late has been underwhelming, to say the least.
Against the Raptors he finished with just four points, three rebounds and four personal fouls in 15 minutes of action.
It's quite possible that once Chris Andersen gets back into game shape, he'll be inserted into the starting lineup because Haslem just isn't getting the job done.
You could argue that he's the Heat's "glue guy," but that argument seems dead now that LeBron's taken over as the Heat's leader both on and off the court.
On an afternoon when everyone not named LeBron, Wade or Bosh played pretty terribly, Haslem joined the party with a below-average effort.
I'm not sure the Heat can get more out of Haslem as he's starting to look a step behind the talent around him.
It may be time for the Heat to go back to a "small" lineup, with LeBron at power forward and Shane Battier at small forward. Haslem's certainly had opportunities to show the Heat his true value, but as of late he's fallen flat on his face.
Overall Grade: D
Final Stats: Four points, three rebounds, four personal fouls, 66.7 FG percentage.
Center: Chris Bosh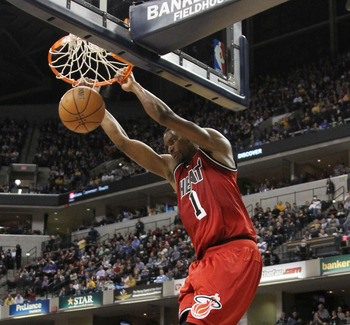 Brian Spurlock-USA TODAY Sports
Welcome back to reality, Chris Bosh.
While Bosh hasn't been atrocious over the past few games, he's certainly been underwhelming, especially on the glass.
That all changed when he made his return trip to Toronto, going off for 28 points on 12-of-19 shooting from the floor.
Offensively speaking, Bosh was doing it all. He was finishing strong at the rim, and he was even draining three balls for the Heat in the fourth quarter.
With that being said, he was still very, and I mean very, underwhelming on the glass. He finished with just five rebounds, and he grabbed just two in the first half.
I don't care if he's playing a position he's not totally built for. A 6'11', 235-pound player shouldn't grab just five rebounds and let the opponent get 14 offensive boards in 33 minutes of action.
If Bosh could get his act together on the boards, the Heat would be nearly impossible to beat. Rebounding is the one area that their opponents expose night in and night out.
Let's hope Bosh's trip back to his "homeland" of Toronto will spark him to a strong finish before the All-Star break.
Overall Grade: B-
Final Stats: 28 points, five rebounds, one steal, one block, 63.2 FG percentage.
Sixth Man: Shane Battier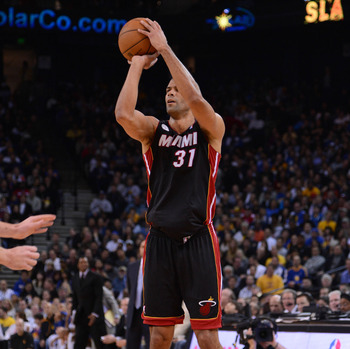 Kyle Terada-USA TODAY Sports
Shane Battier found his intelligent defensive ways at just the right time.
When the Raptors were looking to get back into the game in the fourth quarter, down just three points, Battier stepped in front of the restricted area and took a beautiful charge on Rudy Gay.
That was exactly what the Heat needed, and it seemed to give Miami the spark they were looking for.
Offensively speaking, Battier wasn't awful, but he wasn't that great either. He shot just 1-of-3 from beyond the arc. But his first and only three ball came at just the right time.
Battier grabbed five rebounds and blocked two shots, which proved to be real difference-makers. Three of those rebounds were offensive, making him the Heat's top man on the offensive glass.
His performance against the Raptors can be perfectly defined by just one word—opportunistic.
When the Heat needed a big play, they turned to Battier, and fortunately he was up for the challenge. Smart and intelligent play was the name of the game for Battier and he certainly brought production to the court right when the Heat needed it.
The only reason why his grade isn't higher is because five points in 30 minutes of action isn't the kind of offensive spark the Heat need off the bench.
Overall Grade: C+
Final Stats: Five points, five rebounds (three offensive), two blocks, 40.0 FG percentage.
Bench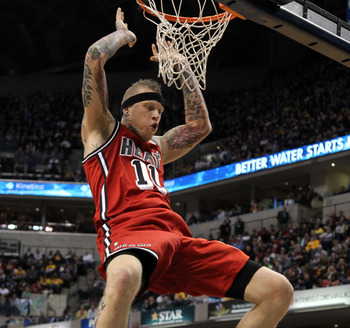 Brian Spurlock-USA TODAY Sports
We all know the Heat's bench isn't anything to write home about, but they were absolutely awful against the Raptors.
As a unit, the bench accounted for just 13 points on 5-of-13 shooting from the floor.
Fortunately, Chris Andersen made a real difference in the fourth quarter when he grabbed two offensive boards and drew an over-the-back foul against Amir Johnson that helped shift the game's momentum.
Ray Allen was an absolute non-factor. In 19 minutes of play, he finished with one point and had as many turnovers (two) as assists.
Norris Cole hit a big layup down the stretch, but that can't make up for the Heat's collective lack of production from their second unit.
I get tired of writing this sentence, but the Heat need a lot more production from their bench if they are going to hang with the big boys in the Eastern Conference.
A total of 13 points off the bench might get them past the Toronto Raptors, but it won't help them beat teams like the New York Knicks and Indiana Pacers.
Overall Grade: D+
Final Stats: 13 points, 11 rebounds, two assists, 0 steals, two blocks, 38.5 FG percentage.
Keep Reading

Miami Heat: Like this team?