Michigan Basketball: 4 Reasons the Wolverines Were Defeated by Indiana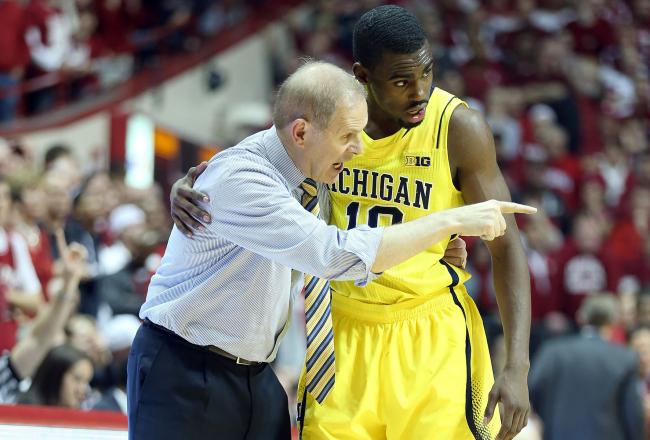 The Michigan Wolverines' shooting woes in the first half cost them dearly against the Indiana Hoosiers.
Andy Lyons/Getty Images
For the second time this season, the Michigan Wolverines put themselves behind the eight ball with a slow start on the road against a nationally ranked opponent, and the Indiana Hoosiers capitalized on the early momentum to come away with a 81-73 victory.
Indiana led by as many as 15 points in the early goings until sophomore point guard Trey Burke and Michigan's big men trimmed the lead to four at halftime.
The two teams went back and forth in the opening minutes of the second half, though the Hoosiers were able to pull away once again with an 11-0 run.
The Wolverines were able to pull within one possession of tying the game up, or taking the lead on multiple occasions down the stretch. Unfortunately, Indiana's star performers Cody Zeller and Victor Oladipo were able to keep Michigan at bay long enough for the Hoosiers to close the game out at the free-throw line.
There are several things head coach John Beilein could point to that led to the Wolverines' loss at Assembly Hall, but poor shot selection is not one of them.
Despite only knocking down seven-of-23 attempts from three-point range and being held below 50 percent from the field overall, Michigan had plenty of open looks.
On Saturday night, however, those uncontested shots were not falling, which is something every team in the country will have to deal with at some point this season. Do not expect to see many more nights like that from the Wolverines over the next two months, though.
So, if shot selection did not doom Michigan in Bloomington over the weekend what key factors contributed to the Wolverines' eleventh consecutive loss against a Top Five opponent?
The Hoosiers Got to the Free-Throw Line too Often
Entering Saturday night's showdown in the Hoosier State, Indiana had been averaging 27.9 free-throw attempts per game.
Conversely, Michigan only sent opponents to the charity stripe 11.3 times per contest, so something had to give in this matchup.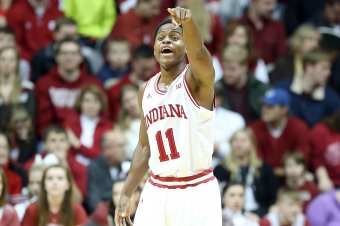 Kevin "Yogi" Ferrell knocked down all eight of his free-throw attempts.
Andy Lyons/Getty Images
Much to the dismay of the Maize and Blue faithful, the Hoosiers were able to draw several fouls in the lane by beating the Wolverines off of the dribble. Indiana took 25 freebies and knocked down 22 of them in its victory over Michigan.
"That's a very quick, good team," Beilein told reporters after the game according to Chris Balas of TheWolverine.com. "Some moments we had great defense, but some other times they got fouled. The difference was they got to the foul line because they are fast, experienced and talented."
There will not be too many teams fast enough to get the Wolverines turned around inside the arc, but the Hoosiers' aggressiveness and quickness were rewarded more free-throws than Michigan could afford to give up.
Glenn Robinson III's Passive Play at the Offensive End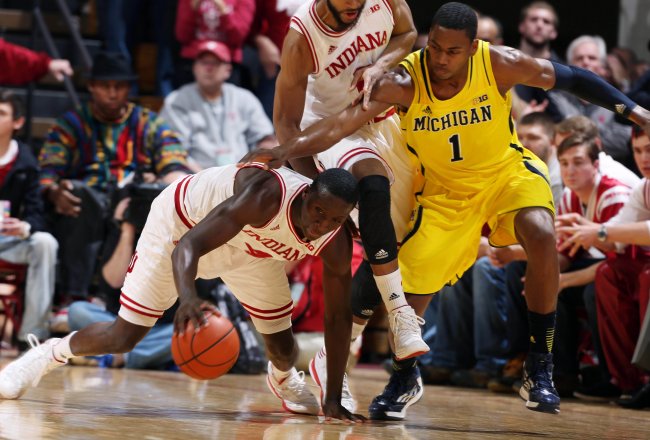 Glenn Robinson III never got into a groove offensively for Michigan.
Brian Spurlock-USA TODAY Sports
After 21 games of being one of the Wolverines most consistent offensive threats, freshman small forward Glenn Robinson III turned in his worst performance of the season in the loss to Indiana.
Senior small forward Christian Watford and freshman reserve Jeremy Hollowell did an outstanding job of keeping Robinson in check for the Hoosiers.
Robinson finished the game with a career-low two points on one-of-six shooting. The St. John, Indiana, native could not find any open cutting lanes for much of the night and oftentimes Robinson did nothing more than stand in the corner while Michigan ran its offense.
Quiet nights are rare for Robinson, who averages 11.7 points and 5.7 rebounds per game. This lackluster effort from the 6'6", 210-pounder proved to be too much for the Wolverines to overcome.
The Wolverines Failed to Contain Jordan Hulls
One of the top things on everyone's scouting report for Indiana is that senior point guard Jordan Hulls will knock down three-pointers all day if he is left alone.
Michigan lost track of Hulls, who scored 11 points on three-of-five shooting, at least three times, and he made the Wolverines pay dearly for it.
The first instance occurred with five minutes and 23 seconds remaining in the opening half. Kevin "Yogi" Ferrell drove around the left half of the perimeter and handed the ball off to Hulls for a clean look at a three-pointer, which he buried.
Jordan Hulls provided a huge three-pointer for the Hoosiers late in the game. Video courtesy of YouTube.com.
Hulls' second open look came courtesy of some poor transition defense by the Wolverines. Michigan did a good job of getting back defensively, but nobody found Hulls except for Ferrell. Again, Hulls hit the jumper.
The final three-ball Hulls made can be seen at the 3:15 mark in the video beside this paragraph. Although the Wolverines were set up well defensively, Burke did not see Hulls cutting along the baseline behind him.
This led to Hulls draining another three-pointer, which pushed Indiana's lead back to six points after Michigan managed to pull within one possession of potentially tying the game.
The Wolverines needed to lock down Hulls to top the Hoosiers at Assembly Hall, and their failure to do so played a major role in their demise.
Cody Zeller and Victor Oladipo Outperformed Their Counterparts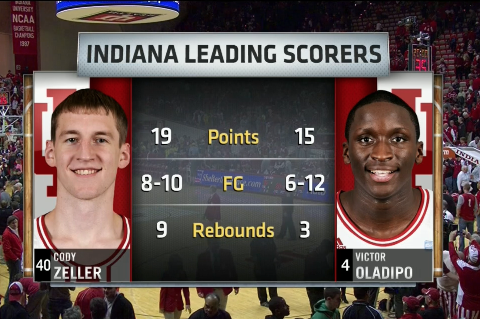 Indiana's top performers were too much for Michigan to handle. Photo courtesy of ESPN.
Two of the top three players on the floor in this battle of Big Ten Conference heavyweights were clearly sophomore power forward Cody Zeller and junior shooting guard Victor Oladipo.
The dynamic duo were remarkably efficient offensively, played relentlessly on defense and drastically outperformed their Michigan counterparts.
Zeller showed off his entire arsenal against the Wolverines. The 7'0", 240-pounder finished shots in traffic, knocked down a fadeaway jumper, had four absolutely filthy dunks and helped the Hoosiers pile up 14 second-chance points.
Oladipo made the highlight play of the game on a drive past Tim Hardaway Jr. and Mitch McGary in the first half. After crossing up Hardaway, Oladipo blew by McGary and threw down a thunderous one-handed jam.
The two gave Indiana an inside-outside combination Michigan had no answer for. Zeller benefitted from Oladipo getting into the lane and forcing McGary to help out Hardaway defensively, which led to a lot of this: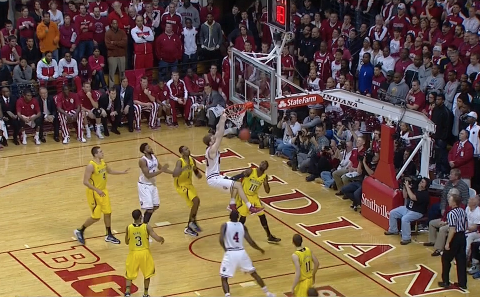 Cody Zeller threw down some strong dunks on Saturday night. Photo courtesy of ESPN.
Even though Hardaway and Burke combined for 53 points, the two were not nearly as efficient shooting the basketball (17-of-40) as Oladipo and Zeller.
The Wolverines needed all of their stars to shine in order to beat the Hoosiers, but Oladipo and Zeller were too much for Michigan to handle.
Perhaps no play summed up Michigan's night better than the one that ended its hopes of taking down Indiana. Zeller scrambled to beat two Wolverines to a loose rebound near the sideline in the closing minutes of regulation.
Every time Michigan looked like it could seize control of the game, one of Indiana's top performers would turn the Wolverines away.
Follow me on Twitter @ZachDirlam_BR
This article is
What is the duplicate article?
Why is this article offensive?
Where is this article plagiarized from?
Why is this article poorly edited?

Michigan Wolverines Basketball: Like this team?