Full Report-Card Grades for Super Bowl XLVII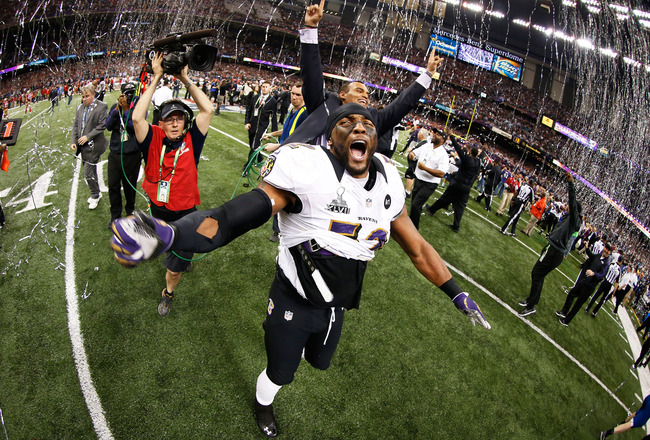 Chris Graythen/Getty Images
The advance script for Super Bowl XLVII had been written: The 49ers, better than the Ravens in almost every phase of the game, were going to ride the arm and/or legs of quarterback Colin Kaepernick to glory.
Opinions differed on by how much the 49ers would win; some hardy souls even predicted a narrow Ravens win. But the Ravens flipped the script, taking a commanding 21-6 lead in the first half. They extended it early in the third quarter with a 108-yard kickoff return, and everything looked to be over.
After the Superdome suffered a partial power outage, San Francisco found its copy of the original script, going on a furious 23-3 run.
In the end, the Ravens held on by tips of their claws, securing a 34-31 win.
How'd they do it? Who stepped up in Super Bowl XLVII and who faltered? Find out, with our full grades for every 49ers and Ravens unit.
Colin Kaepernick: B-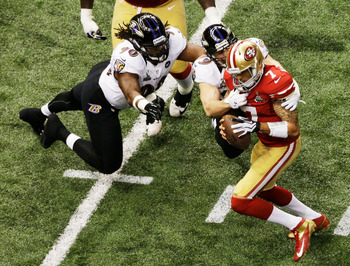 Rob Carr/Getty Images
Colin Kaepernick started off slowly, moving the ball through Vernon Davis and Michael Crabtree but failing to connect downfield. His mobility didn't help him escape from the tenacious Ravens pass-rushers, and he couldn't unlock the Ravens secondary deep.
Then, on a seam pass to Randy Moss, Kaepernick sailed the ball a little and—who else?—Ed Reed was there to snag a crucial interception.
But just when it looked like the game was over, Kaepernick found his gear, on the ground and in the air. He led a furious comeback, hitting Michael Crabtree for a 31-yard score in the middle of the third, and rolling up 62 yards and a touchdown on just seven carries in the game.
However, it wasn't quite enough. He and the 49ers had four tries at victory from the doorstep of the end zone on their final drive, and couldn't get it done.
Joe Flacco: A-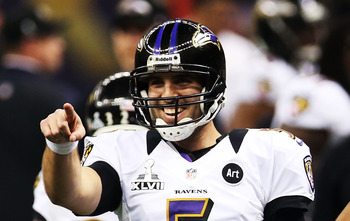 Ronald Martinez/Getty Images
Joe Flacco couldn't have had a better first half, completing 13 of 20 passes for 192 yards and three touchdowns. He was calm in the pocket, standing tall and completing passes when he could, and showing surprising ability to get away from the 49ers' rush and make plays downfield.
His 56-yard touchdown bomb to Jacoby Jones was underthrown, but not so much so that it prevented a 56-yard touchdown bomb.
In the second half, though, the Ravens had to withstand an incredible rally, and Flacco and company didn't give their defense much help.
In the end, though, Flacco's stat line was incredible. He went 22-of-33 for 287 yards, three touchdowns and no interceptions. You couldn't ask for anything more in a Super Bowl quarterback; he thoroughly deserved his MVP honors.
49ers Pass Offense: B-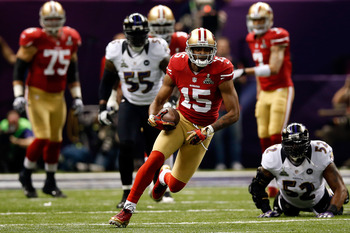 Chris Graythen/Getty Images
The 49ers offensive line has been outstanding all season long, but struggled to stop the Ravens pass rush, allowing three sacks in the first half.
Tight end Vernon Davis did a great job of getting open against the Ravens linebackers, but the receivers struggled to give Kaepernick options. On the first-half interception, Randy Moss might not have given his best effort.
Michael Crabtree scored the game-changing touchdown, but couldn't get open enough to score the game-winner. Vernon Davis had six catches for 104 yards, but dropped a huge sideline pass late in the fourth quarter.
Good, but not good enough.
Ravens Pass Offense: A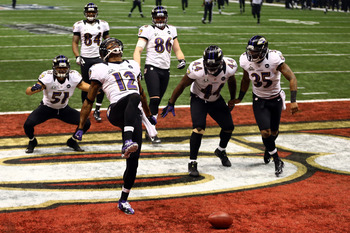 Al Bello/Getty Images
Throughout the playoffs, the Ravens receivers made Flacco look great, and occasionally vice versa.
In the biggest game of the season, Flacco and his targets brought their best game.
Anquan Boldin and tight end Dennis Pitta did their usual red-zone thing, each catching a first-half TD. Torrey Smith and tight end Ed Dickson made nice plays in the middle of the field, too.
The story of the game, though, was the job the Ravens offensive line did against the Niners pass rush. The pass protection wasn't dominant, but time and again it was enough to hold off the blitz. Flacco had time to make plays downfield—and when he didn't have time, he had an out.
49ers Run Offense: B-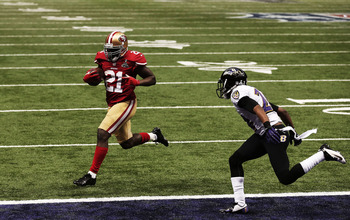 Win McNamee/Getty Images
The San Francisco offensive line that had blown defenses off the ball all season long couldn't open up anything for Frank Gore until the second half, and Kaepernick's zone-read runs were merely "effective," instead of "devastating."
The moribund 49ers run game sprung to life in the third quarter, though, when Gore punched in a crucial third-quarter score. After that, Kaepernick racked up 62 yards and a score on just seven carries, and Gore broke off a 33-yard run and added another six-yard score.
All told, the 49ers ended up with an excellent 182 yards rushing; it just wasn't enough, early enough.
Ravens' Run Offense: D+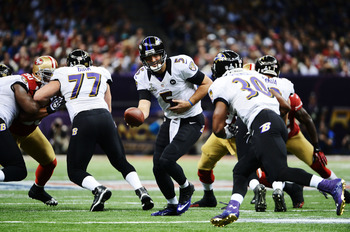 Harry How/Getty Images
Ray Rice and the Ravens running game started slowly, and Joe Flacco and the passing attack took the ball out of their hands in the second quarter. Rice ended up with only 59 yards on 20 carries.
Bernard Pierce got something going in the third quarter, but was immediately hampered with an injury and couldn't get much going after that. He finished with just 33 yards on 12 attempts.
The Ravens rushing game wasn't needed in the first half, though the defense could have used a lot more production from the ground game in the second half, as it tried to hold back the storm. All they got was 93 net yards on 35 carries—an average of just 2.7 yards per play.
49ers Run Defense: A-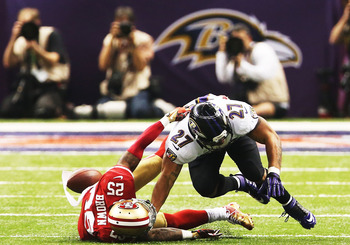 Ronald Martinez/Getty Images
The 49ers defensive line got an impressive push early, and the backside linebackers did a great job of closing down the zone runs.
The Ravens could only pick up 93 yards on 35 carries, and couldn't keep the ball away from the Niners offense. Kudos to defensive coordinator Vic Fangio for a great run-stopping game plan.
Ravens Run Defense: C-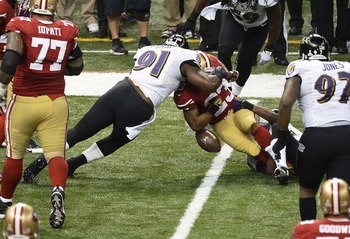 The Ravens run defense got off to a great start, but slowly let Frank Gore and Colin Kaepernick into it. Early in the fourth quarter, Gore and Kaepernick picked up yards in chunks before scoring, giving 49ers the chance to tie it in stunning fashion.
Courtney Upshaw helped the Ravens' grade when he forced a huge fumble from LaMichael James in the second quarter.
Ray Lewis and the Ravens attacked the run early, but couldn't beat the 49ers one-on-one in the second level; Lewis was constantly being run away from and blocked out of plays.
Fortunately, he and the defense's last-minute goal-line stand made up for all of the leaky second-half play.
49ers Pass Defense: D-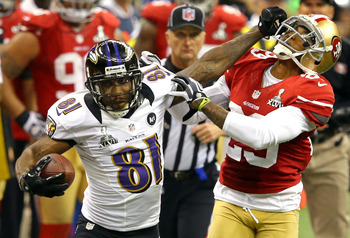 Al Bello/Getty Images
The 49ers pass defense could hardly have been worse. They blitzed Flacco heavily, but couldn't get to him. Safety Donte Whitner and cornerback Chris Culliver were exposed by Anquan Boldin, Torrey Smith and Jacoby Jones.
All told, the 49ers secondary surrendered 287 yards and three touchdowns; the heavy 49ers pass rush only got to Flacco twice.
Ravens Pass Defense: B-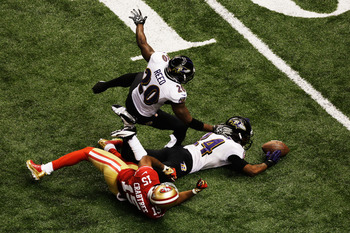 Rob Carr/Getty Images
The Ravens did a picture-perfect job of stopping Kaepernick and the pass early, holding the 49ers to just three halftime points.
In the third quarter, Michael Crabtree finally beat the Ravens secondary for a 31-yard score, standing up to two Ravens shoulder tackles and sprinting for the end zone. Kaepernick and the ground game got going and Vernon Davis started getting open.
The secondary got lucky when Davis dropped a long bomb late in the fourth, but earned that luck with suffocating coverage on the ultimate goal-line stand.
49ers Special Teams: C-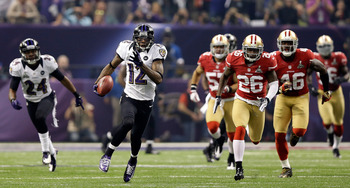 Ezra Shaw/Getty Images
San Francisco surrendered a 108-yard kickoff-return TD, the worst-case scenario for any coverage team. Jacoby Jones was very effective all night long, averaging 41 yards on five kickoff returns and 14 yards per return on two punt run-backs.
Kicker David Akers missed a field-goal attempt, but had his bacon saved by a questionable running-into-the-kicker penalty. The record shows he was a perfect 3-of-3 on field goals.
Punter Andy Lee did have a nice 55-yard boot after the 49ers' first drive, but his other two punts weren't nearly as impressive.
Ravens Special Teams: A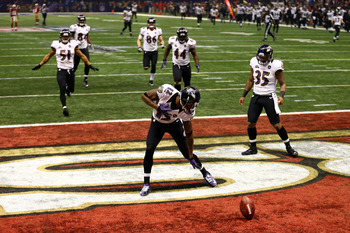 Al Bello/Getty Images
The Ravens couldn't have asked for a better time for Jacoby Jones to repeat his regular-season heroics with the First-Team All-Pro's return and score with the second-half kickoff.
Kicker Justin Tucker was perfect, making both his field goals and four extra points.
Punter Sam Koch had a very poor game overall, but played the crucial intentional safety well and drilled the ensuing free kick—eliminating any possibility of a game-tying fair catch free kick.
49ers Coaching: B-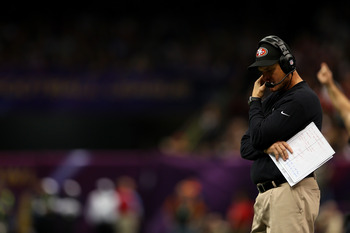 Mike Ehrmann/Getty Images
Jim Harbaugh and defensive coordinator Vic Fangio did a great job of mitigating the Ravens' zone-blocked run game, one very similar to the Seahawks attack that gave them fits in the regular season.
However, they couldn't rattle Joe Flacco with blitzes, and he made them pay by exposing their secondary.
Offensively, the 49ers turned in a disastrous first half. Credit Harbaugh and offensive coordinator Greg Roman for keeping calm and sticking to their game plan. But, in the end, it wasn't enough. They had the on-paper talent advantage but couldn't outperform the other team on the field.
And many will question Harbaugh's play calls on the final set from the red zone. The no-call on the fourth down fade route was huge, but so was the play call.
Ravens Coaching: A-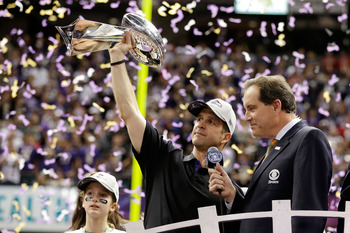 Ezra Shaw/Getty Images
Offensively, John Harbaugh and offensive coordinator Jim Caldwell drew Joe Flacco's best possible game out of him on the biggest possible stage. Defensively, they confounded the juggernaut that is Colin Kaepernick just long enough to put the game just out of reach.
On special teams, Harbaugh's calling card, they dominated—and got the touchdown that kept the game out of reach until the dying minutes of the fourth quarter. Harbaugh gets bonus points for dialing up a gutsy fake field goal call (though it failed), trusting his defense, which was getting stops, and going for the knockout.
Keep Reading