What Chris Petersen Could Accomplish with Alabama's Recruiting Class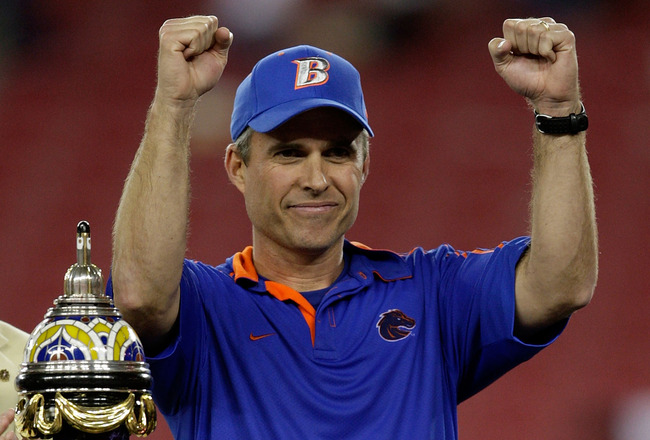 Jamie Squire/Getty Images
During the college football offseason, there are many different thoughts, ideas and questions thrown around by fans, the media and by people who seem far to bored or have way too much time on their hands.
This offseason is no exception.
As signing day edges closer, folks from all over the land study, analyze and try to predict their beloved team's latest recruiting class. The closer the day gets the louder the conversations.
Boise State is certainly one of those schools whose fanbase seems to be excited and waiting to see just how good the 2013 class will be. All indications are that it will be one of the best, on paper, the Broncos have ever had.
According to ESPN.com, the Broncos have 25 members in their 2013 recruiting class. Of those, five are junior college transfers, and of those, four have already signed. That leaves 21 commitments yet to put pen to paper.
The overall list for Boise State includes two 4-star commits and 20 more that are considered 3-star players. However, not a single player in Chris Petersen's 2013 class makes the ESPN Top 150 or even the Top 300.
Compare that list to a team like Alabama, and you quickly realize the glaring difference.
According to the same ESPN.com rankings, Alabama has 22 commitments. The Crimson Tide's list boasts one 5-star recruit, 16 4-star recruits and 4-three star recruits. Of that group, 14 are considered Top 300 and 10 of those are Top 150, according to ESPN.
Which, brings us full circle to questions that spring from boredom this time of year.
What could Chris Petersen do with Alabama's 2013 recruiting class?
Let's take a look at the possibilities.
What Kind of Player Does Petersen Want?
Otto Kitsinger III/Getty Images
What type of player does Chris Petersen look for?
Is he looking for the superstar athlete that has an extremely high opinion about himself? Is he looking for the guy who describes himself in third person?
Not likely.
Coach Petersen has made it a pattern to go after guys who have character. They may not always be the most gifted or highly ranked recruit, but they have passion, they are teachable and they have the heart to become better.
However, don't misunderstand, there have been occasional, highly emotional, highly vocal self-described superstars running The Blue. But, Petersen seems to keep those type of players to a minimum, and team unity and purpose tends to trump personal accolades and egos.
So, if Petersen was to have a class like Alabama's, what would that do to the system he has put in place? Sure, the talent would be amazing, but what would the team unity look like?
Coach Nick Saban seems to know how to deal with those types of players, and the Crimson Tide certainly know how to utilize the biggest and the best. Not only that, but you have to believe that many of those very talented top recruits are teachable and have good character as well.
But, in Boise, you have to wonder if a recruiting class like Alabama's would fit? Many of those elite recruits have considerable swagger. That kind of attitude could quickly alienate, alter and break down the system Petersen has worked so hard to create for the Broncos.
Which Type of Chip Does Petersen Prefer?
The underdog story is one that Americans love, or at least in some circles. At Boise State, being the underdog it isn't a story, it is a way of life.
Alabama and other elite teams are quite special. They have their fans, their trophies and their tradition. However, the Broncos are their own kind of special.
Every season a group of overlooked and undervalued players put on the blue and orange. They are players from all over the nation that have one thing in common. On every jersey, if you look close, there is something riding on the shoulder.
In some cases, it is ever so subtle, but in other instances it is large enough to spot from the upper deck in Bronco Stadium. It is the chip that rides proudly on the shoulder of every Bronco.
Each chip has different origins, but they all come together under one roof to create a collective attitude of family and purpose.
Alabama's 2013 recruiting class is full of blue-chip prospects. Boise State's, however, is full of blue collars and the only chips they have are firmly planted on their shoulders.
It's All in the Family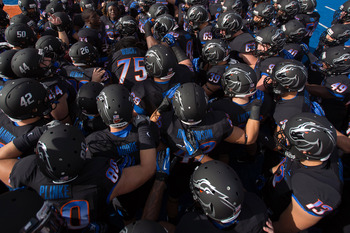 Otto Kitsinger III/Getty Images
When you get down to it, Chris Petersen is recruiting family members. It may sound cheesy to some, but it is true.
When Petersen recruits a player, he isn't just recruiting his talent, his attitude and his character. All of those things come into play. However, the Broncos are also looking to see how that player might jell with others.
One of the reasons Chris Petersen has been so successful over the years is because his teams stick together through thick and thin. There is no room on a Petersen team for blaming others or pointing fingers.
Chris Petersen is quoted in the documentary Out of the Blue as saying, "We're going to win as a team and a family or we are going to die as a bunch of individuals." It is something he truly believes, and the proof is in the results.
If Petersen was to have a recruiting class like Alabama's, you have to wonder how that would change the entire dynamic of his program?
Answer to the Question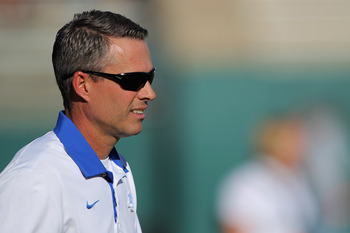 Doug Pensinger/Getty Images
So, to answer the question that started all of this offseason, minimal news, waiting game conversation. What could Chris Petersen accomplish with Alabama's 2013 recruiting class?
He could certainly do a lot with such talent. However, the right question might actually be, what would happen to the Broncos with such a class?
It would dramatically alter the makeup of a family that doesn't need alteration.
Chris Petersen has found his niche, and Nick Saban has his. The two coaches are very different, and it doesn't make one better than the other. Alabama fans might disagree and point out all of the championships Saban has won.
However, Boise State fans might point to what Petersen has done with less money, less resources and recruiting classes that are usually ranked by the experts in the bottom half of college football.
In the end a better question could be: "What could Nick Saban accomplish with Boise State's 2013 recruiting class?"
Keep Reading

Boise State Football: Like this team?