NCAA Tournament 2013: 10 Teams That Will Most Impact the Bubble in Week 14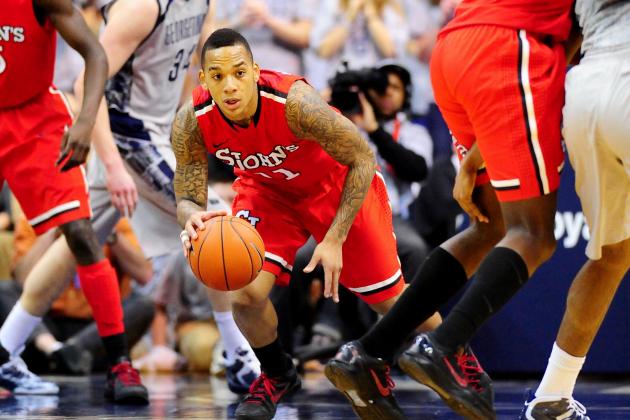 USA TODAY Sports

Selection Sunday is now a mere six weeks away, which means the bubble is shrinking on a daily basis.
In the past week alone, some teams have played their way further into the bracket (Colorado State and Oklahoma State), while others have taken their potential invite and thrown it out the window (Villanova and Illinois).
These 10 teams will play an important role in the shaping of the bubble over the course of the next week, starting with a potential party-crasher and building up to a certain difference-maker.
Begin Slideshow

»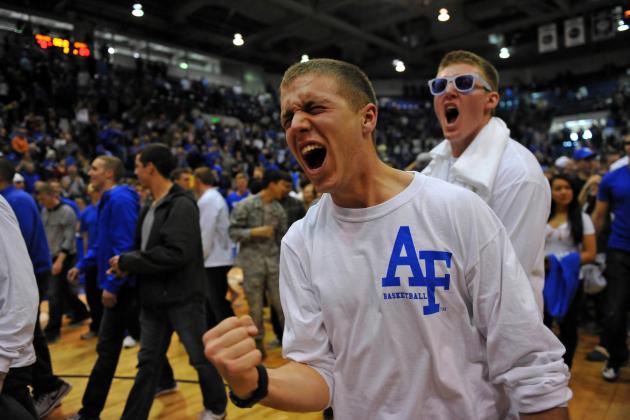 Ron Chenoy-USA TODAY Sports

RPI: 72. SOS: 104. Current Status: Not in the First Five Out.
Opponents this week: @ New Mexico, @ Nevada.
Since the 39-point loss to Colorado State on Jan. 16, the Falcons have put together a five-game winning streak, during which they've picked up four of their five best wins of the season.
However, they've got a lot of work left to do, thanks to a lack of marquee wins and a pathetic non-conference strength of schedule (five wins over teams with 300+ RPI and two non-D1 wins.) A road sweep of New Mexico and Nevada would be a giant step in the right direction.
Is it unlikely that Air Force snaps its 12-game losing streak against New Mexico in a building where New Mexico has gone 54-7 over the past four seasons? Why yes, it's incredibly unlikely. But Air Force is led by five seniors who haven't even sniffed the NIT in their tenure with the school.
There's an outside chance they'll be able to capitalize on New Mexico peeking ahead to a weekend battle with UNLV.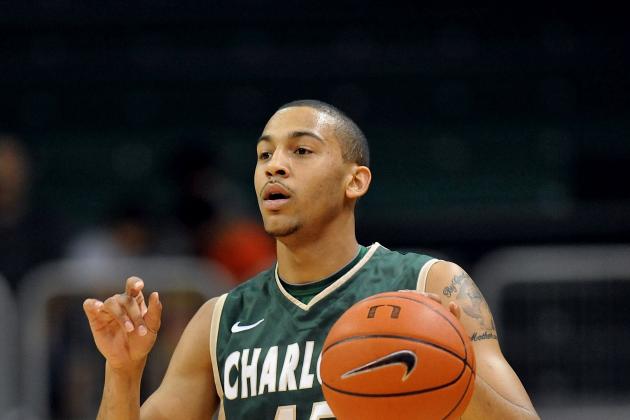 USA TODAY Sports

RPI: 55. SOS: 182. Current Status: Not in the First Five Out.
Opponents this week: @ Temple, vs. VCU.
I'm still not even remotely a believer, but it's hard not to at least acknowledge a team from the A-10 with a record of 17-4.
The 49ers' three best wins have come at home in dog fights against conference opponents who are, at best, on the bubble. Meanwhile, their three worst losses were by a total of 79 points, including a particularly discouraging 28-point loss at George Washington (RPI: 108) less than a week ago.
However, they could silence even their harshest critics by picking up a pair of wins this week against Temple and Virginia Commonwealth. It would be nearly impossible for me to keep them out of next Monday's bracket if they can pull that off.
Coupled with their following three games (@ Butler, @ Saint Louis, vs. Temple), the next three weeks will determine whether we're even discussing the 49ers in March. I'm assuming they'll go 0-5, but 2-3 would at least put them on the bubble, while 3-2 or better would almost certainly push them into the field of 68.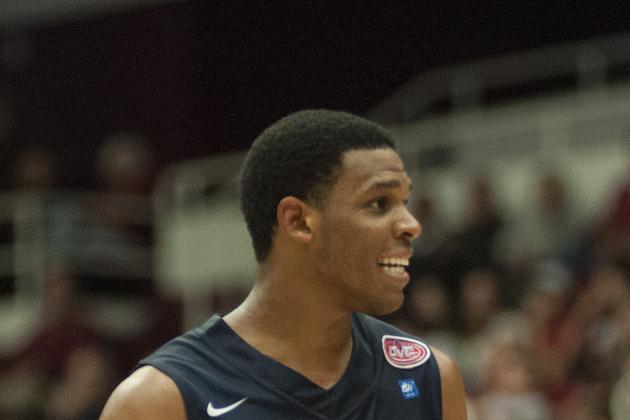 Ed Szczepanski-USA TODAY Sports

RPI: 21. SOS: 39. Current Status: No. 7 seed.
Opponents this week: @ Murray State, @ Austin Peay.
If the Bruins go 16-0 in their first regular season in the Ohio Valley Conference but falter in the conference tournament, I believe they'll still get into the tournament as an at-large. Their computer resume is outstanding, though, it will get worse as the season progresses and they're forced to play teams with horrible RPI.
However, if they lose a game in conference play, it would have a substantial negative impact on their at-large dreams. And if they're going to lose to anyone in the OVC, it would most likely happen this Thursday at Murray State. The Racers haven't been nearly as great as last year, but you'd be crazy to think they'll just roll over at home in a big game.
If you're a fan of a team square on the bubble, you're either rooting for Belmont to lose as often as possible over the next month, or begging them not to lose in early March, because this is one of the very few minor conference teams who could cause the bubble to shrink for everyone else.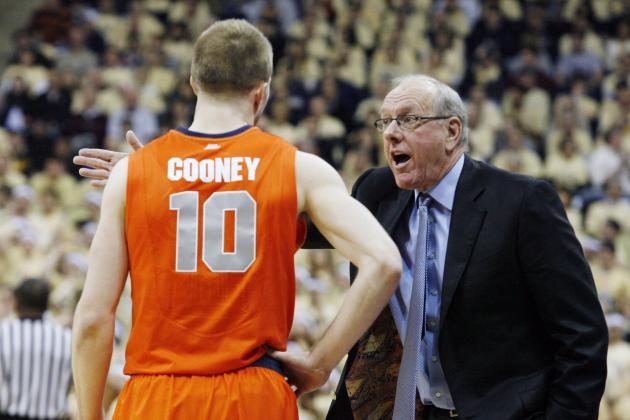 Charles LeClaire-USA TODAY Sports

RPI: 9. SOS: 26. Current Status: No. 3 seed.
Opponents this week: vs. Notre Dame, vs. St. John's.
Please don't misinterpret this as an argument that Syracuse is on the bubble, which couldn't be much further from the truth. But, with home games against two teams near the bubble, the Orange could have a significant impact on who's in and who's out a week from now.
For the time being, the Irish are comfortably in, but games against Syracuse and Louisville in the next week will likely drop them to 6-5 in the Big East. This would then drop them from a No. 8 to a No. 10 seed, at best. However, a win in either game would make them a lock, barring some sort of awful collapse over their final seven games.
St. John's, on the other hand, will be one of the First Five Out in Monday night's bracket, and could desperately use a marquee win over either Connecticut or Syracuse in the week ahead.
I've said it before, but .500 in the Big East won't cut it this season, especially if you have early-season losses to San Francisco and UNC-Asheville. They'll need to go at least 4-4 the rest of the way to have a shot.
Unfortunately, six of those eight games come against teams in the RPI Top 50. The Red Storm will eventually need to pull off a few upsets, and a win at Syracuse would be one heck of an upset.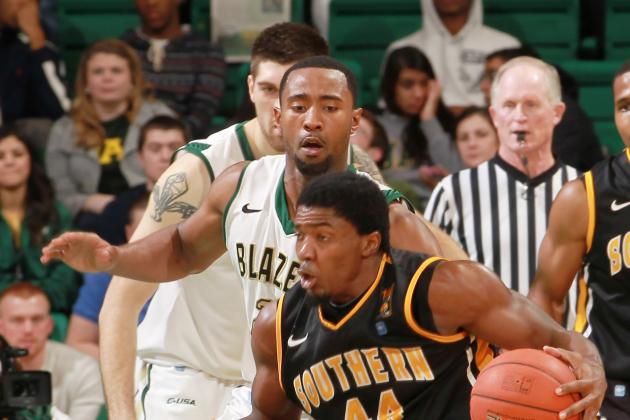 Marvin Gentry-USA TODAY Sports

RPI: 38. SOS: 122. Current Status: No. 11 seed.
Opponents this week: @ UCF, vs. Memphis.
The Golden Eagles are 18-0 against teams with an RPI of 100+. Unfortunately, they're 0-4 in the games that would have actually enhanced their resume. Both UCF and Memphis are currently in the RPI Top 100 and could provide them the necessary "marquee" wins to eliminate doubts over whether they should get a tourney invite.
The game against Memphis is of particular interest for both teams' tournament hopes. Since Marquette, Louisville and Cincinnati left for the Big East after the 2004-05 season, Memphis has won six of the seven Conference USA tournaments, and there's little reason to doubt they'll make it seven of eight this March.
If either USM or Memphis goes 0-3 against the other, it'll have a tough time convincing the selection committee why they should be included, considering that team would be 0-6 against the RPI Top 50.
C-USA's best hope for sending two teams to the tournament will be if Memphis and Southern Miss split the regular-season series and subsequently play a great game against each other in the conference championship. As part of that scenario, both teams also need to avoid stumbling blocks on the way to 15-1 conference records.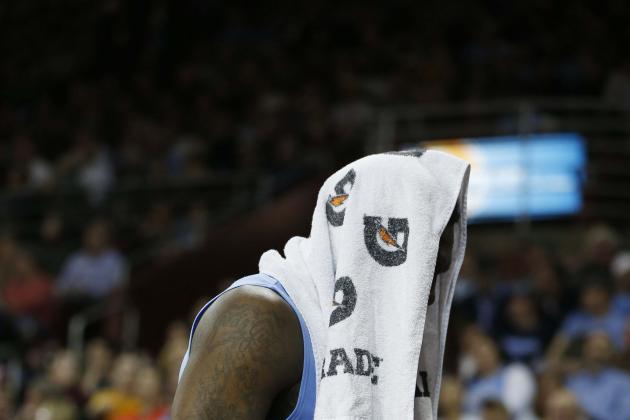 Greg M. Cooper-USA TODAY Sports

RPI: 32. SOS: 37. Current Status: No. 9 seed.
Opponents this week: vs. Wake Forest, @ Miami.
Though they eventually won the game, as the Tar Heels were scoring 55 points in regulation and struggling to force OT at home against Virginia Tech, it quickly became clear that P.J. Hairston is their most valuable player.
I'm going to go out on a limb and say that Hairston and Ohio State's LaQuinton Ross are the most talented players in the country who are averaging fewer than 20 minutes per game.
With Ross, the issue has been turnovers, but Roy Williams seems to just have Hairston on a short leash, quickly sending someone to the scorer's table when Hairston takes an ill-advised shot or doesn't give 110 percent when chasing down a loose ball.
However, until he can return from the concussion suffered against Boston College last week, the Tar Heels will be forced to adjust to life without Hairston. On Saturday, Marcus Paige helped to fill the Hairston-sized void, particularly in overtime. If they're going to stay in the tournament field, he'll need to do that more often.
In my opinion, Paige has been UNC's least valuable player to date. Your starting point guard doesn't need to be a proficient scorer, ball-control specialist and shut-down defender, but he does need to be one of those things. Paige is averaging 7.4 ppg, 1.8 assists per turnover and serving as a defensive liability more often than not.
If Paige is actually showing signs of improvement and if Hairston returns, UNC could win at Miami next weekend and solidify its tournament bid. If Paige regresses to his mean and Hairston is out for a while longer, UNC could lose at home to Wake Forest on Tuesday and slip out of the field altogether.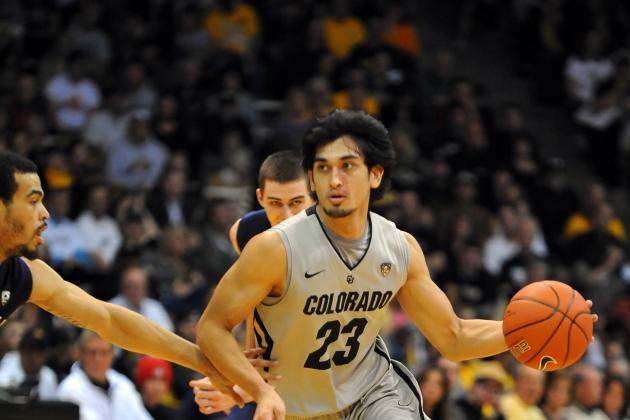 Ron Chenoy-USA TODAY Sports

RPI: 25. SOS: 18. Current Status: Last Five In.
Opponents this week: @ Oregon, @ Oregon State.
After this weekend's loss to lowly Utah, Colorado is quickly evolving into this year's token "only in the field because of its computer profile" team. Ignore the RPI, though, and these Buffaloes are an afterthought in the bottom half of the Pac-12 standings. Too bad the committee would never simply ignore RPI.
Let's be honest: the main reason their computer profile is so strong is good fortune that none of their early season non-conference opponents have ended up having a particularly horrific RPI. Also, the wins over Air Force, Colorado State and Baylor are getting stronger by the day.
Regardless of their resume, they'll need to prove their worth on the court over the next four weeks.
Though it's nowhere near as maligned as last season, there's no way a .500 team from the Pac-12 would make the tournament, so the Buffaloes will need to go 6-3 or better the rest of the way. With five games left against Arizona, Cal, Stanford and Oregon (x2), that's much easier said than done.
A sweep through the Oregon schools this week would certainly keep them in the field for now, but a loss to Oregon State would just about cement their trip to the NIT.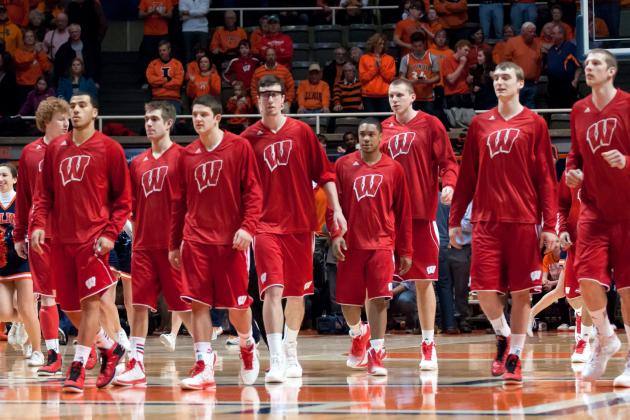 Bradley Leeb-USA TODAY Sports

RPI: 51. SOS: 33. Current Status: No. 8 seed.
Opponents this week: vs. Iowa, vs. Michigan.
With wins @ Indiana, vs. Minnesota and a season sweep of Illinois, it would take a pretty strong hatred of the Badgers to suggest they might be on the bubble right now. I'm not going that far, but a rough week at home against Iowa and Michigan could quickly move them onto the bubble.
The thing about the Badgers is they've already lost seven games this season, and have four more extremely difficult games left on their schedule (plus this game vs. Iowa). Should they lose all four of those games, now we're talking about a team with 11 losses, and a 2-9 record against the RPI Top 50 once Illinois drops from that group.
Furthermore, if they lose to Iowa, that would be a season sweep in favor of the Hawkeyes, which wouldn't necessarily push Iowa into the at-large discussion as much as it would raise questions about Wisconsin's worth.
Of course, if they knock off Michigan, Wisconsin would essentially need to lose three of its remaining games against Penn State, Purdue, Nebraska and Northwestern to drop out of the field.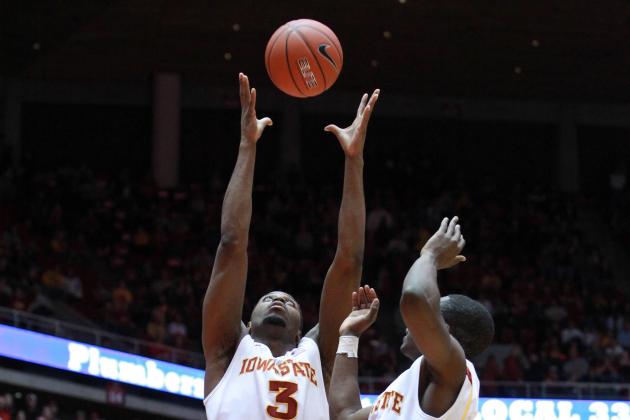 USA TODAY Sports

RPI: 37. SOS: 62. Current Status: No. 10 seed.
Opponents this week: vs. Oklahoma, @ Kansas State.
Slowly but surely, a hierarchy is being established in the Big 12.
With wins over Iowa State and Kansas, Oklahoma State has joined the Kansas schools in the top three of the conference. With losses to both Oklahoma and Iowa State, Baylor has firmly entrenched itself in sixth place. That leaves Oklahoma and Iowa State in between, in an order to be established when they square off on Monday.
It's tough to say how many Big 12 teams will ultimately make the field. My best guess at the moment is that the fifth-place finisher will be in the Last Five In and the team in sixth place will be in the First Five Out, but there might be as few as four that make it.
The Cyclones are 5-3 in conference play, which includes an ugly loss at Texas Tech. That one loss is going to cost them at least two seed lines. If the rest of their resume screams No. 10 seed, they could miss the tournament.
As such, I think they'll need to go 7-3 the rest of the way to feel really safe, and only three of those games (@ Texas, vs. TCU, vs. Texas Tech) look like definite wins. A pair of losses this week would make it very difficult for them to stay in the field.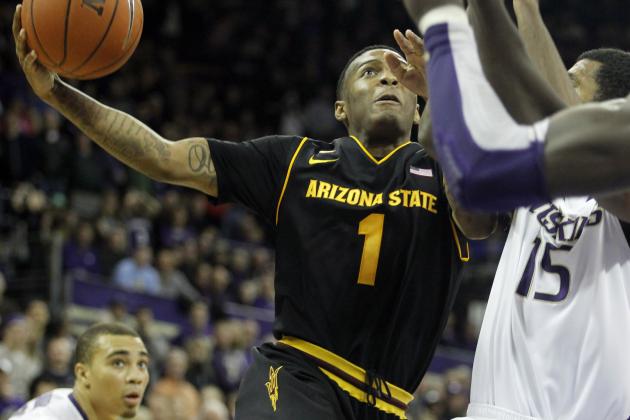 Joe Nicholson-USA TODAY Sports

RPI: 56. RPI: 109. Current State: Last Five In.
Opponents this week: vs. California, vs. Stanford.
It's February, so you know what that means, don't you? Blind resumes! Since we're going to start seeing these pop up all over the place on television, let's do a blind resume comparison of a pair of freshman point guards.
Player A: 16.6 ppg, 4.3 rpg, 1.8 steals, 46% FG%, 32% three-point shooting, 1.62 Assists/Turnover.
Player B: 18.3 ppg, 3.2 rpg, 1.0 steals, 45% FG%, 29% three-point shooting, 1.63 Assists/Turnover.
Player A grabs an extra rebound and creates an extra steal each game, while Player B scores about two more points each game; but aside from that they're quite similar, right?
Player A is John Wall's year with Kentucky prior to being taken first overall in the 2010 NBA Draft. Player B is Arizona State's Jahii Carson.
If you could take a player's skill and divide it by the amount of national attention he is receiving, Jahii Carson would be setting all-time records for that statistic. And that won't change any time soon if Arizona State fails to make the tournament.
The upcoming week is doubly huge for the Sun Devils, as a two-game sweep would not only significantly enhance their resume, but also create some distance between themselves and both Cal and Stanford, which are sneaking onto the bubble after wins over Oregon (sans Dominic Artis) in the past week.