Joseph Benavidez vs. Ian McCall: Full Fight Technical Breakdown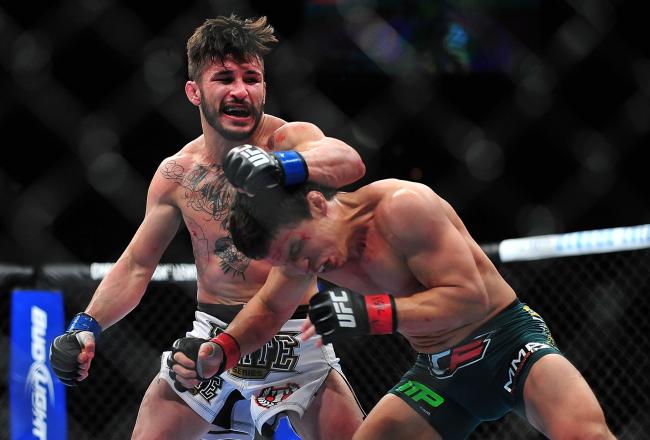 Gary A. Vasquez-USA TODAY Sports
The flyweights are the thinnest division in the UFC, and in the last two weeks we've seen all the top four fighters in action. Joseph Benavidez's win and Ian McCall's loss don't change much in that pecking order, however, with both of the top potential contenders being men that champion Demetrious Johnson has already defeated.
Benavidez came out strong in the first round. He hit hard and repeatedly, chasing McCall around the cage and landing in the pocket.
No takedowns were attempted by either fighter in the first round, and the second started pretty much the same way. Benavidez continued to throw loaded shots, earning respect from McCall, who had little in return.
Halfway into the second round, Benavidez went for the clinch, and even dominated against the cage. He was out-muscling McCall, but what he lacked in technical profession he made up for in raw aggression. Then in the final minute of the round, Benavidez went for an absurd move—seemingly hitting the mat as a way of ducking a McCall punch, which gave up his back to his opponent.
McCall went to work and even got back-mount at one point, but Benavidez was able to shake him off and took little damage as he got back to his feet and clinched up against the cage. The round ended and McCall felt confident he had stolen it.
But it was to be Benavidez's night.
In the final round he quickly took up the centre of the cage and began throwing bombs. Much of the round was spent running for McCall who just simply couldn't find a way through Benavidez's striking assault.
McCall's patience was eventually rewarded when halfway into the final, he grabbed a double-leg takedown, but Benavdiez quickly got back to his feet and resumed punishing McCall. From then on it was all Benavidez, who gradually wore his opponent down in an extremely close final round.
On the judge's score card it was 29-28, 29-28, 29-28. Benavidez threw more shots and landed more shots, and in the end, that's what made the difference.
This article is
What is the duplicate article?
Why is this article offensive?
Where is this article plagiarized from?
Why is this article poorly edited?