Washington Redskins Mock Draft: Fresh Predictions After the Super Bowl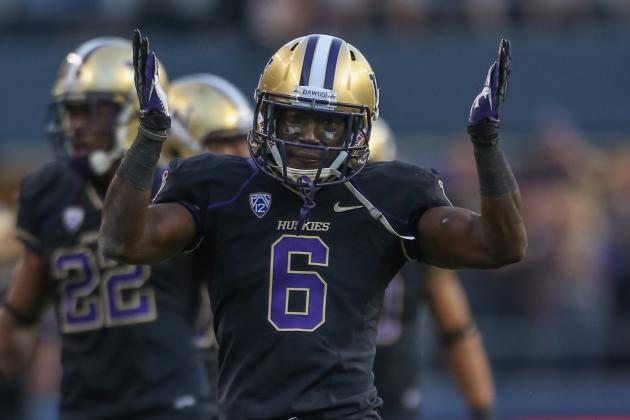 Otto Greule Jr/Getty Images

Following the Baltimore Ravens' Super Bowl title on Sunday night, football has officially shifted its focus to the offseason and April's upcoming NFL draft.
The Redskins have more than a handful of holes to fill in the coming months, and the draft will serve as their bread and butter in light of the team's looming cap penalties.
Can the Redskins effectively address both sides of the ball in a single weekend?
In my first edition of what's sure to be many, here's a fresh look at the Redskins' seven-round mock draft.
Begin Slideshow

»
Jordan Poyer—CB—Oregon State
Two glaring weaknesses for the Redskins are their offensive line and their defensive secondary. Because the offense was able to perform and produce like it did last season, that makes defense the priority.
Jordan Poyer is an experienced corner with a nose for the football, consistently putting himself in position to make a play or help create a turnover. Other than slight concern regarding his top-end speed, Poyer has everything you look for in a cornerback at the next level. He has good range, he's physical off the line, he's effective with his hands, he's rangy and his closing speed is a bit underrated.
Veteran cornerback DeAngelo Hall is set to make more than $7 million next season, and a restructured contract is necessary. Even so, the position itself needs to be addressed for the future, and Poyer appears to be a safe prospect—one who is expected to improve over his first three seasons in the NFL.
If University of Washington cornerback Desmond Trufant somehow falls to this point, he's my pick for the Redskins. Trufant is more of a natural and he appears comfortable in every aspect of the game. However, after a solid Senior Bowl week and increased stock leading up to April, I wouldn't be surprised to see Trufant taken in the latter part of the first round.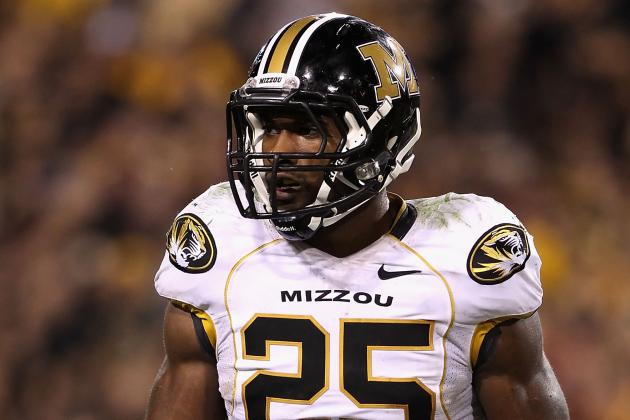 Christian Petersen/Getty Images

Zaviar Gooden—ILB—Missouri
An ideal situation for the Redskins would be to have Missouri linebacker Zaviar Gooden fall into their lap in the fourth round. Unfortunately for Washington, Gooden is expected to put together quite a show at the NFL combine, and I'd expect him to become more and more attractive as the draft draws closer.
That being said, Mike Shanahan and the front office will need to pull the trigger on Gooden in the third round if they want any shot at him at all.
As much as Redskins fans would love to watch London Fletcher play for another decade, the team has to prepare for the future. Gooden holds good value in the third, and I believe he comes with a lot of potential at the next level.
Gooden is a physical linebacker who projects as an inside guy in a 3-4 scheme. Using his prep experience as a safety, Gooden is comfortable dropping back in coverage, he has very good speed and range, and his ability to diagnose plays helps him in stopping the run.
You can see my entire scouting report on Gooden here.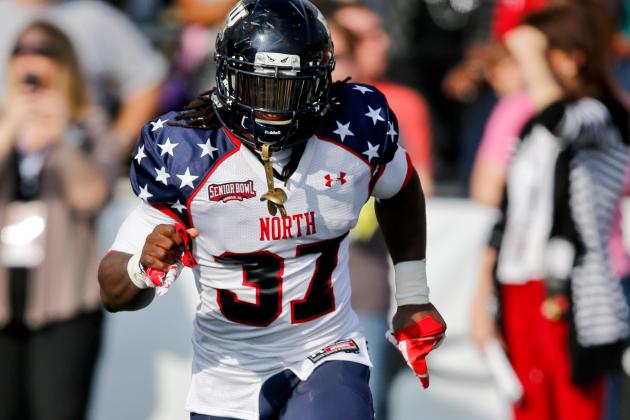 Derick E. Hingle-USA TODAY Sports

Jonathan Cyprien—S—Florida International
Some project him in the third round, some even the late-second. But the fourth round is a fair spot for FIU safety Jonathan Cyprien. Although Cyprien's talents warrant him the discussion of being taken in the second or third round, I see other safety prospects wowing scouts at the combine and increasing their respective stock, possibly over Cyprien.
What does that mean for the Redskins?
Better value. Taking Jordan Poyer in the second round doesn't suddenly make the secondary a finished product and the safety position is a huge part of the Redskins' current problem.
Cyprien is a physical safety with good balance in his game, meaning he can come down and play strong in the box while also looking comfortable in dropping into coverage and playing center field. He has good instincts, deceiving speed, impressive length and he goes full-speed until the whistle.
Check out my scouting report on him here.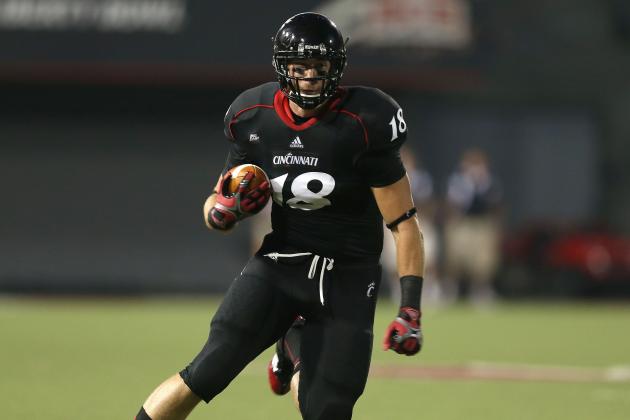 Andy Lyons/Getty Images

Travis Kelce—TE—Cincinnati
The Redskins will have a decision to make with their tight ends this offseason, as both Fred Davis and Logan Paulsen (restricted) are set to become free agents.
I'm on board for the team re-signing Davis to a bargain deal following his four-game suspension and Achilles injury, but that wouldn't shy me away from a guy like Cincinnati's Travis Kelce.
At 6'6", 260 pounds, Kelce's versatility is what makes him such an attractive prospect at the next level. Although Cincy's offense didn't showcase Kelce's talent as a receiver, the Bearcats offense did allow him to demonstrate his talent as a blocker.
But don't sleep on Kelce as a pass-catcher. He's a huge target with reliable hands and he has the tools to make plays after the catch. Kelce has the size and skill set similar to that of some of the top tight ends in the league.
Teams will also take a liking to the Kelce family's athletic legacy: Travis' older brother Jason plays center for the Philadelphia Eagles.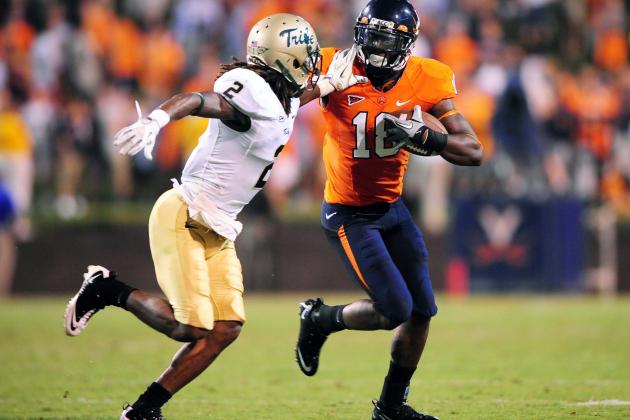 Andrew Weber-USA TODAY Sports

B.W. Webb—CB—William & Mary
Continuing to address their struggling secondary, the Redskins could take a local talent here in the fifth round by drafting William & Mary cornerback B.W. Webb.
Webb is a slender corner at 5'11", 180 pounds, but he holds up tough in man-to-man coverage and he appears extremely comfortable when given space. Webb shows great anticipation and he breaks hard on the football with sure hands for the position.
Webb does appear to be a more natural fit as a Cover 2 corner at the next level, but I think his raw talent is coachable at the next level. His ball skills are attractive and he has the potential to be a defensive playmaker in the NFL.
Making the most of the late-round pick, the Redskins would also receive punt return skills from Webb—who averaged over 11 yards per return as a senior last season.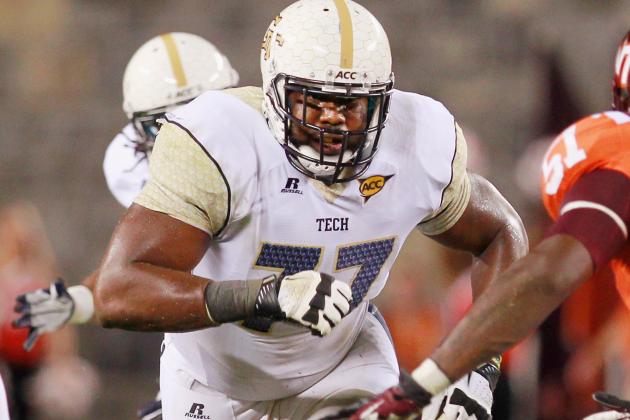 Geoff Burke/Getty Images

Omoregie Uzzi—OG—Georgia Tech
This may seem too late to address the offensive line, and I wouldn't disagree. But the Redskins received great value in the rounds leading up to the sixth and now they grab more value with Georgia Tech guard Omoregie Uzzi.
Uzzi operated in Paul Johnson's option offense, so his "undersized" 6'3", 303-pound frame could push teams away.
However, Uzzi is surprisingly quick and he's accustomed to getting to the second level of the defense. In Washington's zone-blocking run scheme, Uzzi appears to be a great fit blocking for Alfred Morris and Robert Griffin III.
The Redskins would like to get their hands on a right tackle in this draft, but they may need to rely on free agency for that. Josh LeRibeus may have showed well last season as a rookie, but fellow guard Kory Lichtensteiger is set to become a free agent and there's nothing wrong with adding depth to the offensive line.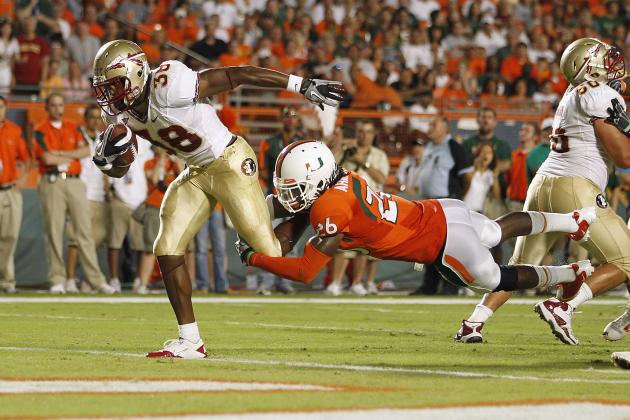 Joel Auerbach/Getty Images

Ray Ray Armstrong—S—Miami
If the former Miami safety with a troubled past happens to make it this far, I think taking a chance on him in the seventh round is fair. Ray Ray Armstrong is a physical safety with great size (6'3", 227 pounds) and natural football instincts.
Shanahan hasn't been much for players with character concerns, but Armstrong and his potential may be enough to develop a soft spot for the type. Before being dismissed from the Hurricanes' program, Armstrong projected as a future NFL starter and there's so much talent to be had here in the final round if he's still hanging around.
With this pick, I also like the idea of adding speed on offense. Because Oregon's Kenjon Barner is expected to be off the board, a guy with pure speed like Florida State's Chris Thompson is a fun thought. Although considered small at 5'8", 197 pounds, Thompson is a burst off the line and he doesn't shy away from contact. His history of injury should almost guarantee he's still around in the seventh.