NHL: Week 2 Who's Hot, Who's Not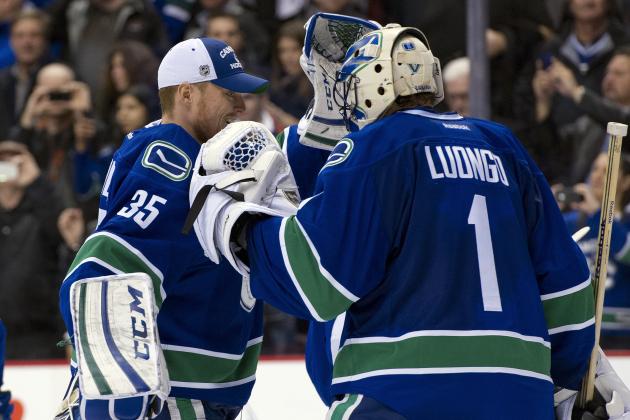 Rich Lam/Getty Images
Roberto Luongo's hot week has the Canucks trending up to the top of the Western Conference standings.
The second week of the NHL season is over, and division pecking orders are emerging. The Southeast Division—thought to be deep this season—has one team in playoff contention.
There are some surprises around the league, but teams are finding their stride after a slow start to the season. Here's who's hot, who's not and who's poised to catch fire.
Begin Slideshow

»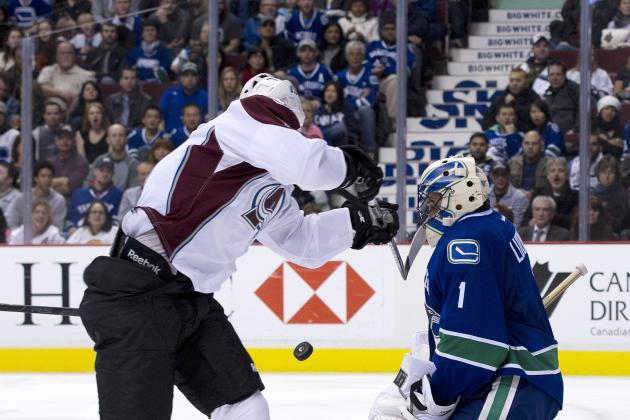 Rich Lam/Getty Images
Bobby Lou shut out the Avalanche and appears to have overtaken the No. 1 spot in goal.
The Vancouver Canucks have snagged five points over the last three games, including a 2-1 win over the previously undefeated Chicago Blackhawks. And it was Cory Schneider in net, right? Wrong.
Roberto Luongo has given up three goals in the last three games, and the Canucks are climbing up the Western Conference standings.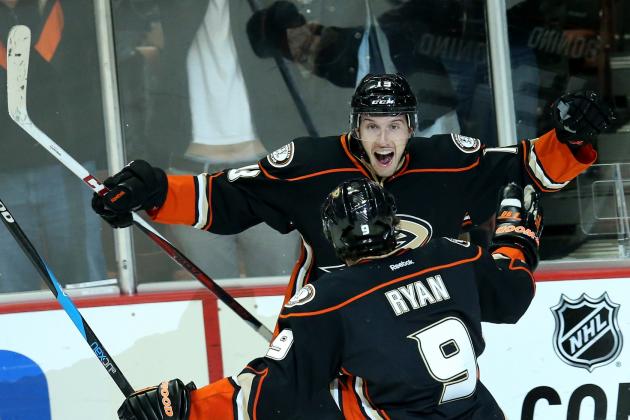 Stephen Dunn/Getty Images
Nick Bonino had a great week to catapult the Ducks up the standings.
The Ducks are another team trending upward this week.
A 7-4 win over the Los Angeles Kings and 3-1 win over Minnesota put the Ducks at 5-1-1 on the season. The only blemish on the week for Anaheim was a shootout loss to the Pacific Division-leading San Jose Sharks.
Nick Bonino recorded a hat trick against the Kings, and the Ducks haven't lost on the road in regulation this season.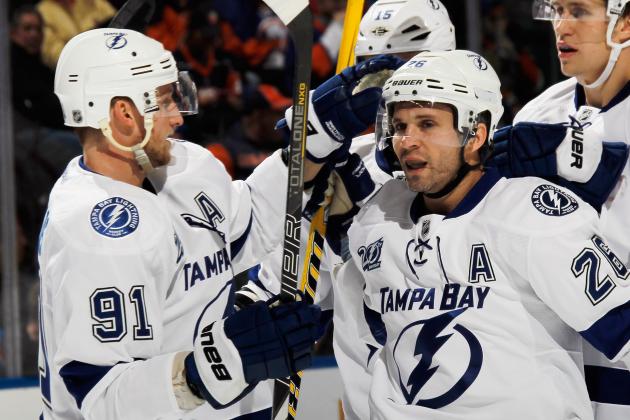 Bruce Bennett/Getty Images
Steven Stamkos is tied for the league lead in points and he has scored in every game this season. His Bolts are second in the East.
The Lightning got a gift from the schedule makers in the early season. The Bolts just finished off a five-game homestand with a 4-1 record and currently sit second in the Eastern Conference.
Despite a 3-2 loss to the New York Rangers over the weekend, the Lightning are averaging over one goal more per game than any other team in the league. They are plus-18 in goal differential—a league best.
It's hard to stop this high-powered offensive attack, but a difficult road trip against New Jersey, the Rangers and the Pittsburgh Penguins should provide the league a look at how good this team really is.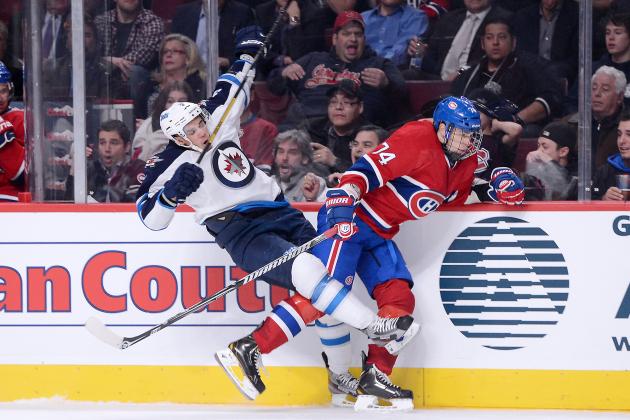 Richard Wolowicz/Getty Images
Things have not gone well for Winnipeg this week. A strong first week has been erased with an atrocious second week.
The Winnipeg Jets are trending downward in a terrible spiral. They are trending downward so hard that they are on their own level.
The Jets won a 5-4 decision in overtime against the Islanders over a week ago and have struggled ever since. Winnipeg has given up 18 goals in three games, including an 8-3 shellacking at the hands of Southeast Division foe Tampa Bay.
Even the Florida Panthers (2-5-0) picked up a 6-3 win over the Jets this week.
The only bright side for the Jets is they are still second in the division. Attention all Washington Capitals, Panthers and Carolina Hurricanes?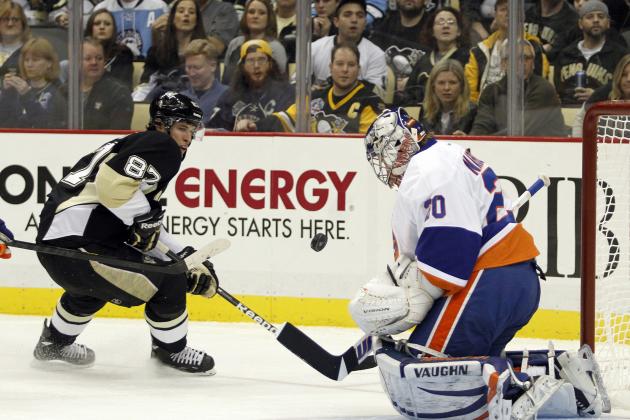 Justin K. Aller/Getty Images
Sidney Crosby and the Penguins are heating up. Look out in the East.
The hockey world knew it was only a matter of time before the Pittsburgh Penguins figured things out, and it looks like they are getting there. After getting out-manned by the Islanders, Pittsburgh has beaten the Rangers (3-0) and New Jersey Devils (5-1).
Sidney Crosby has four points in the last two games, and Tomas Vokoun is staking a claim at the No. 1 goaltender role after shutting out the Rangers.
Things are warming up for the Penguins.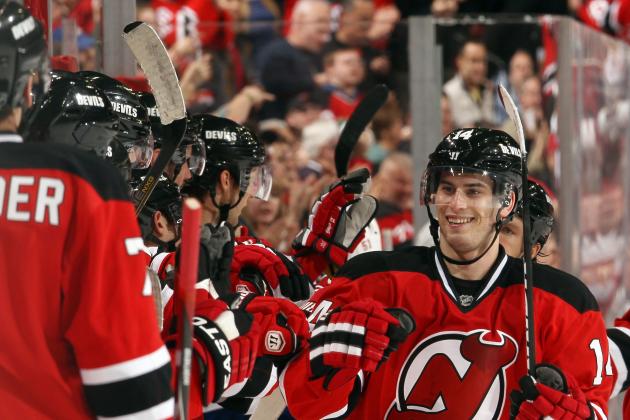 Elsa/Getty Images
Adam Henrique is back but the Devils haven't adjusted—yet.
The Devils started the year 3-0 but haven't won a game since. They have gone to overtime three times and a shootout once. Those points will help in this short season, but wins are crucial too.
New Jersey finally lost in regulation to the Penguins (5-1), and for once Martin Brodeur looked his age. The return of Adam Henrique hasn't sparked the offense—yet.
This team is cooling off but certainly can't be overlooked with Brodeur in net.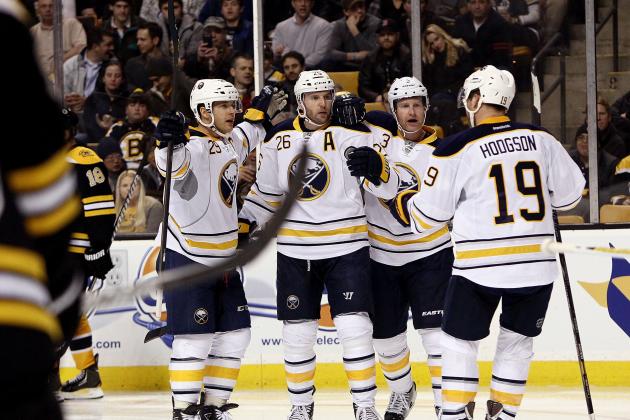 Alex Trautwig/Getty Images
Thomas Vanek has a point in every Sabres game this season.
This week's hot forwards feature a couple players that recorded hat tricks this week—Henrik Zetterberg and Thomas Vanek.
Zetterberg (Detroit) has four goals, four assists, a plus-two rating and three power play points. His five-point performance against the St. Louis Blues keyed a big win for the Red Wings.
Steven Stamkos (Tampa Bay) has five goals and three assists this week. He has a point in every game this season. He scored both goals against the Rangers in the 3-2 loss and netted another three points against Winnipeg. He is tied for the league lead with 16 points.
John Tavares (New York Islanders) is breaking out of his slow slump. The Islanders' center hadn't scored a goal in the first four games of the season—he has four this week. Tavares netted two goals and an assist in a 5-4 win over the New Jersey Devils.
Thomas Vanek (Buffalo Sabres) has a point in each of the Sabres' first seven games, including two five-point games. His most recent five-point effort came against a defensive-minded Boston team in a 7-4 win. Vanek netted a hat trick and two assists. He is plus-four and averaging over two points per contest.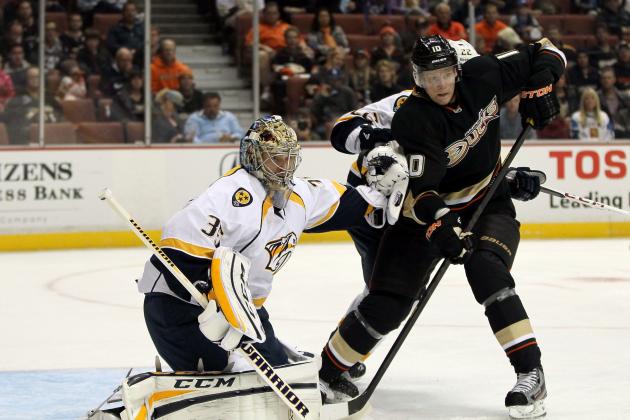 Victor Decolongon/Getty Images
Where is Corey Perry? He is struggling mightily in the early parts of 2013.
Corey Perry's (Anaheim Ducks) slow start only got worse this week. Perry had four points in the Ducks' first four games and has just one point in the last three. He has one goal this season and is averaging just over two shots per game. Fortunately, the Ducks are snagging wins.
Daniel and Henrik Sedin have a combined one point in the last week. They have a combined even rating.
Is it the absence of Ryan Kesler? Whatever it is, the Sedins need to get things figured out for the Canucks if they are going to make a run. Vancouver is leading the Northwest Division and should put an eye on the top spot if these two superstars get going.
Ilya Kovalchuk has five points this season and only one in the last week. He has been held off the score sheets for the last three games. He has just nine shots on goal in the last three days and is minus-three in the last week.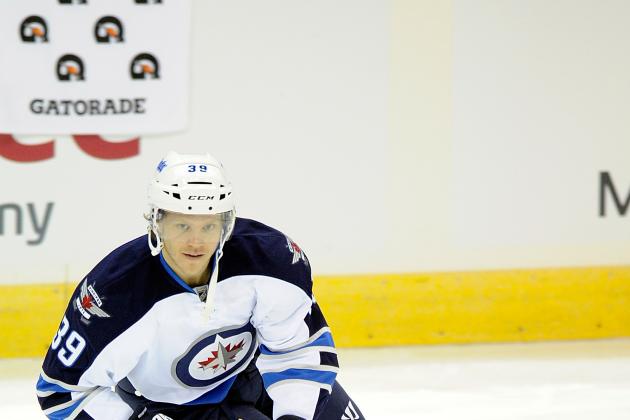 Greg Fiume/Getty Images
Tobias Enstrom was the only real bright spot for the Jets this week.
Tobias Enstrom (Winnipeg Jets) is the hottest defenseman in the game this week. Enstrom has six points (two goals, four assists) in the last four games. He registered a three-point game against Tampa Bay and has a point in seven of Winnipeg's eight games.
He is chipping in on special teams with six assists on the man-advantage. He is the only real bright spot for the Jets on their current skid.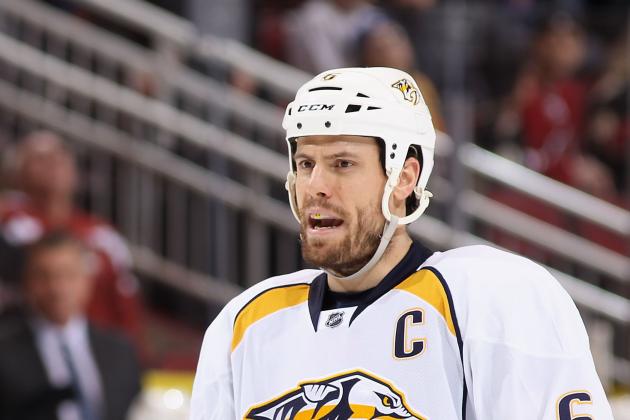 Christian Petersen/Getty Images
Seven straight road games seems to have hindered Shea Weber's point production.
Ryan Suter was featured last week in this section, and he snapped out. Maybe the same will be true for his former partner Shea Weber. Weber still doesn't have a point this season and is minus-one.
The Predators have been on the road for six straight and have a seventh against St. Louis on Tuesday. If Weber is looking for some home cooking to get things going, he will have to wait until Thursday when the Preds host Los Angeles.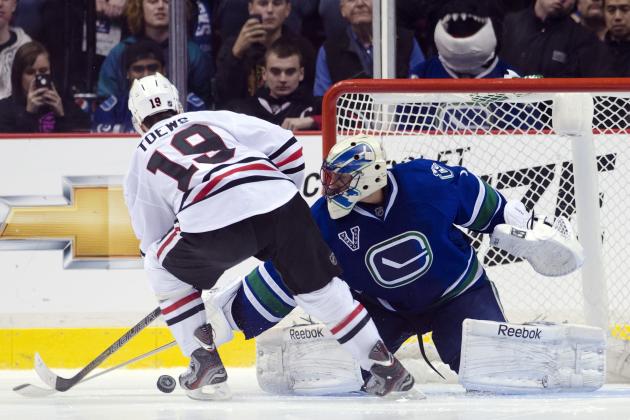 Rich Lam/Getty Images
Roberto Luongo's sub-one goals-against average makes him this week's hot goaltender.
If the Vancouver Canucks wanted to trade Roberto Luongo and give the reins over to Cory Schneider, things certainly haven't gone according to plan. Luongo has stepped in and led his team back to the top of the Northwest Division and has Vancouver fans cheering "Loo" not "Boo."
This week, Luongo went 2-0-1 with a 0.96 goals-against average and a shutout over the Colorado Avalanche. He has made the goaltending situation in Vancouver awfully confusing with his strong play.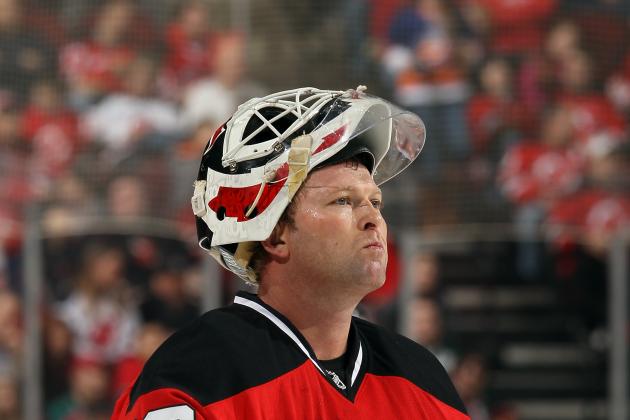 Elsa/Getty Images
It has been a frustrating week for Martin Brodeur. Experience says these struggles will end soon.
It's been a rough week for Martin Brodeur and the New Jersey Devils. Brodeur went winless for the week (0-1-2). He has given up 14 goals in the last three games, including back-to-back five-goal games.
After starting the year 3-0, he has struggled with a 4.51 GAA and a .856 save percentage in the last week. He has played on a consistently high level for over two decades. Assume Brodeur will break out of this cold streak soon.