8 Players That Define the Modern NHL Superstar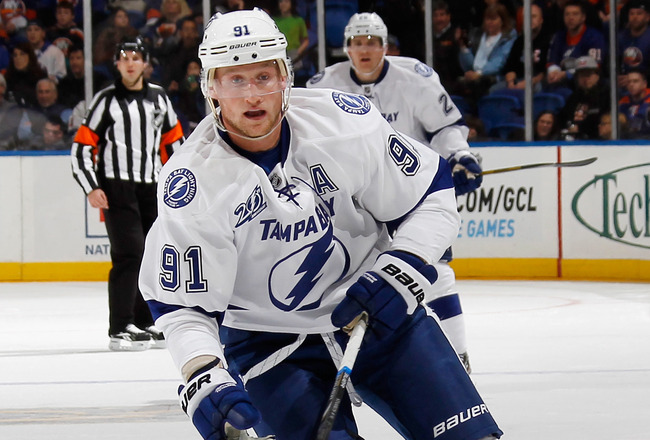 Steven Stamkos is one of the brightest stars in the NHL.
Bruce Bennett/Getty Images
Any professional sports league that puts its fans through a four-month lockout is going to have difficulty returning to the forefront.
Even though sell-out crowds and improved television ratings have defined the NHL's return, there's little doubt that there's an undercurrent of resentment.
Outstanding play by the league's superstars can help dissipate that resentment. In the NHL, superstars are expected to perform on the ice and handle their responsibilities off of it as well.
That includes treating fans well when they are out in public and reaching out through the media and cooperating with public requests whenever possible.
Here are eight players who define the modern NHL superstar.
Sidney Crosby, Pittsburgh Penguins
Sidney Crosby should be ready to reclaim his position as the best player in the NHL.
Teammate Evgeni Malkin, Steven Stamkos of the Tampa Bay Lightning, Claude Giroux of the Philadelphia Flyers and Drew Doughty of the Los Angeles Kings may be able to give him an argument, but Crosby has been the face of the NHL and can do it again.
On the ice, Crosby has the shot, passing ability, skating speed and puck sense to dominate in nearly every game. He also has the grit to stand up for himself.
Crosby can handle himself on camera without coming across as arrogant or obnoxious. He has shown he can be a top representative for the game.
Crosby, who missed most of the last two seasons with concussion-related problems, appears fully recovered from his health problems.
Crosby is not perfect and he was frustrated by his team's play during the Penguins' first-round loss to the Philadelphia Flyers. He appeared to take a few cheap shots and embellish a few calls.
If he can stay away from after-the-whistle by-play that diminishes his reputation, Crosby should once again become the NHL's dominant star.
Steven Stamkos, Tampa Bay Lightning
Steven Stamkos is perhaps the most dynamic goal scorer in the NHL.
Stamkos led the NHL with 60 goals last year, and he has scored 50 or more in two of his last three seasons.
Stamkos has a rifle for a shot, brilliant moves around the net and the grit to play in all three zones effectively.
Stamkos, 22, is the face of the Tampa Bay Lightning.
He does not depend on his immense athletic ability to play like a superstar. He is in sensational condition and works hard 12 months a year to get the most out of his game.
He is also a humble star who represents the NHL as well as any player in the league.
Claude Giroux, Philadelphia Flyers
Claude Giroux is one of the most creative players in the NHL.
When he gets the puck on his stick, he is able to find open space, hold on to the puck long enough to draw the defense out of position and then make the perfect pass or shot.
While he excels at setting up his teammates, he scored 28 goals last year and finished the season with 93 points. He added eight more goals and 17 points in 10 postseason games.
Giroux is a dominant player who is only getting better. He carries himself in a friendly and approachable manner and represents the NHL and the Flyers quite well.
Evgeni Malkin, Pittsburgh Penguins
There has never been any doubt about Evgeni Malkin's talent level. He is a brilliant skater who sees the ice extremely well and almost always makes the right decision when it comes to passing and shooting.
Malkin, 26, has exceeded the 100-point mark three times in his career, including his 109 points last year (50 goals and 59 assists). That allowed him to win the Ross Trophy as the league's leading scorer and the Hart Trophy as the league's MVP. Malkin has won the Ross Trophy twice in his career.
However, Malkin appeared to change his persona last season. He had to become the Penguins' leader because Sidney Crosby was out most of the season. He relished that requirement and even showed a sense of humor when he accepted his league awards in Las Vegas at the end of the season.
While he does not have the advantage of English as a native language, he is a solid all-around representative for the NHL as well as a superstar player.
Drew Doughty, Los Angeles Kings
Drew Doughty was one of the best players for the Los Angeles Kings during their eye-opening run to the Stanley Cup last spring.
He dominated play from the blue line, scoring four goals and adding 12 assists in the postseason. When his team needed him most, Doughty played his best hockey to lead the Kings to the NHL championship.
He is a natural leader and fans in Los Angeles have embraced him. Doughty was a second-team NHL All-Star in 2009-10, and he has a chance to be a dominant player for years to come.
Zach Parise, Minnesota Wild
After scoring 14 goals as a rookie in 2005-06, Zach Parise has scored 30 or more in every season he has been healthy since then.
Parise is a dominant and creative player who comes with maximum energy every time he takes the ice.
He loves to play the game and it shows. He led the New Jersey Devils to the Stanley Cup Finals last season and signed a huge free-agent deal with the Minnesota Wild in the offseason.
Parise appears to love pressure situations, and he greets fans and interview situations with a smile on his face. He is an example of the NHL's modern superstar who does the right things on the ice and off of it.
Jarome Iginla, Calgary Flames
Jarome Iginla has been the face of the Calgary Flames franchise since the 2001-02 season when he scored 52 goals.
Iginla is one of the best goal scorers in hockey. He has scored 30 or more goals in 11 straight seasons and he has 516 career goals. He is a sure-fire Hall of Famer.
While the Flames have never won the Stanley Cup during his run, Iginla has always carried himself with class, dignity and a sense of humbleness that you will see in the NHL on occasion but rarely in any other sport.
Iginla's on-ice performance and off-ice demeanor have both been stellar for the majority of his career.
Zdeno Chara, Boston Bruins
Zdeno Chara was named captain of the Boston Bruins immediately after the Bruins signed him as a free agent prior to the start of the 2006-07 season.
Chara is well-known for his record-setting slap shot that he puts on display regularly at the All-Star skills competition nearly every year, but it is his defensive work that makes him one of the best players in the NHL.
The 6'9", 260-pound Chara is nearly impossible to beat in the defensive zone. He is strong, smart, tough and physical.
He can score goals and also stand up for himself and his teammates with his fists when he is required to demonstrate that ability.
He is an excellent spokesman for his team, and he nearly always respects his opponents with his words.
Chara has one unfortunate mark on his resume. He pounded Montreal's Max Pacioretty into the stanchion near the penalty box in the Bell Centre in 2011. That hit knocked Pacioretty out for the remainder of the season and left Chara the subject of a police investigation.
No charges were ever filed and Chara has always been a player who conducts himself properly and plays within the rules.
That one incident does not define his career.
Keep Reading