A-Rod's Contract: Best Places to Spend It If Yankees Successfully Void It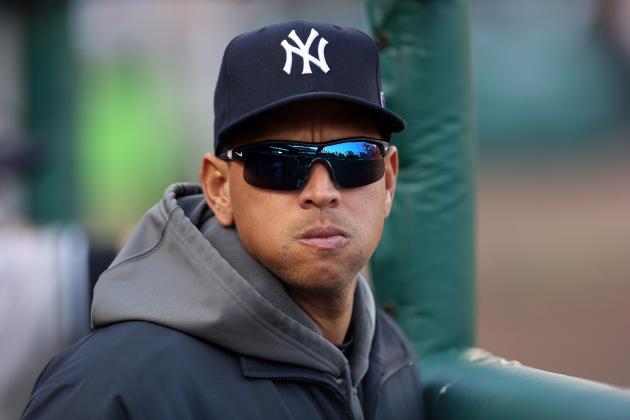 Jonathan Daniel/Getty Images
Alex Rodriguez's career as a Yankees may come to an end.
The New York Yankees potentially can void Alex Rodriguez's contract if accusations of his involvement in another performance-enhancing drug scandal are true.
If they are successful, the Yankees will reach their goal of lowering payroll under $189 million by 2014, and have money to sign potential free agents.
A Miami New Times investigation discovered records detailing Rodriguez and other MLB players' association with a wellness clinic that administered performance-enhancing drugs ran by Anthony Bosch.
According to ESPN, the Yankees are pursuing about "20 different ways" to void the remaining $114 million owed to Rodriguez. The 37-year-old third basemen possibly breached his contract by receiving medical treatment from a doctor without the team's permission, and he might have broken the law by purchasing controlled substances from Bosch.
A source told ESPN the chances of Rodriguez's contract being voided are slim since it has never been done before, and the Yankees cannot move forward until MLB concludes their investigation.
If the contract is voided, there are several ways the Yankees can spend the money to improve the team.
Begin Slideshow

»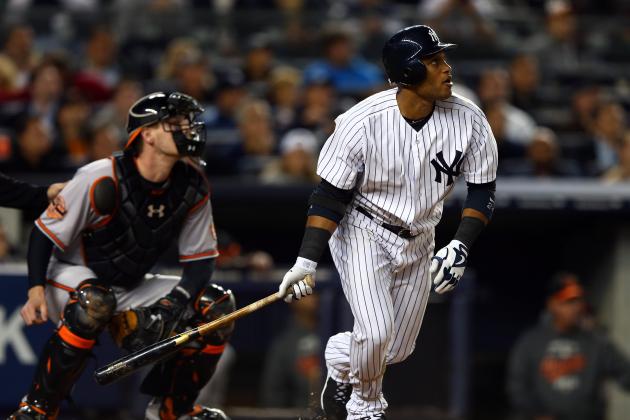 Elsa/Getty Images
Cano is a crucial piece to the Yankees' future.
Cano is arguably one of the best second basemen in the league.
In 2012, he ranked top 10 in the American League in runs, batting average, home runs, slugging percentage and on-base plus slugging percentage.
The two-time gold glove, four-time silver slugger award winner is seeking a deal similar to the 10-year, $275 million contract awarded to Rodriguez, according to the New York Daily News.
The Yankees must re-sign their all-star second baseman to a multimillion-dollar deal, but may not be able to afford it without Rodriguez's voided contract.
The Yankees organization does not discuss contracts until the end of the season and allows players to test free agency. Allowing Cano to test free agency would be risky, but the organization may balk at having to pony up another $275 million deal.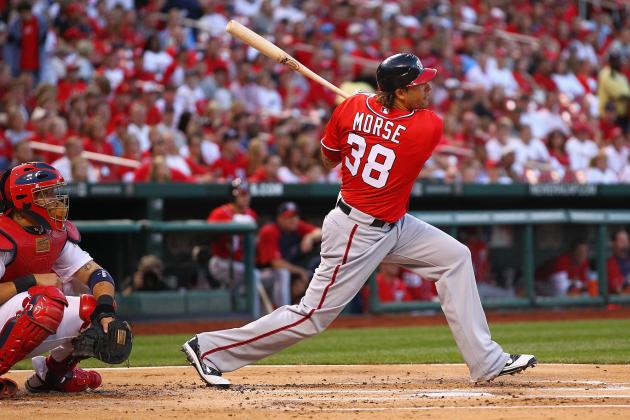 Dilip Vishwanat/Getty Images
Yankees will be busy during free agency in 2014.
With the several contracts expiring, and the potential retirement of Mariano Rivera and Andy Pettitte, a successful 2014 free agency period will be crucial for the future success of the organization.
Players like first baseman Michael Morse, catcher Brian McCann and starting pitcher Josh Johnson will hit the market unless their respective teams re-sign them mid-season. These players have proven they are talented and can play at the major league level at their respective positions.
With the Yankees and MLB potentially voiding Rodriguez's contract, the Yankees will have enough money to sign younger players, and remain under the $189 million threshold.
Acquisition via free agency is the best option for the Yankees to remain competitive since most of the minor league prospects may not be ready to be called up to the majors, and could be traded away.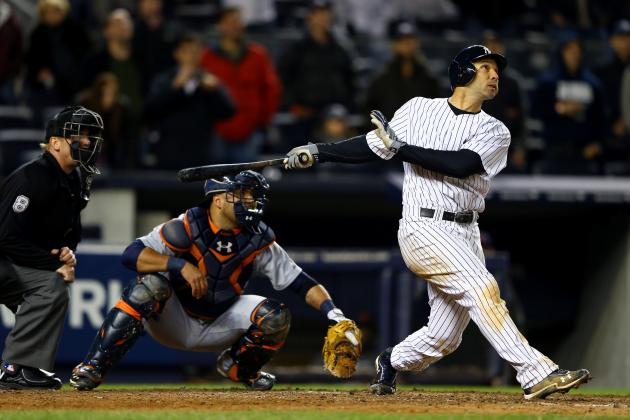 Al Bello/Getty Images
Ibanez was one of Cashman's cheap, great pickups.
Yankees general manager Brian Cashman has been successful signing low-risk, high-reward veterans in the past several seasons.
Veterans like Raul Ibanez and Andruw Jones were big contributors to the Yankees season in 2012. Ibanez and Jones were only paid $1.1 million and $2 million respectively in their one-year deals, but made plays when they were needed the most.
Who can forget Ibanez's pinch-hit home run to tie game three of the American League Division Series against the Baltimore Orioles and the home run in extra innings to win the game? Jones contributed with his gold glove defense after Brett Gardner suffered an injury, and was out for an extended period.
Cashman should continue his magic searching for veterans who do not mind sitting in the bench, but can produce when called upon.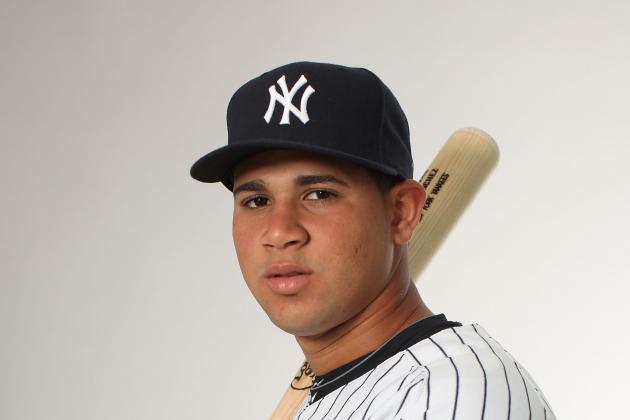 Nick Laham/Getty Images
Gary Sanchez is one the Yankees top prospects.
Trading minor league prospects along with cash can potentially land the Yankees a major league star player.
The Yankees have a decent crop of minor league players developing, and ready to contribute at the major league level. The organization has proven their willingness to part with their prospects in a trade situation before.
According to Bleacher Report featured columnist Phil Watson, the Yankees would have agreed to part with two top prospects, Gary Sanchez and Mason Williams, for Justin Upton before his trade to the Atlanta Braves.
Small market teams who are notorious for trading away stars, acquiring young talent and are desperately in need of cash, like the Pittsburgh Pirates or Kansas City Royals, would be perfect trading partners.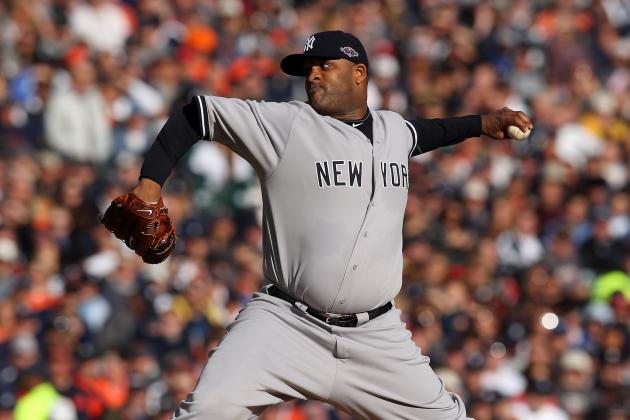 Jonathan Daniel/Getty Images
CC Sabathia can become a valuable trading piece but his high salary makes him hard to move.
In the next several years, the Yankees may trade one of their star players and be forced to pay a portion of their salary.
For example, both Mark Teixera and CC Sabathia are under contract through the 2016 season. Alex Rodriguez is signed through the 2017 season. During the 2015 or 2016 season, the Yankees can potentially trade either Teixera or Sabathia for younger talent to a team making a playoff push.
The money originally slotted to pay Rodriguez's salary can be used to pay for a portion of the traded player's salary.
This move would allow the Yankees to free up a roster spot to a younger player and offload a large contract of the payroll, but would only work if the Yankees are not making a playoff push themselves.