LA Lakers vs. Detroit Pistons: Live Score, Results and Game Highlights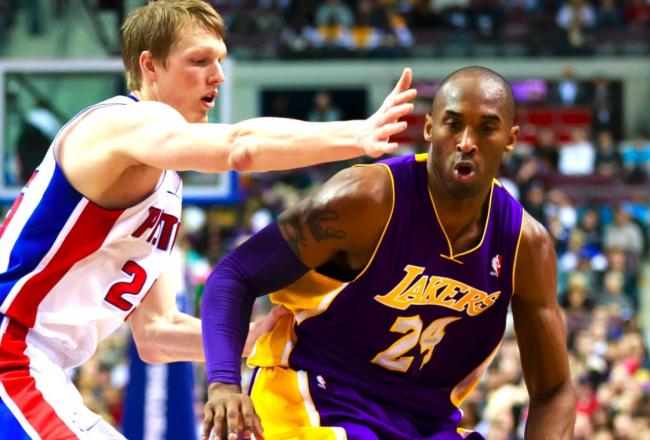 Commentary from the L.A. Lakers' 98-97 victory over the Detroit Pistons on Feb. 3, 2013.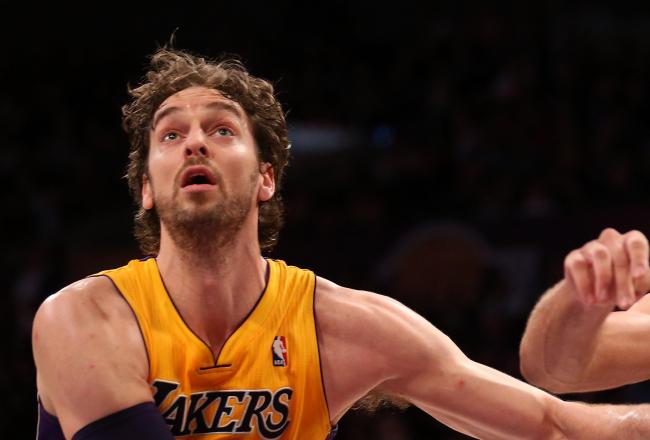 A well-executed lob pass to Andre Drummond ended the game. Drummond got hung up on the rim, and the clock expired as the Pistons fell by a point.
The keys to the win for the Lakers were:
1) Getting Pau Gasol involved (23 points, 10 rebounds)
2) Staying competitive on the boards (outrebounded 40-47, but no Dwight Howard)
3) Good Defense on Brandon Knight (3-of-13 shooting, three turnovers)
The Pistons knocked on the door all night and had two great chances to win the game at the end. The future is bright in Detroit.
LAKERS 98, PISTONS 97 — FINAL SCORE
For their last possession, the Pistons isolated Will Bynum. Bynum, after stumbling over the backcourt, took the ball to the hoop but couldn't finish off a contested layup.
Then, in the most bizarre of all scenarios: Steve Nash missed both free throws on the other end, opening one more door for the Pistons. Those were only his third and fourth misses of the entire 2012-13 NBA season.
LAKERS 98, PISTONS 97 — 1.2 seconds in game, Pistons ball
Andre Drummond has played a great game, but you'd have to assume Lawrence Frank didn't want the Pistons last look to be a Drummond fade away jumper from the baseline. Drummond finishes well, but his turnaround jumpers still have a ways to go.
The Pistons will have another chance at it, after Earl Clark missed both free throws.
LAKERS 98, PISTONS 97 — 15.3 seconds in game, Detroit ball (Timeout in play)
Kyle Singler has done a great job on Kobe Bryant tonight, holding him to 18 points on 8-of-20 shooting, but Kobe found a way to get to the basket for a three-point play with the game tied. You almost always have to give the edge to the Lakers in close games with Kobe on the court.
LAKERS 98, PISTONS 95 — 1:09 4th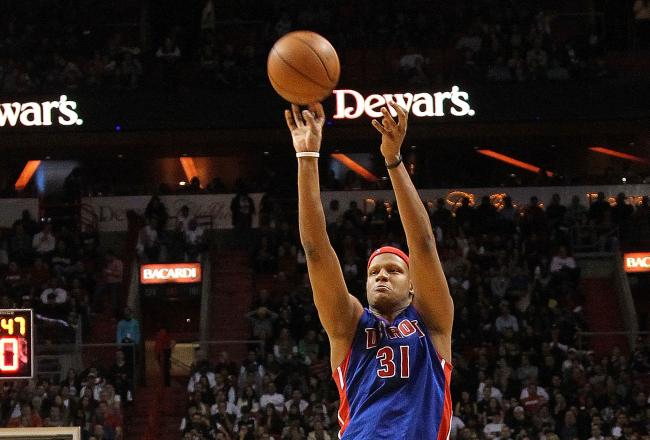 There aren't a lot of favorable lineups for Charlie Villanueva's game, but with the Lakers playing Earl Clark at the 4-spot it gives Villanueva a good shot for some prime minutes. He's made the most of them. CV31 banged a triple and then came back for a heat check with the Pistons down four, but missed the second one.
Villanueva at one point looked to be a future All-Star, but a promising rookie season in Toronto eventually faded into the background in what has become a rather mediocre career.
LAKERS 95, PISTONS 93 — 2:25 4th
The Lakers have shot just 33 percent in the second half while the Pistons are at 50 percent. The Pistons have also outscored the Lakers in points in the paint 26-14.
They've gone on a 32-17 run since being down 18 earlier in the game.
LAKERS 91, PISTONS 88 — 4:53 4th
Pau Gasol and Kobe Bryant are set to check back into the game before the Pistons get right back in this one.
Oh, too late. Charlie Villanueva for threeeee!
Lakers timeout, get Kobe back in there.
LAKERS 87, PISTONS 84 — 6:52 4th
Antawn Jamison may give it up defensively, as he's had a lot of difficulty keeping Andre Drummond away from the rim, but Jamison hits the three ball which can more than make up for it.
LAKERS 87, PISTONS 77 — 8:21 4th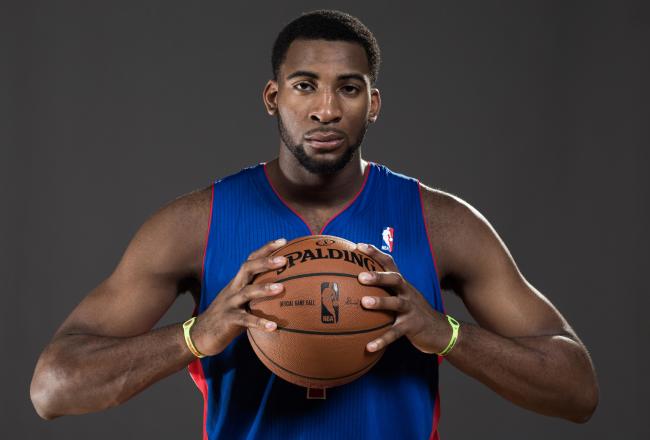 Andre Drummond looks as though he could become a very effective pick and roll player in time. After setting the pick, he reverse pivots very well and rolls hard to the hoop. His footwork appears to be very good, and with some more seasoning Drummond will end up being one of the best players from the 2012 NBA draft class.
LAKERS 80, PISTONS 73 — 10:40 4th
Will Bynum came up with a great steal on a Kobe spin move to end the quarter, but Bynum didn't have enough time to get the ball all the way down the court for a layup, so he had to settle for a running three from the top of the key. It almost banked in.
LAKERS 78, PISTONS 72 — End of 3rd
The Pistons have gone on a 16-4 run to cut the lead to six points. It was emphatically announced as a "Dynomite dunk!" when Andre Drummond finished hard off a behind the back pass from Will Bynum, and the fans are excited in the Palace.
As good as the Lakers have been offensively, they are exploitable in transition, and when the Pistons have got out and run good things have happened for them.
LAKERS 76, PISTONS 70 — Under 1 Min 3rd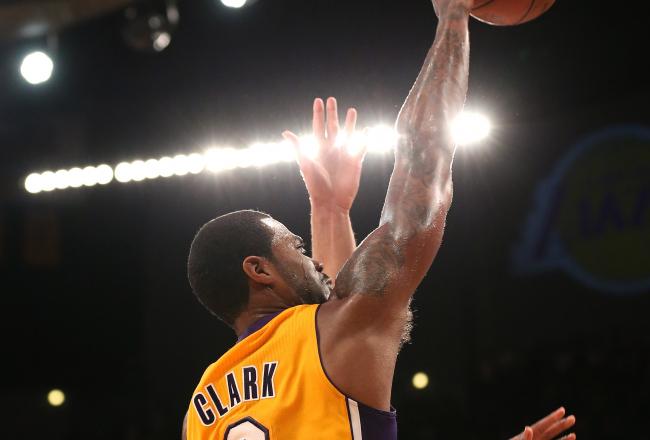 You have to wonder if Orlando Magic GM Rob Hennigan is sitting around kicking himself that he didn't refuse to include Earl Clark in the 4-team trade that sent Dwight Howard to L.A.
Clark has 17 points and six rebounds, and is appearing as though he might be the starting 4-man for the Lakers for a good while, since he is just 25 years old.
LAKERS 76, PISTONS 64 — 2:51 3rd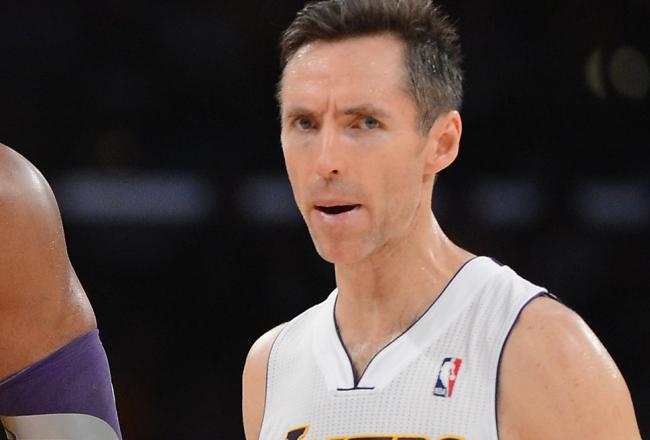 Lakers ball movement is still very impressive. It seems that Kobe's decision to pass more has infected his teammates. Several Lakers possessions have featured all five players touching the ball before a shot.
The Lakers have 19 assists on 28 field goals.
LAKERS 72, PISTONS 58 — 5:30 3rd
The Pistons have been outscored 10-3 in the third quarter and the Lakers are continuing to get good looks every possession. The Pistons, meanwhile, continue to settle for jumpers. Can't trade layups for jumpers and expect to hang in a game for too long.
LAKERS 72, PISTONS 54 — 7:21 3rd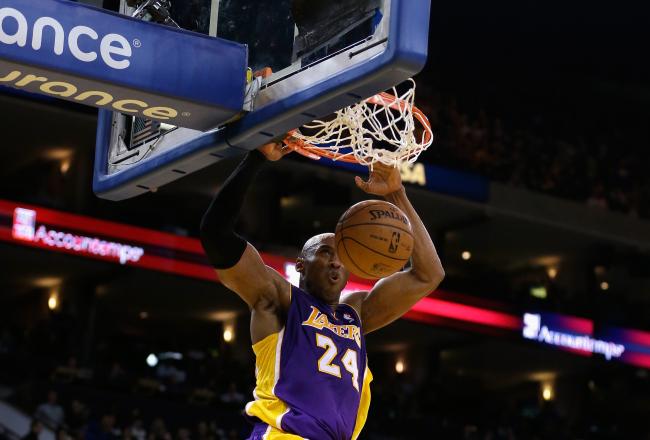 Following a Kobe Bryant fast break dunk it got pretty loud in the Palace. Mamba fans in every arena.
LAKERS 68, PISTONS 54 — 9:06 3rd
The Pistons are settling too often for jumpers and not seeking to get the ball in the paint. While Pau Gasol and Earl Clark are both decent shot blockers, it's not a Lakers' lineup that is impervious to rim attacks.
The Pistons need to get the ball inside.
LAKERS 65, PISTONS 54 — 9:34 3rd
The Pistons seem content to give Metta World Peace three-point looks. Metta picked up his first assist on the second chance bucket, and has six points thus far for the Lakers.
LAKERS 64, PISTONS 54 — 9:58 3rd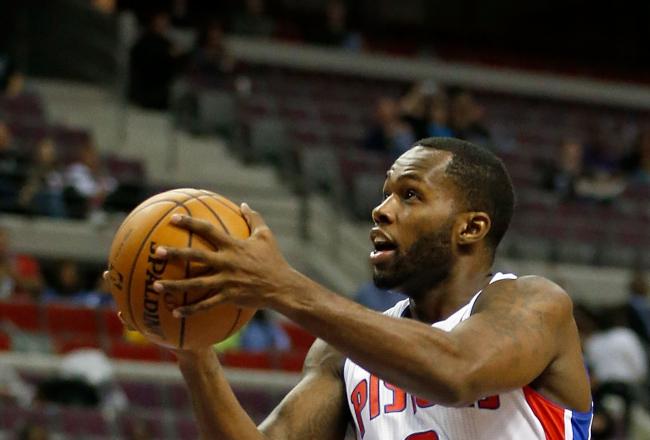 Rodney Stuckey can't even get minutes without Jose Calderon suiting up. One would have to figure that when Calderon returns, Stuckey may not get off the bench much at all. With the way Will Bynum is playing, there may not be much need for Stuckey. He's played just seven minutes tonight, and Bynum is second of Pistons scorers with 10 points off the bench.
The Lakers frontcourt has made the difference so far, and Earl Clark put the exclamation on that with an impressive alley oop on the inbounds pass to close the half. Clark had 15 first half points, as did Pau Gasol.
The Lakers lost the battle of the boards 20-23, but to remain competitive with the Pistons rebounding the ball without leading rebounder Dwight Howard is impressive in its own right.
LAKERS 62, PISTONS 51 — Halftime
The Pistons have had a bad close to this first half. Another turnover led to a chain of Lakers passes which led to an easy Pau Gasol dunk. It's just a 4-0 run, but the Pistons have been notoriously bad at closing out quarters this season, and that can often swing the game.
LAKERS 60, PISTONS 51 — 15.6 seconds in half
Jason Maxiell is always active while on the court. The Pistons had a nice breakaway in transition, but Kyle Singler had his layup blocked. Maxiell collected it and flushed it home to pull the Pistons back within five points before a Kobe Bryant free throw.
LAKERS 57, PISTONS 51 — 42.3 seconds in half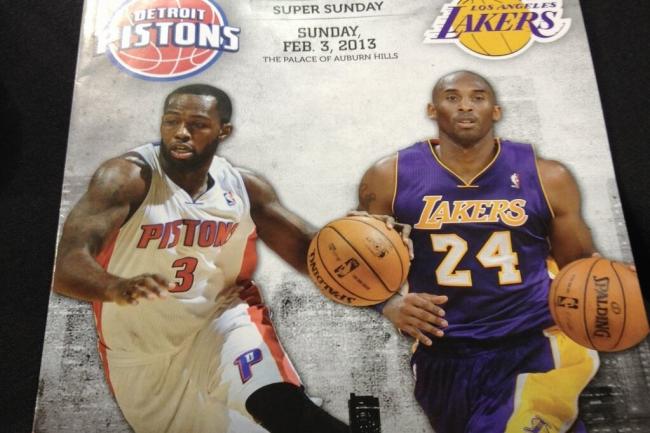 PIC: The cover of today's #Pistons Action Guide that fans received when they arrived. twitter.com/detroitpistons…
— Detroit Pistons (@detroitpistons) February 3, 2013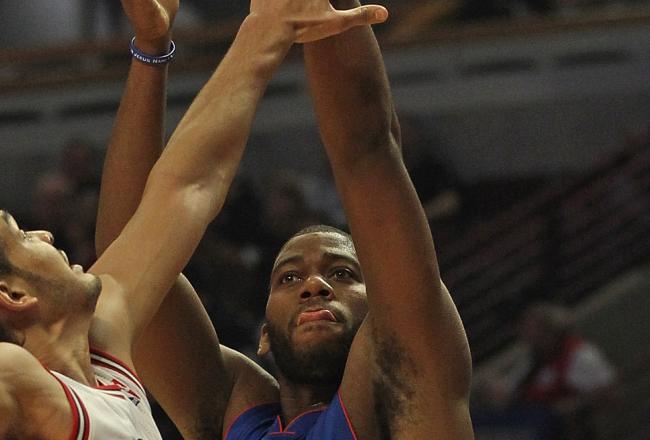 Greg Monroe really is very reminiscent of Tim Duncan offensively. He kept the ball high on a give-and-go with Kyle Singler, which should have led to an assist, but Singler blew the layup.
LAKERS 55, PISTONS 47 — 1:43 2nd
Dwight Howard: "It's still sore. Certain movements hurt. I don't want to go out there in any pain, thinking about it too much." #Lakers

— Mike Bresnahan (@Mike_Bresnahan) February 3, 2013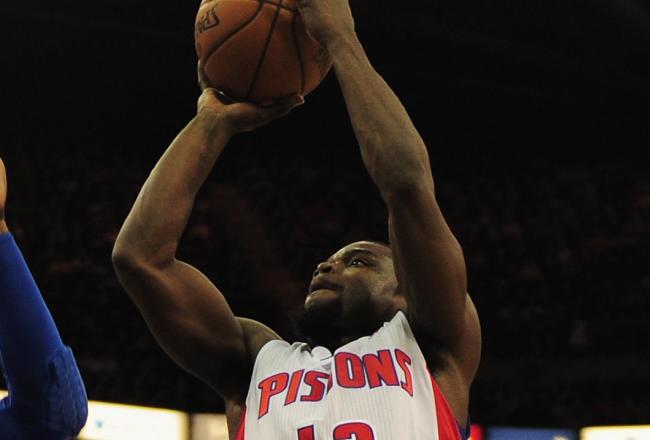 Will Bynum for all he may or may not be as a player, is pretty quick and has a good set of handles. He's been able to stick in the NBA despite his diminutive stature, and he blew past Metta World Peace when he caught him on a switch.
LAKERS 49, PISTONS 41 — 4:58 2nd
D'Antoni said Dwight not playing was "his call." About the shoulder injury: "It's not going to go away." #lakers

— KEVIN DING (@KevinDing) February 3, 2013
This article is
What is the duplicate article?
Why is this article offensive?
Where is this article plagiarized from?
Why is this article poorly edited?