Aldo vs Edgar: An In-Depth Analysis of Frankie Edgar's Performance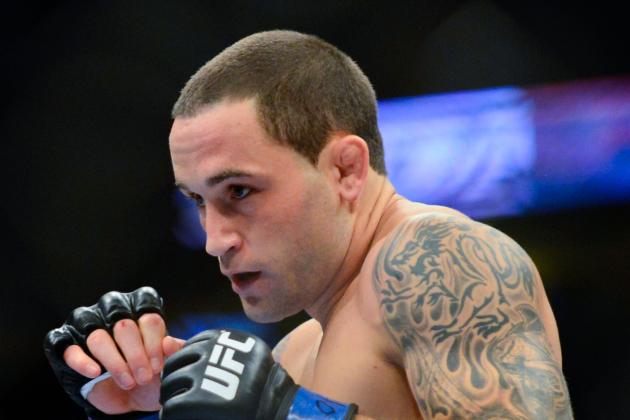 Ron Chenoy-USA TODAY Sports

Frankie Edgar came up just a bit short at UFC 156 against Jose Aldo.
He dropped a unanimous decision to Aldo. Edgar lost four rounds on two cards, and three on the other. However, the fight was close.
"The Answer" was trying to become one of the few to claim a championship in two different divisions. If a couple things go differently he accomplishes that goal.
The superfight has come and gone.
Lets take a round-by-round look at his performance from Saturday night.
Begin Slideshow

»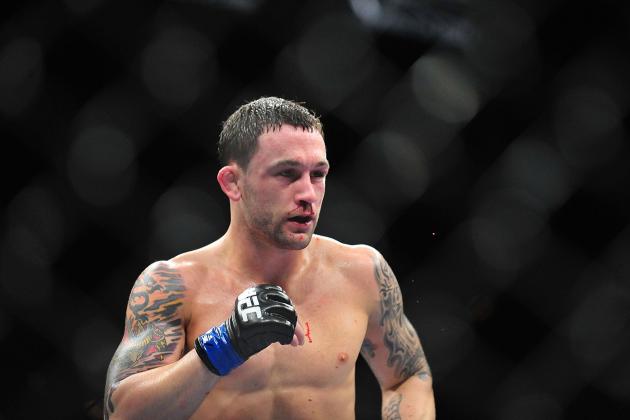 Gary A. Vasquez-USA TODAY Sports

Edgar opened with a leg kick and his normal movement. Edgar made sure to not stand in front of Aldo.
The speed of Aldo created problems for him early. He was unable to avoid the jab of Aldo in the first round. When Frankie tried to close the distance Aldo was out of the way.
The tale of the tape showed Edgar with a reach advantage, but the long jab and leg kicks of Aldo created a distance that was hard for Edgar to get inside of. He also ate two huge leg kicks from Aldo with under 30 seconds remaining in the round.
Edgar looked OK in that first round, but he was not able to muster much offense. Credit goes to Aldo for that, but also that Edgar may have used the first round to feel out Aldo.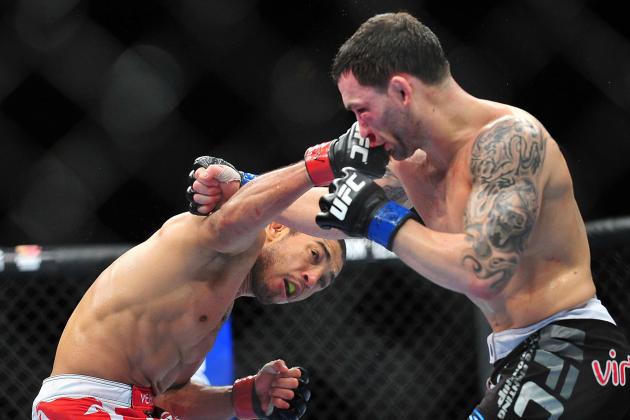 Gary A. Vasquez-USA TODAY Sports

Edgar came out more aggressive in the second round, but Aldo was accurate with his strikes and able to move away from a closing Edgar.
Edgar began looking for opportunities to take Aldo down in the second, but Aldo's takedown defense was too good. After the jabs and leg kicks Edgar seemed to know he needed to do something different, but he was unable to get the fight down.
Edgar finally got Aldo against the fence with a little over a minute to go, but it did not last long.
"The Answer" also got a takedown with under a minute remaining, but Aldo got up immediately.
If Edgar could have had a more of the final 90 seconds he could have stolen the second frame. Edgar opened more aggressive but couldn't find offense until late. That put him behind the eight-ball for the rest of the fight.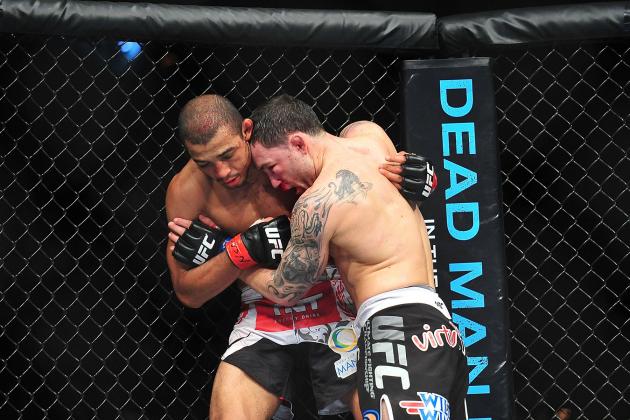 Gary A. Vasquez-USA TODAY Sports

Edgar almost took Aldo down right away in the third, but Aldo avoided it. That could have been huge had he completed the takedown.
Edgar's striking output started to tick upwards, but Aldo was the one landing. That includes the upkick that busted Edgar's nose. Edgar either missed or had his strikes blocked.
Aldo started to slow a bit, and Edgar took advantage with three straight leg kicks. Edgar started to turn it up and landed some good shots with under a minute to go in the round. Aldo had got the better of the first few minutes of the round, and Edgar finished strong.
This was the closest round of the fight, and it comes down to what the judge's value. Edgar probably felt good heading back to his stool with how he closed out the round.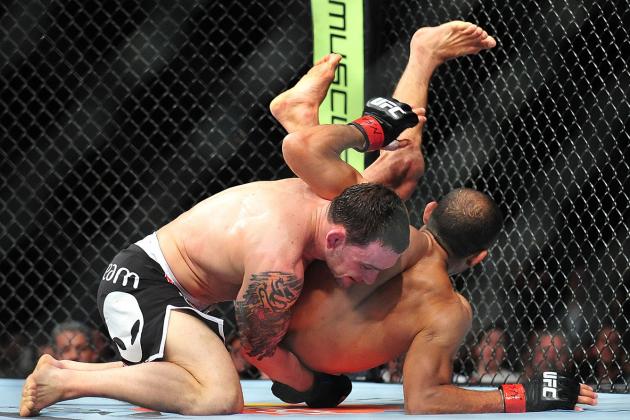 Gary A. Vasquez-USA TODAY Sports

Edgar's movement was good in the fourth in spite of the leg kicks from Aldo. This prevented the champion from landing as much as he had been.
"The Answer" was coming forward and pushing the action without a lot of countering from Aldo. Edgar also went for the takedown and made Aldo defend vigorously.
Edgar picked Aldo up and slammed him hard. That plays well in the eyes of fans and judges, but Aldo popped right back to his feet. Edgar peppered Aldo's thighs with knees before they broke away.
Edgar took advantage of Aldo slowing down in the fourth. He scored more on his feet and had the big takedown. It was the first clear round for Edgar, but with the third being close it could have easily been tied up on the scorecards heading toward the fifth. That meant neither fighter could coast.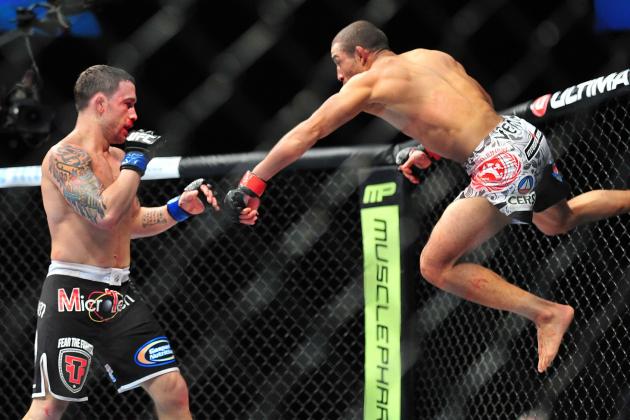 Gary A. Vasquez-USA TODAY Sports

Aldo landed a jab early, and Edgar went back to using his leg kicks. The reemergence of Aldo's jab was significant to this round.
Edgar continued to try and put Aldo down, but to no avail. At the halfway point of the round it was Aldo who was landing the clean shots, but Edgar who was coming forward looking for offense. Aldo's counter-striking was doing well.
Edgar got Aldo against the fence and threw a knee that grazed, if anything, Aldo's face. With a little over a minute Aldo landed a good left on Edgar.
Edgar's combinations looked good except for Aldo blocking them. They simply did not connect whereas Aldo's one-shot counters were slipping in and hitting Edgar. Including the Superman punch at the horn. That is where the difference was in the round.
However, it was not a dominant round for Aldo.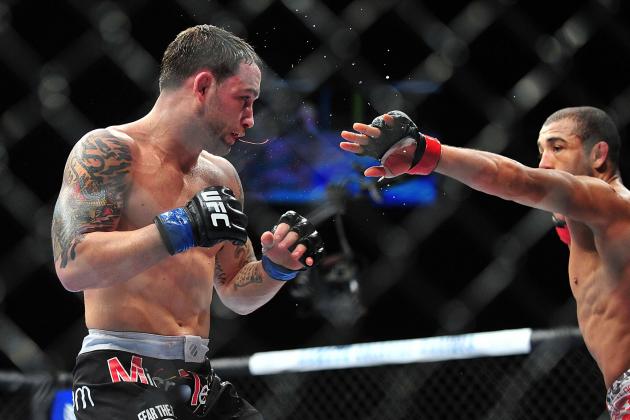 Gary A. Vasquez-USA TODAY Sports

The scorecards read 49-46, 49-46, 48-47 all in favor of Aldo. There were no bad scorecards read.
Edgar looked good in the fight, but simply could not land cleanly on Aldo throughout the fight. He had a good output, but the bottom line is that those strikes must find a home. They cannot miss and they cannot be blocked.
He put on a good performance, but was just edged by the better fighter. If a few things go differently it is easily an Edgar decision victory. The jabs and leg kicks in the first couple rounds being vital for Aldo was the major difference in the fight.
Edgar just needed to be a little more accurate. He showed he's at the top of the food chain and one of the very few who could legitimately be trouble for Aldo. We will have to see if they meet again later this year, and if they do it will be interesting to see what game plan changes he makes