2009 Draft Wishlist: New England Patriots Draft Prospects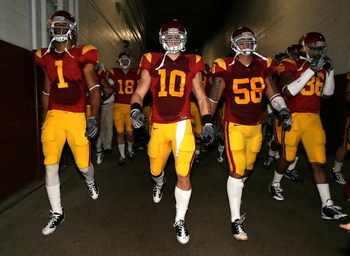 The Patriots don't have alot of holes this offseason, but need to add youth to many positions and mostly on defense. The offense isn't as perfect as some people would like to think either, their are a lot of positions that could use some young playmakers.
Chris Baker is a band-aid at tight end for the next few years because Benjamin Watson is not a blocking tight end and is more of a mismatch in the passing game for linebackers and safeties.
The offensive line needs to be upgraded as well, Nick Kaczur is going to get Tom Brady killed and Ryan O'Callaghan has not played up to his ability yet.
Running back is also a concern because many believe this will be Lawrence Maroney's last year on the team unless he plays to his ability for being a high first round draft pick.
The Patriots also need to find a third down running back to replace Kevin Faulk in the near future.
Outside linebacker is a big concern with the departure of Mike Vrabel and Adalius Thomas' injuries. Thomas has played well, but many fans believe that he could play better.
The defensive line could also use some young playmakers to add depth to the line.
Rey Maualuga
Inside linebacker is one of the biggest needs for the Patriots, Tedy Bruschi will be retiring soon and need a replacement to complement Jerod Mayo.
Also, depth needs to be added, Gary Guyton proved he can play last season, but the Patriots need another playmaker like Mayo.
Maualuga could start in his first year and would make teams think twice about running the football with Mayo and Maualuga inching away from the ball carrier and about to make a devastating hit.
Connor Barwin
Connor Barwin's stock is rising and has the same size and body frame as Mike Vrabel. Barwin has also played tight end and could probably play defensive end. Belichick loves versatile players and could probably select him with the 34th pick.
Brian Cushing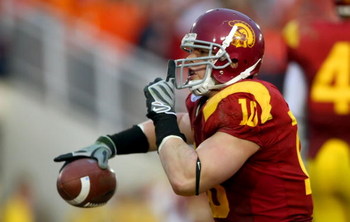 Outside linebacker is another concern for the Patriots, Adalius Thomas has played well, but not great. With Vrabel gone, a huge gap is missing in the Patriots defense and needs to be filled with a playmaker.
The Patriots have alot of draft picks on the first day and will probably trade up to select Maualuga or Cushing.
James Laurinaitis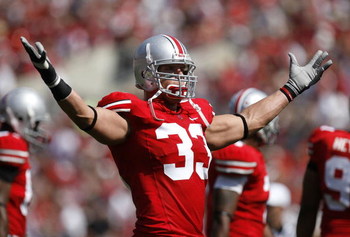 James Laurinaitis is perhaps the most NFL ready linebacker, he has the intelligence and ability to become a star linebacker in the NFL. Laurinaitis will most likely be available when the 23rd pick comes around in the first round and he may even slip into the second round.
Alphonso Smith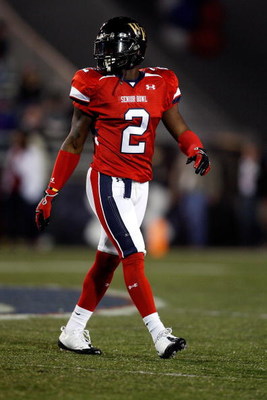 Alphonso Smith is one the best cover corners in the draft. Smith is the prototypical size of a Patriots cornerback because he is only 5'9".
But, Smith also has the playmaking ability to make up for his lack of height, compare him to Ellis Hobbs, but maybe a little faster. Smith can also help out on special teams on kick return.
D.J. Moore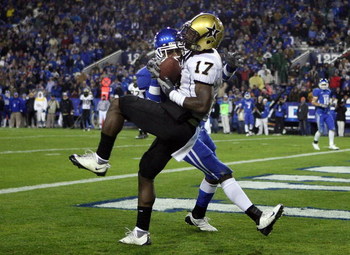 D.J. Moore is another prototypical Patriots cornerback because of his lack of height. Just like Smith, Moore is a small corner, but has the playmaking skills that teams love.
Brian Robiskie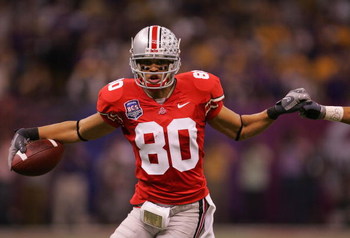 Brian Robiskie is my favorite wide receiver in the draft this year and he is a good player on and off the field. Robiskie is about 6'2"-6'3" and weighs around 210-220.
Robiskie ran a 4.50 40-yard dash at the combine and has some of the best hands I've seen, if you watched the game where Ohio State lost to Texas in the bowl game Robiskie caught everything thrown to him.\
I would compare his hands to Wes Welker's which is like flypaper whenever the ball gets thrown to him. Robiskie could be a great third receiver for the Patriots and has the right attitude that teams llok for.
Phil Loadholt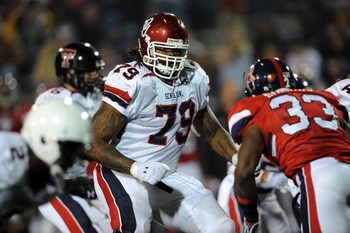 Phil Loadhalt could really help the Patriots out at right tackle, Nick Kaczur didn't work out and lets Tom Brady get sacked too much. Ryan O'Callaghan is a good run blocker which everyone already knew, but he has trouble pass blocking because of his footwork.
Louis Delmas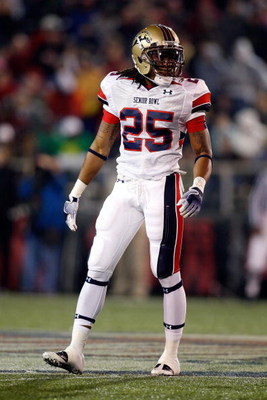 Louis Delmas would be a nice addition to the Patriots secondary. Many NFL analysts have compared him to Bob Sanders because of his hard hits, but that would be welcomed by a Patriots defense that needs to get their swagger back.
If Delmas was drafted by the Patriots and started then Brandon Meriweather would be kicked over to the now crowded cornerback position where he played his rookie year.
Patrick Turner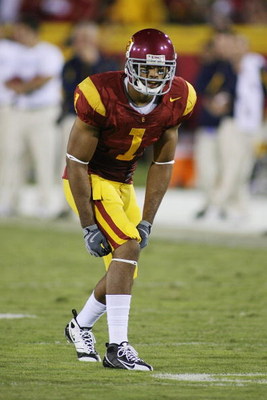 Patrick Turner is a big wide receiver with decent speed, Turner is 6'5" and weighs around 220-230lbs. Turner could be a good third or fourth receiver and he could help out in the running game because of his big size.
Shawn Nelson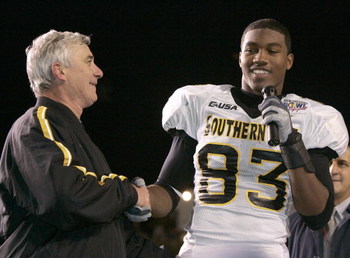 Shawn Nelson is a pass blocking and receiving tight end, something the Patriots have been missing since the departure of Daniel Graham.
Chris Baker is the short term solution at tight end and Benjamin Watson is only a receiving tight end. I would still like to see more of David Thomas though, but ever since Thomas got a dumb penalty called on him Belichick didn't let him play.
Keep Reading

New England Patriots: Like this team?