In just six months, Demian Maia has defeated three top-10 170-pounders in dominant fashion to redefine his career. The man that once went the distance with Anderson Silva is one fight away from a welterweight title shot. The welterweight version of the Brazilian grappling star has now proven he is a dominant wrestler, legitimate striker and a physical powerhouse.
The world-renowned BJJ practitioner fared well in the 185-pound division. He lasted five rounds with the champ and landed some good shots against an Anderson Silva who was more interested in clowning than fighting.
He went 3-2 after his title shot. In his controversial decision loss to Mark Munoz, he dominated the opening stanza with improved striking. His forgettable loss to Chris Weidman was explained by his flu. Regardless, the UFC's greatest jiu-jitsu player is now 3-0 at welterweight and is fighting better than ever.
Last night at UFC 156, Jon Fitch, a division stalwart, discovered firsthand how evolved the game of Maia has become. The Brazilian jiu-jitsu world champion dominated Fitch for all three rounds. He effortlessly scored takedowns and had the former NCAA Division I wrestler's back with a body triangle for almost the entire match.
Demian was constantly threatening the rear-naked choke and had dominant near-fall position throughout the contest. It was purported that Maia "out-Fitch'd Jon Fitch," but it was not so.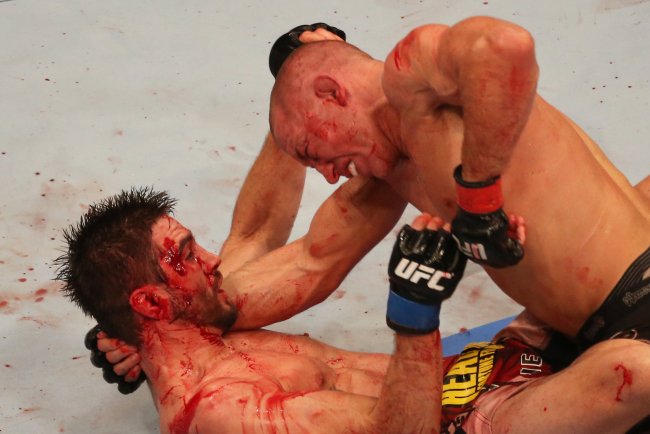 Tom Szczerbowski-USA TODAY Sports
Fitch's style is to score a takedown and sit in his opponent's guard without ever risking the position to try to land significant strikes or pass the guard to seek a fight-ending submission. Fitch is content to sit there and score light shots that never cause any real damage but win him the rounds. This is very similar to the strategy of the current champion.
Maia scored several takedowns and then procured the most dangerous position in MMA—back control. He constantly searched for the finish and relentlessly attacked the former title challenger's neck. Unbelievably impressive.
Demian has now set off alarm bells in the division with this devastatingly dominant win over such a high-quality wrestler. Maia, the 2007 ADCC champion, has shown that, at 170 pounds, he can beat dangerous strikers, top wrestlers and high-level grapplers. This recent win comes off back-to-back first-round stoppages over Rick Story and Dong Hyun Kim.
Story is a scary striker with wins over the No. 1- and No. 2-ranked contenders, Johny Hendricks and Jake Ellenberger, respectively. Kim is a highly respected Judoka who was perched close to the top of the rankings before the Brazilian derailed him.
Would you agree that Maia is one win away from a title shot?
UFC 158 is showcasing the best welterweights in the world. The winner between Hendricks and Ellenberger, who fight on that card, will get the next golden crack against the GSP-Diaz winner. Expect Maia to face off with one of the best performers on that evening to position himself for the subsequent title shot.
Logic would suggest that the champion will still be the iconic GSP, a fighter who also likes to conservatively sit in people's guard. However, he has never fought anyone with a guard like Maia. A contest between the two would be extremely compelling. Maia's momentum might just make the encounter unavoidable.
Demian has reinvented himself and is now one of the most dominant fighters on the planet. His move to welterweight has created tectonic shifts in the rankings and might even dethrone the impressive reign of GSP. The game just got even more intriguing.