West Bromwich Albion vs. Tottenham Hotspur: 6 Things We Learned
Jamie McDonald/Getty Images
Gareth Bale and his Tottenham teammates celebrate the Welshman's goal in a much needed win for the North London club.
Tottenham Hotspur made the most of Saturday slip-ups from top-four rivals Chelsea and Everton with a 1-0 win at West Bromwich Albion.
The second half sending off of Goran Popov saw an evenly fought contest between the two sides swing Tottenham's way as they began to make the most of their numbers advantage with concentrated pressure. Even then it took a moment of real quality from Gareth Bale to give them the lead.
A valuable three points for Spurs then, while West Brom's winless streak (going back to Boxing Day) continues. Besides these facts, what will both teams take from their Sunday afternoon meeting?
Begin Slideshow

»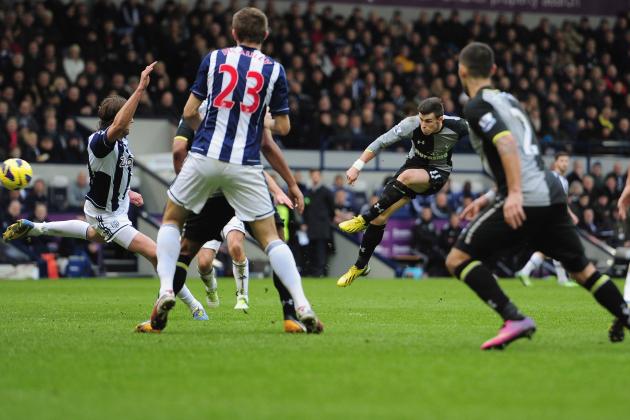 Jamie McDonald/Getty Images
Gareth Bale scoring Spurs' winner.
It has not always been easy for Tottenham to strike up a happy balance in the way they like to play going forward.
On the one hand you can look at a game like the 0-0 draw with Stoke City prior to Christmas. Spurs dominated possession but veered unsuccessfully between overly-intricate attempts at build-up play and just swinging in crosses. The latter was particularly futile when they were playing against two center-backs like Ryan Shawcross and Robert Huth.
Against West Brom they came up against an obstinate defense that prompted the firing of long-range shots quicker than they probably should have.
Gareth Bale's winning goal, of course, did come from a shot taken outside the penalty area. The difference was this was a result of patient and intelligent movement of the ball. By the time it finally reached Bale, Spurs had worked it into a position such that he had sufficient space to manoeuvre himself into a spot where he had a genuine scoring chance (though it still required a top finish).
Tottenham do not want to nullify the substantial pace among their ranks by playing over-ponderously. However, they have sufficient quality and can afford to take their time if there are not obvious openings.
So long as they can up the tempo of their passing and movement at the right time, goalscoring opportunities will arrive. It led to Bale's goal and created more good chances as the game progressed.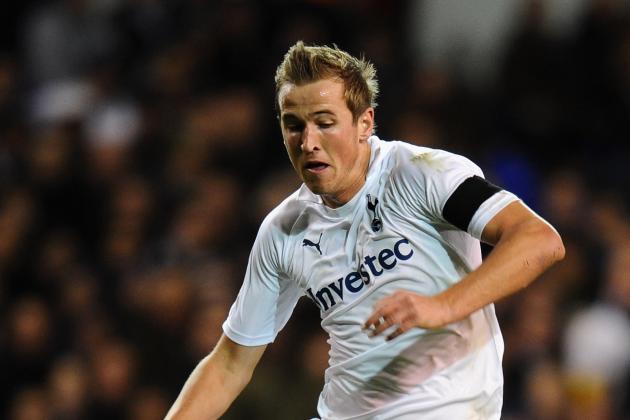 Mike Hewitt/Getty Images
Harry Kane.
Tottenham suffered a blow when Jermain Defoe went off injured during the first half. Post-match, Andre Villas-Boas told BBC Sport he expects him to be out for around three weeks.
At the time of writing it is not certain how much longer they will be without Emmanuel Adebayor, with him due to play in Togo's African Cup of Nations quarterfinal against Burkina Faso later on Sunday.
Even if Adebayor is back this week, it is likely time for Andre Villas-Boas to involve one of his squad's younger, less experienced forwards—either Harry Kane or Jonathan Obika.
As they did against West Brom, Spurs could feasibly play without a recognized striker. Clint Dempsey knows how to lead a forward line, and with support from Bale, Aaron Lennon, etc., there is goals in that lineup. Some supporters have even argued for Bale playing up front.
Even if Villas-Boas decides to move forward with this strategy, he could do with having the option of a traditional forward to call upon.
Kane was recalled from his loan at Norwich City with such a purpose in mind. Injuries robbed him of his chance to shine at Carrow Road for most of his spell and now he has got to be keen to play. Obika will surely be too after getting on against Leeds United last week.
It is not clear yet if either has the necessary quality to become regulars at White Hart Lane. There is more hope for Kane, who is younger and especially impressed at Millwall last season.
Whoever is preferred, one of them should at least be given the chance to make an impact. Even if it is for just a 10-minute spell here or there, it could make a difference.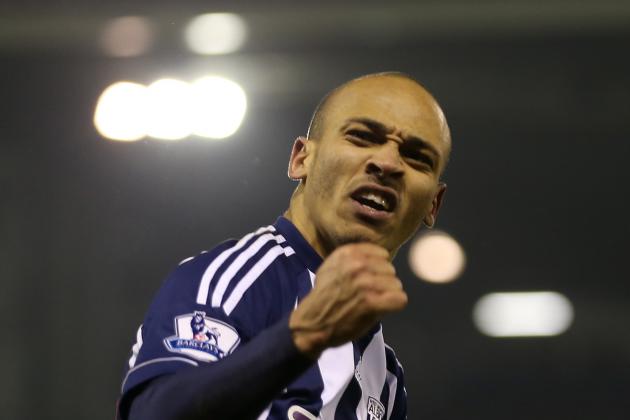 Ian Walton/Getty Images
Peter Odemwingie.
After Peter Odemwingie tried his best to engineer a move away to Queens Park Rangers earlier in the week, Baggies boss Steve Clarke would probably not be unhappy if he never saw the Nigerian again.
Unfortunately for Clarke, he knows West Brom can ill-afford to do without him. His team's struggles against Tottenham showed that much.
Had Popov not been sent off for spitting at Kyle Walker, the game may have played out differently. West Brom created the better first-half chances, and both Romelu Lukaku and Shane Long were lively presences up front.
Lukaku was the unfortunate one sacrificed so Liam Ridgewell could be brought on in defense for the dismissed Macedonian. From then on West Brom rarely threatened.
The situation may not have demanded someone like Odemwingie in that instance, but Clarke would surely have loved to have called upon him later to try to inject a little variety to his team's play.
Almost certainly, there will be such occasions again. If Long and/or Lukaku are not firing (Sunday was a rare occasion West Brom went with two forwards) it is a nice option to be able to call on a more exuberant penalty-box presence like Odemwingie.
There might not be a long-term solution to the dispute between the disagreeing parties. For now, though, it is in both their interests that they work together.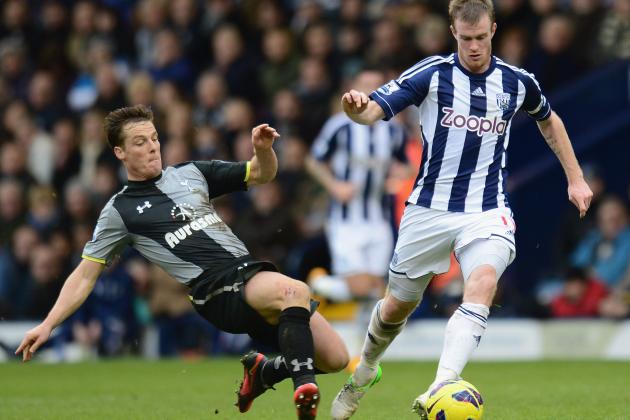 Shaun Botterill/Getty Images
Scott Parker makes a challenge.
After returning to the first team fold following long-term injuries, Scott Parker and Benoit Assou-Ekotto's performances have varied in quality. To a certain extent, this was understandable. They have had to shake off rustiness as well as adapt to the differences brought on by their new manager since the last time they properly played.
This is a process they are still undertaking.
But against West Brom both played in a way that suggested the hope placed upon them prior to their return—that they would be almost like new signings freshening up a tiring squad—is increasingly coming to fruition.
Parker was combative as ever, but also more precise and quicker in his use of the ball than he had been in recent outings. As Spurs pushed further forward in the second half, he ably assumed his defensive responsibilities and played his part in ensuring West Brom did not strike back.
That Assou-Ekotto was finding his feet again was not so apparent.
The left-back looked off the pace at times early on but after the interval contributed a welcome vitality as Tottenham attempted to up the pressure. Most prominently, this would have been seen in his surging runs forward. These did not result in much but were still a welcome sight.
What would have been especially pleasing to his manager was the improvement in his defensive work. It helped that Spurs had one less man to contend with, but any hint of attack that came Assou-Ekotto's way was soon snuffed out.
These two players are still working their way back, but there are signs of the important contributions they could make for this team as the campaign wears on.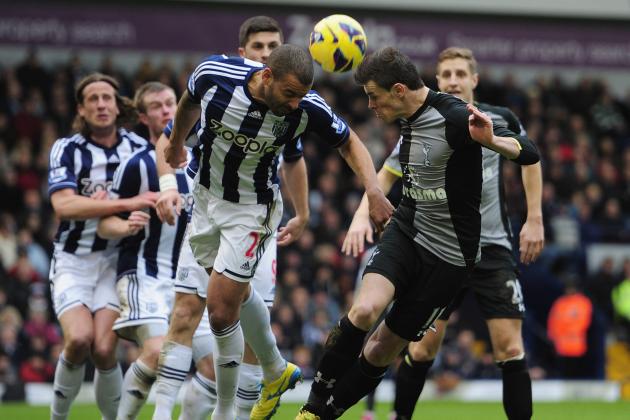 Jamie McDonald/Getty Images
It has been hard going for West Brom of late.
The strength of West Brom's form in the opening months of the season has meant that, despite not winning any of their last six Premier League games, they are still ninth.
Clarke's team sit four points off nearest place Stoke City and are 13 points clear of the relegation zone.
The latter fact means it is unlikely the Baggies will be dragged into any bottom-of-the-table scrap. However, their recent run without a win is still slightly alarming.
Stopping the rot could be simple as them winning a game. A trip to Anfield awaits next though; a tricky a fixture as you could get. The worry then is that you might write that one off, but then a further loss only exacerbates the problem and suddenly the points gap does not look so big.
West Brom performed better than most expected them to before Christmas. It would be easy for them to rest on their laurels and, with a few more wins to see them safe, be happy with their lot.
Despite their comparative lack of numbers to some top teams, they can count some committed and rather talented individuals among their ranks. What they have showed enough times this season is evidence enough that it would be a damn shame if their campaign was to peter out now.
A good finish to the year would help them head into next season in the best way possible. To do that they have to take ownership of this present one before it slips away.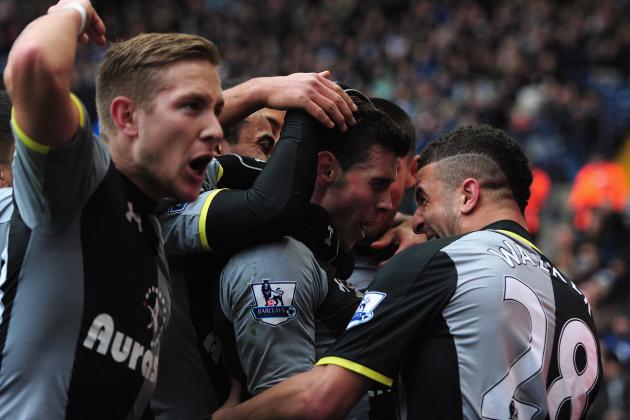 Jamie McDonald/Getty Images

It is not necessarily written in stone yet, but it seems likely Manchester United and Manchester City will finish this season as the Premier League's top two (not necessarily in that order).
The teams that follow—Chelsea, Tottenham Hotspur, Everton, Arsenal and possibly Liverpool—will be the ones fighting it out for third and fourth place, and the Champions League qualification that gives them.
There has been so much to-and-fro between that group of late, with none of them putting together a particularly good run in the month of January. Still, if there was one to pick out among the bunch right now, it might be Tottenham.
Villas-Boas' men have not lost in the league since 9 December (though have drawn four times). If they have not clearly proved to be the standout team, then they have at least shown they are no worse than those around them.
This might not seem like much, but when there is so little between these clubs it could prove big mentally as they prepare to face off against them again in the next two few months. That belief in an edge in superiority, even if it is only slight, could act as the confidence boost Tottenham need.
Crucially, there is enough quality at Spurs to back that up. They are capable of staking a genuine claim as the third-best team in England. Now it is up to them to do so.
Next up is a home game versus a resurgent Newcastle United.