Aldo vs. Edgar Fight Card: UFC 156 Post-Fight Stock Report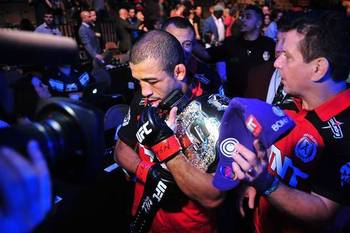 Saturday night's UFC 156 main card delivered in all respects, with dramatic upsets, three- and five-round wars and controversial decisions.
Men from the flyweights to the heavyweights battled for glory whether in defeat or victory.
Here's the post-fight stock report for all the main-card fighters.
Joseph Benavidez: Holding Steady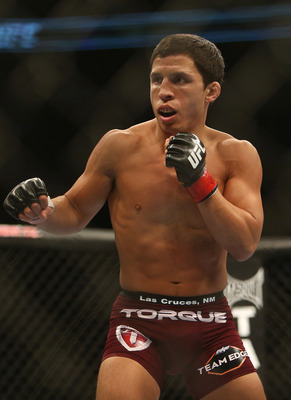 Tom Szczerbowski-USA TODAY Sports
Joseph Benavidez was widely considered the No. 2 flyweight in the UFC, and that's where he remains following a hard-fought three-round contest against Ian McCall.
Benavidez started the fight strong and clipped McCall repeatedly with powerful jabs and leg kicks in the opening rounds. He managed to keep that pace throughout the fight, although McCall managed to get back in the fight in the second round.
Still, it was an assured victory that could earn him a rematch against division kingpin Demetrious Johnson, considering the paucity of talent at 125 pounds.
Ian McCall: Holding Steady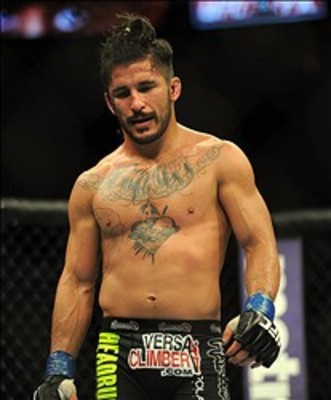 Steve Mitchell-USA TODAY Sports
Just as Joseph Benavdiez could claim the No. 2 spot at 125 pounds, Ian McCall was the No. 3 guy, which is where he stays until someone can prove otherwise.
He fought two thrilling matches against Demetrious Johnson before Johnson defeated Benavidez for the belt. Now that Benavidez has defeated McCall too, the shakeup in the division isn't that great.
McCall vs. John Dodson would be the next obvious match to make to determine the current UFC flyweight pecking order.
Demian Maia: Soaring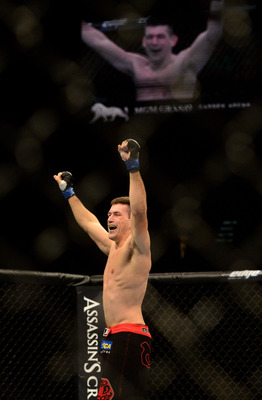 Mark J. Rebilas-USA TODAY Sports
How dramatically Demian Maia's career has turned at welterweight. Until recently, Maia was best known for being embarrassed by Anderson Silva at 185 pounds in a fight where the champion danced around his helpless opponent for almost five rounds.
A 170-pound Maia is a different beast. At UFC 156, he bullied his seasoned opponent, Jon Fitch, and won easily by decision.
The victory surges him ahead in the welterweight division, where he'll be now gunning for a top-five opponent to land him a title shot.
Jon Fitch: Plummeting
Mark J. Rebilas-USA TODAY Sports
After amassing one of the best records in MMA, Jon Fitch has now gone 1-2-1 in his last four matches.
In his last fight against dangerous Brazilian Erick Silva, he won convincingly, banishing memories of his first-round KO at the hands of Johny Hendricks in December 2011.
But the grappling he'd displayed in that match virtually deserted him as he spent most of his entire fight at UFC 156 defending Maia's relentless submission attempts.
Fitch now has his work cut out for him to remain in contention in the division.
Antonio Silva: Soaring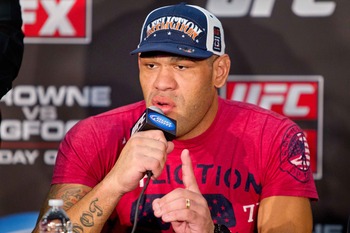 Bruce Kluckhohn-USA TODAY Sports
Not many people gave Antonio Silva a chance against former Strikeforce heavyweight champion, Alistair Overeem. But Silva emphatically silenced his detractors on Saturday night after he knocked out Overeem in the third round.
Silva had suffered back-to-back losses to Daniel Cormier and Cain Velasquez and was virtually written off as a serious contender last year until his win over Travis Browne.
However, Browne's injury in that fight still left question marks regarding Silva, which he some way answered at UFC 156.
To be fair, Overeem had dominated most of the fight and was heading toward a comfortable decision win, but he made the critical mistake of underestimating his opponent. Silva punished him with a barrage of punches to get the stoppage.
Considering Overeem was due a title shot against Cain Velasquez had he won on the night, this was a considerable coup for Silva.
Alistair Overeem: Plummeting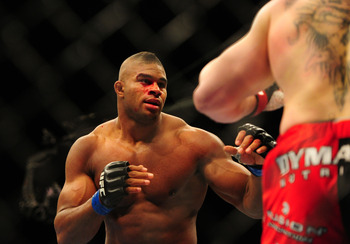 Mark J. Rebilas-USA TODAY Sports
For all the abundant talent Dutch veteran Alistair Overeem displays inside the cage, there is something distasteful about how he carries himself.
Perhaps it stems from his utter lack of contrition following his failed drug test in 2012, which inspired him to wear the "Haters Gonna Hate" T-shirt during the weigh-in.
Or it's the contemptuous way he disregarded his opponent, Antonio Silva, in the lead-up to Saturday night and throughout the fight.
But Silva was determined to teach him some respect, and that's exactly what he did. He humbled an arrogant Overeem, who must now wonder if he'll ever get that UFC title shot he's been dreaming of.
However, all is not lost for the Dutchman. He's still a highly regarded heavyweight who can challenge a top-five opponent such as former champion Junior dos Santos, with whom he's been developing a personal rivalry for more than a year.
But he is now precariously placed in the division, and surely another loss would mark him as an irrelevant heavyweight.
Antônio Rogério Nogueira: Rising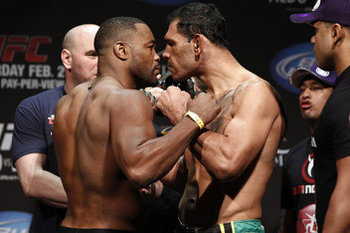 It was a close and somewhat boring contest between Antônio Rogério Nogueira and Rashad Evans, but the Brazilian stole the match with a unanimous decision.
While we didn't see much from either man in this fight, Nogueira's boxing and takedown defence proved clinical and technically proficient.
After suffering back-to-back losses in 2010 and 2011 against Ryan Bader and Phil Davis, Little Nog has now won two consecutive fights. Most notably, his win against Evan was against a man who recently fought for the title.
However, considering how stacked the light heavyweight division is right now, it's hard to say that this fight put him closer to a title shot.
Champion Jon Jones still has to face the winner of Lyoto Machida vs. Dan Henderson. After that fight, he has young stars Davis and Alexander Gustafsson to contend with, not to mention men like Glover Teixeira and Daniel Cormier also in his sights.
Where Nogueira falls among that bunch isn't clear after UFC 156.
Rashad Evans: Holding Steady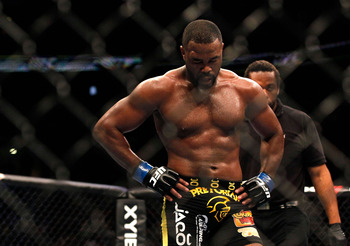 Kevin C. Cox/Getty Images
Rashad Evans lost his second match in a row—the first time that has happened in his career. But his last loss was to champion Jon Jones, and considering he was already at the back of the line for a rematch, the loss on Saturday hasn't pushed him any further back in the pack.
Dana White even talked about Evans dropping to 185 pounds to face the legend Anderson Silva, but that might not happen after this loss.
He's still an elite light heavyweight, and the possibility of dropping to 185 pounds to rejuvenate his career is also still there.
Jose Aldo: Rising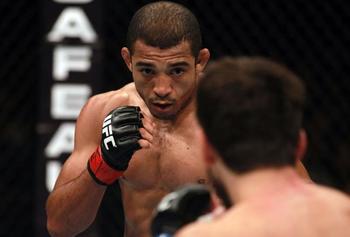 It was one of the toughest fights Jose Aldo has had in his career, but nevertheless he did enough at UFC 156 to defeat one of the toughest men on the planet, Frankie Edgar.
For much of the first three rounds, Aldo effectively negated the speed advantage Edgar had enjoyed at 145 pounds and lit him up with stiff jabs and leg kicks.
But he could not sustain the pace for five rounds. With his trademark guts and determination, Edgar stole the final rounds. But it wasn't enough for Edgar.
While it wasn't the most dominant performance we've seen from the featherweight champion, it was enough to reiterate his claim to be the No. 1 pound-for-pound fighter in the world.
Frankie Edgar: Falling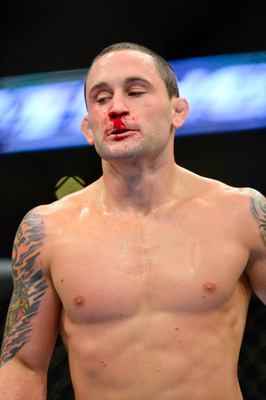 Ron Chenoy-USA TODAY Sports
Even after dropping to a weight division 10 pounds lighter, Frankie Edgar was dwarfed and bullied by Jose Aldo for much of their UFC 156 fight.
Little has changed since Edgar's memorable lightweight contests against Gray Maynard and Benson Henderson—fights in which he took great punishment but managed to "Rocky Balboa" his way to the scorecards, just as he did against Aldo.
But, like his two failures against Henderson, the judges awarded the fight to Aldo.
Talk of Edgar being among the best pound-for-pound fighters in the world must be put on hold for now. The best don't struggle like this in fight after fight.
Even though on another night the match might have gone his way, his three failures in a row now must leave him completely dejected.
Keep Reading