NBA Rookie Stock Watch: How This Year's Phenoms Stack Up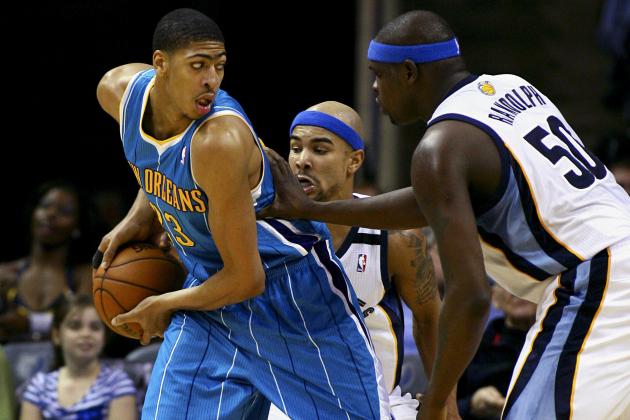 Spruce Derden-USA TODAY Sports

For most, this was a week to forget if you are an NBA rookie.
The most disappointing news of the week was hearing that Jared Sullinger's back will require surgery, which will force him to miss the remainder of the season.
Also, Bradley Beal has been placed on the shelf for the last couple games with a wrist injury, while both Michael Kidd-Gilchrist and Dion Waiters have struggled to find their rhythm.
Damian Lillard, Anthony Davis and Andre Drummond have seemingly lapped the rest of the field and ultimately solidified a position in the top three of the rookie rankings.
Begin Slideshow

»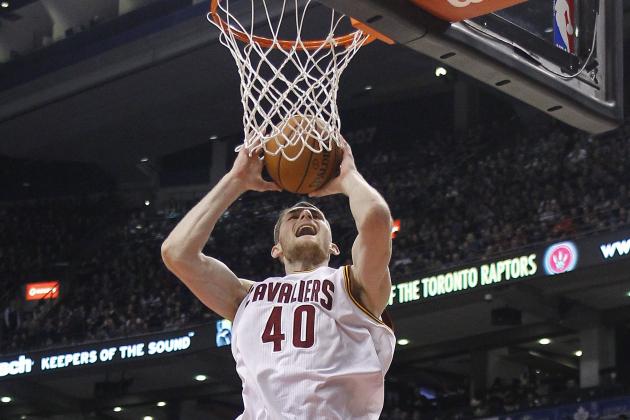 USA TODAY Sports

Stock Report: Steady
Last Week's Rank: 10
Tyler Zeller's grip on the final spot in the rookie rankings is starting to slip. Cleveland has reduced his minutes and has started playing small ball with Marreese Speights now in the rotation.
Zeller did score 16 points against the Golden State Warriors and grab 12 boards against the Toronto Raptors, but Speights gives the Cavaliers a completely different look between his strength and athleticism.
Don't look now, but Orlando's Moe Harkless is surging after a 19-point, 14-rebound game at Milwaukee and a 16-point game earlier in the week.
We'll see if Zeller can stick around despite the new timeshare up front.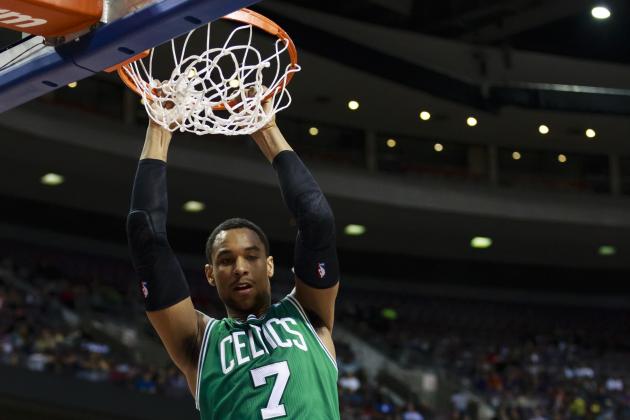 USA TODAY Sports

Stock Report: Down
Last Week's Rank: 8
News of Jared Sullinger's season-ending back injury couldn't have come at a worse time for Boston Celtic fans.
What's even more troublesome is that his back was an area of concern before the year even started, when NBA doctors red-flagged it just days before the draft back in June.
Sullinger finishes his season averaging a pedestrian six points and 5.9 rebounds per game, but the stats don't tell the story. The Ohio State product who slipped to No. 21 in the draft proved there's a place for him in the game as long as his body holds up.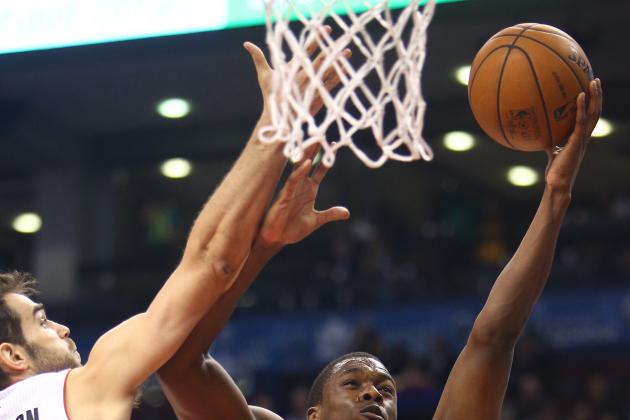 Tom Szczerbowski-USA TODAY Sports

Stock Report: Up
Last Week's Rank: 9
The best part about Harrison Barnes' 21-point, eight-rebound performance against the Suns is that he didn't attempt a three-pointer all night.
Barnes has been passive, spending much of his time on the perimeter, stretching the floor as a catch-and-shooter. Most recently, he's been doing a little more slashing and getting into the paint.
Against the Bucks, Barnes threw down a vicious slam attacking the rim in a situation where he might have settled for a three earlier in the year.
He's averaging 15.7 points and 5.7 rebounds over his last three games and is back on the rise amongst a class that's starting to fade.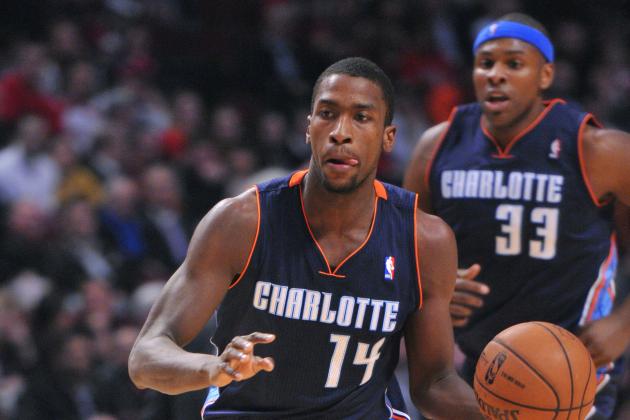 Rob Grabowski-USA TODAY Sports

Stock Report: Steady
Last Week's Rank: 7
Michael Kidd-Gilchrist suffered a concussion Saturday night, although it wasn't from the rookie wall that seems to have collapsed and landed on his head.
MKG hasn't scored in double figures or grabbed more than five rebounds in nine straight games.
All you can ask for at this stage in his career is that his motor is turned up on every possession. He's not capable right now of creating his own offense, and it's not easy to score without many playmakers in the lineup.
Defense, rebounding and finishing—these are the areas in which Kidd-Gilchrist needs to thrive while he waits for his offense to expand over time.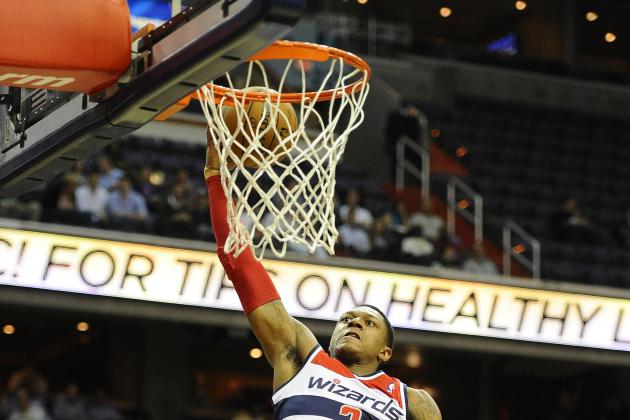 USA TODAY Sports

Stock Report: Down
Last Week's Rank: 5
Bradley Beal has missed the last three games with pain and stiffness in his wrist, which might have had something to do with the 4-of-16 he combined for against the Sacramento Kings and Chicago Bulls.
The injury came at a tough time for Beal, who was scorching hot for the first half of January, tallying five 22-plus-point games in a stretch of nine appearances.
Be patient with Beal. This is a bright young kid with loads of talent who just needs to find his sweet spots on the floor. Once he escapes from the adjustment process, you'll know why Washington grabbed him No. 3 overall.
USA TODAY Sports

Stock Report: Down
Last Week's Rank: 4
Dion Waiters' inconsistencies come with the territory of giving a perimeter-oriented scoring rookie offensive freedom.
He's alternated single-digit and double-digit scoring games over his last eight contests. Despite his impressive 14.2-point per game average, Waiters is shooting an uninspiring 37.9 percent from the floor, 32.1 percent from downtown and 76.9 percent from the stripe.
You don't need John Hollinger to tell you that Waiters is lacking in the efficiency department. A 12.24 PER is a number he might want to hide on his rookie resume.
Overall, though, he's illustrated a skill set that translates to the pros. Waiters is a potent scorer who can put points on the board in bunches, but he has to work on his shot selection. He's averaging more three-point attempts than free-throw attempts, a number that needs to flip-flop.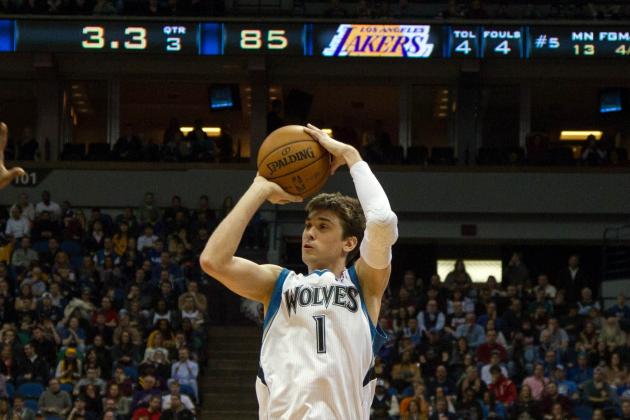 Brace Hemmelgarn-USA TODAY Sports

Stock Report: Up
Last Week's Rank: 6
Alexey Shved has looked sharp since returning from an ankle injury, averaging 14 points and 5.7 assists in his three games back.
Though his range hasn't been a strength, Shved knocked down a career-high five three-pointers against the Lakers, doing so off the dribble and spotting up around the arc.
Shved's size at 6'6" and ability to create off the dribble combine to form a unique skill set coveted in the NBA. Congratulations to Minnesota for finding an asset out of the box.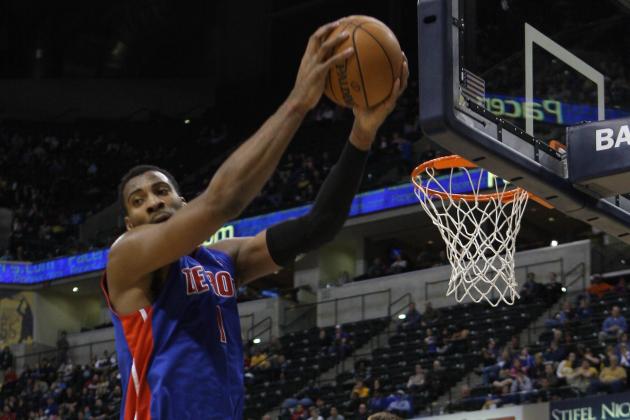 USA TODAY Sports

Stock Report: Steady
Last Week's Rank: 3
Andre Drummond was somewhat quiet in Detroit's win over the Cavaliers, but that's only because it's tough to make noise from the bench.
It was just another 4-of-4 night from the field, doing all he can to stay active and efficient in the 18 minutes he was given.
Drummond had arguably his best game of the year Tuesday against the Milwaukee Bucks, racking up 18 points and 18 rebounds on 9-of-15 shooting from the floor.
However, there is one glaring weakness in Drummond's game that's tough to ignore. Listen to this: He's only made four of his last 22 free-throw attempts. I had to triple-check that stat to make sure I wasn't hallucinating.
The only thing Detroit fans can hope for is that he gets more opportunities to expand on his strengths and work on his flaws.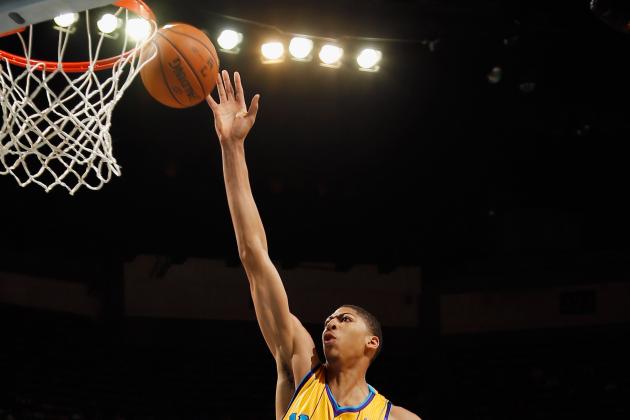 Chris Graythen/Getty Images

Stock Report: Steady
Last Week's Rank: 2
Anthony Davis has now scored in double figures 11 times in his last 12 games and is starting to find easy scoring opportunities on a routine basis.
He finished with 18 points against the Minnesota Timberwolves and went for 13 points, 10 rebounds and three blocks in Denver.
When you throw a 7'5.5'' wingspan on an active body that combines athleticism, mobility and instincts, you get a player whose presence is constantly felt. Once Davis' offense comes around in terms of creating shots and building confidence on the perimeter, the Hornets will have found themselves a special two-way player.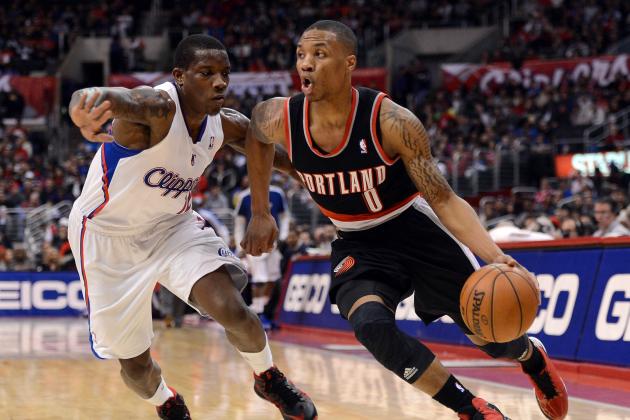 Harry How/Getty Images

Stock Report: Steady
Last Week's Rank: 1
It doesn't look like Damian Lillard has any plans of giving up his spot atop the NBA rookie rankings.
He's coming off a 23-point, eight-assist game in a win over the Utah Jazz, a stat line that's starting to look rather routine.
Lillard has settled into his role as the floor general of the Portland Trail Blazers and has already established himself as a member of the next wave of star point guards.
We'll give him another year or two before he's sporting a Western Conference All-Star jersey.