Ranking the Super Bowls During the Free Agency Era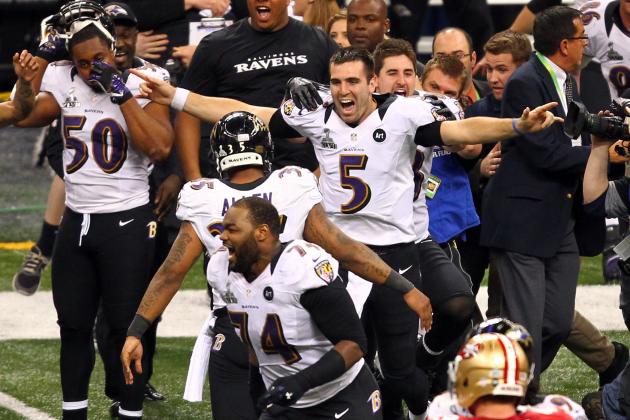 Dilip Vishwanat/Getty Images
The Baltimore Ravens celebrated their second Super Bowl win by beating the 49ers in Super Bowl XLVII.
Variety is the spice of life, or so they say.
The Baltimore Ravens' 34-31 victory over the San Francisco 49ers at New Orleans makes it three straight times and 10 of last 16 years that the Super Bowl has been decided by seven points or less. That's quite a contrast from before, when only seven of these games were decided by that same margin or less.
So what makes for a great Super Bowl? Competitiveness, flow of the game and memorable plays are the major factors when it came to ranking the last 20 Super Bowls dating back to the start of free agency, which began in the NFL in 1993.
And as for that variety, you will notice as you read a lot of different teams on the short end of the scoreboard in the Big Game. Since 1993, a dozen franchises have won at least two Super Bowls. And in regards to the 20 contests, 17 different teams have lost at least one Super Bowl during this stretch, more than half of the league's 32 clubs.
Enjoy the not-so ancient trip down memory lane.
Begin Slideshow

»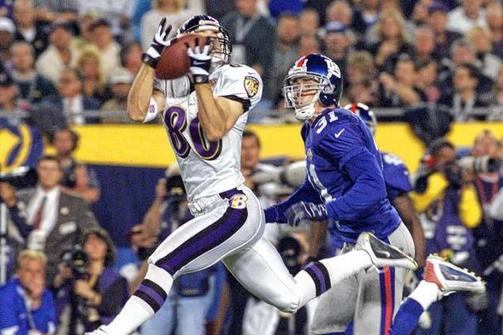 Photo courtesy: nydailynews.com
It was the crowning moment of one of the great defensive performances by a team in league annals.
Brian Billick's Baltimore Ravens had allowed just 165 points during the regular season, a record for a 16-game campaign. They proceeded to allow just 23 more in their four-game postseason run, giving up just one offensive touchdown in the process.
The New York Giants' lone touchdown in the 34-7 loss to the Ravens at Raymond James Stadium came via a kickoff return by Ron Dixon. Unfortunately for Big Blue, that followed a Duane Starks interception return for a touchdown and preceded a Jermaine Lewis kickoff return for a score, both for Baltimore.
That was the exciting part of the game.
All told, the teams combined for 396 total yards. But the most telling stat in this less-than-scintillating affair was the fact that the Ravens (3-of-16) and Giants (2-of-14) were a combined 5-of-30 on third down. Jim Fassel's Giants scored seven points and committed five turnovers, including four interceptions of quarterback Kerry Collins.
It was a tough watch indeed (unless you're a Ravens fan).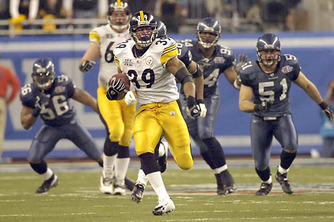 Photo courtesy: blackandgoldforever
Yes, this list of Super Bowls is obviously unofficial.
Of course, when it comes to Super Bowl XL, all most ever talk about are the officials.
There was certainly no shortage of controversy when it comes to the Pittsburgh Steelers' 21-10 victory over the Seattle Seahawks at Ford Field in Detroit.
There were some memorable plays. Steelers' running back Willie Parker ran 75 yards for a score, the longest run in Super Bowl history. And wideout Antwaan Randle-El threw a touchdown pass to game MVP Hines Ward.
The Steelers would become the first team to win three road games and go onto win the Super Bowl, a feat since duplicated by the 2007 New York Giants and 2010 Green Bay Packers.
But the onus to this day, right or wrong, remains on the "assist" by the black and white to the Black and Gold. From a controversial offensive pass interference call on Darrell Jackson in the first quarter to an offensive holding call on tackle Sean Locklear in the fourth, many believe the Seahawks were robbed of their first NFL championship.
Call it…the 12th man.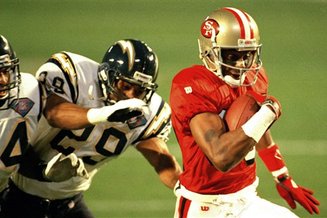 Photo courtesy: sports.yahoo.com
The San Diego Chargers' lone Super Bowl appearance featured a record-setting performance.
Unfortunately for the Bolts, the San Francisco 49ers bolted to a 14-0 lead faster than you can say Lance Alworth as Niners' wide receiver Jerry Rice (44 yards) and running back Ricky Watters (51 yards) scored on touchdown receptions less than five minutes into the game.
When it was all said and done, the Niners (appropriately) but 49 points on the board in their 23-point win at Miami.
Pro Football Hall of Fame quarterback Steve Young threw for 325 yards and managed to set a Super Bowl record by throwing six touchdown passes while there was a monkey on his back.
By game's end, the chimp was history and so were the Chargers, who at one time trailed 42-10 in the third quarter before helping to make this the highest-scoring Super Bowl in terms of combined points (75).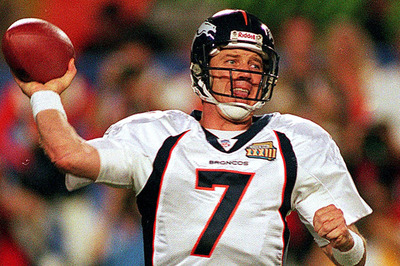 Photo courtesy: cbssports.com
There was plenty of excitement long before the Denver Broncos and Atlanta Falcons kicked things off in Miami.
But not the kind of excitement Dan Reeves' club was looking for as the one-time Broncos' head coach squared off against his former quarterback in John Elway.
An off-the-field issue concerning Falcons' safety Eugene Robinson the night before the game cast a bit of a shadow on this contest. And Robinson was clearly in the spotlight in the second quarter when the veteran defender couldn't catch up with Broncos' wide receiver Rod Smith, who would score on an 80-yard reception.
That touchdown gave Denver a 17-3 lead in a game where their advantage would swell to 31-6 in the fourth quarter. Amongst the scores was a touchdown run by Elway, who would throw for 336 yards and that aforementioned touchdown (and one interception) in what proved to be the final game of his Hall of Fame career.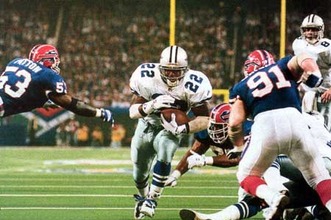 Photo courtesy: s64sports.blogspot.com
One year after the Dallas Cowboys rolled the Buffalo Bills, 52-17, in Pasadena in Super Bowl XXVII the teams were at it again, this time at the Georgia Dome in Atlanta.
And this time, instead of being down 28-10 at half, Marv Levy's team actually owned a 13-6 lead at intermission.
But the Bills were done for the night in terms of scoring, while game MVP Emmitt Smith was just getting warmed up. The NFL's all-time rushing leader would run for two touchdowns and finish with 132 rushing yards on 30 carries as the Cowboys would blank the Bills in the second half by a combined 24-0 score.
As it turned out, this would be the final game as Dallas head coach for Jimmy Johnson, who was let go by Jerry Jones a few months later.
It would also be the fourth straight Super Bowl loss for the talented Bills, whose roster consisted of numerous Hall of Famers (Thomas, Jim Kelly, Bruce Smith so far) but none that would be hoisting a Lombardi Trophy.
Photo courtesy: www2.tbo.com
So one year after the head coach that took you to the playoffs the previous two seasons is no longer with the team, you're now facing that head coach in the Super Bowl?
You can't make this stuff up.
Perhaps the Oakland Raiders should have, as in made up a different game plan in preparing to face Jon Gruden, the Tampa Bay Buccaneers sideline leader who used to command the Silver and Black.
When it was all said and done, Tampa's defense was at its opportunistic best, intercepting NFL MVP Rich Gannon five times and returning three for touchdowns (two by safety Dwight Smith) in the Bucs' 48-21 victory.
Gruden's well-prepared team owned a 34-3 third-quarter lead before Bill Callahan's Raiders started to make it interesting, scoring three straight touchdowns (and three failed two-point conversion attempts) to narrow the lead to 34-21 with 6:06 to play. But Gannon's second and third pick-sixes of the game sealed the deal for Tampa's first Super Bowl victory.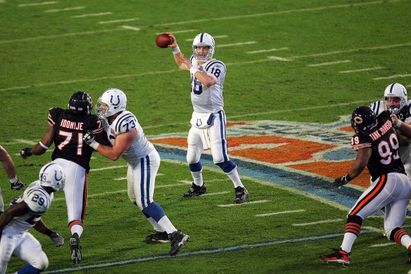 Photo courtesy: greenwichtimes.com
After many years of frustration, the Indianapolis Colts were NFL champions once again.
A mere 30 years after the then-Baltimore Colts edged the Dallas Cowboys, 16-13, in Super Bowl V at Miami's Orange Bowl, the Indy version won the first NFL title for the its city thanks to a 29-17 win over the Chicago Bears in rainy Miami.
The game got off to a rousing start as Bears' rookie Devin Hester did what he did most of his rookie campaign. Only this time he became the first person to return the opening kickoff in a Super Bowl for a touchdown.
But this day and night would eventually belong to Colts' quarterback Peyton Manning, who overcame an early interception by throwing for 247 yards and a score on his way to being named the Most Valuable Player of the game.
Still, it was hard to top what Colts running backs Joseph Addai and Dominic Rhodes did. The former ran for 77 yards on 19 carries, plus caught 10 passes for 66 yards. Rhodes rushed for 113 yards and a touchdown in the victory.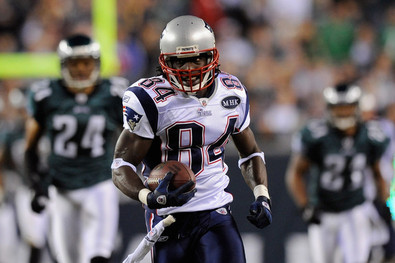 Photo courtesy: zimbio.com
The New England Patriots' third Super Bowl victory in four years lacked the suspense of the previous two titles, but that's not to say that it wasn't a competitive contest.
Andy Reid's Philadelphia Eagles jumped out to a 7-0 second-quarter lead but it was all even before halftime, and the clubs also traded touchdowns in the third quarter.
But Tom Brady and his team would score the first 10 points of the fourth quarter to take a 24-14 advantage only to see Eagles' quarterback Donovan McNabb throw his third touchdown pass of the game to narrow the gap to three points.
But McNabb would also throw his third interception of the contest soon afterwards and the Pats escaped with another championship.
And in a game where Patriots' wide receiver Deion Branch (11 catches for 133 yards) garnered MVP honors, it was the gutsy performance of Philadelphia wideout Terrell Owens (nine catches for 122 yards) that stole a little of Branch's thunder.
But not the title.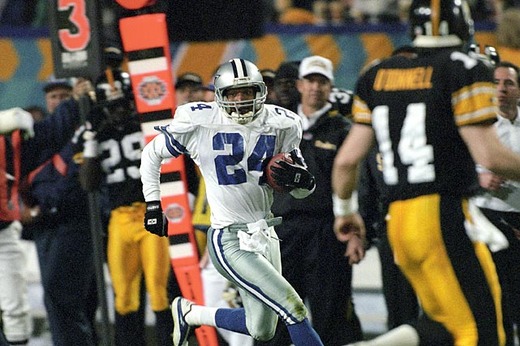 Photo courtesy: sportsillustrated.cnn.com
The right place at the right time?
A mere 17 years after their second Super encounter, the Dallas Cowboys and Pittsburgh Steelers clashed at Sun Devil Stadium.
The Pokes, now led by Barry Switzer, were looking for a third Super Bowl title in the four years. The Steelers, led by fiery Bill Cowher, were looking for their first NFL championship in 16 seasons.
This didn't look to be much of a game as the Cowboys pushed around the seemingly-nervous Steelers for much of the first half. But a late touchdown drive by Pittsburgh quarterback Neil O'Donnell narrowed Dallas' halftime lead to 13-7.
But that didn't last long. In the third quarter, O'Donnell threw the first of three interceptions, two by Cowboys cornerback Larry Brown, who both times looked like he was the only intended target.
Brown, who had contemplated leaving the team two months earlier due to a family tragedy, welcomed the gift picks en route to winning MVP honors. His second interception killed the Steelers' final hopes after Cowher's team had closed the gap to 20-17.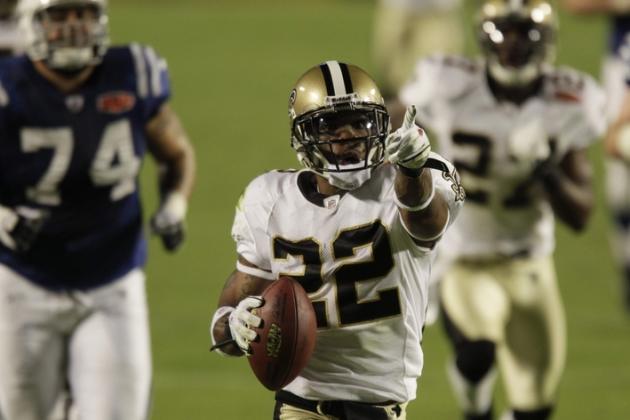 Photo courtesy: blog.al.com
If it's Miami, then it must mean Super Bowl time for the Indianapolis Colts.
In a strange twist of fate, Peyton Manning and Co. were back in the city where they won Super Bowl XLI three years earlier.
But this was a whole new experience for the New Orleans Saints, who were making their Super Bowl debut.
The Colts jumped out to a 10-0 first-quarter lead and the moment appeared that it might be too big for Sean Payton's club. But the Saints got a pair of field goals in the second quarter and were only down by four points at intermission.
Indianapolis was certain it was getting the ball back in the third quarter but Payton had other plans. A stunning onside kick attempt was successful and minutes later, the Colts were suddenly trailing, 13-10.
Manning and Co. responded five minutes later to take a 17-13 lead, but the Saints would own the fourth quarter, outscoring Indianapolis 15-0 the rest of the way. And cornerback Tracy Porter's 74-yard interception return for a touchdown was the capper in the 31-17 victory and the franchise's signature moment.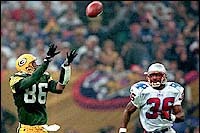 Photo courtesy: boston.com
The final score may indicate that this contest was all Green Bay Packers. But this was a far more entertaining game that night at the Superdome than some may remember.
The Pack jumped out to a 10-0 lead but by the end of the first quarter, the New England Patriots owned a 14-10 advantage thanks to a pair of touchdown passes by quarterback Drew Bledsoe.
Green Bay's Brett Favre didn't take long to put his team back on top, thanks to a 81-yard touchdown pass to wideout Antonio Freeman as well as a two-yard run by Favre to give Mike Holmgren's team a 27-14 halftime edge.
But Bill Parcells' Patriots would not go away, closing the gap to 27-21 on an 18-yard touchdown run in the third quarter. However, game MVP Desmond Howard returned the ensuing kickoff 99 yards for a touchdown, defensive end Reggie White added three sacks and it was party time in "Titletown."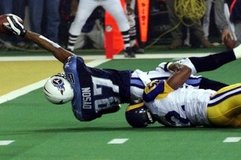 Photo courtesy: nj.com
What didn't look like much of a game for most of three quarters would eventually make up for lost time.
The decade of the 1990s hadn't been very kind to the Rams, who had left Los Angeles for the Gateway City in 1995 and were now singing the blues in St. Louis.
However, led by backup quarterback Kurt Warner, who got the job when Trent Green was injured in the preseason, as well as newly acquired running back Marshall Faulk, the Rams were suddenly a 13-3 team and in the Super Bowl for the first time in 20 years.
They would face the Titans, another team that had recently undergone a municipal makeover as the artists formerly known as the Houston Oilers were making their Super Bowl debut.
It was all Rams for most of the game, opening up a 16-0 lead at the Georgia Dome before Eddie George and Co. scored the next 16 points of the game to even the score.
But Warner, who threw for a Super Bowl-record 414 yards, connected with Isaac Bruce on a 73-yard score with 1:54 to play on a score that proved to be the difference. But not before Steve McNair and Co. drove downfield, where Kevin Dyson's catch and stretch to the Rams' one-yard line and Mike Jones' tackle ended the sudden thriller.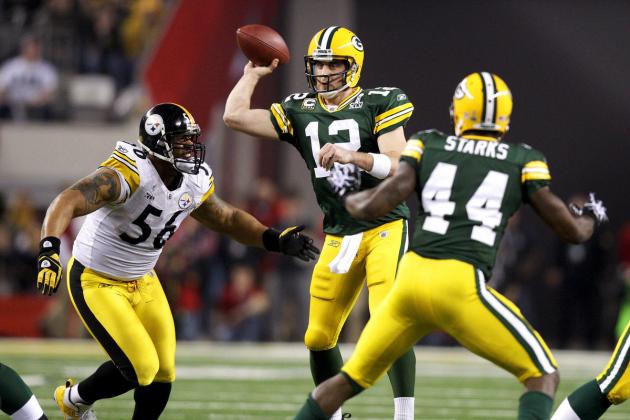 Photo courtesy: steveapps.com
Doing it the hard way was apparently the only way for the Green Bay Packers. And no team knew that better than the Pittsburgh Steelers.
Five years after the Black and Gold became the first team to win three road playoff games and a Super Bowl title, Mike McCarthy's Packers would turn the same trick, holding off the Steelers, 31-25, in Dallas, to capture their fourth Lombardi Trophy and 13th NFL title.
In this Super matchup of legendary franchises, the Packers jumped out to a 21-3 second-quarter advantage only to see Mike Tomlin's team narrow the gap to 21-17 early in the third quarter. But the Steelers would also finish the afternoon with three costly turnovers.
Meanwhile, Green Bay quarterback Aaron Rodgers was sharp even if his receivers weren't at times. The Packers signal-caller threw for 304 yards and three scores, completing 24-of-39 throws, and was the game's MVP, capping off an impressive postseason for the Packers' leader.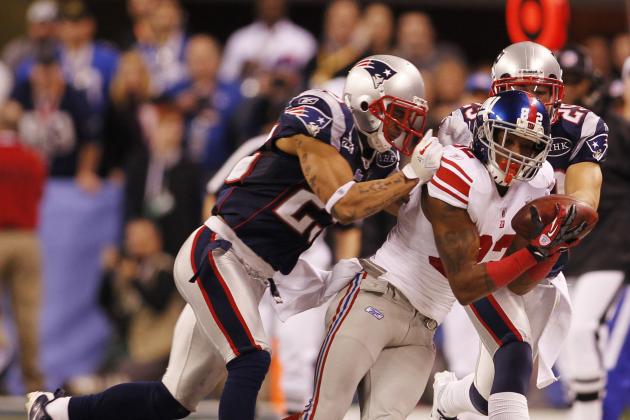 Photo courtesy: suttonstylepoints.com
In the second Super Bowl meeting between the teams in five seasons, the New York Giants and New England Patriots both took turns looking like the eventual champion.
Tom Coughlin's club jumped out to a 9-0 lead, only to see the Patriots grab a 10-9 advantage at halftime and stretch that edge to 17-9 in the third quarter.
But New York would score the final 12 points of the game and Eli Manning would do what he does best against the Patriots. Thanks to a spectacular sideline reception by wide receiver Mario Manningham, the Giants drove the field against the New England defense.
When running back Ahmad Bradshaw fell backwards into the end zone with 57 seconds to play, New York had the lead for good.
A Hail Mary attempt by Tom Brady came up short on the final play of the game and Big Blue had another Super Bowl win over the Red, White and Blue from Foxborough.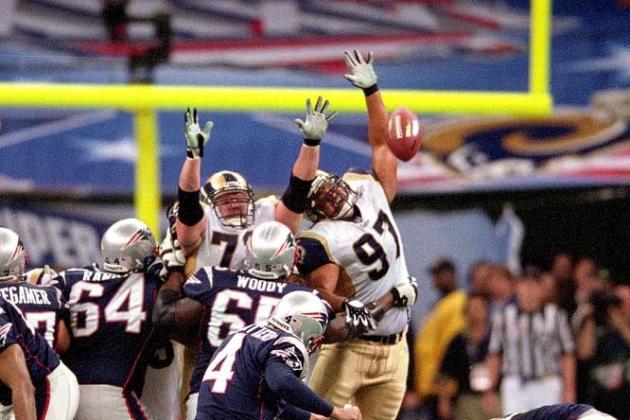 Photo courtesy: thecampussocialite.com
The St. Louis Rams so enjoyed their last Super Bowl experience that they were back for the second time in three seasons.
The New England Patriots were five years removed from their last Super appearance and plenty had changed since as head coach Bill Belichick and quarterback Tom Brady were now playing the roles of Bill Parcells and Drew Bledsoe, the latter still with the team.
While the Rams were expected to win, they found themselves down 17-3 in the fourth quarter before Kurt Warner led the Rams to a pair of touchdowns, the second enabling St. Louis to tie the score with 1:30 to play.
However, much to the chagrin of broadcaster John Madden, Brady and the Patriots used that final 1:21 to perfection and clutch placekicker Adam Vinatieri nailed a 48-yard field goal on the final play of the game to give New England their first Super Bowl victory.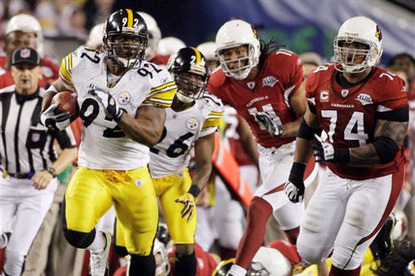 Photo courtesy: pittsburghsportsreport.com
What looked like a mismatch and legacy turned into one heck of game when it was all said and done.
The five-time champion Pittsburgh Steelers were making their second Super Bowl appearance in four years and seventh overall. The Arizona Cardinals were looking for their first NFL title since 1947.
Pittsburgh got off to a 10-0 lead before Kurt Warner and the Cards narrowed the gap to 10-7. And it looked like Ken Whisenhunt's team was about to take the lead just before halftime. But Steelers linebacker James Harrison baited Warner and it proved to be costly, picking off the pass en route to a record 100-yard interception return for a score.
Mike Tomlin's club then owned a 20-7 fourth quarter lead until 16 straight points, including a pair of Warner-to-Larry Fitzgerald touchdown connections, gave Arizona a 23-20 lead.
However, Ben Roethlisberger drove the Steelers 78 yards with the help of wideout Santonio Holmes, whose amazing tippy-toe six-yard touchdown catch with 35 seconds remaining gave the franchise a record sixth Super Bowl title.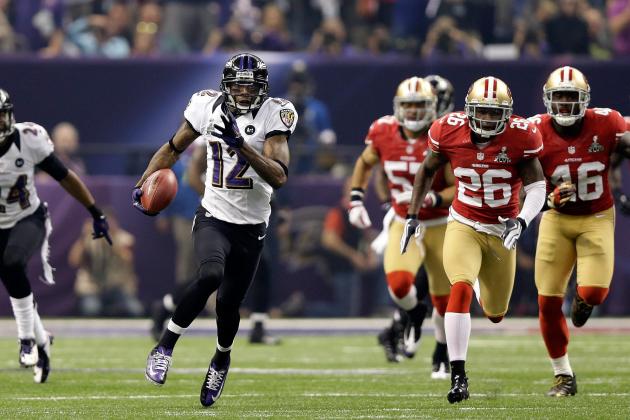 Ezra Shaw/Getty Images

Some may wonder why this possible instant classic isn't ranked first, second or third. But we call them like we see them.
The San Francisco 49ers would find themselves in catch-up mode all day at the Superdome and never caught the Baltimore Ravens, who opened up a 28-6 lead in the third quarter when kick returner Jacoby Jones took back a kickoff 108 yards for a score, the longest play in Super Bowl history.
Just when it looked like it was lights out for the Niners, the lights did go out at the Dome, delaying the game. When power was restored, so apparently was San Francisco, who went onto score the next 17 points of the contest to narrow the gap to 28-23.
The Ravens added another field goal, but back came San Francisco again thank to a Colin Kaepernick touchdown run to make it 31-29.
Yet another field goal by Baltimore's Justin Tucker extended the lead to 34-29, but here came the Niners again. Only this time, four plays from the Ravens' seven-yard line failed to produce a touchdown.
Baltimore took an intentional safety and made sure Niners' kick returner Ted Ginn wasn't a miracle worker, wrapping up the franchise's second Super Bowl win.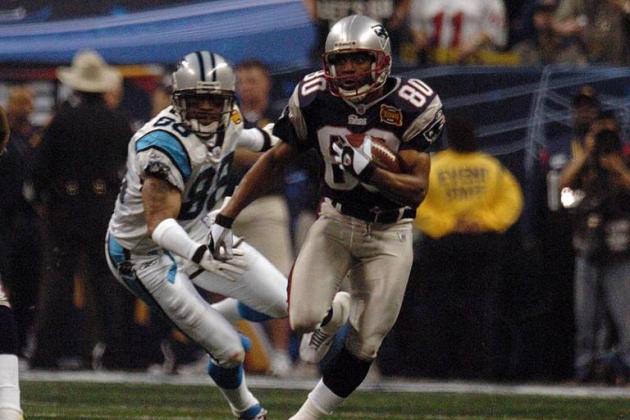 Photo courtesy: patriots.com
Talk about pacing yourself.
The New England Patriots and upstart Carolina Panthers both went nearly the entire first half without scoring a point. The teams would make amends starting with just over three minutes left before intermission.
The clubs traded scores twice and Panthers' kicker John Kasay's 50-yard field goal on the final play of the half narrowed the Patriots' lead to 14-10.
Amazingly, both teams' offenses continued to malfunction in the third quarter. But when Patriots' running back Antowain Smith scored on a two-yard run 11 seconds into the fourth quarter, the floodgates were open.
Eight minutes later, Carolina took its first lead of the day (22-21) and after the teams again traded touchdowns it was 29-all, with 1:08 to play.
Unfortunately, Kasay sent the ensuing kickoff out of bounds, game MVP Tom Brady made his way downfield and with 4 seconds to play, Adam Vinatieri's 41-yard field goal gave the Pats their second Super Bowl title.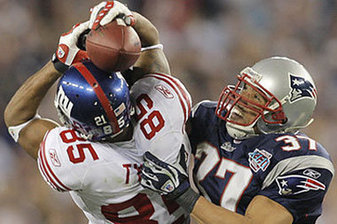 Photo courtesy: masslive.com
The New England Patriots' pursuit of perfection in 2007 ran into a Giant obstacle in Arizona.
Bill Belichick's team had set a new NFL record with 589 points, quarterback Tom Brady threw a league-record 50 touchdown passes and newly-acquired wideout Randy Moss caught an NFL-record 23 touchdown passes. And just a month before Super Bowl XLII, they had put a bow on all those marks with a 38-35 win over Tom Coughlin's New York Giants.
But this would be a different kind of a game for the Patriots and Brady, who entered the game with a chance to make history. But the leader of the 18-0 Patriots was sacked five times by game's end and watched his team score only 14 points.
Still, New England took a four-point lead with 2:42 remaining on a Brady-to-Moss six-yard touchdown connection.
But Eli Manning and his team were not done. The Giants' quarterback led his team downfield and his escape from the Patriots' pass rush combined with wideout David Tyree's amazing helmet catch kept the ball moving downfield.
And when Manning found Plaxico Burress for a score with 35 seconds to play, the moment eventually proved to be a perfect ending for an improbable Super Bowl champion.
Photo courtesy: imageslides.com
In some ways, it remains one of the best but also one of the most unsung Super Bowl in the entire 47-year history of the series.
Quarterback Brett Favre and the Green Bay Packers were defending Super Bowl champions. The Denver Broncos were making their fifth Super Bowl appearance and still looking for their first NFL title.
Mike Shanahan's wild-card team also came to this game holding the AFC flag in terms of pride, as the NFC had prevailed in the previous 13 Super Bowls, some of those of the very ugly variety and the Broncos on the losing end of three of those 13 setbacks.
But this was a different Denver team, led by quarterback John Elway (whose "whirlybird" imitation running for a first down is one of the great moments in Super Bowl history) but fortified by running back Terrell Davis, who would rush for 157 yards and three scores by game's end.
For the only time in a Super Bowl, both teams scored touchdowns on their first possession. Denver opened up a 17-7 lead only to see Green Bay tie it and the clubs were knotted at 24-24 early in the fourth quarter. But Davis' third score (with an assist from a gracious Packers' defense) proved to be the difference.
Broncos' owner Pat Bowlen proclaimed after the game, "This one's for John."
Fortunately, we all got to see it.