Notre Dame has a national championship appearance in the BCS era, a coach that rebuffed NFL offers and a talented group of younger players to replace the ones leaving for the NFL. That being said, it's not surprising recruits are lining up to head to South Bend, and that this will be head coach Brian Kelly's best recruiting class to date.
Top to bottom, Notre Dame figures to be loaded next season—both in current players and incoming recruits from the 2013 class.
QB Everett Golson will continue to improve under Kelly's tutelage and with the experience he gained as the signal-caller for a one-loss team. Louis Nix III is returning on defense, and the skill players on the outside will grow the same way their QB is slated to.
Recruits are noticing that the Irish are on the rise.
Different scouting groups have different rankings on schools each year, but you'd be hard-pressed to find a credible site that ranks the Irish anywhere out of the top five when it comes to overall ranking. When you have guys like Jaylon Smith, Max Redfield, Hunter Bivin and Greg Bryant wanting to come play for you, it's no surprise.
Sure, the prestige of Notre Dame will usually be enough to help the Irish jump into the top 20 of ranking boards when national signing day is over—they did it for years when the program was struggling under Charlie Weis.
However, the feel around the Golden Dome is different these days, and you need look no further than some of the recruits that have held true to the Irish during what could have been a disaster period for both the school and the recruits themselves.
For starters, Kelly fielded NFL offers less than 24 hours after his Irish lost to Alabama in the National Championship, reportedly declining an offer from the Philadelphia Eagles at the end of the process.
Then, the Manti Te'o scandal broke, and the University looked extremely embarrassed with both their own handling of the situation and the fact that they let the most publicized player from the school in the last decade be involved in something so disheartening.
Recruits have been largely unfazed, and the list keeps growing.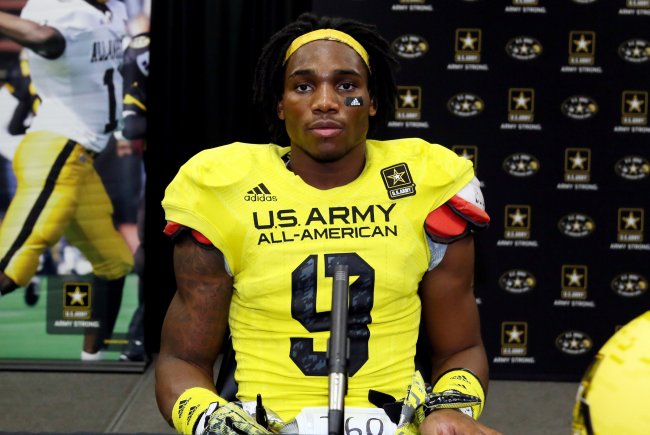 USA TODAY Sports
Smith rebuffed a late push from Michigan (h/t Detroit Free Press) to remain in South Bend, and his quote over the weekend helped prove that he's a Golden Domer through and through—without a day of class under his belt:
He told me there was still a spot at Michigan for me if anything changed, Smith said. I appreciated that, but nothing was going to change. The Golden Dome isn't going anywhere.
The 5-star LB from Indiana headlines the list of recruits for the Irish that are sticking with South Bend despite many distractions, but he's not the only one.
If Tarean Folston's high school head coach John Wilkinson is to be believed, Folston is headed to the University of Notre Dame. Wilkinson told MaxPreps that Folston is "solid" to Notre Dame just a little under a week until the Feb. 6 event. Should that be the case, Folston and Bryant will likely battle it out for carries as first-year players, but the Irish got two blue-chip running backs to come to town without much opposition.
Five kids enrolled early, including Corey Robinson—the freakish athlete and son of former NBA star David Robinson—and the Irish have also picked up late recruits over the past two weeks. One of those is Durham Smythe, the Texas native and TE prospect that decommitted from the Texas Longhorns earlier in the process.
Will Notre Dame's recruiting class finish No. 1 after NSD?
Notre Dame got a verbal commitment from Smythe after his visit on Jan. 27, and there's sure to be a few more pieces that fall into place.
Simply put, the Irish are quietly dominating this year's recruiting class, and with a solid national signing day, they could very well end up as the No. 1 school when it's all said and done.
Success will do that to a program.
Ethan Grant is a featured columnist for B/R's Breaking News Team.