7 Reasons The Miz Needs a Sidekick in WWE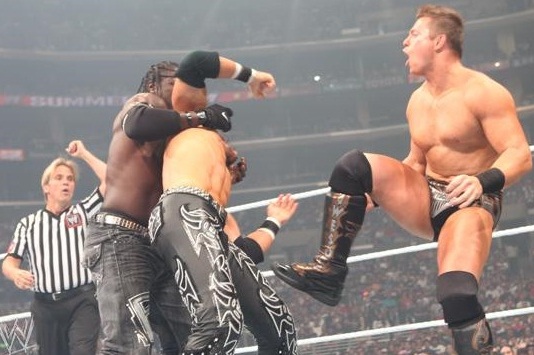 Photo courtesy of WWE.com
Ever since he main-evented WrestleMania 27 against John Cena, The Miz has had a bit of a rocky ride in the WWE.
After surprising everyone by having a lengthy reign with the WWE Championship, his fall from grace has been just as surprising.
The Miz hasn't gotten anywhere close to the level he was at in early 2011, spending much of 2012 as a forgotten midcarder. Now, he's struggling to adapt to his new role as a babyface.
Just what's wrong with The Miz ? Well, a lot of things.
But if we're going to try to figure out what is really hurting The Miz these days, consider what he's missing now that he's almost always had: a sidekick.
Here are 7 reasons why The Miz needs a sidekick to get back on track.
Begin Slideshow

»
The Miz has spent only a small portion of his career on his own, and it hasn't worked out too well for him.
He struggled mightily as a singles star in the early stages of his career, and since parting ways with Alex Riley in mid-2011 and then R-Truth later that year, he hasn't adapted well to flying solo.
Over the last year or so, The Miz hasn't done a whole lot of note when on his own.
He became a complete afterthought on the road to WrestleMania 28, missed more than a month of TV time later in the year, had a so-so reign as Intercontinental Champion and then has had a pretty bad run as a babyface so far.
Whether this is a coincidence or not, The Miz has simply been stuck in a rut without a partner by his side.
While there have been flashes of greatness from The Miz as a singles star, he hasn't been able to consistently prove that he can be a top guy without having a sidekick help him out.
It seems like the WWE is more worried about pushing The Miz as a talk show host than an actual wrestler.
While that's certainly a questionable philosophy on the part of the creative team, the WWE seems hellbent on holding MizTV segments just about every week now.
Unlike guys like Chris Jericho, Edge or even Christan, though, The Miz hasn't proven to be a great talk show host so far.
He comes off as annoying and too forced, and he needs to do something to change that.
How about a co-host?
With The Miz not really being a strong enough character/performer to host MizTV on his own, giving him a co-host might be a great way to improve the talk show segments, which haven't really been all that good.
The WWE is clearly using MizTV to try to get The Miz over, but if he continues to struggle with hosting the show by myself, perhaps the company should bring someone in as his sidekick to improve the quality of these segments.
If a superstar is talented but needs something to improve the quality of his character, oftentimes the creative team will give him some sort of sidekick.
We've seen that happen plenty of times over the past few years, and it's usually worked out very well.
Vickie Guerrero was paired with Dolph Ziggler, and she helped him become one of the WWE's top heels. AJ started "dating" Daniel Bryan, and she played a big role in Bryan evolving into the most over performer in wrestling last year.
Kane and Bryan were forced to attend "anger management" together, and they eventually formed a ridiculously entertaining tag team that was arguably the hottest act in all of pro wrestling late last year.
You see the point. You pair two performers together, and usually, this makes both characters more interesting and more entertaining.
The Miz needs that right now.
Despite the babyface turn, his character is still pretty stale and not all that interesting, and it's absolutely imperative that the WWE does something to change that.
Being paired with someone else worked wonders for Ziggler, AJ, Kane and Bryan, among others. It might do the same for The Miz.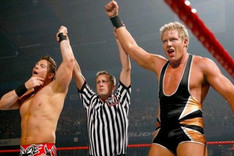 Photo courtesy of WWE.com
It's been quite a while since The Miz so much as sniffed the top of the card.
The last time he did? When he teamed up with R-Truth to take on The Rock and John Cena in the main event of Survivor Series.
Whether by default or design, The Miz was last seriously pushed as a main-event caliber performer not when he was flying solo, but rather, when he was paired with someone else.
That seems to happen a lot in the WWE these days.
If you look at some of the superstars who've made it to the main-event picture over the last couple of years, many of them have had a sidekick: Vickie Guerrero with Dolph Ziggler, Daniel Bryan with AJ/Kane, Ricardo Rodriguez with Alberto Del Rio, etc.
There's a reason why the WWE utilizes sidekicks—they can be the final catalyst that pushes a guy up a level from the midcard to the main event.
With The Miz having difficulties with moving up the card, a sidekick might be what he needs to take him there.
Superstars are often paired together to highlight each others' strengths and hide each others' weaknesses.
That's why you see the very bland Jinder Mahal with a really charismatic guy like Heath Slater in 3MB or why you see the struggling Sin Cara paired with Rey Mysterio.
It's also why The Miz needs to be paired with a sidekick.
While "the most must-see WWE Champion in history" is a good overall performer, he does have weaknesses that need to be hidden or minimized, mainly his inability to adapt to his role as a babyface and the fact that he can be super annoying.
Obviously, a good way to make the fans overlook those weaknesses is to pair up The Miz with someone who makes up for those weaknesses.
If, for example, you put The Miz with a babyface who really knows how to get the crowd to like him (someone like Chris Jericho, perhaps), you could use Jericho to do the things that The Miz doesn't do particularly well.
This is done in pro wrestling all the time, and should The Miz continue to struggle with his weaknesses outshining his strengths, he may need to do it, too.
Let's just be honest: The Miz has been pretty atrocious as a babyface so far.
Many fans (myself included) expected him to have absolutely no problem with transitioning from a bad guy to a good one, but that just hasn't been the case. At all.
The Miz receives only lukewarm reactions from the crowd, he's still way too annoying and arrogant, and he hasn't adjusted his character enough to make it more fitting of a babyface.
By all accounts, The Miz is doing a poor job of tweaking his gimmick to make it more likable, which has just as much to do with the creative team as it does The Miz himself.
Creative hasn't given him the right material to give us reasons to cheer for him, and unless it does so soon, his babyface run may fail miserably before it's ever really given the chance to succeed.
That is, unless the WWE gives The Miz a sidekick to help him get over as a babyface.
The company has already sort of done this with Ric Flair, but since Flair isn't really back on a full-time basis, it might need to use someone else as The Miz's pair.
The Miz just can't seem to cut it as a babyface on his own, so perhaps giving him a manager, tag team partner or other type of sidekick could turn his face character's fortunes around.
The Miz is at his worst when flying solo, and it's because he's at his best when part of a duo.
If you look back throughout The Miz's lengthy WWE career, it's pretty clear that his best runs and moments came when he had someone by his side.
The Miz first made a real name for himself in the WWE when he was tagging with John Morrison, and he would then move on to another memorable partnership with Big Show.
Later on in his career, The Miz would form an entertaining mentor/protege relationship with Alex Riley and then move on to become a "conspiracy theorist" of sorts with R-Truth.
Now, let's pose a question: What do you have fonder memories of? The Miz's Intercontinental title reign or his runs with Truth or Morrison?
Exactly.
Not that The Miz isn't a good solo performer, it's just that he is undoubtedly at his absolute best when he has a sidekick—whether that's a protege or partner—to play off of.
Some of the most entertaining work of The Miz's career came on "The Dirt Sheet" with Morrison and when he was wreaking havoc on the entire WWE with Truth.
Coincidence? I think not.
The bottom line is that The Miz is simply one of those guys who works better when someone's by his side than he does when he's by himself.
Drake Oz is a WWE Featured Columnist for Bleacher Report. Follow him on Twitter!