UFC 156: Top 10 Welterweights in the UFC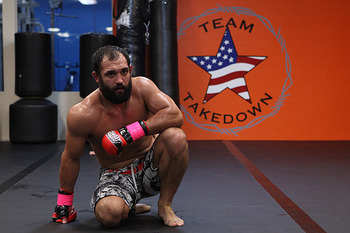 sherdog.com
All the attention leading up to UFC 156 was completely focused on the Jose Aldo vs. Frankie Edgar superfight and the return of UFC cash cows Alistair Overeem and Rashad Evans.
But as good as those fights were, none of them gave insight into how dynamic and deep the UFC welterweight division has become entering 2013.
From Demian Maia's grappling destruction of Jon Fitch to former Strikeforce contender Tyron Woodley securing a 36-second knockout of Jay Hieron in his promotional debut, UFC 156 revealed a portion of the division's future.
Here's how the 170-pound crop stacks up as six of the top fighters prepare to battle in March at UFC 158.
On the Verge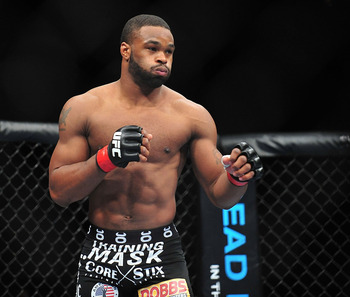 cagepotato.com
Gary A. Vasquez-USA TODAY Sports
Tyron Woodley—After dismantling Jay Hieron in less than one minute at UFC 156 in his promotional debut, Woodley made an instant statement to the division. He's young, hungry, powerful and capable of knocking off some very tough veterans.
Nate Marquardt—Regardless of losing his last fight to Tarec Saffiedine to close out Strikeforce's final event, Marquardt is still one of the more technically sound welterweights around. His UFC homecoming should be entertaining at the very least.
Matt Brown—Finishing Mike Swick not only proved that Brown has what it takes to fight some of the best welterweights in the UFC, but it proved that he's capable of winning four fights in a row and still fly under the radar afterwards. A decisive win over Dan Hardy in April should give him a top-10 opponent later this year.
Thiago Alves—As long as Alves is still on the UFC roster he'll forever be a welterweight star on the verge of top-10 success. He hasn't fought in nearly a year, but a return victory should launch him back into the upper echelon of contenders.
10. Josh Koscheck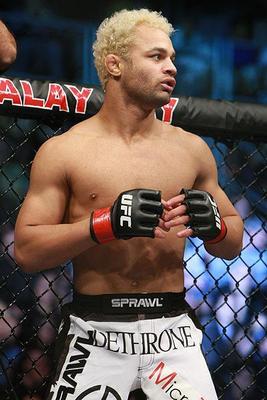 koanicsoul.com
Last Five: 3-2

Most Notable Wins: Matt Hughes; Mike Pierce; Diego Sanchez; Paul Daley

Next Fight: Robbie Lawler at UFC 157
Josh Koscheck hasn't fought since May, but his divisional track record and ability to bounce back from defeat still land him in the top 10.
The bottom line is that "Kos" still has some of the best wrestling skills around and could easily knock off anyone on this last not named Georges St-Pierre.
He'll return in fashion late in February when he welcomes home Lawler at UFC 157.
9. Jon Fitch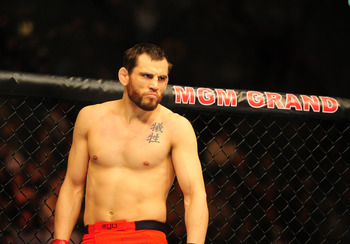 Mark J. Rebilas-USA TODAY Sports
Last Five: 2-2-1

Most Notable Wins: Thiago Alves; Diego Sanchez; Erick Silva

Next Fight: N/A
It's no secret that Jon Fitch doesn't finish fights. Now while that ultimately hurts his mass appeal amongst newer UFC fans, it also affects his ability to defeat top welterweight contenders.
His efforts opposite Demian Maia at UFC 156 were no different.
Fitch got outgrappled, outpowered and outclassed against one of the hottest fighters in the UFC today. His troubles have affected his overall stock as a top contender in the division, and this subsequently lands him at No. 9.
8. Jake Ellenberger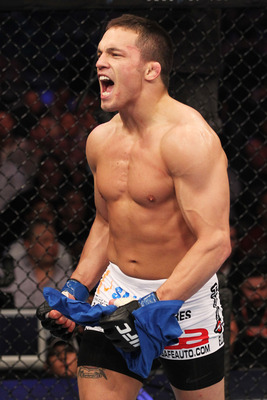 fiveouncesofpain.com
Last Five: 4-1

Most Notable Wins: Jake Shields; Diego Sanchez; Mike Pyle

Next Fight: Johny Hendricks at UFC 158
Jake Ellenberger has been one of the most productive welterweights in the world over the past few years. But the one thing that holds him back is a victory over a top-five contender.
The fact of the matter is that Ellenberger has dropped two heartbreaking losses to Martin Kampmann and Carlos Condit in his UFC career that have ultimately derailed his title hopes.
If he can get past the red-hot Hendricks at UFC 158, he'll finally have that notable victory to launch him into immediate contention.
7. Demian Maia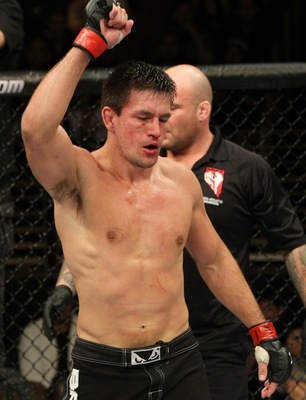 fiveouncesofpain.com
Last Five: 4-1 (3-0 divisional)

Most Notable Wins: Jon Fitch; Dong Hyun Kim; Rick Story

Next Fight: N/A
One might argue that Demian Maia has what it takes right now to stifle the power wrestling and perfected takedowns of welterweight champion Georges St-Pierre, but that doesn't help the fact that he still hasn't beaten a top-five name.
Dismantling Jon Fitch at UFC 156 will certainly propel him into the upper echelon of contenders, but as it stands right now, Maia is stuck behind a long list of formidable title seekers.
So even though he's now an undefeated 3-0 in the welterweight division, he just hasn't done enough to land higher than No. 7.
6. Martin Kampmann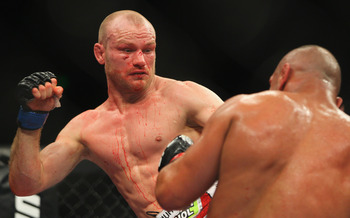 Mark Kolbe/Getty Images
Last Five: 3-2

Most Notable Wins: Carlos Condit; Jake Ellenberger; Thiago Alves

Next Fight: N/A
Despite getting destroyed by Johny Hendricks at UFC 154, Martin Kampmann is still one of the toughest and most noteworthy welterweights around.
His recent comeback finishes over Ellenberger and Alves are still fresh enough to keep him just outside of the top five.
As long as he can capture victory in 2013, Kampmann should stick around for the foreseeable future. Heck, a rematch with Ellenberger might be in the works depending on the outcome of UFC 158.
5. Rory MacDonald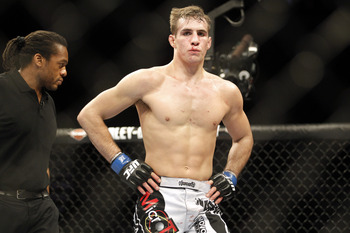 Joe Nicholson-USA TODAY Sports
Last Five: 4-1

Most Notable Wins: BJ Penn; Nate Diaz; Che Mills

Next Fight: Carlos Condit at UFC 158
Besides losing to Condit back at UFC 115 in just his second promotional fight, Rory MacDonald has been perfect inside the Octagon.
The 23-year-old has displayed the skills of a champion, the patience of a veteran and the hunger of a top contender.
If he can revenge that lone UFC defeat to Condit when the two meet again in March, MacDonald could be on the fast track to a title fight later this year. Fellow Canadian and current champion Georges St-Pierre better watch his back.
4. Nick Diaz
Kelvin Kuo-USA TODAY Sports
Last Five: 4-1 (1-1 UFC)

Most Notable Wins: BJ Penn; Frank Shamrock; Evangelista Santos; Paul Daley

Next Fight: Georges St-Pierre at UFC 158
As much as Nick Diaz deserves to be in the top three, he just hasn't done enough inside the UFC to warrant that type of respect.
Sure he's one of the toughest pound-for-pound fighters on the planet, but a loss to Carlos Condit at UFC 143 and a lengthy suspension have dropped him a few notches on the divisional ladder.
Fortunately for the brash Californian, the UFC has granted him a title shot based on popularity and an overwhelming disrespect for GSP. It will no doubt be the biggest fight of his career.
3. Johny Hendricks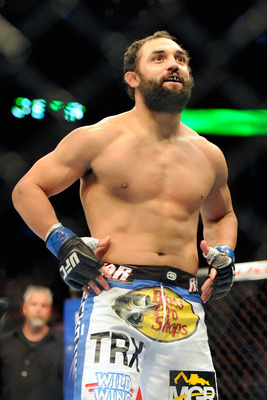 Eric Bolte-USA TODAY Sports
Last Five: 5-0

Most Notable Wins: Martin Kampmann; Jon Fitch; Josh Koscheck

Next Fight: Jake Ellenberger at UFC 158
Johny Hendricks is becoming one of the best knockout specialists in the sport today.
Nobody in recent welterweight division history has been able to secure victories the way Bigg Rigg has. From sending Kampmann flying across the cage to finishing the gritty Fitch, Hendricks has walked his way to a 9-1 UFC record.
If it weren't for Nick Diaz's mass appeal, Hendricks would be fighting Georges St-Pierre for the welterweight title at UFC 158. Instead, he'll take on the hard-hitting Ellenberger.
A tough matchup, but one that should end with another finish by the cement-handed Hendricks.
2. Carlos Condit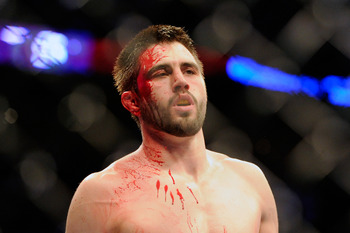 Eric Bolte-USA TODAY Sports
Last Five: 4-1

Most Notable Wins: Nick Diaz; Rory MacDonald; Jake Ellenberger; Dong Hyun Kim

Next Fight: Rory MacDonald at UFC 158
Despite recently losing to Georges St-Pierre for the welterweight title at UFC 154, Carlos Condit's divisional track record is too prolific for him to be anywhere lower than No. 2.
Quite frankly, Condit did such a good job against GSP that if the UFC had granted him an immediate rematch, nobody would have objected.
As long as he can stop the runaway momentum of MacDonald for a second time, The Natural Born Killer could find himself in another title fight before St-Pierre's superfight gets in the way.
1. Georges St-Pierre
mirror.co.uk
Last Five: 5-0

Most Notable Wins: Carlos Condit; Jake Shields; BJ Penn; Jon Fitch; Matt Hughes; Josh Koscheck

Next Fight: Nick Diaz at UFC 158

Obviously the best welterweight on the planet, Georges St-Pierre is looking to knock off the remaining top contenders in the division before stepping up to fight Anderson Silva.
As long as he can stay healthy and keep his chin in check, the Canadian superstar should have no problem controlling Diaz and eventually outlasting Johny Hendricks.
Ironically, his biggest test heading into the future will most certainly come against fellow Tristar training partner Rory MacDonald. That fight could ultimately spell GSP's departure from the division as he passes the welterweight title torch to his young predecessor.
For more UFC/UFC 156 news and coverage, Follow @DHiergesell
Keep Reading