Ranking the Top 25 NCAA Basketball Teams at Week 14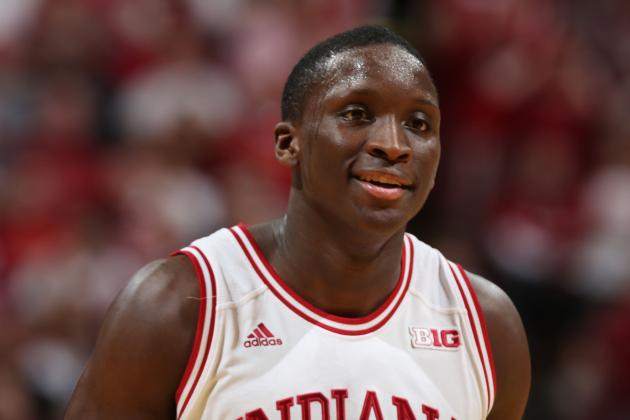 Brian Spurlock-USA TODAY Sports

This week's power rankings are brought to you by the missed dunk that was so spectacular even as a miss that it deserves to be run on a loop (via Big Lead Sports).
Victor Oladipo and the Indiana Hoosiers delivered on Saturday night even if the almost oop didn't go through. We finally have two teams (Indiana and Florida) that at the moment look to be a cut above everyone else.
The top two are pretty easy to pick out. Sorting out the next 23 is as tough as keeping the lights on at the Super Bowl.
All advanced stats, unless otherwise noted, come from KenPom.com.
Begin Slideshow

»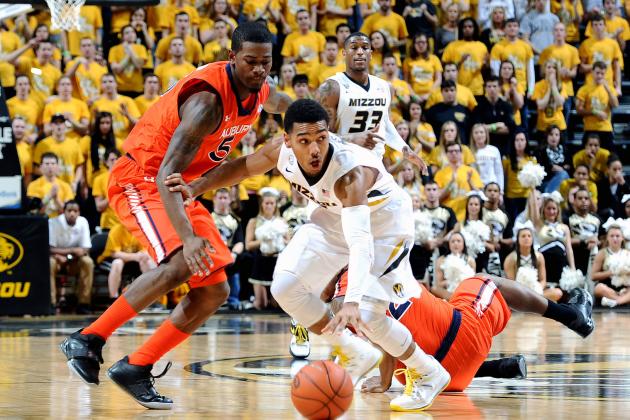 Dak Dillon-USA TODAY Sports

Why They're Here: College basketball had two of the most impressive one-basket performances in recent memory this week.
You probably heard about Nerlens Noel and his 12 blocks against Ole Miss. Missouri's Phil Pressey delivered a gem of another variety on Saturday against Auburn, dishing out 10 assists.
Pressey took a season-low two shots and that could be a good sign for the Missouri Tigers. They're finally getting healthy with Laurence Bowers back.
Noel makes Kentucky scary to play because of his defense, and Pressey has that same sort of impact with his vision and passing. The key for the Tigers might be Keion Bell and not Bowers.
Bell, who missed the loss at LSU, came back to score 24 points against Auburn. We saw last year how effective the MU offense can be with wing scorers next to Pressey.
Next Real Test: Mizzou gets a rematch against Ole Miss on Saturday. The Rebels got the Tigers by 15 points in Oxford.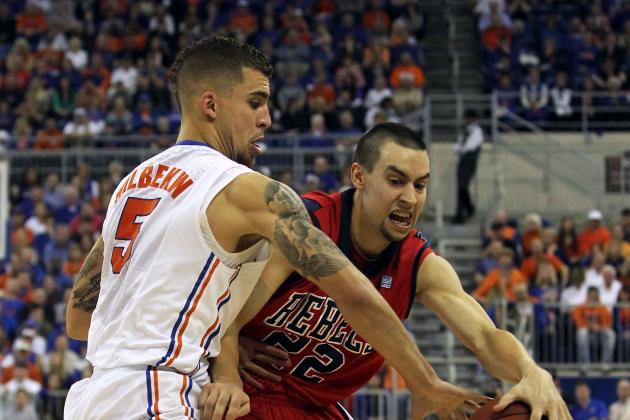 Kim Klement-USA TODAY Sports

Why They're Here: If last Tuesday was your first time tuning in to the Marshall Henderson show, all you really witnessed was a chucker with a bad haircut.
Is that it? Is that what all this hub-bub was about?
Jimmer with Devil Horns put up the points (22), but he shot 2-of-11 from three. It was hardly impressive.
Henderson did not disappoint from a shooting standpoint in Saturday's loss to Florida, pouring in 25 points on 7-of-11 shooting from distance, but the Ole Miss Rebels were not quite ready to run with the Florida Gators and lost by 14.
This is still a pretty good team with an overly confident, big-mouthed shooter. We just needed to temper expectations a bit.
Next Real Test: A trip to Missouri on Saturday.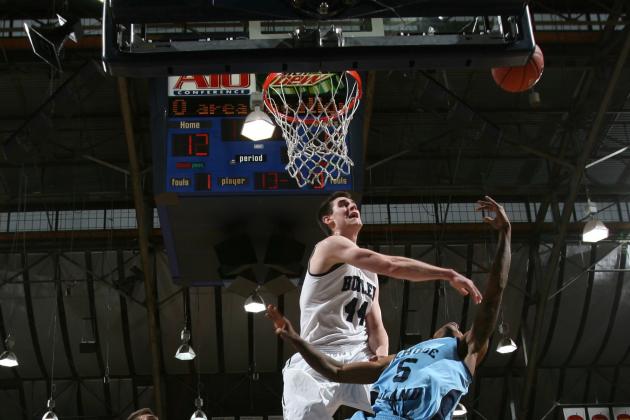 Brian Spurlock-USA TODAY Sports

Why They're Here: Only three teams outside of the current Power Rankings' top 10 have multiple wins against the teams in the top 10.
Arizona, Illinois and Butler.
The Butler Bulldogs hit a bit of a skid lately losing two games in eight days to La Salle and St. Louis, but we've seen what they're capable of.
They also get a bit of a pass for losing to La Salle as leading scorer Rotnei Clarke was still out with his neck injury. The performance at Saint Louis was an odd one. Brad Stevens' team is usually one that doesn't beat itself, but the Bulldogs gave away 23 turnovers at Saint Louis, which was the most in the Stevens' era.
Next Real Test: Butler gets a shot at redemption against Saint Louis on Feb. 22.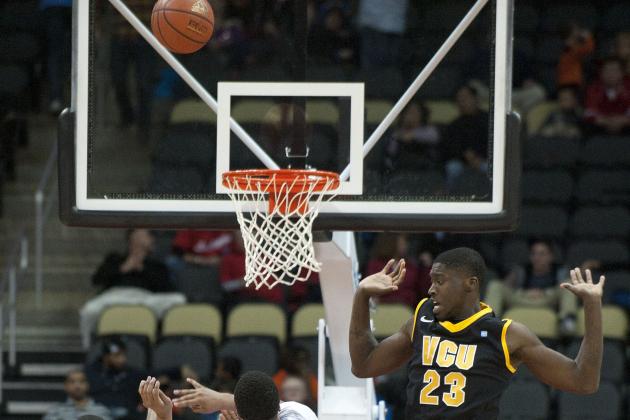 USA Today SPORTS

Why They're Here: Every coach who plays Virginia Commonwealth has one simple message for his team: Take care of the basketball.
It's like sending your kids outside after a rainstorm and telling them to stay clean. Very few will come back home without muddy sneakers.
The VCU Rams will muddy your sneakers.
In 18 wins, VCU has forced 23.2 turnovers per game.
The five losses have come on the rare nights the Rams face a team that can beat the press without giving it away regularly. In those five games, VCU is forcing only 10.4 turnovers per contest.
Next Real Test: Four Atlantic 10 teams (VCU, Butler, Charlotte and Saint Louis) have only two conference losses. If Charlotte can win at Temple on Wednesday, Saturday's game at VCU could be for the conference lead or a share of it.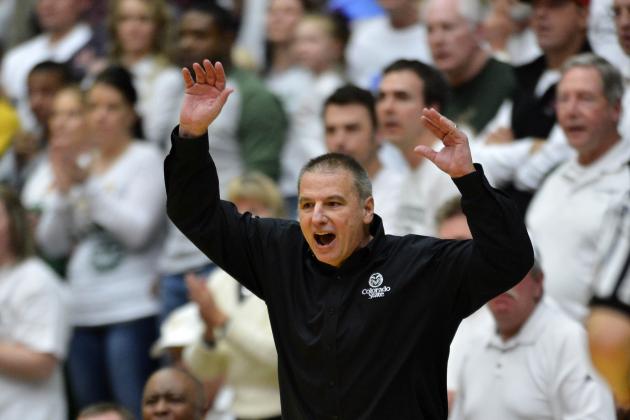 Ron Chenoy-USA TODAY Sports

Why They're Here: Google Larry Eustachy and the first picture that shows up is the coach with his arm around a co-ed.
The past will always come up when you're talking Eustachy, but it only distracts from the fact that he might be one of the most underrated coaches in the country.
Eustachy took Southern Miss to the tournament last year for the first time since 1991 and was able to turn that into a nice gig in Fort Collins, where Tim Miles had built a solid program.
If you're looking for a difference between the Miles-led Rams and this version, watch this team on the glass.
The Rams are the best defensive rebounding team in the country and third-best at getting back their misses on the offensive end. That ability to board has turned the Rams, who start five seniors, into the Mountain West's most-efficient team on both ends.
Next Real Test: San Diego State comes to Fort Collins on Feb. 13. The Rams rallied from an 18-point deficit to force overtime in the first meeting, which San Diego State won 79-72.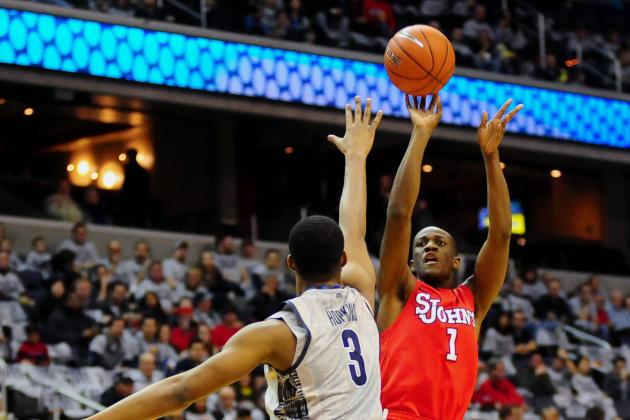 USA TODAY Sports

Why They're Here: The Georgetown Hoyas have won four straight and held opponents to 51.5 points per game during that stretch.
A big reason why is Georgetown's perimeter defense. Those four opponents have combined to shoot 21.5 percent from beyond the arc and Big East teams are shooting just 26.8 percent from deep against the Hoyas.
Next Real Test: Marquette travels to Georgetown on Feb. 11. The Marquette Golden Eagles will want to stay away from the three-point line. They're making just 26.1 percent of their threes.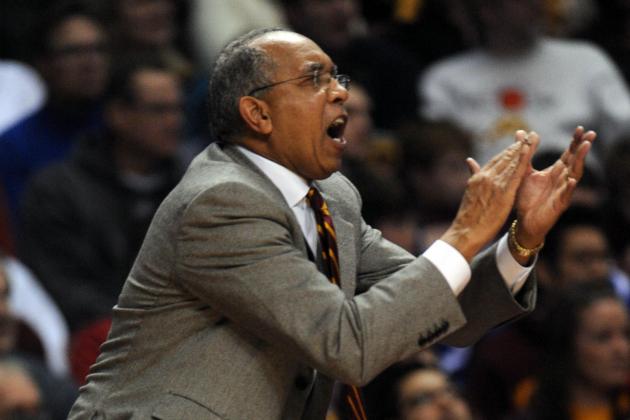 USA TODAY Sports

Why They're Here: The Minnesota Gophers could be that team that we all forget about that gets it together and ends up in the Final Four.
A recent four-game losing streak put Minnesota out of sight and out of mind.
It's wasn't as bad as it looked as three of those four were on the road and all four were single-digit losses.
Tubby Smith's group finally won a close one on Sunday when Austin Hollins knocked down a three in the final minute to knock off Iowa.
The next six games on the schedule are brutal, then Minnesota finishes with Penn State, Purdue and Nebraska and a chance to feel good heading into the postseason.
Next Real Test: At Michigan State on Wednesday. Sparty will be looking for payback from a 13-point loss at Minnesota on New Year's Eve.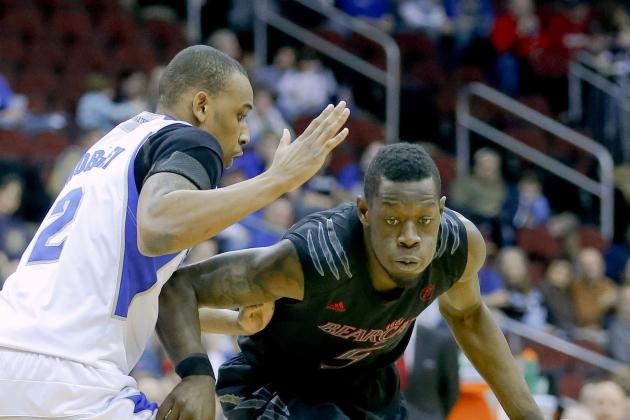 Jim O'Connor-USA TODAY Sports

Why They're Here: The Cincinnati Bearcats might be the only team in the country that has performed better on the road than at home during league play.
Cincinnati is 4-1 in the Big East away from home and 2-2 at Fifth Third Arena.
An upcoming stretch of Pittsburgh, Villanova and Georgetown at home could determine where the Bearcats end up in the Big East pecking order.
Next Real Test: Pittsburgh comes to town on Saturday. The Bearcats knocked off the Panthers, 70-61, in the Big East opener.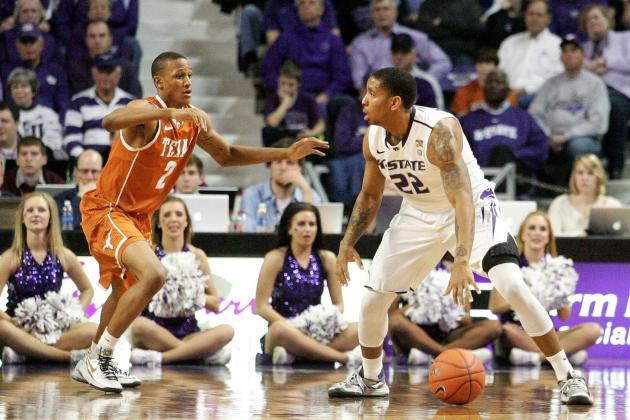 Scott Sewell-USA TODAY Sports

Why They're Here: It's odd to see a team's shooting numbers go up in conference play, but that's what the Kansas State Wildcats have accomplished.
It makes sense considering it took some time to get the hang of Bruce Weber's motion.
The Wildcats are knocking down 37.1 percent of their threes and 49.2 percent of their twos in Big 12 play.
Their 17-4 start is as good as any start Frank Martin had in his five seasons in Manhattan. His 2009-10 team, which reached the Elite Eight, also started 17-4.
Next Real Test: Iowa State comes to Manhattan on Saturday. The Iowa State Cyclones gave the 'Cats one of their two league losses.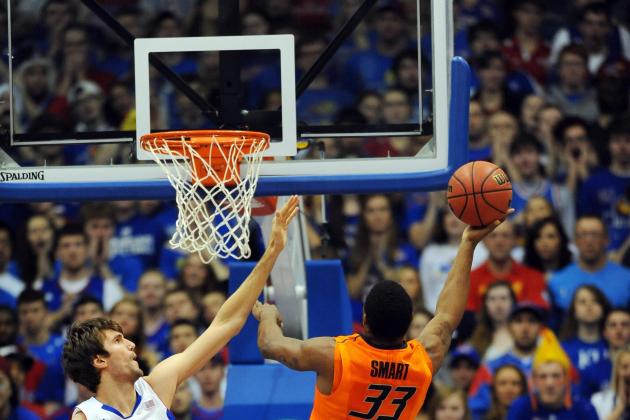 Denny Medley-USA TODAY Sports

Why They're Here: Not only do you not stroll into Allen Fieldhouse and have the audacity to come away with a win, Travis Ford had an embarrassing 6-30 record on the road in his career in the Big 12 (h/t John Gasaway).
The Oklahoma State Cowboys' defied all odds by winning their first road game of the season—the entire season!—to end the University of Kansas' 33-game winning streak at the Phog.
Adding to the list of puzzling developments in that game, the Cowboys came in as the worst offensive rebounding team in the league and burned KU for 17 offensive boards and 23 second-chance points.
Time to restart the Marcus Smart hype machine. Dude was a man against the Kansas Jayhawks and did the unthinkable by putting Jeff Withey on a poster.
Next Real Test: Trying to avoid a letdown at home against Baylor on Wednesday. It will be a battle of the Big 12's best two point guards with Smart and Pierre Jackson squaring off.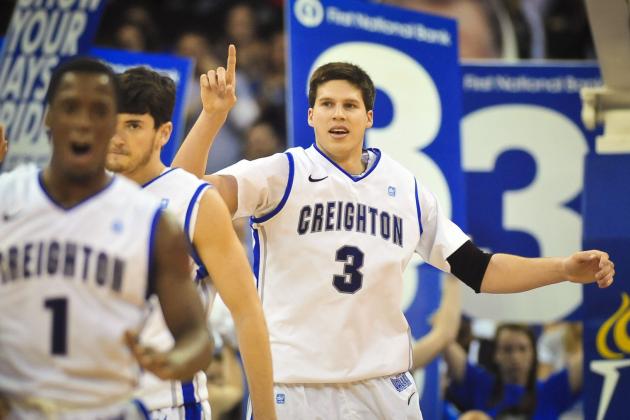 USA TODAY Sports

Why They're Here: I interrupt the renewed Cody Zeller lovefest and continued support for Trey Burke and Mason Plumlee to remind the nation to not forget about Doug McDermott in the Player of the Year debate.
The most impressive aspect of McDermott's 24 points per game is his efficiency. Only one other player in the top 20 in scoring in the country shoots better than 50 percent*.
McDermott knocks down 56.5 percent of his shots, and he's not just getting all his buckets in the paint. He shoots 51 percent from deep.
*Bucknell's Mike Muscala is the other. He averages 19.4 points and shoots 52.1 percent.
The Creighton Bluejays have won three straight since losing at Wichita State and Drake, outscoring opponents by more than 20 points per game since those losses.
McDermott in those three games: (The usual) 25 points per game, 61.4 percent shooting.
Next Real Test: Creighton travels to Indiana State on Wednesday. The Sycamores own wins over Ole Miss, Miami and Wichita State this year.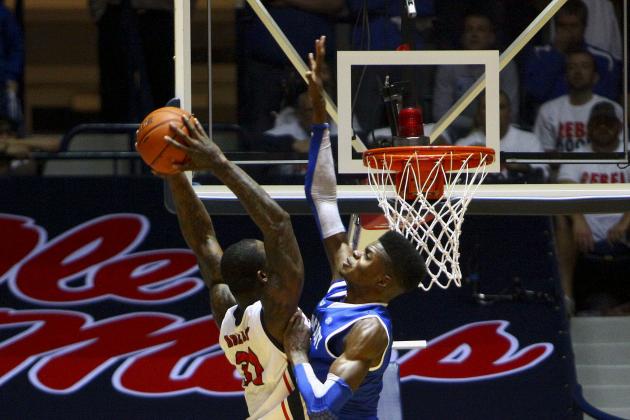 Spruce Derden-USA TODAY Sports

Why They're Here: The Kentucky Wildcats may not be deserving of this high a ranking based on their resume to-date.
Consider this buying early.
John Calipari's backcourt isn't what it usually is, but we're beginning to see that Nerlens Noel can have the kind of influence Anthony Davis had on the defensive end.
Noel has 51 blocks in league play through eight SEC games. In Kentucky's first eight league games last season, Davis had 41.
It's also better to compare this team to the one Calipari had two seasons ago than last year's squad. That team, which reached the Final Four, had a better point guard, but no one nearly as dominant on the defensive end as Noel.
Next Real Test: Kentucky gets it first shot at Florida on Feb. 12.
Why They're Here: We think of the Pittsburgh Panthers as these bruisers who win with defense. Not the 2013 Panthers.
For a sample of the execution Jamie Dixon is drawing up this year, take a look at this textbook attack of Syracuse's zone in the video.
The Panthers share the ball—19 assists on 24 buckets against the Syracuse Orange—and also clean up misses as well as any team in the country. They got back 14 of 27 missed shots against the Orange.
Pitt has now won five of six, and has one of the easiest Big East schedules down the stretch.
Next Real Test: After a gimme at home on Monday against Seton Hall, Pittsburgh travels to Cincinnati and then Marquette on back-to-back Saturdays, the toughest two games left on the schedule.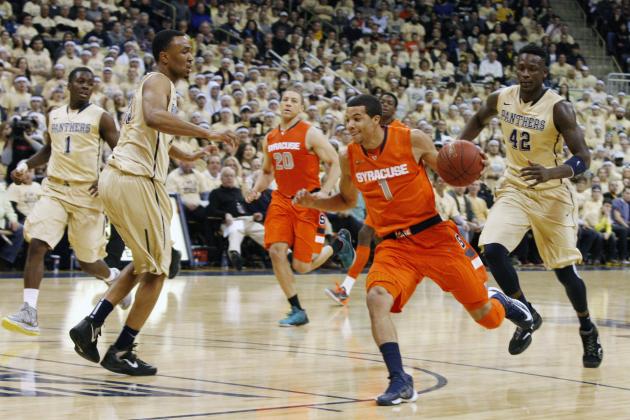 Charles LeClaire-USA TODAY Sports

Why They're Here: Syracuse gets from defense to offense as well as any team in the country.
The Syracuse Orange attempt 41 percent of their first shots in the first 10 seconds of a possession.
Take that away and Syracuse's shooting percentages go way down.
First-shot effective FG% first 10 seconds: 57.2 percent
First-shot effective FG% 11-35 seconds: 45.6 percent
The Orange are beatable if you make them run offense and don't allow them to get out and run off your turnovers. Easier said than done, and that's why a performance like the one Pitt put together Saturday is rare.
Next Real Test: At Connecticut, Feb. 13. The UConn Huskies have the guards to take care of the ball and penetrate the Syracuse zone.
Shooting numbers from Hoop-Math.com.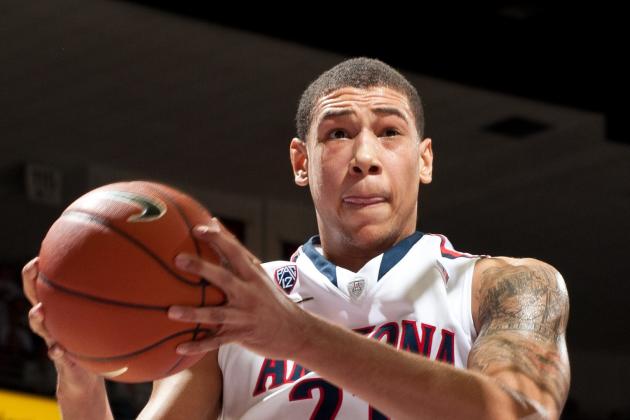 Casey Sapio-USA TODAY Sports

Why They're Here: My lady recently started drinking these green spinach smoothies that look like a cup of algae. Spinach in a smoothie? No thanks.
Once she finally convinced me give it a try, I closed my eyes and poured it down, and...it was actually pretty tasty.
The Arizona Wildcats are a green smoothie.
Watching them leads to a lot of grimaces. I have a hard time believing they're legit, but the final product is actually pretty good.
They have sort of a helter-skelter approach on offense and their athletes just keep attacking off the dribble relentlessly. It's not exactly poetry in motion. They only assist on 45 percent of their buckets in Pac-12 play and there's not a lot of great ball movement.
Arizona is also a really good defensive team, so it's usually hard to watch the other team on offense as well.
BUT you cannot argue with Sean Miller's results, a 19-2 start and back in first place in a much-improved Pac-12.
Next Real Test: Arizona travels to Colorado on Valentine's Day. Let's hope it doesn't come down to a video replay.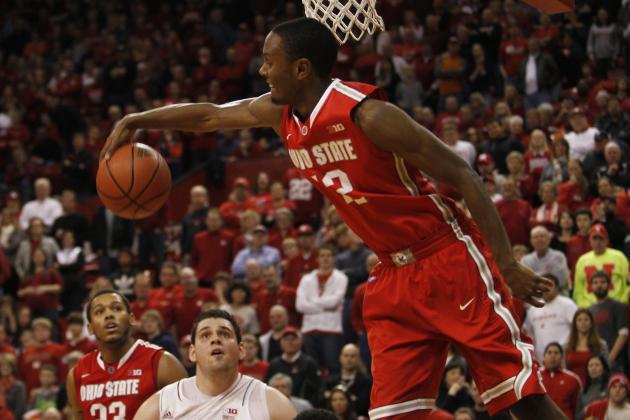 USA TODAY Sports

Why They're Here: In Big Ten play, only one team (Illinois) has topped 70 points against Ohio State.
Since Dec. 1, only two teams (Kansas and the Illinois Illini) have scored more than a point per possession against the Ohio State Buckeyes.
Thad Matta has the best defense in the Big Ten and that makes this team a pain in the you-know-what to play.
Deshaun Thomas probably doesn't have enough help on offense to get the Buckeyes back to the Final Four, but they have a chance on any given night because of that D.
Next Real Test: Tuesday at Michigan. The Michigan Wolverines will be looking for payback after the Buckeyes made one of the best offenses in the country look incredibly average in Columbus.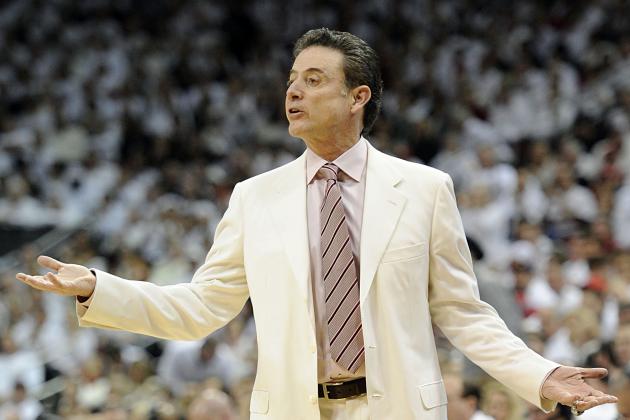 Jamie Rhodes-USA TODAY Sports

Why They're Here: Russdiculous.
This writer questions whether Louisville can get through the tournament with Russdiculous going all Russdiculous.
The chucking without regard for whether he's hot or cold is just how Russ Smith rolls.
With a coach willing to rock a white suit (respect), the Louisville Cardinals are just a team that does things differently from everyone else.
Smith's usage could come back to bite the Cardinals, but they seem to be out of their funk with back-to-back impressive wins at home against Pitt and Marquette.
Next Real Test: Louisville has an easy stretch of the schedule coming up and a March 2 visit to Syracuse that could end up as a battle for first place in the Big East.
USA TODAY Sports

Why They're Here: Duke scored 1.34 points per possession on Saturday at Florida State (according to statsheet.com). That's the Duke Blue Devils' best efficiency—Ryan Kelly or no Ryan Kelly.
Yes, the Blue Devils are still capable of dribbling, passing, shooting and making buckets without The All-Mighty Four Man Ryan Kelly.
This team is obviously better with Kelly and they need him to come back at some point to be in the national title picture. We all know this. It's going to be the most tired narrative in college basketball by the end of the year—if it's not already.
As the Blue Devils proved in Tallahassee, they're still capable of blowing the doors off a decent opponent without him. Not a shocker that it has taken some time to adjust.
Next Real Test: Duke gets to go for some payback on Thursday against NC State. If the NC State Wolfpack are still missing injured point guard Lorenzo Brown, that's a more significant absence than Duke missing Kelly.
Why They're Here: Reggie Johnson's big left paw.
Johnson's last-second tip in Raleigh kept alive Miami's nine-game winning streak.
ACC coaches were right to pick a team other than Duke or North Carolina to win the league this year; they just needed to look outside of the state to find the new champ.
Jim Larranaga's group has won with the best defense in the ACC, but they've also proved they can win with offense as well, averaging 84.5 points against the other two best teams in the league, Duke and NC State.
Next Real Test: March 2 at Duke.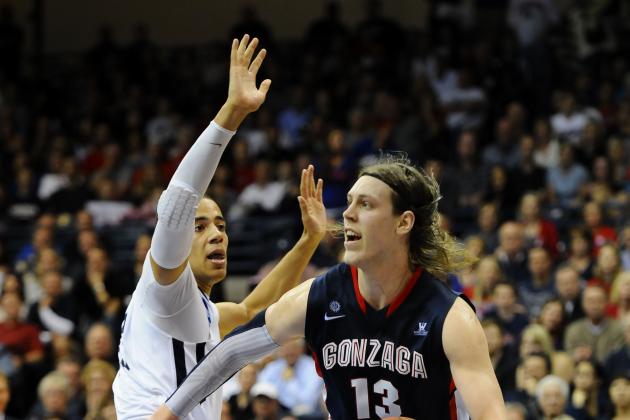 Christopher Hanewinckel-USA TODAY Sports

Why They're Here: The only team with a perfect record in the Big 12 now is Gonzaga.
The Gonzaga Bulldogs made a tour through the league in November and December with a perfect 5-0 record that included a win at Oklahoma State.
Here's an idea: Let's take the best six schools not in the power six conferences and each league can draft one each season.
Boredom with their current situation in the WCC could explain why the Zags just barely escaped San Diego on Saturday night with a 65-63 win.
There may not be a tougher threesome to slow than Gonzaga's frontline of Kelly Olynyk and Elias Harris combined with the three-point shooting of Kevin Pangos.
The Big 12 concurs.
Next Real Test: Gonzaga has a Valentine's Day date at St. Mary's. Matthew Dellavedova led his team to a 21-point win at home against the Zags last season.
Denny Medley-USA TODAY Sports

Why They're Here: Kansas had the nation's longest winning streak at 18 and was due to lose at some point.
One loss isn't concerning. What is concerning for the Kansas Jayhawks is their point guard play.
Senior Elijah Johnson has 19 turnovers in the last five games. He started his recent five-game ball-handling slump with three giveaways and a 1-of-11 performance at Texas and added a 3-of-14, four-turnover effort against the Oklahoma State Cowboys.
One thing to remember about Bill Self's bunch. They had a turnover machine by the name of Tyshawn Taylor running the point a year ago. Taylor had a stretch where he turned it over 37 times in six games. That team made it to the title game.
Folks in Lawrence, the sky's not coming down on you just yet.
Next Real Test: Saturday at Oklahoma. The Oklahoma Sooners are good enough to get Jayhawks on an off night. Plus, it's a big NCAA resume-builder for OU.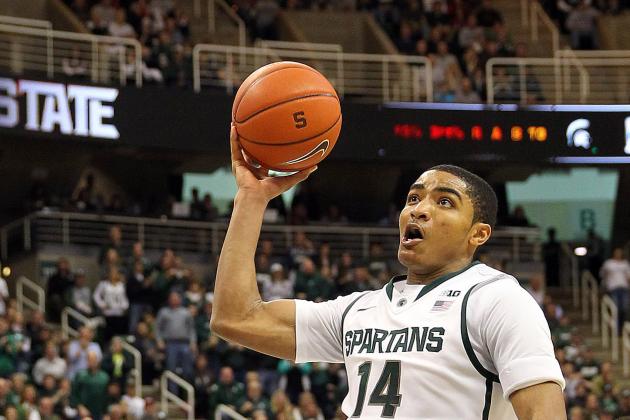 Mike Carter-USA TODAY Sports

Why They're Here: Doesn't this just feel like one of those Tom Izzo teams that is going to click in March and get to the Final Four?
Michigan gave Indiana a nice game this past weekend, but it was that other team in Michigan that actually had IU in jeopardy of losing at home the week before. The Michigan State Spartans and Indiana Hoosiers played a mesmerizingly entertaining game, a 75-70 Sparty loss, and it was tough to come away thinking either team was better.
Keep an eye on Gary Harris the next few months. He's the most talented wing Izzo has had since Jason Richardson. He likes the big stage too. He dropped 21 at Assembly Hall and scored 18 points in a win against Kansas.
Next Real Test: Michigan State welcomes Minnesota to town on Wednesday. An easy night in the Big Ten is a rarity.
Why They're Here: Don't feel too bad for the Michigan Wolverines and their short stint at No. 1.
They've still got Trey Burke and he can still do things like hit step-back 25-footers at the buzzer.
This was Burke's night. It was all him until Tim Hardaway Jr. got it going in the second half against the Indiana Hoosiers.
Burke scored 25 points and had eight assists and it was his ninth game this season that he's had at least 18 points and eight dimes.
If there's hope for Michigan to still win the Big Ten and get payback on IU in the regular season finale on March 10, it's that Glenn Robinson III had a season-low two points. It was only the seventh time Robinson has not finished in double figures.
Burke has help. He just didn't get much of it in Bloomington.
Next Real Test: Tuesday against Ohio State in Ann Arbor. This isn't the ideal "get your confidence back" game, but the Wolverines should be an angry bunch. OSU gave Michigan its only loss and there's the motivation to bounce back from the loss at IU.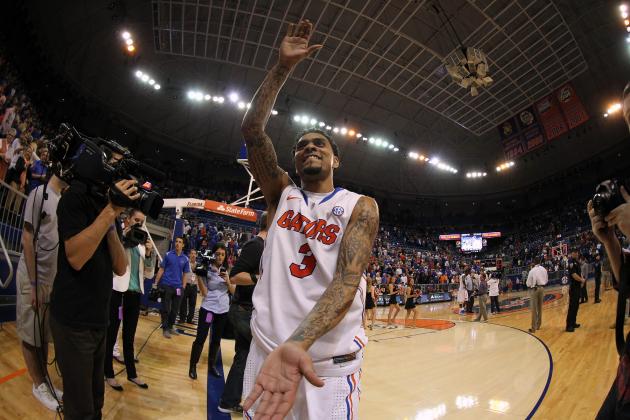 Kim Klement-USA TODAY Sports

Why They're Here: What the Florida Gators are doing to the SEC should inspire rule changes. A running clock in the second half of blowouts would be a start.
The Gators' average margin of victory is 26.5 points in league games.
The SEC is down, sure, but let's go ahead and compare Florida in 2013 to Kentucky in 2012.
The Kentucky Wildcats won by an average of 16.4 points in SEC play last year.
Billy Donovan thinks that margin of victory is adorable.
The only thing keeping Florida from the No. 1 spot is the lack of an opportunity to get a league win against a team the rest of the country respects.
The Gators knocked off Marshall Henderson and Ole Miss on Saturday, but the time is ticking on Mr. Henderson's 15 minutes of fame.
Once IU loses again, and that's sure to happen in the Big Ten, Florida will be a worthy No. 1.
Next Real Test: Kentucky rolls to Gainesville on Feb. 12. A single-digit loss might be looked upon as a moral victory for the Cats.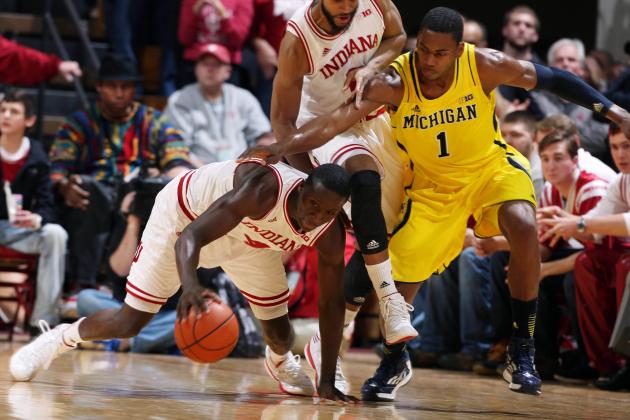 Brian Spurlock-USA TODAY Sports

Why They're Here: The Victor Oladipo vs. Cody Zeller debate for who is more valuable to the Indiana Hoosiers is a fun one. Before Zeller's offensive performance against Michigan (19 points on 8-of-10 shooting) persuades you to argue his side, check out this nugget from Jay Bilas:
Cody Zeller outstanding on both ends against UM. Victor Oladipo, in 45 possessions guarding 4 different players, gave up only 4 points.

— Jay Bilas (@JayBilas) February 3, 2013
Tom Crean would like us to make like the Harbaughs and focus on the team.
I'll oblige—kind of.
Let's take a look at IU's entire starting lineup in the win against Michigan.
All five Hoosiers scored in double figures. They made 7-of-13 threes and 16-of-25 twos. They outscored Michigan's starters 75-59.
The Hoosiers are the best team in the country when that offense is clicking and it's rarely not clicking. They have only three games this year that they've had an effective field goal percentage (which gives more value to three-pointers) of less than 50 percent. Two of those games were their losses.
So slowing the Hoosiers' offense can be done, but it takes a team like Butler or Wisconsin that rarely turns it over and can slow the pace.
Since there aren't a lot of teams that can duplicate that strategy as well as those two, Indiana is deserving of this top spot.
Next Real Test: Sunday at Ohio State. This is the best defense Indiana will face all season.