UFC 156: Grades for All Main-Card Fighters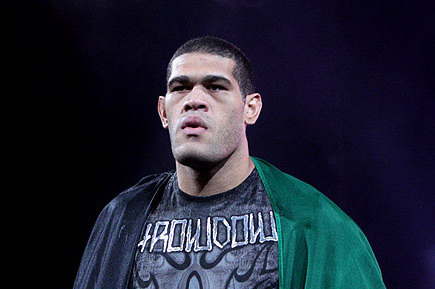 Photo credit: Jeff Cain/MMA Weekly
UFC 156 went down Saturday night from fabulous Las Vegas, Nev. In the main event of the evening, Jose Aldo put his featherweight championship on the wire against former lightweight champ and featherweight newcomer Frankie Edgar.
But the luminosity shone far and wide across the card, with shooting stars like Rashad Evans, Alistair Overeem and Jon Fitch competing.
So, how did they do? More to the point, how did they do...on a grading system?
Read on, why don't you—class is in session.
Begin Slideshow

»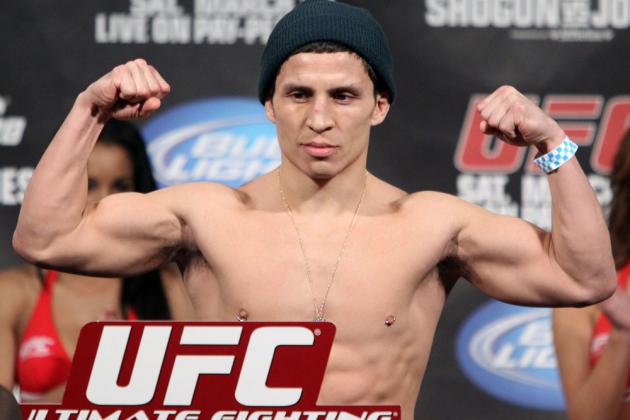 Photo credit: UFC.com
Division: Flyweight
Result: Joseph Benavidez def. Ian McCall by unanimous decision
Benavidez and McCall staged three rounds of little-guy brilliance to open the pay-per-view.
In the opening minutes, you could almost see Benavidez's neck tendons pop with every swing. After the adrenaline drained away, the momentum swung to McCall. But Benavidez stayed within himself and finished solidly. The judges got this one right.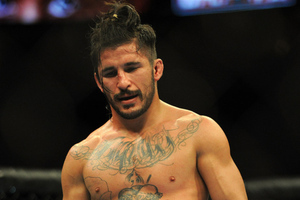 Photo credit: Steve Mitchell-US PRESSWIRE
Much the same happened to McCall during his first fight with Demetrious Johnson. A little too emotional, a little wild, built a lead, couldn't hold it.
It was a very good effort from McCall but not a great one. And that's what he needs at this level.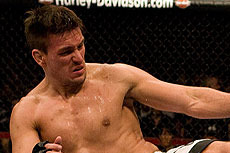 Photo credit: Fight! Magazine
Division: Welterweight
Result: Demian Maia def. Jon Fitch by unanimous decision
This master grappling class certainly didn't disappoint.
Maia latched onto Fitch's back and torso with arms and legs like pincers. And he didn't let go. I don't know about you, but I'm ready to watch Maia step into that bubble at the very top of the division.
Carlos Condit vs. Rory MacDonald winner? Nick Diaz after he loses to St-Pierre?
It's all on the table as far as I'm concerned.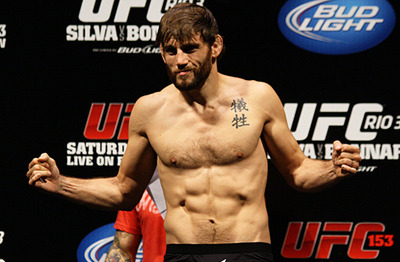 Photo credit: MMAjunkie.com
Jon Fitch got all Gloria Gaynor on Demian Maia Saturday night. He survived.
It was impressive and surprisingly fun to watch. I remain a huge Jon Fitch fan, even if it's clear that if he can't exert that trademark positional wrestling, he's pretty much out of options.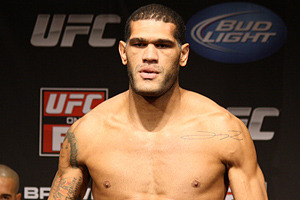 Photo credit: MMAjunkie.com
Division: Heavyweight
Result: Antonio Silva def. Alistair Overeem by TKO, 0:25 of Round 3
Funny that a dude as big as Antonio "Bigfoot" Silva can be bullied. But there he was, standing in the center of the Octagon while Alistair Overeem frisked him for lunch money.
But in the third round, "The Reem" wore out, and Silva rose up. One big shot led to another, and it didn't take many landing flush for Overeem to hit the deck.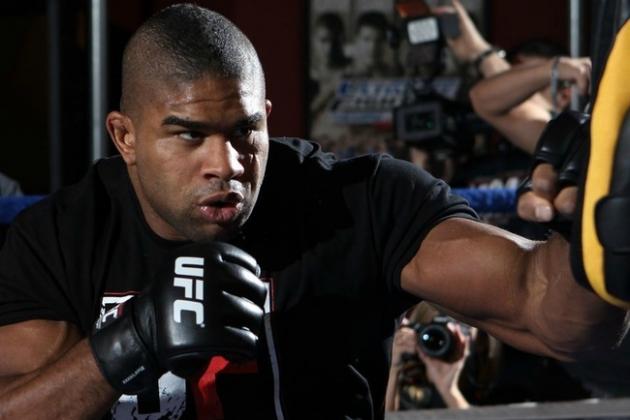 Photo credit: MMACarnivale.com
Overeem just cost himself a lot of money. But I suppose you don't commit such a large and overarching unforced mental error and then expect those monstrous paydays.
Seriously, though, at no point was this one in the bag for Alistair Overeem. He landed some good shots and a nice takedown and worked some good mat positions. Entering the knockout sequence, Overeem was definitely winning, but he was certainly not dominating.
Overeem either didn't realize that or didn't care and continued to work his smirk more than his jab. What can you say, other than he paid the price?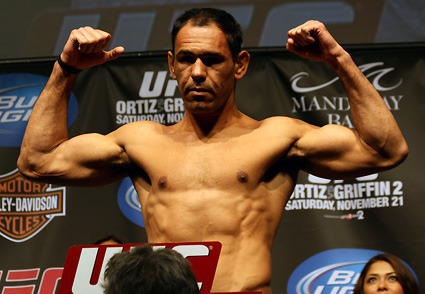 Photo credit: MMAjunkie.com
Division: Light heavyweight
Result: Antonio Rogerio Nogueira def. Rashad Evans by unanimous decision
I mean, I guess I'll give him a B+. I feel like that's about the minimum grade you can get and still be the winner of a fight.
But that's about what "Lil Nog" earned. He did a good job pressing forward, but that's only in comparison to the tranquilized bag of mashed potatoes that was Rashad Evans.
Maybe not that bad, but it wasn't a very high-energy fight. That's all I'm saying. But hey, props to "Lil Nog" for doing enough to win and extend that career.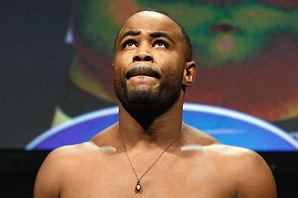 Photo credit: Josh Hedges/Zuffa LLC via Getty Images
You know what kicks this into fail territory? Rashad Evans spending the whole week talking about dropping to middleweight and fighting Anderson Silva. And not only that, but implying he wouldn't really be super pumped about being given a tune-up fight at 185.
But that's not even what makes it fail territory. Want to know what makes it fail territory?
The fact that he was so tentative in there. He parried punches. He took punches. He threw a few loopers of his own, if the mood was right. He stood there. He lunged half-heartedly for takedowns. Some he got. Some he didn't.
He was sluggish and flat. He brought a rubber chicken to a butter knife fight.
Not a real strong effort from Rashad on Saturday night, is my point. But that's not even what makes it fail territory.
Want to know what makes it fail territory?
That one of his most notable Blackzilians teammates, Alistair Overeem, bit the dust in the fight before. The Blackzilians camp, from what I understand, was co-created by Evans.
That can't feel good. You know what it does feel like? A fail. It feels like a fail.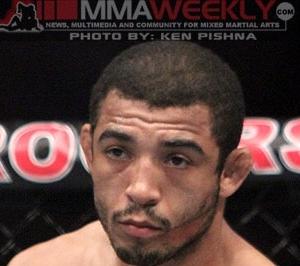 Photo credit: Ken Pishna/MMA Weekly
Division: Featherweight
Result: Jose Aldo def. Frankie Edgar by unanimous decision
Aldo was his usual, crushing self Saturday night. In the first two rounds, he slammed home several of those savage leg kicks. Each one sounded like two oyster shells banging together.
But as the fight wore on, Edgar, as he is wont to do, wrested away the upper hand. Nothing devastating, nothing flashy. Just more points, it seemed.
It was undoubtedly a close fight. Aldo landed plenty throughout, and when it landed, it landed hard. His straight rights and a front kick right up Edgar's nose were particularly memorable. And in the end, in the eyes of the judges, Aldo did enough to win.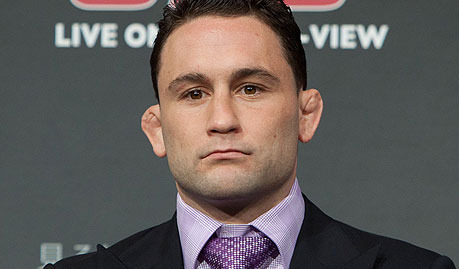 Photo credit: MMA Weekly
Here we are again, Frankie Edgar.
Another fight, another controversy. It's your thing, dude! Isn't that exciting?
Personally, I think Edgar did enough to win the fight. But you know what? Both sides have a case. At this point, I'm starting to wonder if every single one of Edgar's fights will go this way for the rest of his career.
He does find himself in a bit of a no-man's land now. This was another effort against another division champ that, in the eyes of the only ones who mattered, once again came up short.
Where does he go from here? That's a tough riddle. But for Saturday night, I'll remember Edgar for another terrific performance in which I think, once again, he did just enough to pull it out.
Follow Scott Harris on Twitter.