Chicago Bulls vs. Atlanta Hawks: Live Score, Results and Game Highlights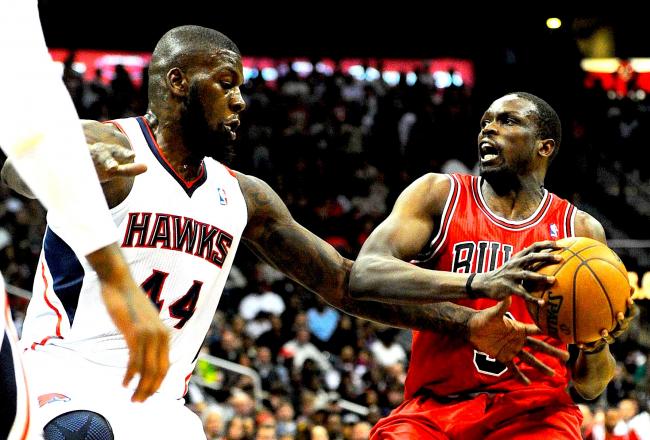 Commentary from the Chicago Bulls 93-76 victory over the Atlanta Hawks on Feb. 2, 2013.
The Bulls came away with another big victory over the Atlanta Hawks to snap the Hawks' four game win streak at home.
Keys to the game:
Closing out on Hawks shooters (Atlanta: 6-of-19 from three-point range)
Staying competitive on the boards (Out-rebounded Hawks 52-45)
Nate Robinson playing under control (eight assists, two turnovers)
Taj Gibson out-playing Al Horford (Gibson: 19 points, 19 rebounds; Horford: 14 points, 12 rebounds)
The Bulls improve to 29-18 and still have yet to play their best basketball, assuming Derrick Rose returns at a high level. Rose will give the Bulls their MVP back, their best scorer, and they'll have a guy to close out quarters and games.
Rose's affect on the Bulls' offense should be dramatic, and the 'D' has already been impressive.
There's a lot of reason to expect the Bulls to be true contenders come playoff time.
BULLS 93, HAWKS 76 — FINAL
Nate Robinson is showing the NBA that even at 5'9" he has starter caliber talent at the point guard position. Robinson has picked his chances wisely, made good decisions, and has 20 points and seven assists playing in place of both Kirk Hinrich and Derrick Rose.
One would have to think Tom Thibodeau can find minutes for Nate-Rob even with a fully healthy Bulls squad (whenever that happens).
BULLS 95, HAWKS 76 — 35.2 seconds in game
Hawks coach Larry Drew has to be scratching his head at how he can produce more offense. Yes, the Hawks had won four straight at home prior to tonight's game, but the Hawks just don't have a go-to guy after jettisoning Joe Johnson this summer in a cap clearing move.
While the plethora of role players they received in return from the Brooklyn Nets didn't increase the overall talent pool that much (if at all), the Hawks have remained competitive.
It's just that with Lou Williams out for the season, they really lack isolation scorers when the pace of the game slows down and defenses tighten up.
Nate Robinson hit a three to put the Bulls up 17, and there's just not enough time for a team with the talent level of this current Hawks lineup to put up a +17 differential in the last 1:56 of the game.
BULLS 88, HAWKS 74 — 1:56 4th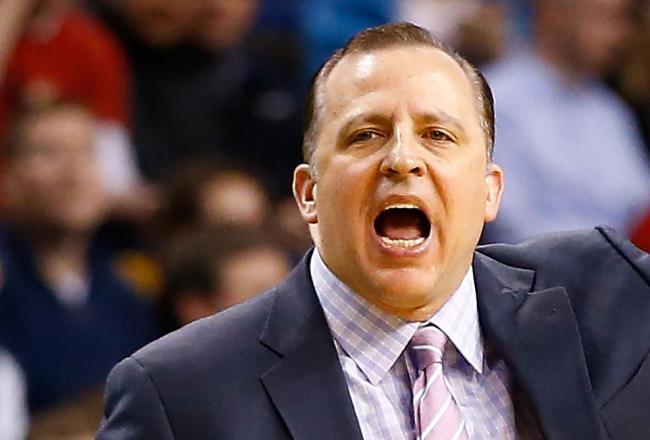 For anyone who underestimated the Bulls this season, the value of defense must have been lost. They are not a team with a dynamic go-to scorer sans Derrick Rose, but they have a solid collection of role players who can all defend and buy into Tom Thibodeau's defensive schemes.
Thibodeau has to be considered a Coach of the Year candidate at this juncture in the season.
BULLS 78, HAWKS 64 — 5:31 4th, TV Timeout
Another three by Luol Deng "double-daggered it" to give the Bulls a 14 point lead. If the Hawks weren't shooting just 40 percent from the floor, a lead of that size might not seem so unsurmountable.
BULLS 78, HAWKS 64 — 6:00 4th
It's hard to call a shot with seven-plus minutes remaining in the fourth quarter a "dagger," but Luol Deng's three from the right wing seemed to be a real momentum shift at the very least.
The Hawks have been knocking at the door for a while, but the three by Deng took it from an eight to an 11 point lead and the Hawks are struggling to get good shots thus far in the quarter.
BULLS 75, HAWKS 64 — 7:41 4th, Hawks Timeout
The Bulls matchup well with the Hawks for a number of reasons, but among the top is that the Bulls have the No. 5 three-point defense in the league, and the Hawks live by the three. They've hit just 4-of-16 tonight, and the Bulls aggressively close out on jump shooters.
Would you expect anything less from a Tom Thibodeau coached team? He knows the fundamentals of good defense, and surely has stressed it to his players throughout his time in Chicago.
BULLS 69, HAWKS 62 — 10:18 4th
Nate Robinson closed the quarter by picking up his fourth foul. After going to the bench, Nate began to poke at his head, like "Geez, Nate."
It's OK, little buddy, you're having a nice game and the Bulls are up by nine going into the fourth.
BULLS 69, HAWKS 60 — End of 3rd
Hustle has made the difference in closing out this third quarter. The Bulls got three second chance looks on the last possession before swarming in on Ivan Johnson following the Taj Gibson putback.
Johnson bounced the ball off his leg as he made his move to the hoop, giving the Bulls a chance to close out the quarter with a short run.
That's often what separates two teams when they're having a night like tonight. The Bulls are just 37 percent from the floor, while the Hawks are 40 percent.
BULLS 65, HAWKS 60 — 1:01 in 3rd
I ripped on Kyle Korver and he responded by telling me why he's in the NBA: a long three-point shot that got the Hawks back within three. I guess defense isn't all that important when you can hit threes from five feet behind the arc.
BULLS 63, HAWKS 60 — 1:35 3rd
Not that Rip Hamilton is the league's slowest player, but he doesn't have blinding speed at this point in his career, especially with the ball.
That fact notwithstanding, Kyle Korver still can't stay in front of him on defense. I think even past my prime and out of shape, I might be able to cross Korver over. No, I really believe that.
BULLS 61, HAWKS 57 — 2:59 3rd
I couldn't help but hope for a better result when the Hawks PA played Maroon-5's "Moves Like Jagger" during the possession. It was a snazzy possession to simply lead to a Jeff Teague jumper that bounced in.
Anticlimactic.
BULLS 61, HAWKS 55 — 3:51 3rd
Jeff Teague's lateral motions seem to be the main thing slowed. His end to end speed seems to be unaffected by the hip contusion. Teague has 12 points.
BULLS 59, HAWKS 53 — 5:15 3rd
Jeff Teague may have his hands full with Nate Robinson now that his hip is bothering him. Nate has begun to notice Teague's limp and has looked to score the last few Bulls possessions, ending with a top of the key three to put the Bulls up eight before an Al Horford layup.
BULLS 54, HAWKS 48 — 7:43 3rd
Nate Robinson is starting to look for his shot more. He took a shot late in the shot clock, missing it, but came back two possessions later to isolate himself against Jeff Teague. After shaking Teague off in the paint, Robinson hit a 15-foot fall away jumper.
Robinson has been looking to pass more as a starter, but still has seven points on 3-of-6 shooting.
BULLS 51, HAWKS 44 — 9:06 3rd, Hawks Timeout
Nate Robinson made an excellent in-bound pass to Jimmy Butler who cut along the baseline (Robinson was inbounding on the baseline), but Butler missed the finish and went to the line for two.
Butler has eight points and five rebounds.
BULLS 45, HAWKS 44 — 10:15 3rd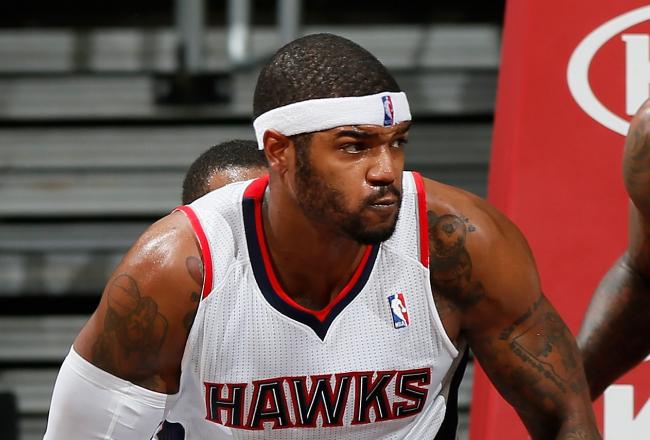 The rebounding issue that surfaced against the Brooklyn Nets last night (Feb. 1) hasn't been a problem tonight. The Bulls are being out-rebounded 26-23, but that's a palatable differential and certainly a small deficiency that can be overcome.
The Hawks made a run late in the second quarter to take a one point lead into the half.
"We were able to limit them to one shot, and get out and rebound," was what Josh Smith said the difference was late in the quarter when speaking to Sport South Hawks on the telecast.
Smith was the beneficiary of a few transition plays and has a game high 16 points at the half, despite some excellent Luol Deng defense.
But really: Is Smith a max-contract player?
I'm still selling on that one.
HAWKS 44, BULLS 43 — Halftime
Luol Deng is doing a phenomenal job on Josh Smith, who has tried to post him up unsuccessfully several times now.
Deng answered with an "oh by the way" layup after blocking Smith's shot on the other end, and while many are quick to hype the exciting option in Smith, Deng appears to be the better NBA forward on this particular night.
Truth be told though, both are having nice nights for themselves playing the 4-spot for their respective clubs. Deng has 15 points approaching halftime, while Smith has 12.
BULLS 41, HAWKS 38 — 1:41 2nd
Nate Robinson continues to play under control and is playing a very efficient game. Certainly this is the player that the New York Knicks hoped they had drafted when they traded for him in the 2005 NBA Draft.
Robinson has bounced around the league since that time, but may have found a home in Chicago, where he could be the offensive spark off the bench and change in pace guard for the Bulls.
An interesting lineup will be to see if Tom Thibodeau plays Robinson and Derrick Rose together, as the speed advantage on opposing backcourts would be tremendous.
BULLS 37, HAWKS 36 — 2:45 2nd
Hawks' Kyle Korver will not take part in 3-point shooting contest at All-Star Game. Will spend time with wife and newborn child. #ATLHawks

— Chris Vivlamore (@ajchawks) February 2, 2013
Marco Belinelli had his career high of 27 points on Dec. 19, 2008 against the Atlanta Hawks, but has just two points tonight. Belinelli shot 21 field goal attempts (hitting 11) in that 16-point loss to Atlanta.
Belinelli had an incredible December in the 2008-09 season, as he had four 20-plus point games. Not bad production from a role player who averaged just 8.9 per game for that season.
This season, Marco is posting 9.4 points per game on 39.7 percent shooting.
BULLS 32, HAWKS 30 — 5:06 2nd
Jeff Teague came back from a hip contusion in the game and is now matched up against his younger brother Marquis Teague. Marquis attended Kentucky, while Jeff is a product of Wake Forest's program.
Great sibling rivalry unfolding before our eyes.
BULLS 28, HAWKS 27 — 6:58 2nd
Ivan Johnson is keeping the Hakws in the game. He came with a nice running lefty hook across the paint and has finished strong around the rim twice. Johnson has seven points and five rebounds in six minutes.
He just picked up a technical foul for shoving Jimmy Butler in the face as he fell on the baseline. Not a very sportsman-like gesture.
BULLS 28, HAWKS 24 — 7:55 2nd, Timeout in Play
Is Vladimir Radmanovic the European Scalabrine?
It just occurred to me, given his lack of muscular definition and one-dimensional offensive attack.
Vlad Rad did his best to hack Ivan Johnson and prevent a layup, but only caused a three-point play.
BULLS 26, HAWKS 22 — 9:13 2nd
This article is
What is the duplicate article?
Why is this article offensive?
Where is this article plagiarized from?
Why is this article poorly edited?