UFC 156: Jose Aldo vs. Frankie Edgar by the Numbers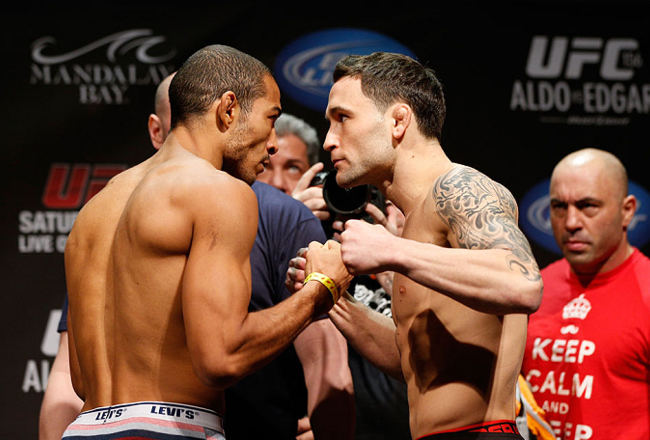 Although Frankie Edgar is the greatest UFC lightweight champion of all time, the stats favor Jose Aldo. (Photo Credit: UFC/Zuffa)

Even though it may not fit the literal definition of a superfight main event, the headlining UFC 156 title bout between Jose Aldo and Frankie Edgar is still immensely interesting.
On one side of the Octagon, you have the most dominant featherweight fighter in history, a champion and hero to his Brazilian brothers and sisters.
On the other side, you have one of the all-time greatest lightweights in UFC history—if not the greatest 155-pound champion that the promotion has ever seen.
As a last call before the kickoff of the UFC 156 card, we're going to take a look at the numbers for Aldo vs. Edgar and see what they tell us. Read along as we "precap" one of the most highly anticipated clashes ever billed in the featherweight division.
2,625: The Number of Days Since Jose Aldo Was Last Defeated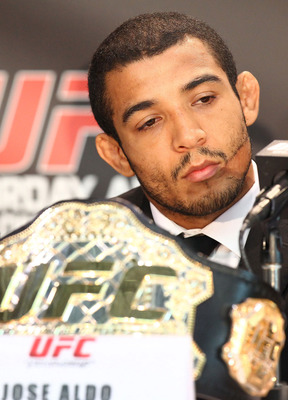 Photo Credit: UFC/Zuffa
When it comes to undefeated streaks, it's tough to get much better than Jose Aldo.
Over the last seven years, two months and six days, the Brazilian bomber has not tasted defeat in a professional MMA bout.
Moreover, this streak includes a murderous stretch in the tough ranks of the WEC, where Aldo beat the likes of Urijah Faber, Mike Brown, Manny Gamburyan and Cub Swanson.
And while his stint in the UFC hasn't been nearly as active due to injuries and long layoffs, he's still managed to topple Chad Mendes, Kenny Florian and Mark Hominick.
Amazingly impressive, to make the grandest of understatements.
.500: Frankie Edgar's Winning Average in Title Fights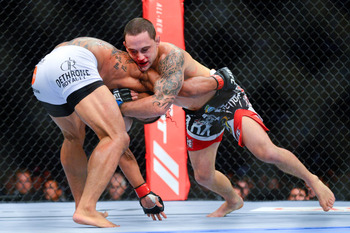 Ron Chenoy-USA TODAY Sports
Although Frankie Edgar has been the betting underdog in five of his six back-to-back title fights, he's managed to win or retain a championship in four of them.
However, that achievement comes with a notable asterisk.
While Edgar had been the UFC lightweight champion for a decent one-year, 10-month stretch, he hung onto the belt with razor-thin decisions against BJ Penn and Gray Maynard in his first fight against each man.
Now that Edgar has suffered his first back-to-back losses against current champion Benson Henderson, he's facing the unsavory prospect of a three-fight slide—a rare thing for a former UFC champion.
13: Number of Jose Aldo's KO/TKO Wins (In 22 Fights)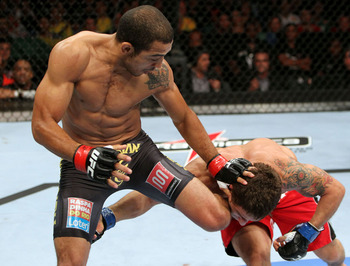 Photo Credit: UFC/Zuffa
Although his knockout rate has significantly dipped since joining the UFC, it doesn't change the fact that Jose Aldo is a finisher under the right circumstances.
From soccer kicks to elbow strikes to doctor's stoppages and more, "Scarface" has several ways to stop a fight in seconds.
But will that be enough against Frankie Edgar?
Interestingly, "The Answer" has never been knocked out in 19 fights despite taking hellacious beatings from Gray Maynard and Benson Henderson—but Aldo could break the streak.
767: Frankie Edgar's Total Significant Strikes Landed (Career)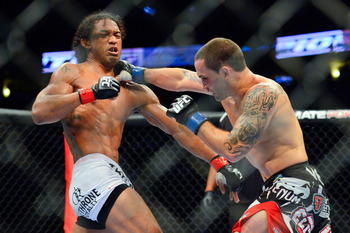 Ron Chenoy-USA TODAY Sports
Although Edgar's fights have gone to the judges' scorecards 12 times in his last 16 matches, he doesn't make it easy for opponents to beat him on points.
In fact, he's landed more UFC career strikes than most other fighters.
In the 13 bouts since he signed under the Zuffa umbrella, Edgar has landed 767 significant strikes in 47 rounds of action. This blistering pace bests even a notorious volume puncher like veteran Nate Diaz.
But what's worrisome is his stoppage rate in the same stretch. He has just two TKO wins against Gray Maynard and Mark Bocek—although historically, the odds favor Edgar if he can drag out a decision against Aldo.
6: The Number of Jose Aldo's Successful UFC/WEC Title Defenses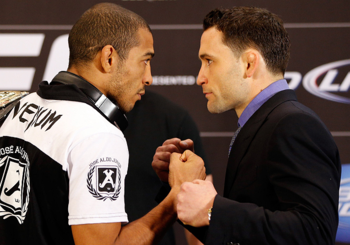 Photo Credit: UFC/Zuffa
Although official UFC records only count Aldo's three title defenses since April 2011, he's actually been the world's best featherweight since November 2009.
That was when Aldo defeated then-champion Mike Brown at WEC 44 for the promotion's 145-pound title, and he hasn't let go of the gold ever since.
With his WEC and UFC careers combined, Aldo has actually defended the MMA world featherweight championship six times in two-and-a-half years.
That's more times than almost every other UFC champion in the promotion's history.
Only Georges St-Pierre and Anderson Silva have been as successful in their divisions with seven and 10 title defenses, respectively—putting Aldo in some truly elite company on the pound-for-pound rankings.
Keep Reading