Alistair Overeem vs. Bigfoot Silva: Round-by-Round Recap and Analysis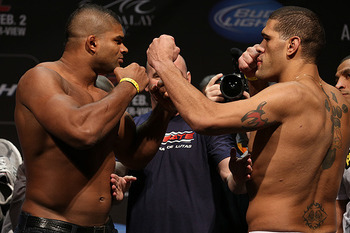 Photo by sherdog.com. Credit: Dave Mandel
It may not be UFC 156's main event, but Alistair Overeem vs. Antonio "Bigfoot" Silva is certainly one of the night's most anticipated affairs.
The two big men will clash in a heavyweight tussle with serious title implications. A victory for Overeem means a bout with divisional kingpin Cain Velasquez. A win for Silva probably means a title eliminator some time this summer.
Check in right here as the action gets underway for live round-by-round recap and analysis.
Round 1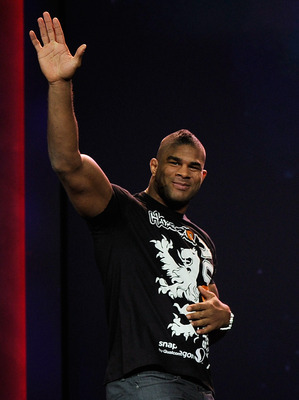 Kevork Djansezian/Getty Images
Silva gets things started with a leg-kick that gets nothing but air. Overeem lands a powerful left to the body and gains the clinch. He lands a knee before Silva pushes him off.
Back in the center of the Octagon, Overeem misses a big left, but he is able to get the clinch again. Overeem has Silva pinned against the fence and he lands a short knee. More knees to the thigh from Overeem. Silva breaks the clinch and it's back to the center of the cage.
Silva moves forward and whiffs on a head-kick and Overeem once again gets the clinch. Knees to the body from Overeem as Silva counters with uppercuts to the mid-section. Separation now, and Overeem moves forward with his hands down.
A knee to the body from Overem lands hard, but Silva comes forward. A big leg-kick from Overem is answered by one from Bigfoot. Overeem pounces on the clinch once again and resume working the thighs of Silva.
A knee to the body from Overeem precedes a break. Overeem misses a spinning back kick, but gets the clinch as the round comes to a close.
Score: 10-9 Overeem.
Round 2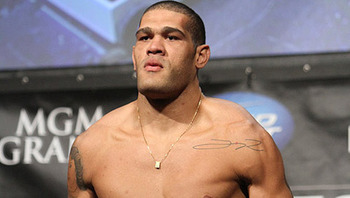 Photo by mmaweekly.com
Overem begins with a jabs that Silva answers with a leg-kick. Silva lands another leg-kick and rushes in for the clinch. Overeem lands a right-hand and tosses Silva to the floor landing himself in side-control.
Big elbows from the bottom stand Overeem up, he jumps back into Silva's guard and works some short elbows. Silva remaining active from the bottom, but Overeem is starting to damage Bigfoot's ribs. Now he's moving to the head.
Silva's pushes him off, but not far enough to stand. Overeem returns to Silva's guard and lands a couple more elbows to the body. He postures up and lets one rip to Silva's face. Silva tries to tie him up, but he's against the fence and Overeem postures again.
Silva looking for a triangle, but it doesn't get very far. Overeem lands an elbow to the head. Big punches from Overeem now, and he moves to half-guard. Silva looking to push-off. He get's Overeem off and Herb Dean stands them up.
An uppercut from Silva is followed by a big knee. Overem returns fire with a knee of his own as the round comes to a close.
Score: Overeem 10-9
Round 3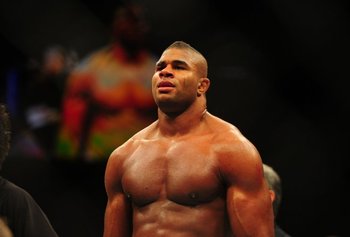 Mark J. Rebilas-USA TODAY Sports
Silva's corner tell their fighter that Overeem is tired, but the Dutchman charges out of the gate. Bigfoot shakes him off though and lands a flurry of big punches.
Overeem goes limp against the fence as Silva continues to blast away. Overeem drops to the mat and Herb Dean steps into to save him.
Big comeback knockout for Bigfoot.
Silva defeats Overeem via knockout (0:25 of Round 3)
Keep Reading