Ohio State Holds off Late Nebraska Charge to Earn Road Win in Lincoln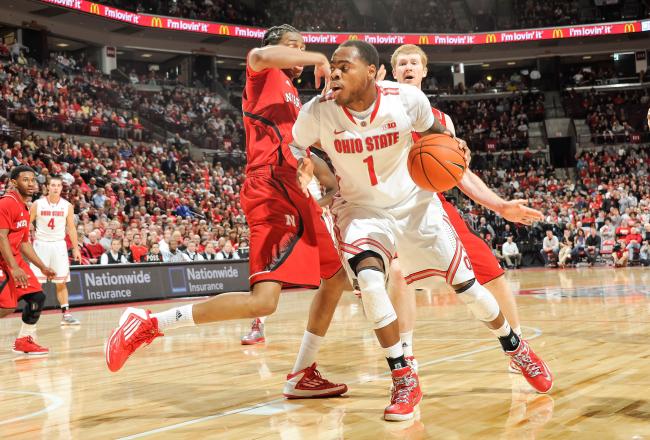 Jamie Sabau/Getty Images
Nebraska put up a lot more of a fight than the visitors were expecting, but No. 11 Ohio State held on for a 63-56 win in Lincoln. The victory keeps the Buckeyes in second place in the Big Ten at 7-2, while the Huskers drop to a painful 2-8.
Lenzelle Smith Jr. turned out to be the hero for the OSU offense, pouring in 21 points on perfect shooting from the field. Deshaun Thomas, hampered by a couple of long scoring droughts to open and close the game, was held to an uncharacteristic 15 points in the victory.
David Rivers' 13 points spearheaded a late Nebraska comeback, but they still came in a losing cause. Andre Almeida put in a heroic effort off the Huskers' bench, piling up eight rebounds, three blocks and a steal, but he couldn't solve Nebraska's offensive woes.
Nebraska held Ohio State to 39.1 percent shooting, but the Buckeyes were even better. The Huskers managed only 36.5 percent accuracy from the field, including a dismal 6-for-26 night from three-point range.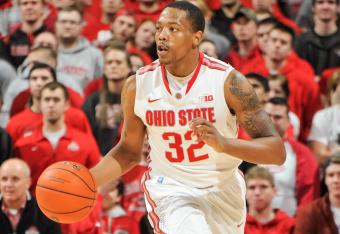 Ohio State 63, Nebraska 56 (FINAL)
Nebraska did everything they were hoping to do on defense in this game, holding Deshaun Thomas five points below his average and outrebounding the Buckeyes, 34-30. They just couldn't come up with any offense to go with that great effort.
For the Buckeyes, the terrific defensive showing is just par for the course, but the more encouraging news is Lenzelle Smith Jr's performance. A 6-for-6 shooting night from the field (for 21 points in all) would be a great way for him to declare his arrival as the No. 2 scorer Ohio State has been searching for.
Nebraska won't play again for a week, but they have to like their chances next Saturday. After edging Penn State on the road (68-64), the Huskers get to host the Nittany Lions in a building where Tim Miles' defense has been outstanding.
For Ohio State, the frenetic finish to this game wasn't exactly the decisive win they were hoping for to set up a strong effort in Ann Arbor on Tuesday night. Regardless of whether Michigan is still No. 1 in the nation after tonight's duel with Indiana, the Wolverines will be amped for a rematch with the team that handed them their first loss of 2012-13.
Ohio State will need everybody, not just Smith, to put up serious offensive numbers if they want to have any chance of winning on the road in that bitter rivalry.
Ohio State 63, Nebraska 56 (FINAL)
Sign of relief for Ohio State as they hang on for the victory. That should not have been as difficult as it was for a top-15 team.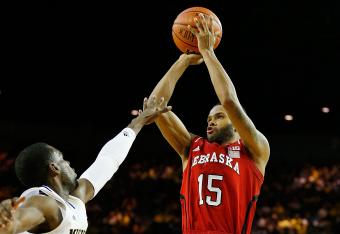 Ohio State 60, Nebraska 53 (0:26 second half)
Two more missed three-pointers by Ray Gallegos looking like too much for Nebraska to overcome. Credit the Huskers for hustling on the offensive glass right to the bitter end, though.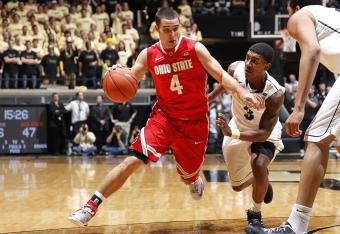 Ohio State 60, Nebraska 53 (0:48 second half)
Aaron Craft clutch from the free-throw line, and Nebraska looks lost on offense on the other end. Tim Miles with the timeout, but he may be out of second chances tonight.
Ohio State 58, Nebraska 53 (0:57 second half)
Wasted chance for Nebraska makes this a must-stop defensive possession. A Buckeye score will pretty much seal the deal.
Ohio State 58, Nebraska 53 (1:25 second half)
Thad Matta furious as a close deflection call goes in favor of Nebraska. Can the Huskers take advantage and score?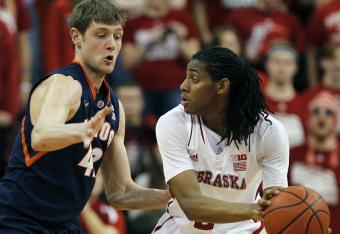 Ohio State 58, Nebraska 53 (2:40 second half)
David Rivers has come alive in the last few minutes. If he'd been this hot all night, Nebraska might be in the lead.
Ohio State 58, Nebraska 51 (3:39 second half)
Nebraska hammering the offensive glass as they make one last push. Where are the Buckeye big men?
For that matter, where's Deshaun Thomas, who's been stuck on 15 points for quite a while?
Buckeyes not exactly showing killer instinct...
Ohio State 53, Nebraska 42 (7:00 second half)
Interminable offensive possession ends with nothing for Nebraska. Story of this game.
No matter how hard the Huskers work, they just don't have a scorer they can count on against a great defense like Ohio State's.
Ohio State 53, Nebraska 38 (8:58 second half)
As Ohio State starts to put this game away, they also need to be thinking about building some momentum to carry into Ann Arbor Tuesday night. Lenzelle Smith Jr. has been very sharp, but the rest of the Buckeye offense has had its issues against a good (but hardly great) Nebraska defense.
Ohio State will need to be a good deal more efficient offensively against the Wolverines than they have been in Lincoln.
Ohio State 53, Nebraska 38 (9:05 second half)
Deshaun Thomas breaks up a scoreless drought for both teams. Some ugly basketball tonight in Lincoln, which would be great for the Huskers if they weren't down so far already.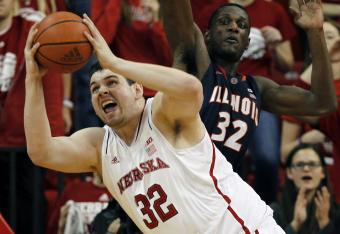 Ohio State 48, Nebraska 36 (11:56 second half)
Andre Almeida with the travel on one end, followed by his fourth personal foul on the other. Not looking like he's going to rescue Nebraska in this half.
Huskers are pretty well on the ropes now. If they go another couple of possessions without scoring, the competitive portion of this game will be over.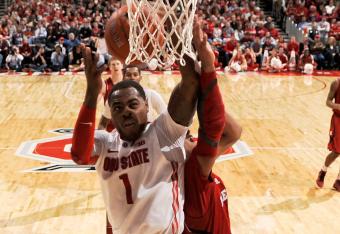 Ohio State 47, Nebraska 34 (12:59 second half)
Five quick points for Deshaun Thomas, who's finally starting to look comfortable on offense. Ohio State looks like they're almost ready to put this game out of reach.
Nebraska now 4-for-18 from three-point range, so that's not looking like a good route to a comeback.
Ohio State 40, Nebraska 32 (15:17 second half)
Nebraska is making some fine plays on a possession-by-possession basis. If this were still a two- or three-point game, they'd be doing exactly what they need to do.
The problem is that with such a big hole to climb out of, the Huskers need to string together several good plays in a row, and they haven't shown the ability to do that since Ohio State recaptured the lead in the middle of the first half.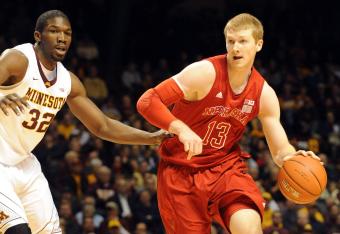 Ohio State 35, Nebraska 25 (18:00 second half)
Both teams zoning in on the Brandon Ubel-Amir Williams matchup early in the second half. Which big man will get in foul trouble first?
If it's Ubel, with Andre Almeida already sitting on three fouls, the Huskers are in a real jam.
Ohio State 32, Nebraska 23 (Halftime)
Want more evidence that Nebraska has been settling for long-range jumpers too often? The Huskers haven't attempted a single free throw yet.
Ohio State is an outstanding defensive team, but Nebraska is helping the Buckeyes out by firing up too many 28-footers. The Huskers have done a lot of good work on offense tonight in the paint, and they can't abandon that just because they're down at the half.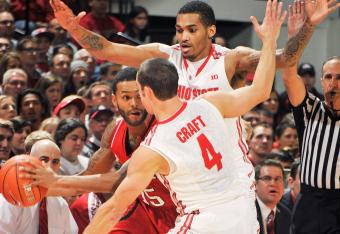 Ohio State 32, Nebraska 23 (Halftime)
The Buckeyes' chances of holding on to a nine-point halftime edge will be a lot better if they continue attacking Ray Gallegos on the perimeter. The Nebraska sniper is just 2-for-7 from the field (all of it from beyond the arc).
Ohio State can't let up on the streaky Gallegos, who could shoot the Huskers back into this game in short order if he gets a few good looks. Another half of defense like the one they just played, though, and the Buckeyes will be headed to a comfortable win.
Ohio State 32, Nebraska 23 (Halftime)
Credit Nebraska with an impressive job of handcuffing Deshaun Thomas. The Big Ten's leading scorer shot just 3-for-12 in the first half, working hard for his eight points.
Where the Huskers have had a lot more trouble has been in transition, where the Buckeyes' high-pressure defense has set up easy scoring opportunities. Limiting points off turnovers (and off defensive rebounds) must be a priority for Tim Miles' team in the second half.
Ohio State 32, Nebraska 23 (Halftime)
Nebraska's half-court defense hangs tough on Ohio State's last possession. Buckeyes shooting just 34.5 percent from the field, even with the big lead.
This would be a very different game if OSU weren't shooting 10-for-10 from the charity stripe.
Ohio State 32, Nebraska 21 (0:56 first half)
Ohio State with a 15-2 run, and the one basket was a third-chance tip-in by David Rivers. Ohio State's athleticism on defense giving the Huskers fits.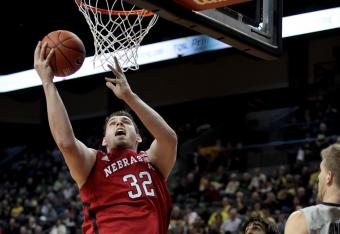 Ohio State 26, Nebraska 19 (3:01 first half)
Andre Almeida had been back on the floor with two fouls, and now Aaron Craft draws a third personal on Almeida. First bad play Almeida's made all night. He had no chance to make a play on Craft and now he's going to be held back by fouls for the rest of this game.
Nebraska 19, Ohio State 19 (5:39 first half)
Andre Almeida picks up his second personal and heads to the bench. He's been a beast on both ends of the floor.
Can Nebraska keep looking sharp without the big man in the middle?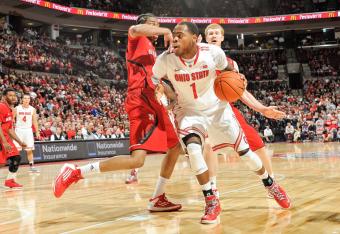 Ohio State 17, Nebraska 16 (6:34 first half)
Deshaun Thomas with a twisting and-one leaner to get on the scoreboard. Nebraska has to hope that doesn't get him on track.
If Nebraska can keep this game competitive through halftime, it will own all the momentum coming out of the locker room.
Nebraska 16, Ohio State 14 (8:01 first half)
Ohio State's offense has disappeared entirely. Deshaun Thomas is scoreless, and the team is shooting 26.7 percent from the floor.
This is why the Buckeyes have had so much trouble against good defenses. Who steps up when Thomas isn't carrying the offense?
Ohio State 14, Nebraska 12 (9:59 first half)
Seven three-point tries by Nebraska already, and they've hit just two. Huskers won't win this game if they settle for long-range jumpers too easily.
Andre Almeida's presence in the paint has helped, but Nebraska needs to keep driving from the perimeter, too. If Ohio State knows what to expect, it's too good a defensive team for Nebraska to beat.
This article is
What is the duplicate article?
Why is this article offensive?
Where is this article plagiarized from?
Why is this article poorly edited?