UFC 156 Results: Questions Heading into UFC on Fuel 7 Barao vs. McDonald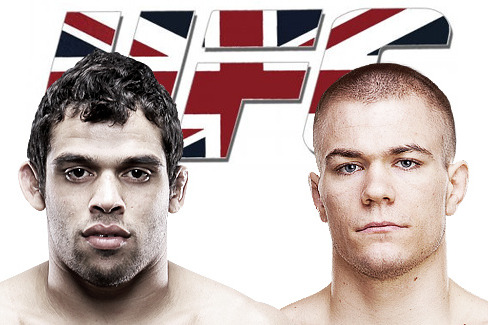 At UFC 156 we saw Antonio Silva put an end to the Alistair Overeem hype train. An uninspired Rashad Evans dropped a decision to Antonio Rogerio Nogueira and in the main event, Jose Aldo defended his UFC featherweight title with a win over Frankie Edgar.
After a short break the UFC will return on February 16 with UFC on Fuel 7. The card, which will take place in London, will feature an interim title bout as the main event, as Renan Barao puts his interim bantamweight title on the line against Michael McDonald.
What follows are questions we have heading into the upcoming fight card.
Begin Slideshow

»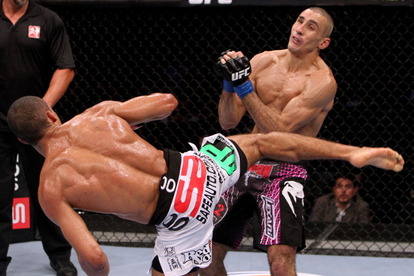 Josh Hedges/Zuffa LLC UFC via Getty Images
If you've been following mixed martial arts over the past two years, you know that there have been some serious discussions surrounding the frequency with which the UFC is presenting fight cards.
Many feel that since signing on the dotted line with Fox, the UFC has presented some watered-down events featuring matchups or fighters that fans would not have seen in the earlier days of the organization.
When looking at the preliminary card for this event, one sees that may be the case here.
Of the 12 fighters competing on the prelim card, exactly zero of them are coming off a win in their last fight. In a sport where you are often only as good as your last fight, that doesn't bode well for selling the casual sports fan on the six fights that fill the preliminary card.
On the positive side, all of the fighters on the main card are coming off victories, but I can't help but see it as a scenario where the decision was made to more or less bury these fighters coming off losses on a preliminary card that will stream on Facebook.
The booking kind of comes across as a loser's bracket of sorts, where these fighters are given a chance to compete, but at the same time they're being told, "Yeah, you're not good enough to be on a televised card."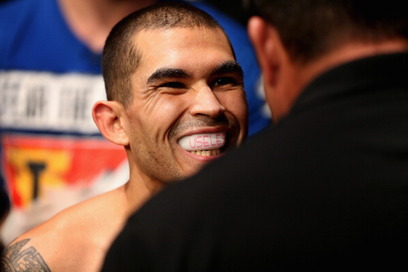 Josh Hedges/Zuffa LLC UFC via Getty Images
I don't know why, but the nickname that Ulysses Gomez goes by seriously amuses me. That nickname, if you are unaware, is "Useless." Yes, it is an easy nickname to derive from his first name, but how many fighters would not only accept that moniker but run with it?
For that you have to give the flyweight props; also, dude still works his job as a cabana attendant at the Hard Rock in Vegas.
Gomez will face Phil Harris in the opening fight of UFC on Fuel 7.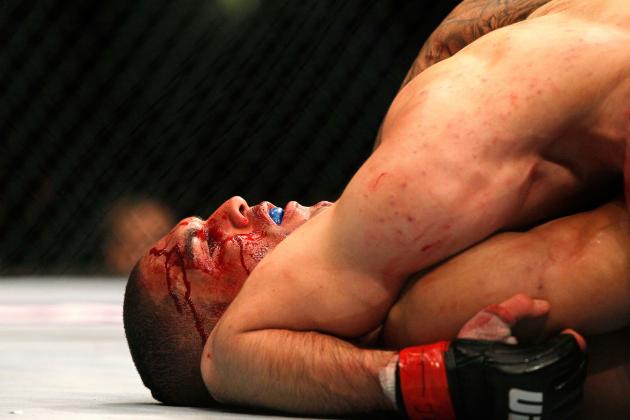 Kevin C. Cox/Getty Images

I like Joe Rogan. I think he does a fine job in his role as color commentator for the UFC, but there are some points where he does tend to delve into hyperbole when describing a fighter.
Such was the case when he repeatedly built up Che Mills before UFC 145. Mills met Rory MacDonald on that card.
The bout saw Mills move from the Facebook prelims of UFC 138 to the co-main event of 145—a pretty big leap up the welterweight ladder, especially considering Mills' only win in the UFC was against Chris Cope, a fighter whose claim to fame was a semifinal appearance during the 13th season of The Ultimate Fighter.
On paper it looked a mismatch, and it was.
MacDonald was coming off dominant wins over Nate Diaz and Mike Pyle heading into the Mills bout, but that didn't stop Rogan from doing his best to sell this fight hard. During the lead-up to the live event, Rogan described Mills as "an incredible test" for MacDonald, portraying Mills as "a killer."
During the fight, Rogan repeated that Mills was "a killer" and called him "one of the most underappreciated, if not the most underappreciated guys at 170." That was before MacDonald took him to the ground and put a beating on him.
Mills was positively dominated by MacDonald. Odds are that he will not be sold as a "killer" when he faces Matt Riddle on the Fuel card, but those words will still ring in the heads of those who heard Rogan's hard sell at UFC 145.
The pressure will be on Mills to deliver at Wembley Arena.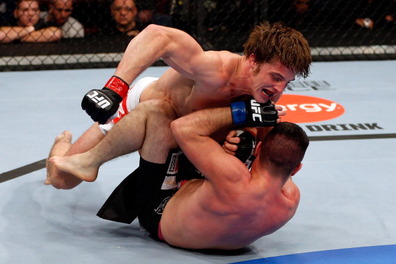 Josh Hedges/Zuffa LLC UFC via Getty Images
Please hold the weed jokes in reference to the unsafe comment. It's actually a reference to Riddle's post-UFC 154 interview, when he admitted to playing it safe when he earned a decision over John Maguire. Riddle said he played that fight safe after signing to face the dangerous submission artist on short notice as an injury replacement.
The victory over Maguire moved Riddle to 7-3-0-1, but it did not land him his desired fight against Dan Hardy.
It will be interesting to see what Matt Riddle comes to fight at UFC on Fuel 7 with a full camp behind him. If he wants Joe Silva to sign him to face Hardy, he's going to have to let a little bit of his unsafe side show against Che Mills, and oh yeah, he's also going to need to win.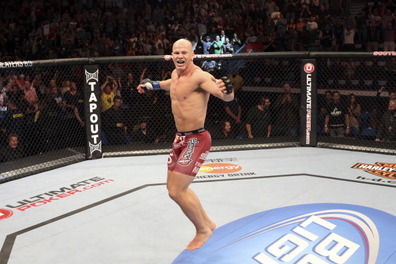 Nick Laham/Zuffa LLC UFC via Getty Images
Ryan Jimmo had one hell of a UFC debut, knocking out Anthony Perosh in seven seconds at UFC 149. He then broke out an impressive (or embarrassing, depending on your view of outdated dance moves) version of the robot that lasted a lot longer than his fight.
Jimmo advanced his career record to 17-1 with the knockout and will now move a step up the light heavyweight ladder when he faces James Te-Huna at UFC on Fuel 7.
Te-Huna is 9-1 in his last 10 with his only loss coming to Alexander Gustafsson. Te-Huna is currently riding a three-fight winning streak with his latest win being a "Fight of the Night" decision win over Joey Beltran in July.
Jimmo did an excellent job introducing himself to UFC fans with his knockout of Perosh; now it's time to show that he has what it takes to stick around the UFC for a while.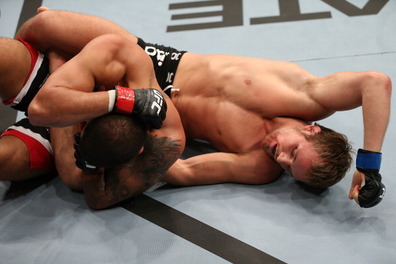 Josh Hedges/Zuffa LLC UFC via Getty Images
Gunnar Nelson handled his business in his UFC debut, submitting DaMarques Johnson at the 3:34 mark of the first round on the UFC on Fuel 5 fight card.
Nelson showed an impressive Brazilian jiu-jitsu game in that bout by staying calm and looking for an opening, and when he found his spot, he forced the tap from Johnson via rear-naked choke.
Nelson will face veteran Jorge Santiago on February 16. It's a step up in competition for Nelson and will give a half-decent indication as to what his upside is in the welterweight division.
A win will put Nelson at 11-0-1, but more importantly it will give us all another chance to hear one of the most unemotional post-fight interviews ever.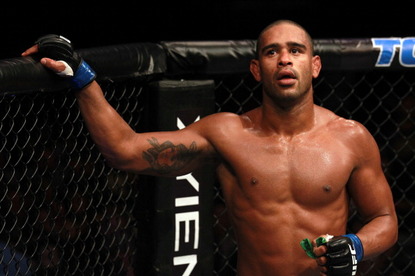 Nick Laham/Zuffa LLC UFC via Getty Images
Jorge Santiago began his MMA career in 2002. Since that time, he has run up a career record of 25-10. On February 16, he will begin what he undoubtedly hopes is a long stint in the UFC.
Santiago will need to impress when he faces Gunnar Nelson on the UFC on Fuel 7 card if he wants to stick with the promotion. In his first two go-arounds with the UFC, Santiago went 1-4, defeating Justin Levens while dropping fights to Alan Belcher, Chris Leben, Brian Stann and Demian Maia.
That type of booking makes one wonder if someone really dislikes Santiago, because the UFC did him no favors by giving him some pretty tough opponents in his first two stints with the promotion.
Santiago's opponent in London may not have the name recognition of his earlier UFC opponents, but he'll be in for another tough battle, as he's matched up against the unbeaten Gunnar Nelson.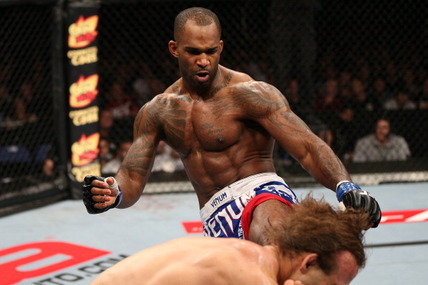 Josh Hedges/Zuffa LLC UFC via Getty Images
Jimi Manuwa will enter the Octagon on February 16 with an unbeaten record of 12-0. He made his UFC debut at UFC on Fuel 5, putting an ugly beating on Kyle Kingsbury during the first round of their bout.
However, during the second round, it looked like Manuwa's gas tank ran empty. Who knows what would have happened if the doctor hadn't stopped the fight due to Kingsbury's inability to open his eye as the result of some nasty swelling?
Manuwa did display some heavy and varied striking in his win, but his cardio was and will remain a concern. The 10-minute bout with Kingsbury was the longest of his career.
Manuwa will face the veteran Cyrille Diabate on February 16. It will be interesting to see how he deals with the height and reach advantage of Diabate, who is no stranger to going to the deep waters as eight of his 28 professional bouts have gone the distance, including a recent win over Tom DeBlass.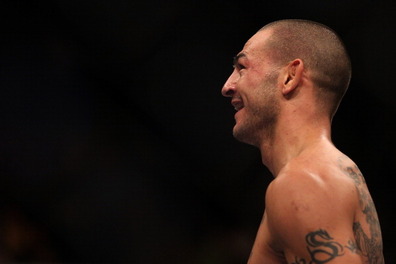 Josh Hedges/Zuffa LLC UFC via Getty Images
This fight was originally set to be Dennis Siver vs. Cub Swanson, but Siver dropped out and was replaced by Dustin Poirier, which may actually be a more exciting fight. Not to take anything away from Siver, but man, this is one to look forward to as a potential "Fight of the Night."
Swanson is on a 3-0 run, winning all three of those fights by knockout. He's also collected two consecutive "Knockout of the Night" bonuses.
Poirier was on a five-fight winning streak when he suffered a loss to Chan Sung Jung at UFC on Fuel TV 3. Some of the sting was removed from that loss when he took home "Fight of the Night" honors in defeat. Many media outlets also named the contest as their "Fight of the Year" for 2012.
Poirier rebounded from the Jung loss with a first-round submission win over Jonathan Brookins on December 15, 2012.
The featherweight division had looked pretty barren just a short while ago, but now with Ricardo Lamas and Chan Sung Jung also knocking on the door as top contenders in the division, the winner of this one is going to have to impress in order to make his name stand out in the minds of the UFC matchmakers.
No doubt, this is the can't-miss fight of the night.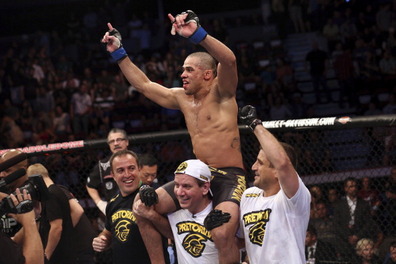 Nick Laham/Zuffa LLC UFC via Getty Images
Renan Barao captured the interim UFC bantamweight title back on July 21, 2012, defeating Urijah Faber by unanimous decision.
Barao thought he was going to wait for champion Dominick Cruz to recover from knee surgery and compete in a unification bout, but Cruz's knee had different ideas. Cruz had to undergo a second surgery after his body rejected the cadaver ligament that was used in his first ACL repair.
Once that news was announced it became clear that Barao would need to defend his interim crown, and so a bout with Michael McDonald was booked.
If you think that Barao's inactivity is a concern, you need to know that McDonald has not fought since defeating Miguel Torres in April 2012, knocking out Torres at the 3:18 mark of the first round. Prior to that, McDonald knocked out Alex Soto at the 56-second mark of Round 1 back in November 2011.
These are not ideal circumstances for a title fight—two competitors coming off pretty long layoffs. I know Renan Barao is a monster, but I will admit to being a little worried about this one due to the inactivity of the fighters.