Sacramento Kings vs. New York Knicks: Live Score, Results and Game Highlights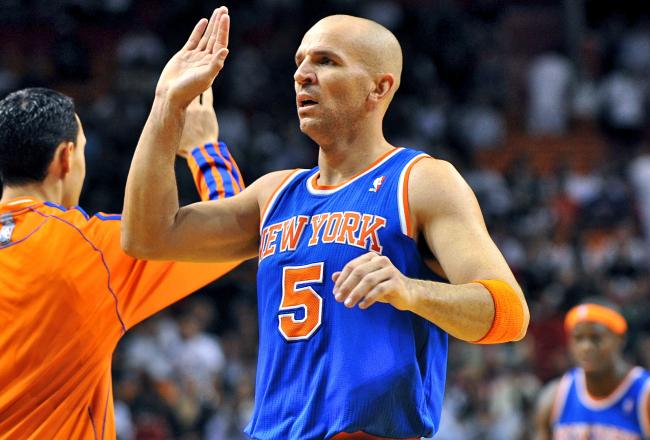 After down 13-3 to start the game, the New York Knicks took over despite a mere nine points from Carmelo Anthony. They move to 30-15 on the season, while the Sacramento Kings drop to 17-32.
The 120-81 victory marks their fourth straight win as they now sit atop the Eastern Conference, tied with the Miami Heat.
They began the game slow, but after a second-quarter run, the Knicks were able to breeze past the Kings. Here's why they were able to come out on top.
Three Point Shooting
The Knicks began the game 0-6 from beyond the arc, but JR Smith and Steve Novak helped them regain confidence and finish the night with 19 makes. Smith led the way with seven, and Novak chipped in with five.
Bench Production
The Knicks bench was on fire tonight, led by JR Smith and Amar'e Stoudemire. The two combined for a whopping 82 points. JR Smith led the way with a game high 25, but few can deny that the true bench spark for the Knicks was Amar'e Stoudemire.
Amar'e Stoudemire
The Knicks power forward entered the night on a hot streak, and finished the way he started. After checking in midway through the first quarter, he helped the Knicks chip away at a 10 point deficit. He shot a perfect 10-10 on the night, with the team shooting 63 percent from the floor after his entrance.
Rebounding
The Knicks out-rebounded the Kings 52-30 on the shoulders of Tyson Chandler. Chandler, who finished with 20 rebounds, became the first Knick in over a decade to grab 20 or more rebounds in two consecutive games.
The Knicks also had 37 offensive rebounds, as they clearly set the tempo on the glass tonight.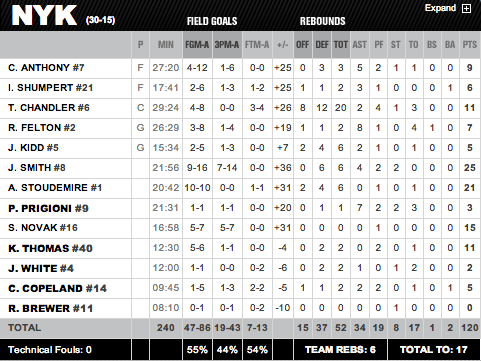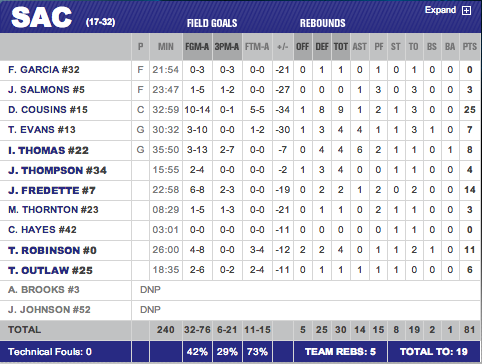 Here are your box scores, via NBA.com
Kings 81, Knicks 120; FINAL
Melo's 31 game 20-point streak was snapped, but it didn't matter. The Knicks dismantled the Kings after falling behind early, in what was one of their biggest victories in franchise history.
Kings 78, Knicks 120; 0:20 left in 4Q
Well, now all Mike Woodson needs is a Miami loss and he'll be in Houston.
Oh, by the way, Kurt Thomas hit another shot. His 11 points are a season high.
Kurt Thomas hits a three.
Yes you heard me correctly.
The Knicks bench is in hysterics—as am I.
The Garden erupts with "Kurt Thomas" chants.
My message to all Kings fans out there:
This one's for you.
Knicks announcers trash-talking Jimmer.
He responds with one of those trademarked "Jimmer" threes.
Kings 64, Knicks 110; 3:51 left in 4Q
Kurt Thomas draining jumpers. Speaks loads for the Knicks effort tonight.
After missing two free throws, Ronnie Brewer remains the only Knick without a score.
#Knicks biggest win in franchise history was 48. NY leads the Kings 110-62 w/ 4:28 remaining in the contest.

— NBA New York Knicks (@nyknicks) February 3, 2013
Can they break it?
And Kurt Thomas puts Knicks up 50. That kind of night.

— John Kenney (@JohnbKenney) February 3, 2013
Yes, that kind of night.
Thomas Robinson with the nice block on Chris Copeland, leading to a deuce from Jimmer.
Kings 58, Knicks 108; 6:19 left in 4Q
A jump shot from Kurt Thomas gives the Knicks the 50 point lead.
I know that he's having a slow start, but I think Thomas Robinson is going to be a star. He's a very special player.
At the end of the third quarter Tyson Chandler had 20 rebounds. The Kings had 20 rebounds.

— JasonJones (@mr_jasonjones) February 3, 2013
I'm speechless.
Kings 55, Knicks 104; 8:40 left in 4Q
Novak sinks another three. The Knicks are now just one point away from taking a 50 point lead. The Kings have only scored 55.
Can the Knicks double the Kings before the end of the game?
Kings 54, Knicks 97; 10:03 left in 4Q
Stoudemire sinks another shot, now 10 for 10. Copeland comes in in his place, likely for a good. He gets a well-deserved standing ovation.
Kings are down by 46. Their largest deficit of the season was 35.

— Jason Ross (@JasonRoss1140) February 3, 2013
And to think...
they began the game up ten.
Kings 52, Knicks 97; End of 3Q
After three, the Knicks are within three of the century mark. The Kings are 48 away.
We may have seen the last of Melo and Chandler (20 rebounds).
JR Smith, who currently has 7 three pointers, keeps throwing them up. Anyone think he can break Kobe's record of 12 in one game?
Kings 49, Knicks 89; 1:22 left in 3Q
Cousins with the big dunk over Novak and then a jump shot. He now has 25 points. The rest of the team has 24.
Cousins is pissed and rightfully so, but he needs to avoid his 11th tech of the season. Yell at your teammates, not the officials.

— James Ham (@James_Ham) February 3, 2013
Fun fact: He leads the NBA in techs this season.
Kings 45, Knicks 87; 2:57: left in 3Q
JR Smith misses a jump shot and then a three after an offensive rebound from Chandler. Doesn't matter, because the Knicks get a third chance, in which Smith drains the three.
Everything is going right for the Knicks, tonight, including Amar'e's 15 points on 7/7 shooting.
Kings 43, Knicks 80; 4:52: left in 3Q
Tyson Chandler has 17 rebounds, looking to become the first Knick to grab 20 rebounds in two consecutive games in over a decade.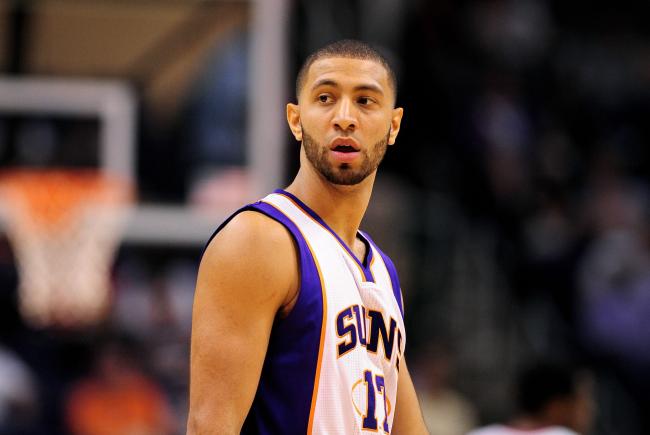 The Kings desperately need a pass-first playmaker. When they run into issues like this, they have nobody to help them bring it back together. Kendall Marshall in Phoenix is rarely used and fits the bill. I wonder if they'd consider making a trade before the deadline.
What do you think?
Here are the first half highlights from tonight's matchup.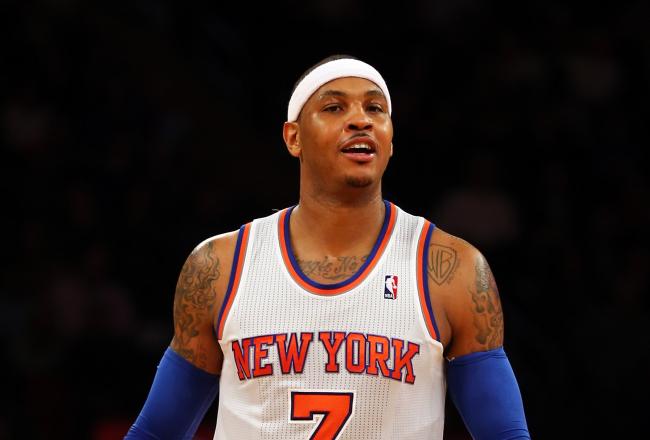 Kings 43, Knicks 71; 7:05: left in 3Q
Melo hits another jump shot for his second make of the night. At this rate, we may not see him in the fourth quarter.
Looks like his 20 point game streak may come to an end.
This article is
What is the duplicate article?
Why is this article offensive?
Where is this article plagiarized from?
Why is this article poorly edited?