7 Reasons Why More Americans Need to Watch European Football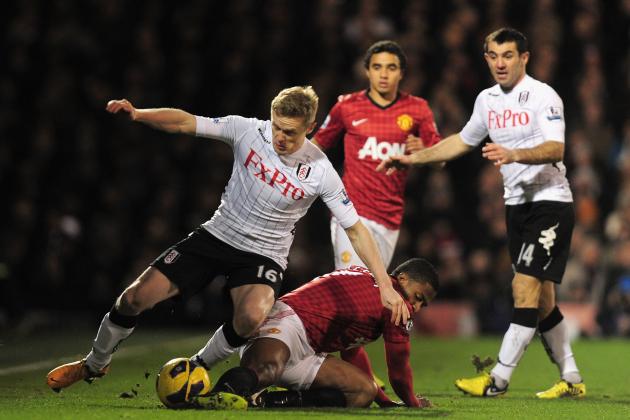 Jamie McDonald/Getty Images
The players are all tough.
Being an American, I love watching all of the major sports leagues here: NHL, NBA, NFL, MLB and MLS plus college football and basketball. While I grew up watching those leagues, nothing compares to the passion I have for watching European football—better known here in the U.S. as soccer.
While many Americans are passionate about their sports teams, I can make an argument that nothing compares to the fans of European teams. Where else would a team break into their rival's stadium and play a prank like this? The one downside is that while most European fans are ardent supporters of their teams, unfortunately some take it too far with violence that shouldn't be tolerated.

Several friends always ask me what I see in soccer, which spurs me to launch into a passionate speech about why it's so great. About 10 minutes into my rant, they look at me like a madman speaking a foreign language. My forgiving pregnant wife has been known to be woken up very early on weekend mornings to me yelling and swearing at the TV while watching my beloved Arsenal play.
So, I thought I should provide a guide for Americans to understand why soccer truly is the best sport in the world to watch.
Begin Slideshow

»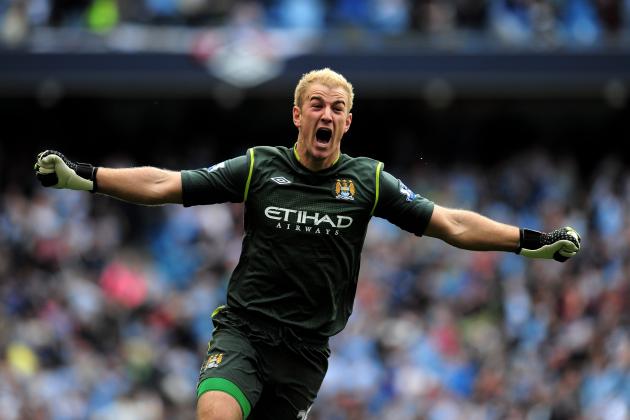 Shaun Botterill/Getty Images
Joe Hart celebrating Man City's title.
Every fan in the U.S. loves watching the playoffs in the major sports leagues to see if an underdog could win a championship. Sometimes towards the end of the season, a team might rest players to get them prepared for the playoffs and keep them fresh.
Also, sometimes the best team doesn't end up winning the championship. It's the team that gets hot at the right moment and not necessarily the team that was the best team throughout the regular season. A perfect example of this was when the Los Angeles Kings won the Stanley Cup last year, even though they were the No. 8 seed in the Western Conference.
In the domestic European leagues, there aren't any playoffs, so every game counts. No teams will rest and take the chance of fielding a lesser team, since anything can happen and every point matters. Since every game matters, the players compete hard for the full 90 minutes and don't take a play off or give less than their top effort throughout each full game.
Another important thing is that the best team wins and is recognized as a champion. For critics that might say not having a playoff system takes the fun out of the game, I dare you to ask any Manchester City or Manchester United fan about last May. David Hirshey at ESPN.com captured the right tone in this article he wrote after Man City won the English Premiere League last year.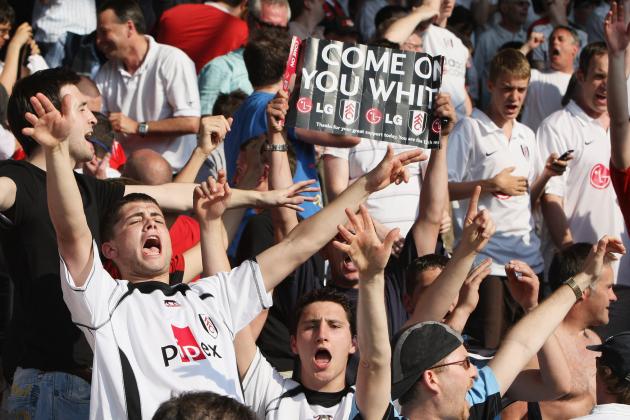 Hamish Blair/Getty Images
The fans support their teams through good times and bad.
The interesting aspect of European football leagues is that at the end of each season, the bottom teams get relegated to a lower division while the top teams in the lower division get promoted. This gives all fans that support teams in a lower division the hope that if their team plays well, they will have an opportunity to play against better teams.
This is a lot different in the U.S. Players on bad teams may not care as much, since no consequence would happen to them. The players in the American leagues have guaranteed contracts, and even if they come in last place, they'd still get the same salary.
In Europe, it's a huge deal if a team is relegated. The players may have relegation clauses, where their salary is automatically lowered and they risk potential endorsement deals.
That is why the players show more passion on the lesser teams and some fans eat, sleep and breathe their team's performance. Every game truly matters and players are playing for pride and their livelihoods.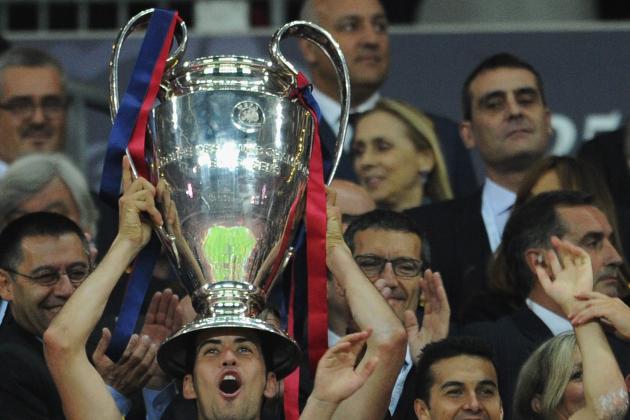 Jasper Juinen/Getty Images

While there are no playoffs to determine the domestic league champions, there is a yearly tournament for the top teams from all the major domestic leagues across Europe, to determine the best overall team in Europe. This tournament is called the UEFA Champions League (UCL).

Since different leagues have different playing styles, it's always fun to watch when two top teams with different philosophies get to play each other. The teams that qualify in the UCL get additional exposure to different markets/regions they normally wouldn't play in. This is always fun for the fans, since everyone always believes their team could beat another league champion. Instead of debating about it on paper, the games can actually be played on the field.
Fans of teams in the UCL enjoy watching, since they can see teams with deep tradition like Barcelona, Real Madrid, Manchester United or Bayern Munich play each other and watch some of the best players in the world like Leo Messi, Wayne Rooney or Cristiano Ronaldo.
Matthew Lewis/Getty Images

This is one of the best things for a lot of non-traditional soccer fans. You will always know how long a game will last for. It's 90 minutes, plus usually five-to-10 minutes of added time due to injuries, since the clock never stops and there are never any commercials. There is around a 20-to-25 minute half time, so the large majority of the games are a total of two hours long from start to finish.
This is my wife's favorite thing about soccer because when I tell her I'm watching a game, she knows exactly when it will be over. When I watch football or baseball games, they could run three to four hours and it is tough to schedule other plans around them due to the uncertainty.
By having a continual clock run, the fans constantly need to be engaged in the games and get upset when an opposing team is time-wasting by holding on to the ball. Many times, I've watched games where I'm not focused on the clock and have discovered that the game is almost complete before I know it.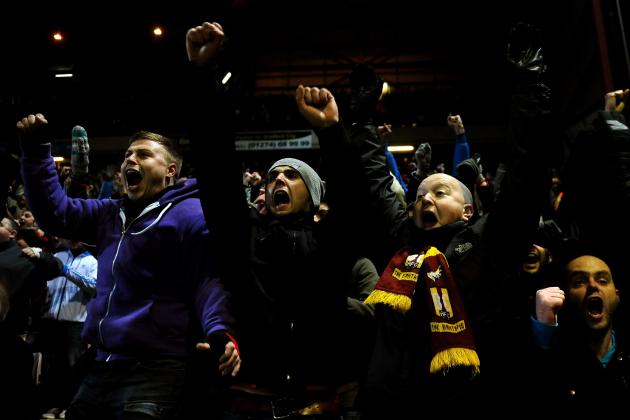 Laurence Griffiths/Getty Images

Another great thing about watching the European games is that the majority are played early in the morning on weekends. So once the game is over, you have the majority of the day and night for other plans. This allows fans to watch the games in their entirety and not have to worry about planning their days around games—unlike the afternoon or night games of the NHL or NFL.
The one negative is that there are some weekday games in the U.S. that are played around 2:30 p.m. EST. These games are mostly the UEFA Champions League or a few domestic cup games. While it's a disappointment to miss them live, I am able to shut off my score updates and DVR the games so I can watch them at home after work.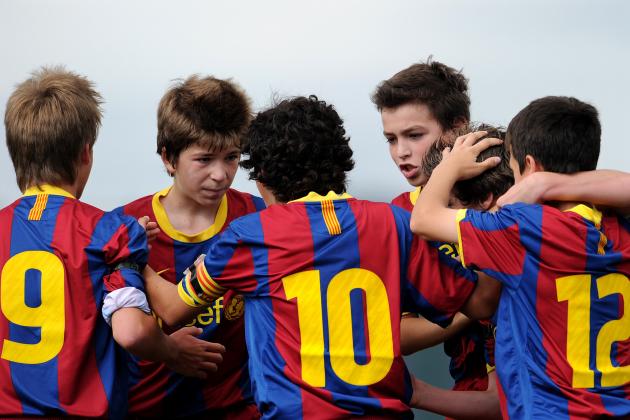 Jasper Juinen/Getty Images

To me, this is the one truly unique aspect of the European game. Most soccer teams like Arsenal, Bayern Munich and Barcelona have academies for youth players that can be as young as seven or eight in some cases.
This is positive for the fans, teams and players alike. The fans feel that they get to watch these players grow up in their youth systems, and the players in the youth academies have a bigger loyalty towards their team.
The teams are happy with their academies because if their players turn into stars, it's cheap for them as they didn't need to spend a huge transfer fee. The player also would have the club's playing style ingrained into them, since they would have played that style since they were younger.
The players appreciate it since the team is rooting for the player to succeed and wants them to be successful. The players can really grow up within the team's culture and if they are talented, they can join the senior team as soon as they are ready instead of waiting for a draft.
The famous Barcelona academy, La Masia, is perhaps one of the most successful academies of all time in Europe. They have produced some of the greatest players in the world like Messi, Xavi and Andres Iniesta, to name a few. A huge part of Barcelona's success can be attributed to the players learning the Barca style as the way they like to play, as well as to knowing each player's strengths and weaknesses.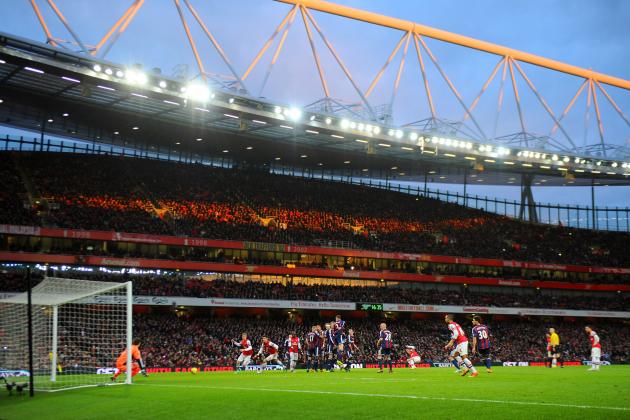 Michael Regan/Getty Images

While I love the European leagues, I will admit they're not perfect. I strongly disagree with the transfer policies in Europe and wish they would adopt a style similar to what American sports leagues have done with player-for-player trades instead of teams buying players with cash.
I also disagree with the transfer window and feel that teams should be able to acquire players any time up until a certain date within each season, rather than just in the offseason and the January transfer window.
The European leagues could institute a trade deadline, which would allow teams to acquire any player from another team until the trade deadline in February or March. This way, teams wouldn't be forced to overspend on a player in a transfer window and there wouldn't be so much discussion and hype building up to the January transfer window.
These are only a few changes I wish that the European league would adopt.
Though overall, I feel bad for any American who hasn't yet embraced European football, as I believe they're missing out on one of the greatest games on the planet.