NHL Trade Deadline 2013: 11 Players the Leafs Could Pursue for Phil Kessel
Tom Szczerbowski/Getty Images

It's been a terrible start to the year for Leafs sniper Phil Kessel, and the longer and longer he goes without a goal scored, the more and more you will be hearing the star right winger's name in trade talks.
Kessel is an extremely consistent—well, usually—30-goal scorer in the NHL with blazing speed. His skill with the puck would be an asset to any organization.
With that said, Kessel is nearing the end of his contract with only another year left on his deal.
Kessel also has a no-trade clause that is set to kick in July 1st, so trading Kessel before the April 3rd trade deadline might be a prudent and smart move by GM Dave Nonis and the Leafs.
It's evident Kessel isn't a superstar player in the Sidney Crosby, Steven Stamkos, Evgeni Malkin, Pavel Datsyuk mold. He's more of a James Neal, Daniel Sedin, secondary-scoring type who plays much better next to a superstar linemate.
If the Leafs do intend on going the young route and rebuilding, the best move is to deal some of their higher-priced talent like Kessel or Dion Phaneuf and build from within. Of course, the first order of business is to find a franchise goalie, then work their way out.
With Kessel's contract set to expire in 2013-14, if he managed another 70 to 85-point season, look for Kessel's market to reach around $7 to $8.5 million a year, a price in which I would not pay for what Kessel provides.
Here's a look at 10 players the Leafs might target to replace Kessel.
Begin Slideshow

»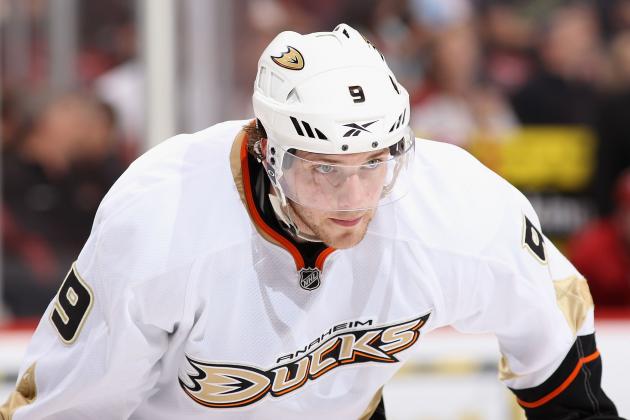 Christian Petersen/Getty Images

Bobby Ryan is off to a decent start with five points in six games with the Ducks. Ryan, much like Kessel, is a consistent 30-goal scorer in the league.
What Bobby Ryan provides that Kessel cannot is the ability to play big. Ryan is a 6'2", 210-pound winger who can play both center and left wing.
With Ryan Getzlaf and Corey Perry, as well as Saku Koivu and Teemu Selanne, set to enter free agency this offseason, the Ducks will have the money to spend to sign Kessel as well as re-sign Getzlaf and Perry. The Ducks will likely need a replacement for Selanne, who will more than likely retire after the season.
What better player than Kessel to replace the Finnish sniper?
A deal focused around Ryan for Kessel could make sense for both sides, with the hopes the Leafs can somehow nab Jonas Hiller or prospect John Gibson in the deal as well. Of course, the deal would have to be larger than just Kessel, but you get where I'm going with this.
Victor Decolongon/Getty Images

Corey Perry's contract is set to expire at the end of the season, so trading Perry for Kessel probably makes little sense since the Leafs can pursue him via free agency.
However, if there's a chance you can trade for him, you have to at least explore it. What makes acquiring Perry interesting is that the Leafs would have priority in his discussing a contract extension. In other words, they would have first dibs on trying to sign him until free agency opens in July.
The Ducks have over $21 million in expiring contracts (Perry, Ryan, Getzlaf, Koivu, Selanne, and Lydman) and already sit about $8 million below the cap limit of $64 million for next season.
The odds of getting Perry are slim, but if the Ducks aren't willing to pay market price for Perry, then the Leafs will likely be knocking on his agent's door looking for a price.
A deal centered around Kessel and Gardiner for Perry would likely get the Ducks' attention.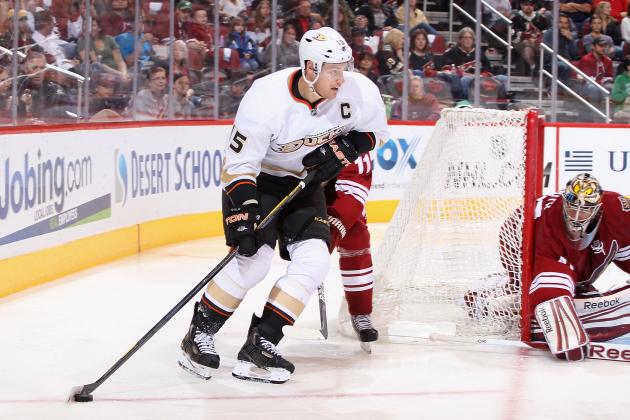 Christian Petersen/Getty Images

The last of the big three out in Anaheim, and the least likely to come to Toronto via a Kessel trade would be Ryan Getzlaf.
Why, you say? Simply put, the Ducks have no centers left after next season, and Kessel doesn't fit in the center mold. It's like fitting a square peg in a round hole—it just isn't happening.
But if the Leafs were to include a center, Getzlaf could be had if Toronto's willing to pull the trigger.
Getzlaf is the epitome of what Toronto needs up front—a big, tough center who dominates play down low. His ability to find open teammates is his best attribute.
Getzlaf has an expiring contract as well, and he could also be had in free agency. But like I said, the Ducks have probably the most cap space out of any team left. If the Leafs hope to get Getzlaf, they will likely have to trade for the star center, not sign him like everyone hopes.
Dustin Bradford/Getty Images

At a price tag of well over $6.6 million, Stastny isn't really what I'd call a good option in a trade for Kessel. However, if the Avs are willing to include a first-round pick, the Leafs should be very interested.
Both Stastny's and Kessel's contracts expire at the end of the 2013-14 season, and both clubs could be looking to deal each of them prior to the start of next season.
Colorado is currently 12th in the Western Conference and judging by how the schedule works with only inter-conference teams facing each other, it could be a long year for the Avalanche.
A deal centered around Stastny and a first-round pick for Kessel and second-round pick might get the Avalanche thinking. What makes this deal a good one for the Leafs is they could have two lottery picks in the new weighted lottery system.
That increases the Leafs' odds of getting a top-five pick and landing a Nathan MacKinnon, Seth Jones, Jonathan Drouin, Alexander Barkov or Sean Monahan.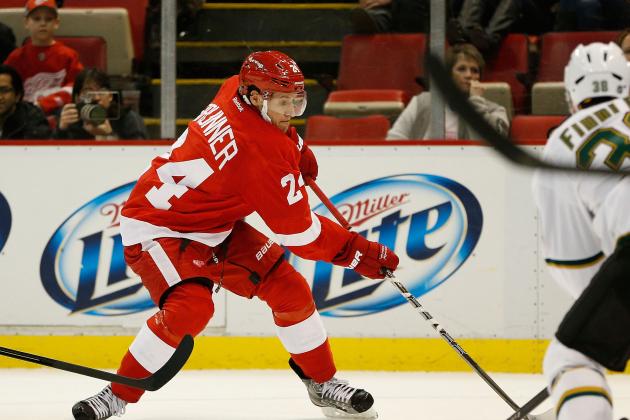 Gregory Shamus/Getty Images

I've been saying this for awhile now: Kessel would fit in like a glove next to a guy like Henrik Zetterberg or Pavel Datsyuk. The Red Wings have an aging forward core though with Tomas Holmstrom already retired, Todd Bertuzzi getting older as well as Johan "The Mule" Franzen. Of course, Zetterberg and Datsyuk aren't spring chickens, either.
The fact is that the Red Wings have a ton of young, talented players such as Damien Brunner, Valtteri Filppula, Gustav Nyqvist, Brendan Smith and Jakub Kindl at their disposal, as well as their first- and second-round picks. I would hazard to believe that at least three would be heading the Leafs' way in a possible Kessel deal.
I'm going out on a limb and saying Detroit would be extremely interested in Kessel if he were made available by the Leafs.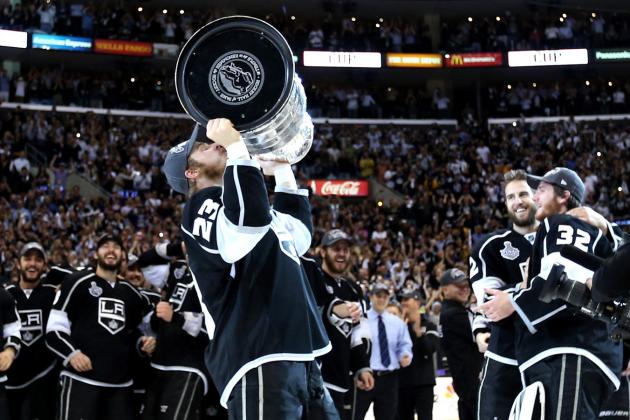 Bruce Bennett/Getty Images

A long-coveted player once by Brian Burke, Dustin Brown would bring exactly the kind of game that coach Randy Carlyle wants out of his players. Brown is very good defensively and he's a pain in the you know what to play against. Anytime you can add a 30-goal scorer who also happens to be a 200-hit guy to your team, you jump at it.
Is Brown available? Highly unlikely, but the fact is, with Simon Gagne and Dustin Penner both facing expiring contracts, and with massive long-term deals to Jeff Carter, Anze Kopitar, Mike Richards, Jon Quick and Drew Doughty, do the Kings have the cap space to add Brown at fair market value? That remains to be seen.
If not Brown, Carter could be a good option for the Leafs, as well as possibly Mike Richards.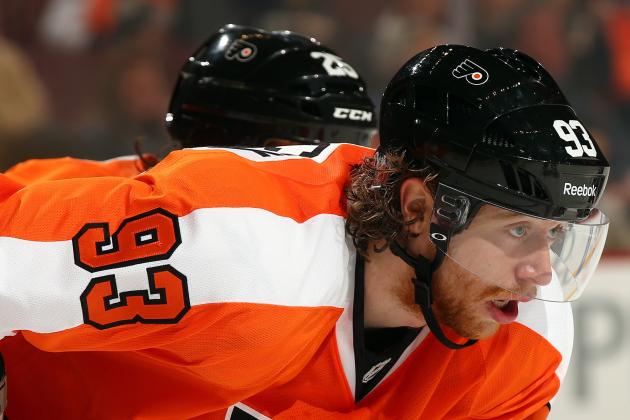 Elsa/Getty Images

Since the Flyers recently acquired Luke Schenn, I highly doubt they would look to move his brother, Brayden, but one player that might peak the Leafs' interest is Jakub Voracek. Voracek is a former sixth overall selection by the Columbus Blue Jackets and still hasn't quite hit his stride in the NHL.
Voracek, of course, would not be the only piece heading to Toronto, as another player such as Braydon Coburn or Sean Couturier would need to be included to pique the Leafs' interest.
The Flyers would be an ideal landing spot for Kessel since they play a rough type of game, so Kessel would have a little room to skate and use his wheels when he has guys like Wayne Simmonds, Scott Hartnell, Mike Knuble and Ruslan Fedotenko giving him extra room. Playing with a guy like Claude Giroux doesn't hurt, either.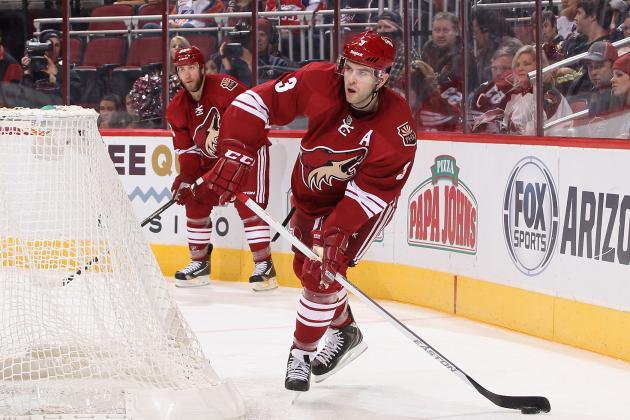 Christian Petersen/Getty Images

Keith Yandle is an ideal candidate for the Leafs defence. Like John Michael Liles, Jake Gardiner and, in time, Morgan Rielly, having good two-way defensemen is the way to go in the new NHL. You need defensemen who can skate and move the puck effectively to be a very good team in today's NHL. Having defensemen who continually get beat and knocked around is a recipe for disaster.
With the current situation in Phoenix still in limbo, the Coyotes are likely looking to unload some of their higher-priced talent in return for better contracts and hopefully younger players.
Kessel would immediately fill a void for the Coyotes in the scoring department.
A deal centered around Yandle and Radim Vrbata for Kessel and Liles could get talks started. If the Leafs want to get interesting, they could put Dion Phaneuf in the deal and ask for Shane Doan instead of Vrbata, but I think that's just wishful thinking on my part.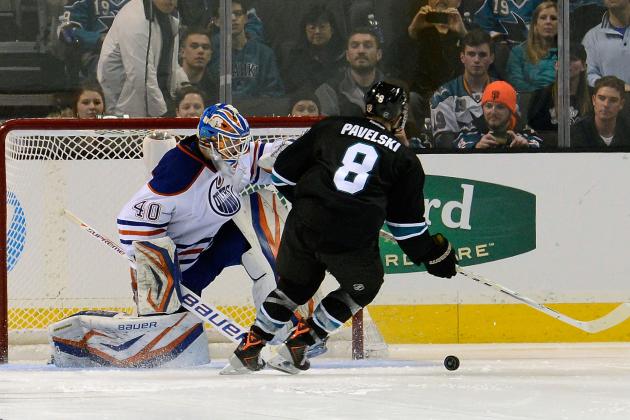 Thearon W. Henderson/Getty Images

Joe Pavelski is a perfect option for the Leafs, as he can play both center and the wing. Unfortunately, like Kessel, his contract expires at the end of the 2013-14 season. He should be earning close to $5 million when he signs a new contract and will be a cheaper option over Kessel.
Pavelski defends better, can win faceoffs, has playoff experience and is a spark plug for the San Jose offensive unit.
That same season, both Patrick Marleau and Joe Thornton will also have expiring contracts, so the core of the Sharks franchise may change dramatically by the 2014-15 season if not everyone is re-signed.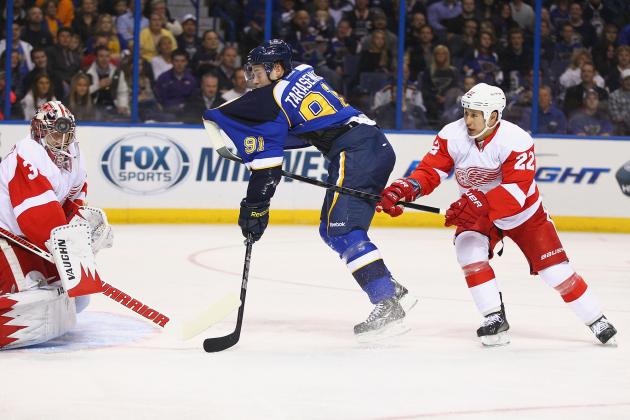 Dilip Vishwanat/Getty Images

Here's another perfect fit for the services of Phil Kessel, the St. Louis Blues.
A young, up-and-coming team playing for a great head coach. They have wonderful goaltending and a very solid defensive core led by Alex Pietrangelo and Kevin Shattenkirk.
With the likely fall of the Detroit Red Wings, this is the time for the St. Louis Blues.
With the emergence of rookie Vladimir Tarasenko, the Blues could be better served trading their third-line right winger for Kessel, along with a few picks or prospects as well.
With T.J. Oshie, David Backes and Chris Stewart all having the ability to play right wing, Tarasenko could be that piece that needs to be dealt in order for the Blues to secure a date in the Stanley Cup Final.
Tarasenko is easily one of my favorite players right now in the NHL, and if the Leafs could somehow pry him away from the Blues, it would make the 2013 season (long lockout and all) well worth it. The Blues dealing Tarasenko remains highly unlikely, though.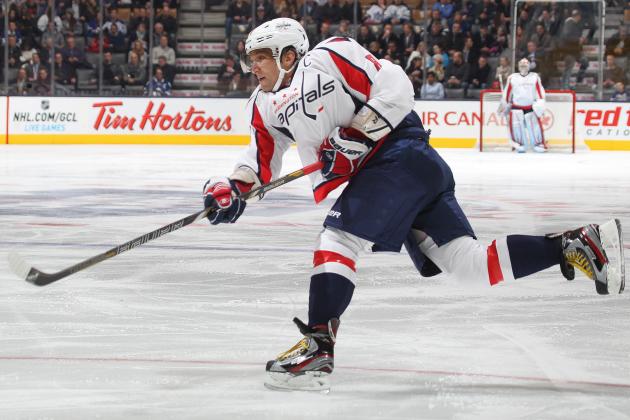 Claus Andersen/Getty Images

Whoa! Wait a minute. Are you serious?
I can already see the comments, and yes, I am serious.
Ovechkin has been a shell of his former self, having the most difficult time even scoring these days. With a $9.5 million price tag, the time may be up for Ovechkin in Washington, as they could look for a more cap-friendly, cheaper scoring option. The best one that might be available could be Phil Kessel.
Having a hot stick in Toronto, Ovechkin has always played well at the Air Canada Centre, and he could thrive in a hockey market where the attention would be all on him.
Do the Capitals ride out the two-year slump of Ovechkin, or do they try and deal him and get some return for their $9.5 million investment that has gone ugly fast. With Alex Semin long gone, and with the ever-apparent threat of Ovechkin possibly heading to the KHL, the Capitals may be wise in looking to rid themselves of Ovechkin.